The Sunny SF-E3911 Cardio Climber with Climbing Motion takes full-body home gym machines to the next level! Get explosive calorie-busting workouts in a space-efficient and optimal home exercise elliptical, and focus on your lower body muscles – quads, glutes, and hamstrings or go for full-body training using the swinging upper body handlebars.
The SF-E3911 features an extended vertical and horizontal stride length which produces a fluid climbing motion aimed to engage your whole body—Fine-tune the intensity level of your workouts to align with your fitness goals. You'll get toned and burn calories with this full-body home gym fitness machine.
The Sunny SF-E3911 Cardio Climber comes equipped with a fitness console featuring an LCD that tracks your exercise sessions and measures time, speed, distance, calorie burned, and odometer. Secure your smart device onto the device holder and follow along to your favorite Sunny Health & Fitness workout videos.
Learn more in my complete review below!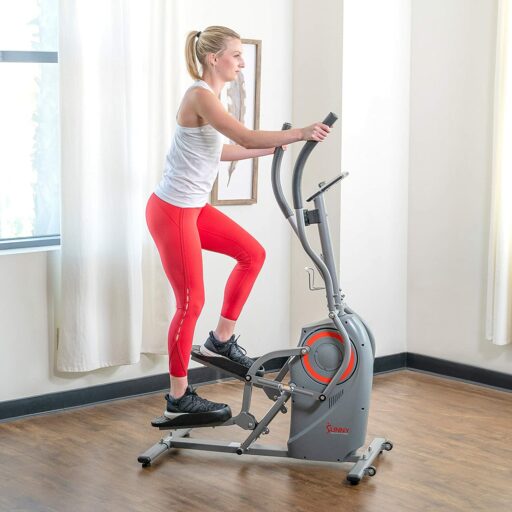 Product: Sunny SF-E3911 Cardio Climber
Price: For a great deal on this elliptical, merely go here to Amazon.com
Warranty: Frame 3 years / Parts 180 days
My rating: 8/10
Affiliate Disclosure: As an Amazon Affiliate Program participant, I earn commissions on purchases made through links in this post. Full disclosure
Details and Specifications
Assembled dimensions: 42L x 23W x 60.5H inches (107L x 58W x 154H cm)
Assembled weight: 69.3 lbs (31.4 kg)
Supported weight: 220 lbs (100 kg)
Flywheel weight: 8.8 lbs (4 kg)
Stride: 9 inches (22.8 cm)
Incline: No
Resistance: Manual magnetic, 8 levels
Fitness console: Time, distance, odometer, speed, calories, goals, scan
Extras: Device holder, bottle holder
Warranty: Frame 3 years / Parts 180 days
SF-E3911 Frame construction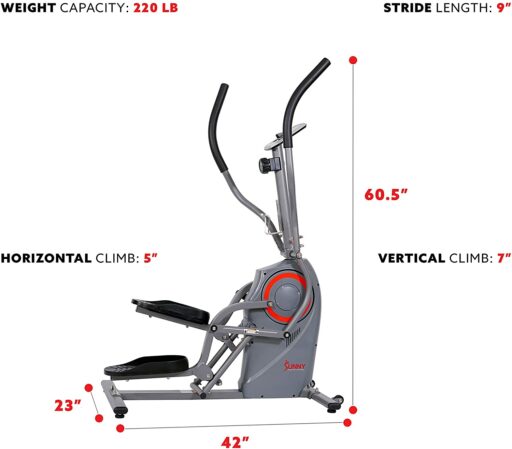 The Sunny  SF-E3911 cardio climber features a steel frame combining oval, rectangular, and cylindrical tubes in its construction for improved sturdiness and aesthetics. All the steel parts come coated with a corrosion-resistant paint finish, gray.
The unit also incorporates several parts of durable thermoplastic material. Some of the most notable ones are the covers of the drive system and the pedal trays.
Since it's a cardio climber, not a standard elliptical, the Sunny SF-E3911 has a relatively small footprint. It is approx. 42″ (107 cm) long, and 23″ (58 cm) wide, while its moving arms reach approx. 60.5″ (154 cm) above the floor level. However, it is advisable to leave at least two feet of clearance all around the machine for unhindered usage.
The trainer is not super heavy but does weigh approx. 69.3 lbs (31.4 kg). Therefore, two people should and assemble the packaged machine. However, once completed, one person can quickly move the machine as its front base stabilizer comes equipped with transport wheels. Also, both base stabilizers have adjustable levelers.
Unlike other similar trainers, this Sunny Cardio Climber does not have fixed handlebars, only the two long moving arms that connect to the pedal bars. They feature extended grips covered by PVC foam sleeves for improved contact. They do not have pulse sensors, and the machine itself does not have a pulse reading function.
Stride, elliptical path, and pedal height
Since the Sunny SF-E3911 is a cardio climber and not a standard elliptical, it has a relatively short stride of only 9″ (22.8 cm). Also, its elliptical path is almost entirely vertical. The vertical climb is approx—7″ (17.7 cm).
Therefore, the machine provides a motion that resembles climbing a set of stairs, offering a workout that puts more focus on your glutes, calves, and thighs.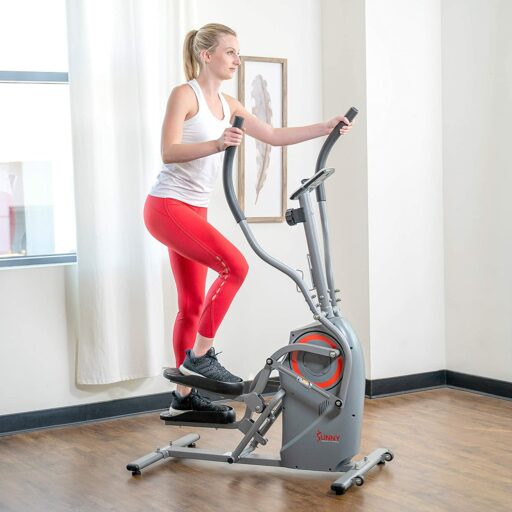 Due to the upright angle of the elliptical path, there shouldn't be any height limits for users. Thus, any user between 4'11" and 6'5″ (150 – 196 cm) can use this trainer with no problem. However, the machine only has a maximum user weight capacity of 220 lbs (100 kg).
The machine's pedal trays are a durable thermoplastic material, and they are large enough to accommodate footwear of all sizes. They have front guards and a textured surface for improved foot stability. They do not have any adjustment features or extra cushioning, but the machine itself already provides a low-impact type of workout.
The step-up pedal height (lowest pedal position) is approx—9″ (24 cm). Conversely, the pedals reach approximately 19″ (48 cm) above the floor at the highest point. Therefore, it is advisable to use this machine in a room with a roughly two feet higher ceiling than the tallest user.
SF-E3911 Drive and resistance
The Sunny Cardio Climber SF-E3911 integrates an 8.8 lbs (4 kg) flywheel, perimeter-weighted for improved inertia. The flywheel is also bi-directional. This means you can pedal in reverse if you want to diversify your workout. The resistance remains constant, given by the selected tension level when pedaling in reverse.
The machine features a belt drive system. This type of drivetrain comes with several advantages. First of all, it generates less vibration than a chain, so the pedaling motion is very smooth and quiet. And second of all, the belt doesn't require periodic lubrication.
The Sunny SF-E3911 Cardio Climber comes equipped with a manual magnetic resistance system. Therefore, the fitness console cannot adjust the resistance automatically and does not have pre-set programs. On the other hand, you don't need a power adapter for it or an electrical connection.
The trainer's resistance system consists of an internal magnetic brake that connects to the tension knob on the upright mast through a steel cable. By turning the knob, the brake moves either closer or farther from the flywheel, which increases or decreases the pedaling difficulty.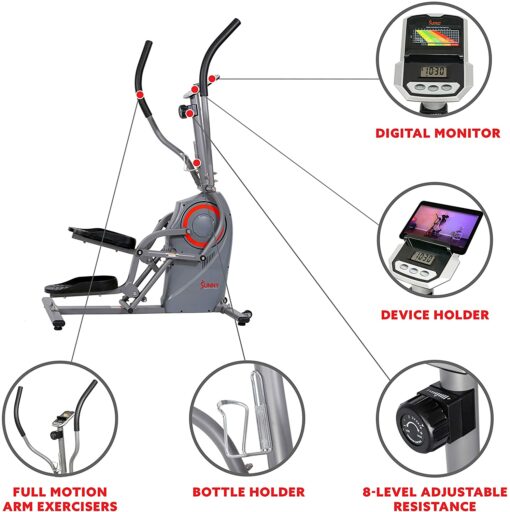 There are eight levels of resistance available on this machine. The first level of resistance doesn't increase the workout load by a lot. Conversely, the 8th tension level delivers a considerably more incredible pedaling difficulty if you want to perform a more consistent workout, improve strength and stamina.
Console
The Sunny SF-E3911 cardio climber comes equipped with a pretty standard fitness console. It features an LCD that tracks time, distance, total distance, speed, and calories burned. However, it does not have pre-set programs or online connectivity.
It does not have a pulse reading function, and the machine does not integrate any pulse sensors. The speed and distance display in English units (MPH and miles). There is no option for setting them to metric units.
Although the fitness console does not have pre-set programs, it does have a goal-setting function for time, distance, and calories. After selecting a goal value for any of these workout metrics, the console will count down from the specified value until it reaches zero.
The console comes equipped with three buttons (Mode, Set, and Reset). The Mode button allows you to scroll through the workout metrics and select the one you want to view on display. This way, you can also set the Scan Mode, which rotates all the metrics showing each one for 6 seconds.
Via the Set button, you can select workout targets for time, distance, and calories. And finally, the Reset button clears all the values to zero, except the odometer (total distance).
The console is battery-powered, and it requires two AAA batteries which come with the machine. It starts recording your workout data when you begin pedaling and also automatically turns off after four minutes of inactivity on the machine. When it enters sleep mode, all the data clears to zero except the odometer.
SF-E3911 Assembly and Maintenance
The machine's drive and resistance unit come pre-assembled. However, you will still have to attach the console mast, the pedal bars, the pedal trays, the two base stabilizers, the moving arms, and the fitness console.
This may take more than an hour, but the task is not too difficult. Also, the manual provides clear assembly instructions and schematics, and all the necessary tools come with the machine.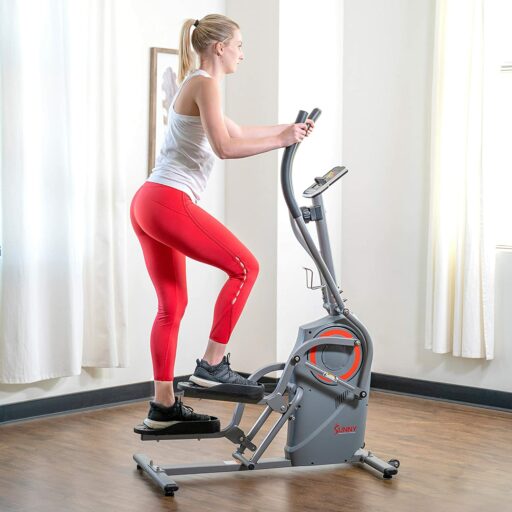 For maintenance, the internal parts do not require any lubrication. So, you only have to keep the machine clean, especially the pedal tracks, to prevent any damage to the pedal wheels. It's also necessary to periodically inspect your climber to ensure that all the parts still hold tight in their places and still function properly.
Pros
Fairly sturdy steel frame – can support users up to 220 lbs;
Small footprint;
Transport wheels on the front base;
Adjustable stabilizers on both base bars;
Durable, oversized pedals with front guards for extra foot stability;
Quiet belt drive system;
Manual magnetic resistance – 8 levels;
Fitness console included – it tracks time, speed, distance, total distance, and calories burned;
Goal settings for time, distance, and calories;
Device holder included;
HRC sticker included;
Bottle holder included;
Easy to assemble;
All the assembly tools included;
Batteries for the fitness monitor included;
Little maintenance required;
Excellent warranty.
Cons
The LCD doesn't have a backlight;
No pulse reading function;
No fixed handlebars.
Sunny SF-E3911 Cardio Climber Summary
The Sunny  SF-E3911 machine is a cardio climber featuring an 8-level manual magnetic resistance system, a sturdy frame with a maximum user weight capacity of 220 lbs, and a fitness console that tracks time, distance, speed, and calories burned.
Moreover, it's a trainer made for home use, great for low to medium-intensity cardio workouts, muscle toning, interval training, and weight loss.