Stride towards a comprehensive full-body workout with the Sunny SF-E3955 Elliptical Trainer. The eight levels of adjustable magnetic resistance are contactless and smooth. In addition, the magnetic resistance will enhance the fluid motion of your elliptical machine. The benefits include a much more linear, exceptionally smooth operation and minimal maintenance.
In addition, the belt drive means pedaling on the SF-E3955 is near silent and requires fewer maintenance routines than chain drivetrains. Textured non-slip foot pedals accommodate all sizes, while the grip ensures safe footing during the most demanding and vigorous workouts! Also, utilizing a stride length of 12.5 inches results in a more efficient and effective workout experience.
The included fitness monitor keeps you on top of your performance with a digital LCD that tracks the Time, Speed, Distance, Odometer, Calories, and Pulse. Monitor your cardiovascular performance with the built-in HR pulse-sensing grips so you can actively watch your workout progress displayed on the digital LCD.
Learn more in my complete review below!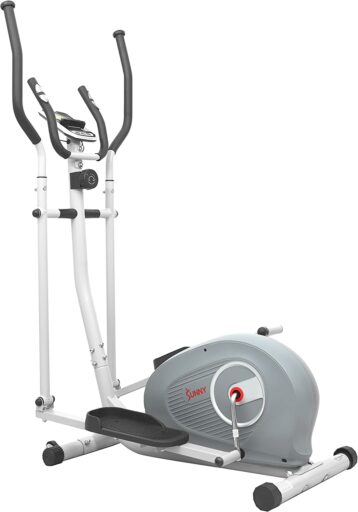 Product: Sunny SF-E3955 Elliptical Trainer
Price: For a great deal on this elliptical, merely go here to Sunny Health & Fitness.com
Warranty: Frame 3 years / Parts 180 days
My rating: is 9/10
Affiliate Disclosure: As a Sunny Health & Fitness Affiliate Program participant, I earn commissions on purchases made through links in the post. Full disclosure
Details and Specifications
Assembled dimensions: 43.7L x 24W x 59.4H inches (111L x 61W x 151H cm)
Assembled weight: 58.5 lbs (26.5 kg)
Supported weight: 240 lbs (109 kg)
Stride: 12.5 inches (32 cm)
Incline: No
Resistance: Manual magnetic, eight levels
Fitness Monitor: Time, speed, distance, calories, pulse, scan, goals
Extras: Device holder
Warranty: Frame 3 years / Parts 180 days
SF-E3955 Frame Construction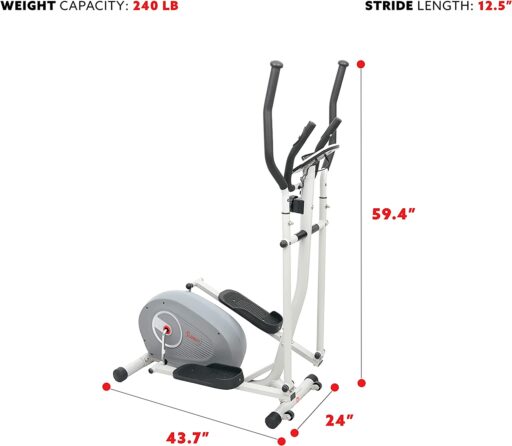 The Sunny SF-E3955 elliptical trainer features a steel tubing frame. It combines cylindrical and rectangular tubes in its construction. All the steel parts have a durable white paint finish. The unit also integrates several plastic parts. The most notable ones are the pedal trays and the side covers of the drive system. These are durable ABS polymers. The drive system guards are gray, while the pedals and other small covers are black.
The trainer is not too large, with a footprint of 43.7″L x 24″W (111 x 61 cm). However, allowing at least two feet of clearance is advisable all around the unit. That's because when the machine is in use, the front sections of the pedal bars will extend past the front base. Also, having some clearance around your elliptical makes access more accessible, and it's safer too.
In addition, the unit is not too heavy, weighing 58.5 lbs (26.5 kg). Therefore, one person can carry and assemble the elliptical. Once completed, it is even easier to move as its front base features transport wheels.
Like many other elliptical trainers in this price range, the Sunny SF-E3955 has two sets of handlebars. One is stationary, and the other is mobile. The stationary handlebars connect to the front mast's upper part, flanking the fitness monitor.
In addition, they integrate HR pulse sensors. The mobile handlebars attach to the front upright mast and the pedal bars. Consequently, they have more extended grips and flat-head grips at the top.
Pedal construction, stride, and elliptical path
The Sunny SF-E3955 elliptical trainer features a pretty standard set of pedals. Thus, their trays are made of durable ABS polymers. Unfortunately, they don't have any extra articulation or cushioning. Furthermore, they have a textured surface and front guards for improved foot stability.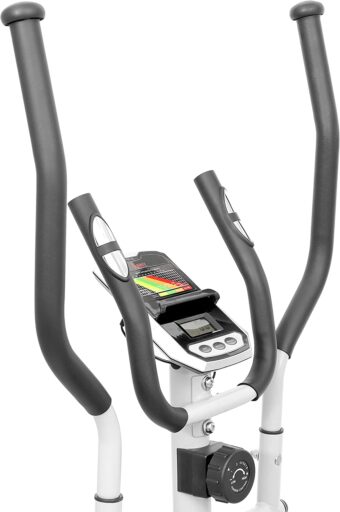 The pedal trays attach to two steel bars. These bars and the crankset are pretty durable. Thus, the machine has a maximum user weight limit of 240 lbs (109 kg), which is not bad for a home-use machine.
The trainer does not have an incline system. Therefore, the length of its stride or the angle of the elliptical path is not adjustable. In particular, it offers a short stride of 12.5″ (32 cm). Therefore, it may not be the best choice for users taller than 6'2″ (188 cm) as they want a more extended range of motion. Nonetheless, the machine can offer a reasonably decent cardio workout for any user as long as they don't exceed the specified user weight limit.
The unit's elliptical path inclines forward slightly. Thus, the pedaling motion resembles a descent on a soft ramp. In addition, this can be a plus, especially for users who want to tone their glutes, thighs, and calves.
The step-up pedal height is approx. 6″ (15 cm), the highest point it reaches is a height of approx. 13″ (33 cm) above floor level. Therefore, it is advisable to use the machine in a room with a ceiling at least 15″ (38 cm) higher than the tallest user's height.
SF-E3955 Drive and resistance
The Sunny SF-E3955 elliptical trainer has a standard magnetic resistance system. It is not motorized, so it does not require an external power source, a power cord, or a power adapter. However, on the other hand, the included fitness monitor cannot adjust the resistance automatically.
The resistance elements are an internal magnetic brake and a tension knob at the top of the machine's front mast. The brake connects to the tension knob via a steel cable. Therefore, when you turn the knob, the magnets move closer or farther from the internal flywheel, increasing or decreasing the pedaling difficulty.
There are eight tension levels available on the adjustment knob. The lowest level delivers a relatively light resistance, great for muscle toning or a workout warm-up. Conversely, the highest tension level offers considerably more resistance, so you can achieve a high cardio rate faster, build stamina, and burn more calories.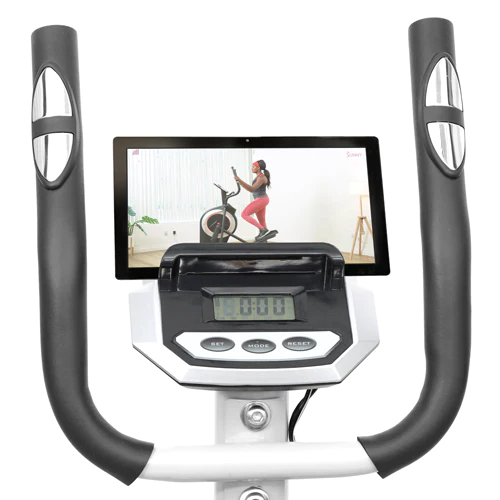 The exact weight of the internal flywheel is not specified. Furthermore, considering that the machine's net weight is 58.5 lbs (26.5 kg), it probably doesn't weigh more than 20 lbs (9 kg). In addition, it is perimeter-weighted to provide superior inertia and is bi-directional, so you can pedal in reverse if you want.
The machine comes with a belt drive system. It uses a poly-v belt designed for superior traction. In particular, this is a plus, as you don't have to take the drive unit apart periodically to lubricate the drivetrain, as would typically be required if the machine used a chain drive.
Fitness monitor
The Sunny SF-E3955 elliptical trainer features a fitness monitor similar to the one included with the Sunny SF-E3911 model. It has an LCD (without a backlight). It tracks time, speed, distance, total distance, calories, and pulse.
The speed and distance are in Imperial units (MPH and miles). There is no option for setting them to metric units. In addition, the pulse reading function is hand-grip only. Consequently, the monitor unit can only read your pulse if you hold on to the sensors integrated into the fixed handlebars. It cannot read pulse from a wireless transmitter.
Unfortunately, the monitor does not have pre-set programs or online connectivity, nor is it compatible with any fitness apps. However, it does offer the possibility of creating goals for your workouts. You can set a workout goal for time, distance, or calories. After choosing a workout goal, the monitor will count down from the selected value as you exercise until it reaches zero.
The monitor features three buttons: Set, Mode, and Reset. The Mode button allows you to select the workout metric you want to view, or the Scan Mode, which automatically rotates all the metrics showing each one for 6 seconds.
The Set button covers the workout goal function, and the Reset button allows you to clear all the values on the monitor to zero except the odometer.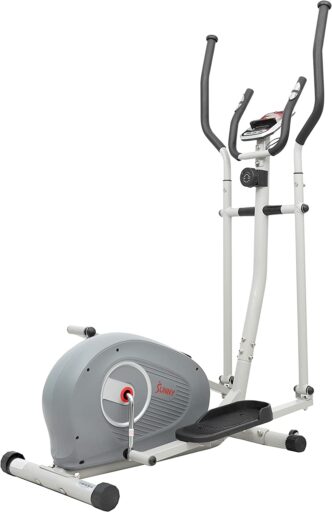 The fitness monitor is battery-powered and requires two AAA batteries, which come with the machine. It automatically turns off if it does not detect any activity on the machine for more than four minutes. It also integrates a device holder.
SF-E3955 Assembly and Maintenance
The base frame of the trainer and the drive and resistance units comes pre-assembled. However, the other parts do require user assembly, though. For example, you will have to attach the front and rear base bars, the pedals, the front mast, the handlebars, and the fitness monitor.
Consequently, this may take more than an hour of your time, but the whole task is far from being difficult. The manual offers clear assembly instructions with illustrations, and all the necessary tools come with the elliptical.
The internal parts of the machine do not require lubrication. So, in terms of maintenance, you only have to check for loose bolts and parts and retighten or replace them as needed. Lubrication will do the trick if the joints begin to squeak a bit.
Pros
Sturdy construction – can support users up to 240 lbs;
Transport wheels on the front base;
Mobile arms with an ergonomic design and flat grips at the top;
Fixed handlebars with pulse sensors;
Smooth and quiet belt drive system;
Oversized pedals with three adjustment positions;
Eight levels of magnetic resistance;
Fitness monitor included – it tracks time, distance, total distance, calories, speed, and heart rate;
Goal setting functions for time, distance, and calories;
Heart rate zones graph sticker at the top of the fitness monitor;
Device holder included;
Batteries for the fitness monitor included;
Easy to assemble;
Tools for assembly included;
Little maintenance is required;
Excellent warranty.
Cons
The fitness monitor LCD does not have a backlight;
There is no bottle holder.
Sunny SF-E3955 Elliptical Trainer Summary
The Sunny Health & Fitness SF-E3955 is a home-use elliptical trainer with an 8-level manual magnetic resistance system. Furthermore, it offers a 12.5-inch stride and a maximum user weight limit of 240 lbs.
In addition, it also includes a fitness monitor that tracks time, speed, distance, total distance, calories, and heart rate. Moreover, it's a machine for low-impact cardio workouts, muscle toning, stamina development, and weight loss.
I hope you found this article helpful and informative. Would you please speak up if you have anything you'd like to share on the topic or any opinions about my website? I look forward to your comments, questions, and the sharing of ideas.
Please remember that you should consult your physician to determine if you have any medical or physical conditions that could risk your health and safety or prevent you from using the equipment properly. In addition, your physician's advice is essential if you are taking medication that affects your heart rate, blood pressure, or cholesterol level.