The portable YOSUDA YBM-1 UnderDesk Bike helps exercise your arms and legs forward or reverse. It is excellent for increasing blood circulation, reducing joint pain, improving body muscular endurance, and losing weight. This bike takes up little space. It's perfect for small apartments, dorm rooms, or offices.
Use the tension knob to adjust and control the intensity of your workout to fit your specific needs. This superb mini-exercise bike is ideal for physical therapy, relaxation, bodybuilding, aerobic exercise, etc. In addition, the YBM-1 exercise bike comes with a portable handle that makes it easy to carry and store anytime, anywhere.
The YOSUDA YBM-1 underdesk bike features an easy-to-read fitness monitor that shows your time, speed, distance, and calories burned to keep you motivated as you cycle. Or choose the scan function to cycle through all of the workout variables.
The YBM-1 exercise bike is an excellent gift for your health. It's perfect for arm and leg exercise, blood circulation, and activating muscles. The YBM-1 is a simple but effective way to keep fit while sitting for people who do not have regular time to work out. It is not only for white-collar office people but also for the elderly or those needing recovery training.
Learn more in my complete review below!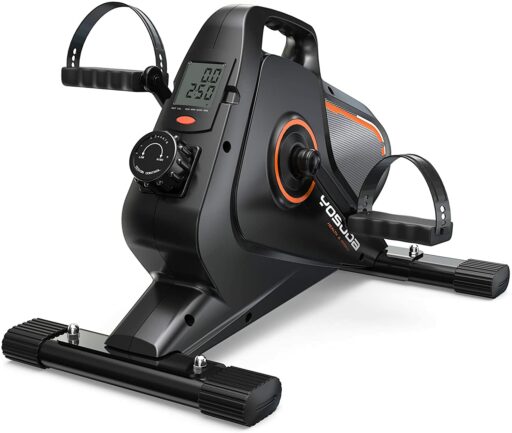 Product: YOSUDA YBM-1 UnderDesk Bike
Price: For a great deal on this bike, merely go here to YOSUDA.com
Warranty: 1 year limited
My rating: 8.75/10
Affiliate Disclosure: As a YOSUDA Affiliate Program participant, I earn commissions on purchases made through links in this post. Full disclosure
Details and Specifications
Assembled dimensions: 21.26L x 12.29W x 14.3H inches (54L x 31W x 36H cm)
Assembled weight: 22 lbs (10 kg)
Pedals: With straps
Resistance: Manual magnetic, eight levels
Fitness Monitor: Time, distance, odometer, RPM, calories, scan
Warranty: 1 year limited
YBM-1 Frame Construction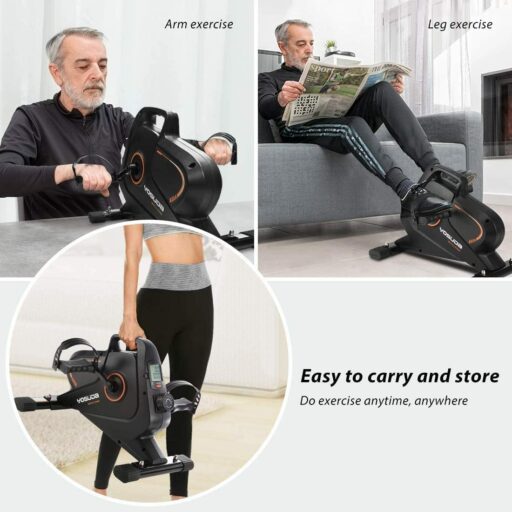 The YOSUDA YBM-1 underdesk bike features a steel frame with a corrosion-resistant paint finish. However, the drive and resistance cover conceal most of the structure. These are durable thermoplastic materials. The paint used for the frame is black, while the plastic covers combine black, gray, and orange for an aesthetic touch.
Like other underdesk bikes, the YOSUDA YBM-1 is not a large fitness machine. With all the parts assembled, it is approximately 21.26″ (54 cm) long and 12.29″ (31 cm) wide. Its highest point is 14.3″ (36 cm), while the pedal's highest point is approx—12″ (30.4 cm).
Therefore, if you use this exercise bike under a desk, the desk should be at least 15″ (38 cm) above your knees when keeping your feet flat on the floor to pedal freely. However, the bike should fit under most types of desks.
The bike is not too heavy either. Its net weight is 22 lbs (10 kg), with all the parts assembled. Therefore, anyone should be able to carry it with ease. Plus, its plastic covers form a handle at the top for easier carry.
The bike rests on two oval steel stabilizer bars. They have durable thermoplastic end caps. These have texturing and rubber pads on the bottom, which prevent the unit from slipping or moving when it's in use. The bike's base stabilizer bars do not have adjustable levelers, though.
Resistance system
The YOSUDA YBM-1 comes equipped with a standard manual magnetic resistance system. Thus, it doesn't require an external power source or an adapter. However, on the other hand, it also doesn't adjust the resistance automatically and does not have pre-set workout programs.
The bike's resistance system consists of an internal magnetic brake connecting to the flywheel assembly and the tension knob on the front side of the unit's casing. By turning the knob clockwise, the magnets move closer to the flywheel, increasing the intensity of the internal magnetic field and ultimately increasing the pedaling difficulty.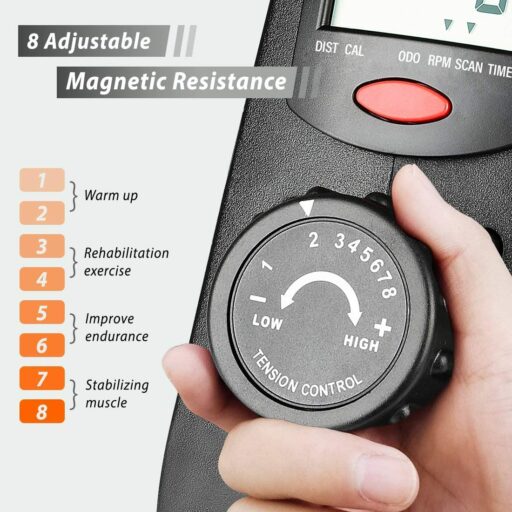 The magnetic resistance system comes with two main advantages. First of all, the magnetic brake pad does not touch the flywheel. Therefore, the pedaling motion is very smooth and quiet. Second, since the magnets do not touch the flywheel, the bike usage is whisper-quiet.
Thus, you can use it in a working office without bothering your colleagues. In addition, the bike's brake pad has virtually no wear and tear, unlike the brakes of fitness bikes with a friction resistance system.
The bike makes available eight levels of resistance. The first resistance level is relatively light, great for a fitness warm-up and recovery training. However, the pedal resistance provided by the 8th difficulty setting is considerably distinguishable from the 1st level.
Again, however, the bike is for light workouts and recovery training so it won't provide the same workout level as a spin bike.
YBM-1 Drive system
Like most other exercise bikes with a magnetic resistance system, the YOSUDA YBM-1 has a belt drive system. It integrates a poly-v belt highly resistant to abrasion and stretching.
Unlike a chain drive, it delivers a smoother pedaling motion as it generates less vibration. It also does not require any lubrication, so it's hassle-free. You won't have to worry about periodically taking the bike's covers apart to lubricate the drivetrain.
Although it's a small exercise bike, it does have an internal flywheel. Its exact weight is not specified, but since the bike weighs more than 22 lbs (10 kg), the flywheel probably weighs around 10 lbs (4.5 kg). In addition, it is perimeter-weighted, which leads to a more consistent pedaling motion and higher inertia.
The bike's flywheel is bi-directional. Thus, you can pedal in reverse if you want. As a result, you can put some diversity into your workouts and focus on different muscle groups. However, it's important to note that coasting is not possible.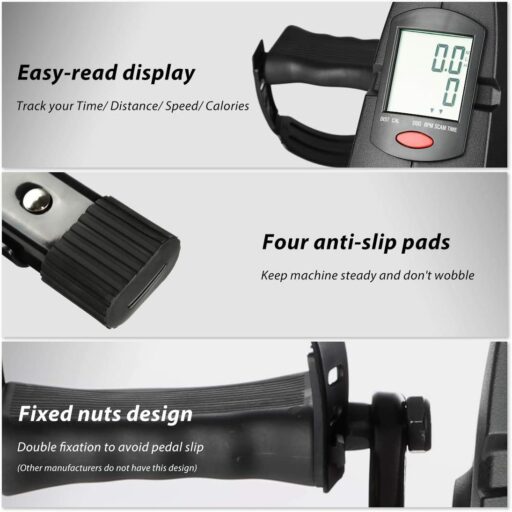 So, when you stop pedaling, the flywheel also stops spinning. Also, when pedaling in reverse, the resistance remains the same as when pedaling forward.
The bike comes with a set of narrow pedals. This design allows for a better grip if you want to perform recovery arm exercises. The pedals have a metallic core and come coated with durable nylon material. They also have adjustable straps.
Since the bike is pretty narrow, it also has a narrow Q-Factor (spacing between the pedals). Thus, your feet are not too far apart on the pedals, and a workout on this bike does not put a lot of lateral stress on your knees and ankles.
Lastly, the crank arms are rigid and steel-made, similar to the ones on road bikes. However, the cycle is not for standing workouts.
Fitness monitor
The YOSUDA YBM-1 underdesk bike integrates a simple fitness monitor with an LCD divided into two sub-sections, simultaneously showing two workout metrics. It tracks time, distance, total distance, RPM, and calories burned. However, it does not show speed and does not have a pulse reading function. The distance reading display is miles.
The bike's fitness monitor lacks pre-set programs, goal functions, or Bluetooth connectivity. However, it is pretty easy to use.
It features a one-button that covers all of its operations. You can select the metrics you want to view on display by repeatedly pressing the button. It also has a scan function that automatically rotates the workout metrics showing each one for a few seconds.
There is also a reset function. You can press and hold the button for a few seconds to clear all the values on the monitor to zero except the odometer.
The fitness monitor is battery-powered, requiring two AAA batteries with the bike. It starts up when you begin pedaling. It also automatically turns off after a few minutes of inactivity on the bike.
YBM-1 Assembly and Maintenance
The bike's body comes pre-assembled. Therefore, you only need to attach the two base stabilizers, the pedals, and the included batteries to the fitness monitor. Consequently, it shouldn't take more than 10 minutes of your time. The manual provides clear assembly instructions, and an essential tool for assembly comes with the bike.
Once assembled, maintenance doesn't require much. You must keep it clean, periodically check for loose bolts and parts, and retighten them as needed. In addition, the internal components are pre-lubricated from the factory and shouldn't need any lubrication or maintenance for an extended time.
Pros
Sturdy construction and compact design;
Built-in carrying handle;
Narrow pedals for a better grip if used for arm exercises;
Pedals have adjustable straps;
Frictionless magnetic resistance for a whisper-quiet workout;
Fitness monitor that tracks RPM, time, distance, total distance, and calories burned;
Batteries for the monitor come with the bike;
Easy to assemble;
Little maintenance is required;
A multi-tool for assembly comes with the cycle.
Cons
The fitness monitor does not have a pulse reading function;
The fitness monitor LCD does not have a backlight.
YOSUDA YBM-1 UnderDesk Bike Summary
The YOSUDA YBM-1 is an underdesk exercise bike for home or office use. It features an 8-level manual magnetic resistance system, narrow pedals with straps, and a fitness monitor that tracks time, distance, total distance, RPM, and calories burned.
Moreover, it's a great exercise bike for light workouts, recovery training, stamina, strength improvement, stress reduction, and cardiovascular fitness.
I hope you found this article helpful and informative. Would you please speak up if you have anything you'd like to share on the topic or any opinions about my website? I look forward to your comments, questions, and the sharing of ideas.
Please remember to consult your physician to determine if you have any medical or physical conditions that could risk your health and safety or prevent you from using the equipment properly. In addition, your physician's advice is essential if you are taking medication that affects your heart rate, blood pressure, or cholesterol level.