The Sunny SF-T7515 Smart Treadmill features a strong steel tubing frame to support a maximum user weight capacity of 240 lbs (109 kg). In addition, all bars of the machine come coated with corrosion-resistant paint. When fully assembled, the machine is significantly heavy, weighing more than 120 lbs. when fully assembled. Thus it offers excellent stability, although it's not a bulky machine.
The running deck of the SF-T7515 is 49.5L x 16.5W inches (126L x 42W cm). This treadmill's deck is foldable, and users can lift and lock it upright. In addition, the hydraulic 'soft drop' system installed on the machine helps users lower the deck slowly, softly, and safely.
Being mainly a walking treadmill, the Sunny SF-T7515 Smart Treadmill has a light capacity motor of only 2.2 Peak HP. But it's sufficient for walking and jogging workouts. The machine provides speeds up to 8.0 MPH (12 km/h). The SF-T7515 also has a 12-level (0% to 12%) motorized incline system.
The SF-T7515 has a mid-range fitness console with an LCD with an LED backlight that tracks distance, time, speed, incline, calories burned, and pulse. In addition, the machine offers 12 preset workout programs that automatically adjust the belt's pace and some change the angle.
Learn more in my complete review below!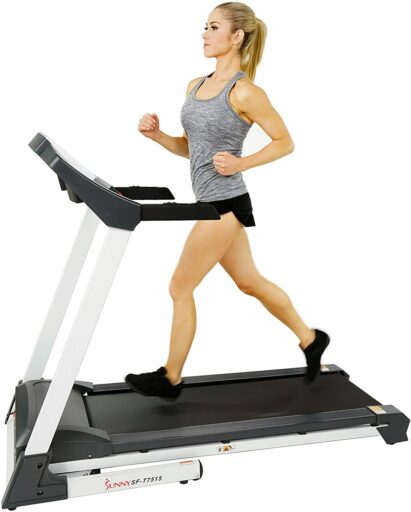 Product: Sunny SF-T7515 Smart Treadmill
Price: For a great deal on this treadmill, merely go here to Sunny Health & Fitness.com
Warranty: Frame 3 years / Parts 180 days
My rating: 8.5/10
Affiliate Disclosure: As a Sunny Health & Fitness Affiliate Program participant, I earn commissions on purchases made through links in the post. Full disclosure
Details and Specifications
Assembled dimensions: 64.5L x 28W x 50.5 inches (164L x 71W x 128H cm)
Tread belt dimensions: 49.5L x 16.5W inches (126L x 42W cm)
Assembled weight: 121 lbs (55 kg)
Supported weight: 240 lbs (109 kg)
Motor: 2.2 Peak HP
Incline: Automatic, 12 levels (0% – 12%)
Speed range: 1.0 – 8.0 MPH
Console: 12 programs, three user profiles, Bluetooth
Extras: Tablet shelf, bottle holders, sound system
Warranty: Frame 3 years / Parts 180 days
SF-T7515 Frame
The Sunny SF-T7515 smart treadmill features a steel frame, durable enough to support 240 lbs (109 kg) users. In addition, all its steel bars come coated with a white corrosion-resistant paint finish, with the Sunny logo painted red.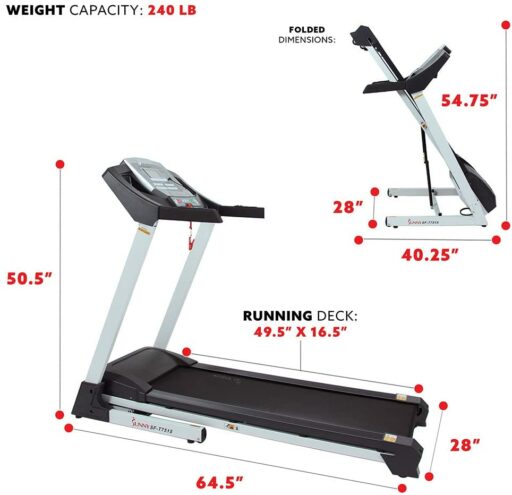 The machine's construction also features several ABS components, the most notable being the deck's side rail covers, the motor's cover, and the joint surfaces between the console masts and the base frame.
The unit is relatively heavy. With the frame fully assembled, it weighs more than 120 lbs. Therefore, it offers plenty of stability, even though it is a small machine. Plus, the adjustable stabilizers on their bases enhance its stability.
Although this Sunny treadmill is relatively heavy and may require two persons to carry and assemble, its relocation isn't challenging once completed because the front base has two wheels facilitating its transport.
Since it's a treadmill for walking and light jogging, the Sunny SF-T7515 is not extremely large. Its fully assembled footprint is 64.5″L x 28″W (164 x 71 cm). It's also advisable to leave at least two clearance feet on the sides and three at the machine's rear for safe operation.
Deck
On the other hand, its deck is foldable. You can lift and lock it upright; this way, the machine's length is approximately 40″ (101 cm). The finished folded dimensions of the unit are 40″L x 28″W x 55.5″H (101 x 71 x 140 cm).
The deck features a hydraulic "soft-drop" mechanism similar to the one used on other treadmills. This mechanism helps you lower the deck and prevent any accidents or damage to the deck during unfolding.
The Sunny SF-T7515 offers a walking/jogging platform of 49.5″L x 16.5″W (126 x 42 cm). Thus, it provides plenty of exercise space for users up to 6'2″ (188 cm). Of course, taller users should also use this machine, but they may have to reduce their stride.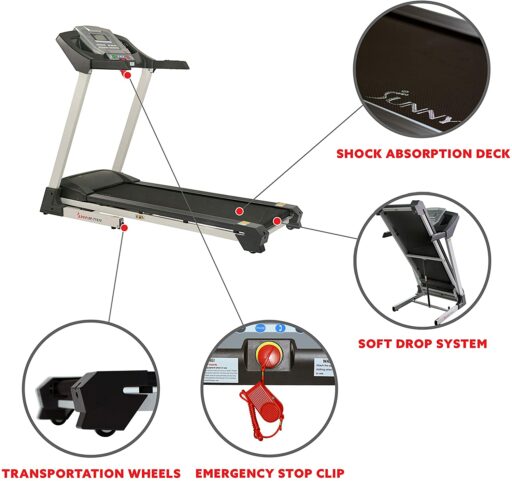 Although the deck doesn't have an advanced cushioning system, it does have several shock absorption points, which alleviate quite a bit of the walking impact. In other words, walking or jogging on this treadmill is considerably more forgiving on the joints than walking or jogging on asphalt or concrete.
SF-T7515 Incline & step-up height
The Sunny SF-T7515 comes equipped with a motorized incline system. Therefore, the incline adjustment is digital and is adjustable from the console or the left handlebar's controls. In addition, some of the preset programs involve inclines, so the machine will automatically adjust the deck's slope if you use one.
There are 12 incline levels available, from 0% to 12% (or 0° – 6.9°). The incline increments are 1%. There are gradual adjustment controls on the left corner of the console or, as I've mentioned earlier, on the left handlebar. The console also has quick incline controls for the 3%, 6%, 9%, and 12% positions.
The machine's step-up height is approx—10″ (25 cm). The deck's front should gain a few extra inches by adjusting the incline to its maximum point. Therefore, placing and using the machine in a room with a ceiling at least 15″ higher than your size is advisable.
Drive Motor
The Sunny SF-T7515 is a walking treadmill with only a 2.2 Peak HP light capacity motor. But this motor is enough for walking and jogging workouts. In addition, some user reviews say it doesn't overheat and performs well even when running at its maximum speed.
Since it's a motorized treadmill, it requires a connection to a power circuit. A 3-foot power cord comes with the machine, and the connector is at the deck's front base. As a result, the motor itself doesn't generate much noise. Also, the cadence noise will be minimal since you'll mostly be walking on this treadmill.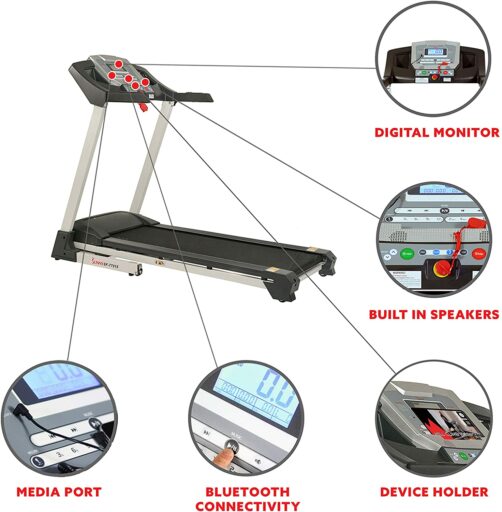 The motor provides speeds up to 8.0 MPH (12 km/h). The default speed is 1.0 MPH, but up from that, you can adjust the speed in increments of 0.1 MPH. Therefore, you can match the belt's speed to your pace to benefit from comfortable walking.
As for the incline, there are speed controls on the console and built-in the right handlebar. The console also provides quick speed controls for the 2 MPH, 4 MPH, 6 MPH, and 8 MPH settings.
SF-T7515 Console
The console equipped on the Sunny SF-T7515 is a mid-range one. First, it has an LCD with a blue LED backlight, improving its readability. Second, it divides into several sub-sections and shows multiple workout metrics simultaneously, so you don't have to use a scan function to alternate them. It tracks time, distance, calories, pulse, speed, and incline.
There are goal settings available for time, distance, and calories. Therefore, you can select a target for each of these metrics, and the console will begin to count down from that value chosen until it reaches zero as you walk on the machine.
Although the console is Bluetooth enabled, it cannot read your pulse via an HR chest strap transmitter. Instead, to benefit from a pulse reading, you must hold on to the sensors integrated into the side handlebars and use one of the HR-based programs.
Regarding the Bluetooth function, you can sync the console to your smartphone or MP3 player and take phone calls or listen to music on the treadmill's speakers while you exercise. However, you cannot use the Bluetooth connection to stream workout data on any online fitness site or app.
The console offers 12 workout programs. They adjust the belt's speed automatically, and some change the incline.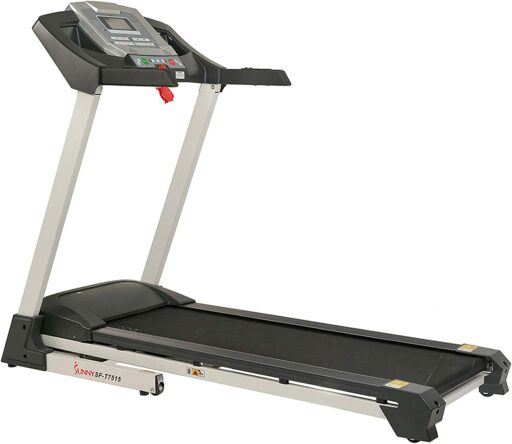 There also are three user profiles available. Therefore, you can modify a program by adjusting all its ten segments and saving it for later use.
There is also a Body Mass Index feature available. The BMI feature is to test the relationship between height and weight. Again, you must input personal data, such as height, weight, gender, and age.
Regarding other non-fitness features, I count the unit's sound system, the tablet holder, and the two accessory or bottle trays molded into the console dashboard.
The sound system consists of two speakers that provide pretty decent sound. It's compatible with most smartphones and MP3 players. You can use the Bluetooth connection to listen to music on your phone or the audio input jack. In addition, the console makes available pause/play, track selection, and volume controls.
The tablet/phone holder is between the two controls on the console. It's pretty significant and can hold any tablet. And finally, the trays on each console side accommodate most water bottles or other accessories.
SF-T7515 Assembly & Maintenance
The treadmill comes fully assembled but folded into a flat position. Next, unfold the console masts, secure them upright via the included screws, and add the protective joint covers. The console also needs to be secured in a usage position.
Therefore, it shouldn't take more than 30 minutes of your time. The manual includes all the assembly instructions, and the treadmill also has an essential toolkit.
For maintenance, the deck requires periodic lubrication. Keeping the belt clean is also essential to prevent fibers or other objects from getting caught in the motor. Other than this, it's advisable to periodically check for loose parts and bolts and re-center the belt if necessary.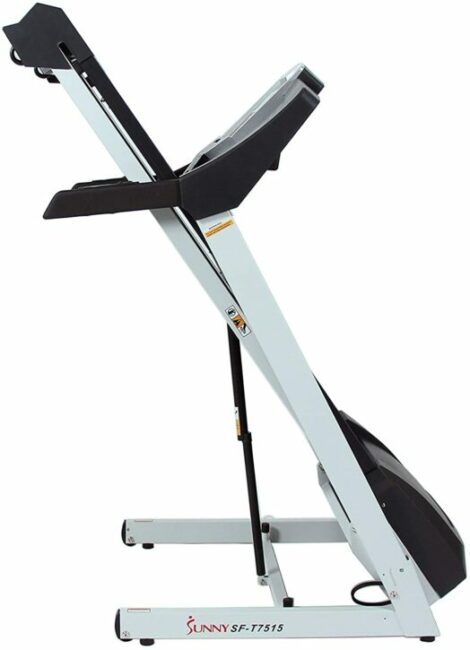 Pros
Sturdy construction for a walking treadmill;
Can support users up to 240 lbs;
Folding deck, soft-drop hydraulic system;
Transport wheels;
Adjustable stabilizers;
Shock absorption elements integrated into the deck;
Motorized incline, 12 levels (up to 12%);
Speed settings up to 8.0 MPH;
Speed adjustment increments of 0.1 MPH give you the possibility to find the perfect pace for your workout;
Low power consumption;
LED-backlit display;
Eight preset workout programs;
Three user profiles;
Body Mass Index function;
Goal settings for time, distance, and calories;
Sound system;
Bluetooth connection for the sound system and phone calls;
Tablet holder;
Accessory trays built-in the dashboard;
Pulse sensors integrated into the handlebars;
Very easy to assemble;
Little maintenance is required.
Cons
A tablet placed on the tablet holder will cover the quick speed controls and partially the LCD;
There is not a workout fan.
Sunny SF-T7515 Smart Treadmill Summary
The Sunny SF-T7515 is a mid-range treadmill for walking and jogging, equipped with a 2.2 Peak HP motor with a 1-8 MPH speed range and a 12-level motorized incline. It has a sturdy construction for a walking treadmill, its deck has shock absorption elements, and it is also foldable. Its console has eight preset programs, three user profiles, a BMI function, and a Bluetooth connection for its sound system and for taking phone calls.
Moreover, it's a decent fitness machine, perfect for light to medium-intensity workouts, muscle toning, recovery training, stamina development, and weight loss. It's also one of the most affordable treadmills with a motorized incline and Bluetooth, priced under $500.
I hope you found this article helpful and informative. Would you please speak up if you have anything you'd like to share on the topic or any opinions about my website? I look forward to your comments, questions, and the sharing of ideas.
Please remember to consult your physician to determine if you have any medical or physical conditions that could risk your health and safety or prevent you from using the equipment properly. In addition, your physician's advice is essential if you are taking medication that affects your heart rate, blood pressure, or cholesterol level.