The BOTORRO R5 Fold-Flat Treadmill adopts steel and high-strength aluminum material, designed with a unique parallelogram double-column support structure. The triangular structure makes this treadmill more stable and durable. Also, the B5 has a maximum user weight capacity of 265 lbs (120 kg).
A 14-point shock absorption provides a solid cushioning effect and protects your knees, ankles, waist, and neck joints, making your exercise safer and more comfortable. In addition, the B5 has a 7-layer tread belt (18 "x 50") and is a high-density textured belt that absorbs shock for premium comfort with the non-slip feature.
The BOTORRO R5 Fold-Flat Treadmill has a fitness console featuring an LCD that tracks speed, time, steps, distance, and calories burned. In addition, you can connect your phone or tablet to enjoy your favorite media via Bluetooth speakers to deliver vibrant stereo sound.
The B5 is easily stored in a closet, under a bed, under the sofa, or just left out in the room, ready for use. It features dual transportation wheels to provide for easy moving and relocation. Effortlessly tilt and roll out for use or storage.
Learn more in my complete review below!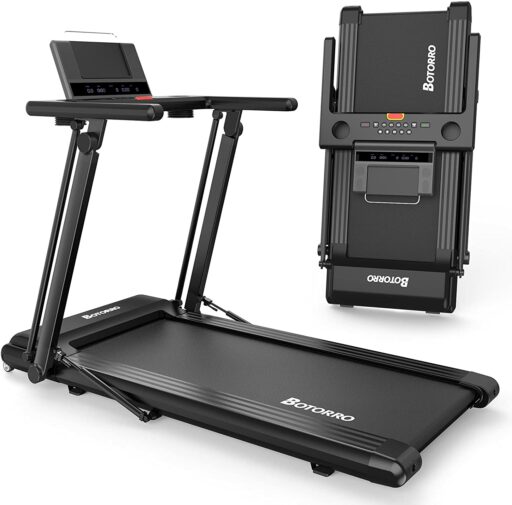 Product: BOTORRO R5 Fold-Flat Treadmill
Price: For a great deal on this treadmill, merely go here to Amazon.com
Warranty: 1 year limited
My rating: is 9/10
Affiliate Disclosure: As an Amazon Affiliate Program participant, I earn commissions on purchases made through links in this post. Full disclosure
Details and Specifications
Assembled dimensions: 62L x 31W x 48H inches (157L x 79W x 122H cm)
Tread belt dimensions: 49.2L x 18.1W inches (125L x 46W cm)
Assembled weight: 114.5 lbs (52 kg)
Supported weight: 265 lbs (120 kg)
Motor: 2.0 HP, 0.6 – 9.0 MPH
Incline: N/A
Console: Time, speed, distance, steps, calories
Extras: Device holder, bottle holders, Bluetooth speakers
Warranty: 1 year limited
B5 Frame Construction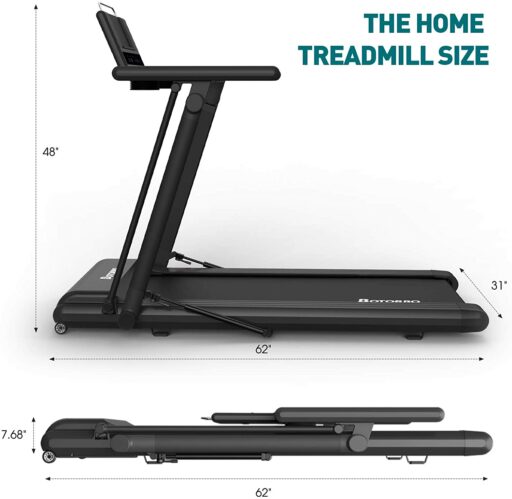 The BOTORRO R5 treadmill features a steel tubing frame with several aluminum parts. In addition, the primary tubes in its construction come double-coated with a black, rust-resistant, and chip-resistant paint finish.
The complete setup machine is relatively large. It is approximately 62″ (157 cm) long and 31″ (79 cm) wide. Therefore, it is advisable to allow at least two feet of clearance on each side of the deck and at least three feet at the rear for safe usage and ease of access.
Also, with the upright bars set to their highest position at their highest point, the machine's height reaches approx. 48″ (122 cm) above floor level.
The BOTORRO R5 is a fold-flat treadmill. Accordingly, its upright bar assembly with the console and side grips folds over the deck. When folded flat, its height is approx—8″ (20.3 cm). Also, the machine can store upright against a wall when folded.
The upright bar assembly with the console and side grips is angle-adjustable. In addition, the vertical bars feature hydraulic cylinders to adjust the height of the console and the side grips. Thus, persons of different heights can use this machine while having the console display at a height appropriate to their size.
Last but not least, the BOTORRO treadmill is reasonably heavy. It weighs approximately 114.5 lbs (52 kg), so two people should transport the packaged treadmill. However, one person can relocate the machine as its front base features two transport wheels.
Deck Construction
First, the BOTORRO R5 treadmill does not have an incline system. Therefore, you can only use it with the deck flat on the floor. However, the deck has a pretty sturdy construction. In addition, it has a maximum user weight limit of 265 lbs (120 kg) which is not bad for a home-use treadmill.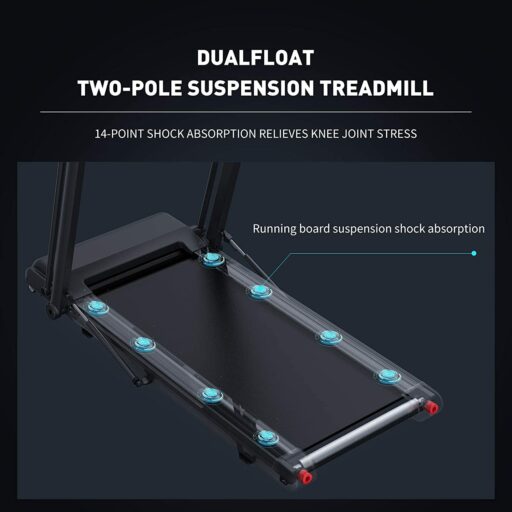 The machine offers a running platform of 49.2″ (125 cm) extended and 18.1″ (46 cm) wide. Therefore, it comfortably accommodates users up to 6'2″ (188 cm) with no problem. Taller persons can still use this treadmill but may not benefit from a complete range of motion when running at full speed.
The BOTORRO treadmill has a 7-layer tread belt designed to disperse and absorb shock, with a top layer of high-density rubber featuring a textured surface for an improved grip.
In addition, the deck integrates 14 cushioning elements concealed by the side rail covers. These considerably reduce the running and walking impact, leading to a safer workout, especially for your joints and lower back.
The internal rollers have a crowned design to prolong the belt's lifespan and improve traction. In addition, they integrate sealed bearings for a smooth belt motion.
The belt's height is approximately 5″ (13 cm) above the floor. Therefore, you shouldn't worry too much about ceiling height issues. However, it would be best to allow at least 10″ (25 cm) above the height of the tallest user.
B5 Drive motor
The BOTORRO treadmill comes equipped with a 2.0 HP motor. It's not a super-powerful treadmill motor, but it allows running for a relatively long time without overheating. It also integrates a small flywheel for improved motion stability.
The BOTORRO R5 treadmill offers a speed range between 0.6 MPH and 9.0 MPH. The speed adjustment increments are 0.1 MPH. The console comes with controls for gradual speed adjustment and quick speed adjustment. The quick speed selection keys are 2 MPH, 4 MPH, 6 MPH, and 8 MPH.
It's important to note that even if you change the speed of the belt via one of the quick adjustment controls, the speed will gradually increase or decrease, allowing you to adapt your pace quickly.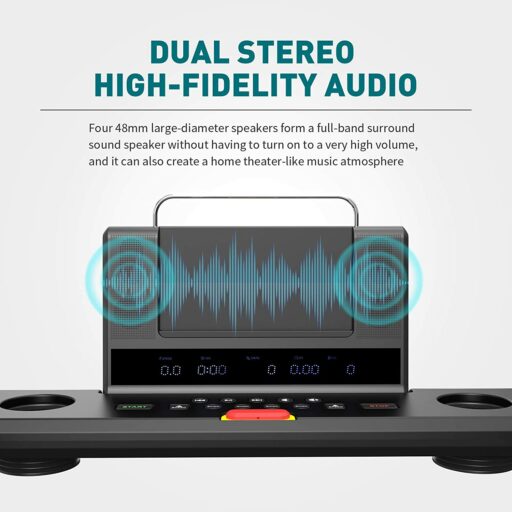 Since the treadmill's motor is not super powerful and only offers a peak output of 2.0 HP, its power consumption is minimal. Therefore, even if you use it daily, it shouldn't add more than a few dollars to the electricity bill.
Also, the motor doesn't generate much noise when used, but your cadence may create more or less noise depending on how fast you go.
Console
The BOTORRO R5 treadmill comes equipped with a pretty simple console. Furthermore, it does not have pre-set programs or online connectivity and isn't compatible with fitness apps. Instead, it features a LED display divided into five small windows that indicate (left to right) speed, time, steps, distance, and calories burned.
The speed and distance are in MPH and miles. There is no option for setting them to km/h and kilometers. Unfortunately, the console is not telemetric and does not have built-in HR pulse sensors. Therefore, you must use a separate device to keep track of your pulse during your workouts.
The console integrates a device holder and a set of speakers. The device holder has a pretty spacious area above the LED display to place a tablet or smartphone.
The speakers are relatively large. They're placed on each side of the tablet holder. In addition, they have Bluetooth connectivity, so you can sync your phone or tablet with the console and play your music through them for better sound quality.
There are no additional ports on the console for a phone or tablet (no AUX, no USB). However, there are rewind and volume controls. Among other console features, I count the Start / Stop buttons, magnetic key for quickly stopping the belt, quick speed controls, and two bottle holders on each side of the keypad.
B5 Assembly and Maintenance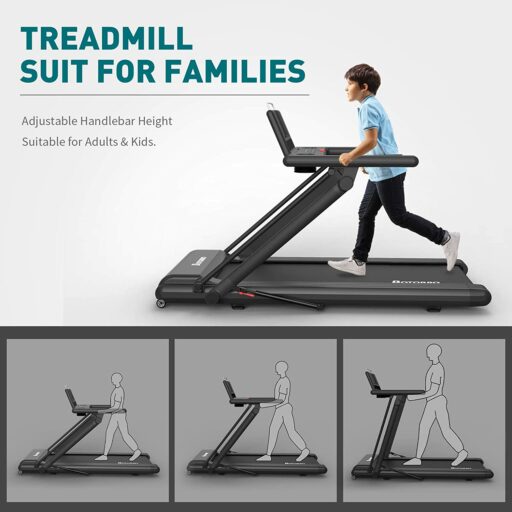 The BOTORRO R5 treadmill comes fully assembled and folded. So, all you need to do is unpack it, unfold it, plug it in, and you're ready to go.
Therefore, it shouldn't take more than 15 minutes of your time. In addition, the manual provides straightforward setup and usage instructions.
You only have to keep the machine clean, especially the belt, to prevent any dirt or textile fibers from getting caught in the motor for maintenance. As is the case for most treadmills, the belt requires periodic lubrication. It is also advisable to periodically inspect the machine to ensure everything is in order and all the parts still function correctly.
Pros
Sturdy construction – can support users up to 265 lbs (120 kg);
Compact design;
Folding-flat frame;
Transport wheels integrated into the front base of the machine;
Angle-adjustable upright bars are great for users of all sizes;
Cushioned deck;
No assembly is required – all you need to do is unfold it and plug it in;
Fairly decent motor with a 2.0 HP peak power;
Speed levels up to 9.0 MPH;
Speed adjustment increments of 0.1 MPH so you can easily adjust your pace;
Quick speed adjustment controls for 2, 4, 6, and 8 MPH;
Minimalistic console design;
Integrated Bluetooth speakers;
Device holder included;
Bottle holders included;
Little maintenance is required.
Cons
The console does not have any pre-set programs;
The is no incline system;
The console doesn't have a pulse reading function.
BOTORRO R5 Fold-Flat Treadmill Summary
The BOTORRO R5 is an electric treadmill designed for home use. It features a durable frame with adjustable height for the upright bars and console.
It comes equipped with a 2.0 HP peak power motor that offers speed levels up to 9.0 MPH; it has a running platform of 49.2″L x 18″W and a LED console that tracks time, distance, speed, steps, and calories burned. The console also integrates Bluetooth speakers and a device holder.
Moreover, it's a reasonably decent treadmill for high-intensity cardio workouts, muscle toning, stamina development, and weight loss. It's not the most affordable for the range of features but offers an excellent price.
I hope you found this article helpful and informative. Would you please speak up if you have anything you'd like to share on the topic or any opinions about my website? I look forward to your comments, questions, and the sharing of ideas.
Please remember to consult your physician to determine if you have any medical or physical conditions that could put your health and safety at risk or prevent you from using the equipment properly. In addition, your physician's advice is essential if you are taking medication that affects your heart rate, blood pressure, or cholesterol level.