With its quality design and high performance, the Spirit XT285 Folding Treadmill from Spirit Fitness is a good investment if you want comfort, convenience, and peace of mind in a fitness machine. If you are willing to spend on a treadmill with great aesthetics, good quality, and decent features, then the Spirit XT285 folding treadmill is the right choice.
The Spirit XT285 has a 3.0 HP continuous-duty motor for demanding workouts but still provides a smooth and quiet operation. Combined with a frame manufactured with commercial-grade steel, the machine's durability is at its best.
With a 7.5″ backlit LCD screen, the display on the XT285 is easy to see while using it in dim or bright light. It shows time, distance, pace, calories burned, pulse, incline level, speed level, the program's grid in use, and a message center at the bottom.
Having an incline that goes up to 12% and a maximum speed of 12 mph is a great feature. Having the extra couple of notches of pitch can make a huge difference. For speed, having an extra couple of mph is vital. The different speed allows many users to sprint instead of jogging quickly. Furthermore, that also means interval-type training is much easier to do.
Learn more in my complete review below!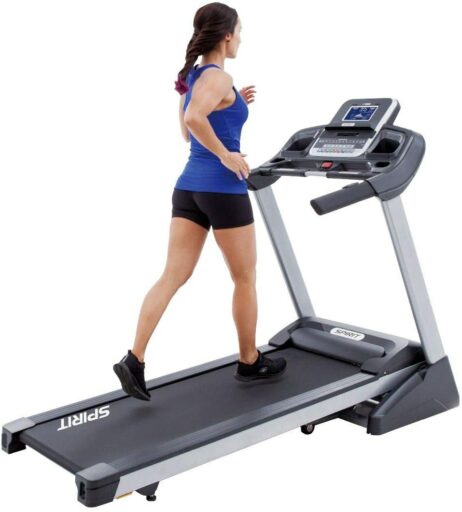 Product: Spirit XT285 Folding Treadmill
Price: For a great deal on this treadmill, merely go here on Amazon
Warranty: Frame lifetime / Motor lifetime / Deck lifetime / Parts 10 years / Labor 1 year
My rating: is 8/10
Affiliate Disclosure: As an Amazon Affiliate Program participant, I earn commissions on purchases made through links in this post. Full disclosure
Details and Specifications
Assembled dimensions: 80L x 35W x 58H inches (203L x 89W x 147H cm)
Tread belt dimensions: 60L x 20W inches (152L x 51W cm)
Assembled weight: 249 lbs (113 kg)
Supported weight: 350 lbs (159 kg)
Motor: 3.0 HP, 0.5 – 12 MPH
Incline: Automatic, 12 levels
Console: 8 programs, Bluetooth, Spirit+ app compatible
Extras: Sound system, cooling fan, accessory trays, tablet holder,
Warranty: Frame lifetime / Motor lifetime / Deck lifetime / Parts 10 years / Labor 1 year
XT285 Frame
The Spirit XT285 folding treadmill features a heavy-duty steel frame and a durable 1-inch phenolic deck with a maximum user weight capacity of 350 lbs (159 kg). In addition, all the steel tubes in the treadmill's construction feature a chip-resistant and corrosion-resistant gray paint finish.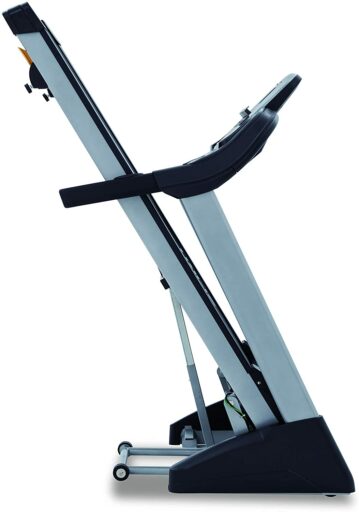 Of course, the machine also has several ABS parts in its construction. For example, the side rail covers, the motors cover, the console dashboard, and several other small covers are ABS made.
The fully assembled treadmill is relatively large. It is approximately 80″ (203 cm) long and 35″ (89 cm) wide. Plus, it is advisable to leave at least 24″ (61 cm) on each side of it and at least 36″ (91 cm) of clearance at the rear of the deck for safe usage.
The machine's deck is foldable. It can fold up to allow better storage possibilities. The unit's length reduces to half with the deck folded up, and its height gains several inches. The folding mechanism involves a hydraulic cylinder, which helps you unfold the deck, slowly lowering it to the floor to avoid damage.
Although the fully assembled treadmill weighs approximately 249 lbs (113 kg), it is relatively easy to move. Its front base comes equipped with wheels that facilitate its relocation. In addition, the rear base section of the deck also features adjustable levelers with large rubber pads for extra stability.
Deck
The Spirit XT285 folding treadmill offers a standard running surface of 60″L x 20″W (152 x 51 cm). Therefore, it should accommodate users up to 6'4″ (193 cm), allowing a complete range during running.
Its 1-ply (1.6 mm thick) rubber belt provides excellent contact with the runner's footwear. Its crowned internal rollers offer superior traction and prolong the belt's lifespan. They're relatively large as well, 2.5″ diameter for the front one and a 2.0″ diameter for the rear one.
Lastly, the machine's deck comes equipped with six cushioning elements. They're all concealed by the side rails. Two pairs are closer to the deck's front to provide more shock absorption during each foot strike. In addition, the rear pair features a more rigid mount for an extra push.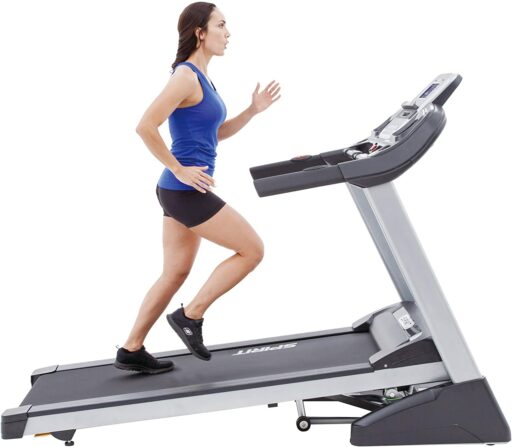 XT285 Incline and step-up height
The Spirit XT285 folding treadmill has an automatic (motorized) incline system. This means you can adjust the incline of the deck as you run. Also, the console can automatically adjust the incline if a program that involves incline is in use.
The incline system consists of a separate motor from the drive motor and a slight lift under the deck's front section. The motor controls the lift elevating the deck's front part as you adjust the incline or as the console automatically adjusts.
The machine makes available 12 levels, and the incline increments are approximately 1%. In addition, the console features gradual incline adjustment buttons and quick selection incline adjustment buttons (from 1 to 9). Plus, incline adjustment controls are integrated into the machine's left handrail.
If you're wondering, the default deck elevation is approx—8″ (20 cm). However, the deck's front will be higher by a few extra inches, with the incline set to maximum. Therefore, the machine should be in a room with a ceiling at least 20″ (51 cm) higher than the tallest user's height.
Drive motor
The Spirit XT285 folding treadmill features a 3.0 HP motor to support prolonged running sessions without overheating or losing performance. It also has a small, perimeter-weighted flywheel for extra motion stability.
The machine's motor offers a speed range between 0.5 and 12 MPH, and the speed adjusts in increments of 0.1 and 0.5 MPH. The speed controls have a double function; short repeated presses will adjust the speed in increments of 0.1 MPH while pressing and holding them, and the speed will change in increments of 0.5 MPH.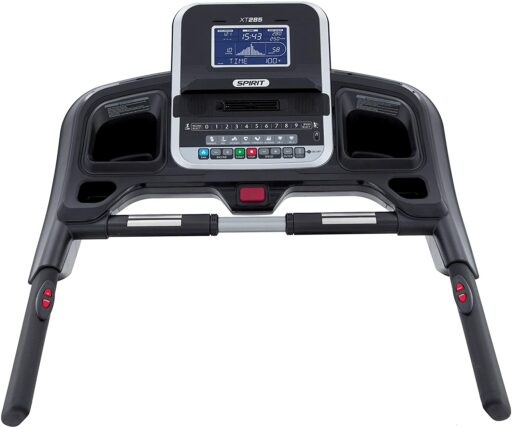 The machine's maximum speed is 12 MPH, but the quick selection speed controls only go from 1 to 9 MPH, as they're the same buttons as for the quick incline selection. So, to select a higher speed than 9 MPH, you can only use the gradual speed adjustment controls on the console or the unit's right handrail.
In terms of noise generated, the motor is pretty silent. However, when running at high speed, your cadence will create sound.
XT285 Console
This treadmill has a fitness console with a large LCD that simultaneously shows nine workout metrics, so you won't have to use a Scan Mode to rotate them. It shows time, distance, pace, calories burned, pulse, incline level, speed level, the program's grid in use, and a message center at the bottom.
Speed and distance are in either English units (MPH, miles) or Metric units (kmh, kilometers). The distance also displays as a 1/4-mile track, and the console counts the number of laps you have completed.
The console is telemetric. Therefore, it can read your pulse from a wireless HR chest strap. Unfortunately, this accessory does not come included. However, even if you don't opt for it, you can still monitor your pulse by holding on to the machine's two front grips, which have integrated metallic HR pulse sensors.
The console of the Spirit XT285 folding treadmill offers eight workout programs, and each one of them has its quick-access key on the console. The programs are Manual, Hill, Fat Burn, Cardio, Strength, Interval, HR 1, and HR 2. The Manual program allows you to adjust the speed and incline as you like during your workout.
The other programs are preset. Each one has its specific grid and will adjust the speed and incline accordingly. For example, the HR1 and HR2 programs are preset for a heart rate of 60% and, respectively, 80%. Therefore, depending on your choice, the machine will adjust the speed to keep you at the selected heart rate.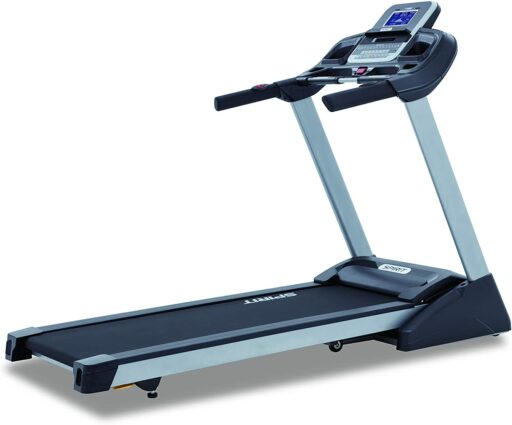 Bluetooth connectivity
Bluetooth connectivity is also available, and the console is compatible with the Spirit+ app. Therefore, you can sync your smartphone or tablet with the machine's console and stream your workout data into the Spirit+ app to better track your workout history.
FTMS ("Fitness Machine Service Protocol") is the latest Bluetooth standard to wirelessly control cardio fitness equipment, including treadmills, exercise bikes, rowers, and more. Spirit Fitness has implemented FTMS into its latest product range to elevate the training experience for users of all levels.
To experience the best results, users can connect directly from their Spirit Fitness equipment to third-party FTMS apps, such as Zwift or Kinomap, or the Spirit+ app.
Please note that 3rd party apps require a paid subscription that does not come included with this treadmill.
Amenities
I count the sound system, the cooling fan, and the tablet holder, among other notable console features. The sound system comprises two small speakers and an AUX port; you can connect your smartphone or tablet via cable to the unit and play your music through the integrated speakers.
The cooling fan is at the console's center; it is not extremely large but does provide some cooling if needed. In addition, the tablet holder is a small shelf between the console display and the controls, right above the fan. However, it is large enough to accommodate any tablet.
XT285 Assembly and Maintenance
The machine's deck comes pre-assembled. Likewise, the belt, the motors, the incline lift, and other drive elements come pre-assembled and connected to the base frame. Therefore, you only need to attach the machine's two upright bars and the console dashboard with the handrails.
Consequently, this shouldn't take more than one hour of your time. Thus the task is pretty simple, and the manual provides all the necessary instructions. In addition, all the assembly tools come with the machine.
For maintenance, belt and deck lubrication is necessary. A bottle of lubricant comes included. However, the belt comes pre-lubricated, so it doesn't need lubrication before the first use, only after 180 hours or if the deck becomes dry.
Other than this, it is advisable to keep the belt clean to prevent any debris or textile fibers from being caught in the rollers or the motor. Inspect the machine periodically for loose or broken parts and retighten or replace them.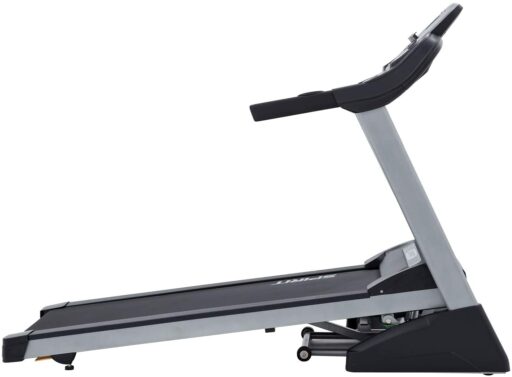 Pros
Sturdy frame and deck – can support users up to 350 lbs;
Folding frame with soft-drop mechanism;
Transport wheels on the front frame base;
Adjustable stabilizers on the rear base;
Shock absorption system (6 cushions) integrated into the deck;
Motorized incline – 12 levels;
3.0 HP motor, offering speed levels up to 12 MPH;
Speed increments of 0.1 MPH and 0.5 MPH;
Quick keys for speed and incline (from 1 to 9);
Speed and incline controls integrated into the machine's handrails;
Pulse sensors integrated into the front grips of the machine;
Telemetric console – can read pulse from an HR chest strap transmitter;
Multi-function console with a large, 7.5-inch display that shows up to 9 workout metrics simultaneously;
1/4-mile track display for the distance traveled, with laps count;
Both metric and imperial units for the speed and distance;
Eight workout programs;
Bluetooth connectivity and compatibility with the Spirit+ app for online progress tracking;
Sound system included;
Cooling fan included;
Bottle/accessory holders included;
Tablet holder included;
Quiet operation;
Deck lubricant and tools for the assembly included;
Reasonably easy to assemble;
Little maintenance is required;
Excellent warranty.
Cons
An HR chest strap does not come with the machine;
The cooling fan is not too powerful.
Spirit XT285 Folding Treadmill Summary
The Spirit XT285 is a heavy-duty folding treadmill designed for home use. It has a 3.0 HP motor, a motorized incline system, and a console with eight workout programs and online connectivity. It also offers an impressive weight capacity of 350 lbs and a running platform of 60″L x 20″W.
Moreover, it's an excellent machine for light to high-intensity cardio workouts, power walking, interval training, weight loss, stamina development, and muscle toning. And finally, even though it's not the most affordable treadmill in this price range, it offers excellent value for the price.
I hope you found this article helpful and informative. Please speak up if you have anything you'd like to share on the topic or opinions about my website.? I look forward to your comments, questions, and the sharing of ideas.
Please remember to consult your physician to determine if you have any medical or physical conditions that could risk your health and safety or prevent you from using the equipment properly. In addition, your physician's advice is essential if you are taking medication that affects your heart rate, blood pressure, or cholesterol level.