The Bowflex VeloCore 16 IC Bike allows you to sprint straight as an arrow in static mode or go (un)static with a leaning function. You'll rock, move, and flex your way through the curves of scenic destinations. You're in for a comfortable, more natural-feeling ride that'll fit whatever the day's fortune, no matter which you choose.
It's all yours with a Bowflex JRNY Membership. Adaptive workouts are simple enough. The fitter you get, the harder they get. It's the workout plan that plans itself for good. In addition, you can Explore the World and barrel through 50+ incredible destinations that match your speed.
Friendly Virtual Coaching is a clever coach in a whimsical way with words. You're going to like what you hear in the final stretch. Loud trainers are a migraine. The JRNY trainers breathe new life into your workouts…by not trying so hard. Sweat it out to 75+ trainer-led videos.
A JRNY Membership unlocks the ability to binge your existing Netflix, Hulu, Amazon Prime Video, and Disney+ accounts from the adjustable HD touchscreen. You provide the subscription, and Bowflex delivers the magic. Can't decide between workouts and entertainment? Don't. You can do both at once.
Learn more in my complete review below!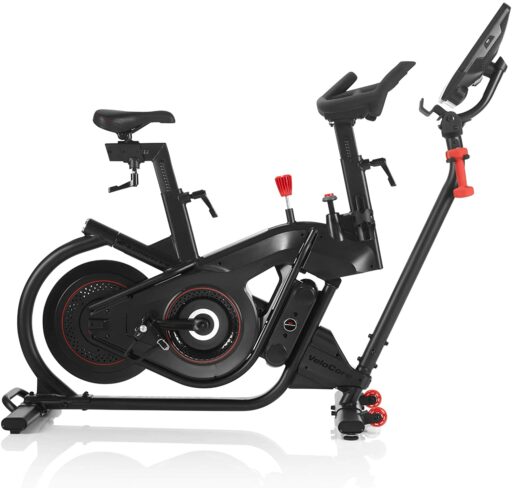 Product: Bowflex VeloCore 16 IC Bike
Price: For a great deal on this bike, merely go here to Bowflex.com
Warranty: Frame 2 years / Parts 2 years / Electronics 1 year / Labor 1 year
My rating: is 9/10
Affiliate Disclosure: As a Bowflex Affiliate Program participant, I earn commissions on purchases made through links in this post. Full disclosure
Details and Specifications
Assembled dimensions: 59.8L x 24.1W x 52.6H inches (152L x 61W x 134H cm)
Assembled weight: 149 lbs (67.6 kg)
Supported weight: 325 lbs (147 kg)
Flywheel weight: 33 lbs (15 kg)
Seat: 4-way adjustable
Pedals: Caged & SPD
Drive: Belt
Resistance: Manual magnetic, 100 levels
Console: 16″ LCD touchscreen display, multiple apps pre-installed, Bluetooth connectivity,
Extras: Dumbbell set, device holder, bottle holders, Bluetooth HR armband
Warranty: Frame 2 years / Parts 2 years / Electronics 1 year / Labor 1 year
16 IC Frame Construction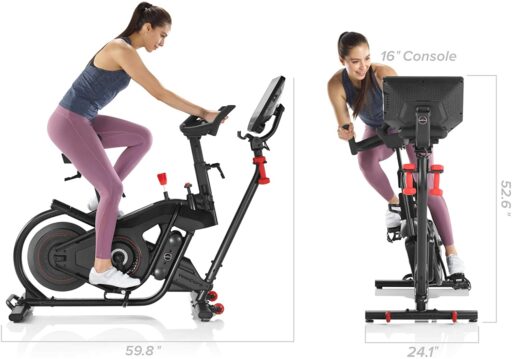 The Bowflex VeloCore 16 IC Bike features a durable steel tubing frame. Its construction combines oval and cylindrical bars for improved sturdiness and aesthetics. Its joints are precision-welded, and all the frame parts come double-coated with a black corrosion-resistant and chip-resistant paint finish.
Of course, the bike's body also integrates several plastic parts. For example, the side covers of the drive system and several other small covers and the console's casing are made of durable thermoplastic materials.
The VeloCore IC 16 is large and bulky compared to other spin bikes. It is approximately 59.8″ (152 cm) long and 24.1″ (61 cm) wide, while its highest point (the top of the console) reaches approximately 52.6″ (134 cm) above the floor.
The bike is also quite heavy. Its net weight is 149 lbs (67.6 kg), but once assembled, one person can move the bike as its front base has transport wheels.
One of the top pluses of the VeloCore IC 16 bike is the side-to-side leaning feature. Therefore, it allows you to simulate a real bike ride, leaning right or left, depending on the virtual trail you follow. For instance, this makes the ride more enjoyable and offers an excellent workout for your abdominal, core, and arm muscles.
It's also important to note that the bike's frame has a locking device. Thus, you can lock the leaning function for a fixed ride just like any other spin bike. Also, the console has a support mast that connects to the base frame. Therefore, the console does not lean side-to-side with the rest of the structure when using the leaning mode.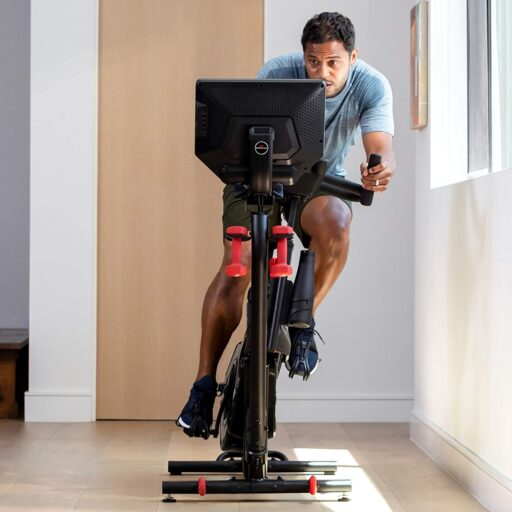 Seat and handlebars
The Bowflex VeloCore 16 IC bike includes a saddle designed for optimal comfort. It has a solid nylon shell frame with a thick foam padding layer. In addition, it has contouring and a median groove for improved breathability.
It also has a collar-based attachment system, which is easy to install and remove. Also, compatible options are widely available if you need to replace them.
The seat is four-way adjustable (up, down, front, back). In addition, its vertical post features multiple adjustment positions, while its horizontal slider offers several inches of front-to-back adjustment. Therefore, the bike comfortably accommodates users between 5'0″ and 6'5″ (153 – 196 cm) with no problem. It also has a maximum user weight capacity of 325 lbs (147 kg).
The bike includes a multi-grip handlebar. It offers the possibility to adopt six different grips, including a climbing grip, a cruise grip, a close grip, and a standard grip. A layer of high-density foam fully covers it for improved comfort.
Unlike the seat, the bike's handlebar only offers vertical adjustability. In addition, it lacks a horizontal slider for front-to-back adjustment. It also lacks pulse sensors, but an HR armband for pulse reading comes with the bike.
16 IC Resistance system
The Bowflex VeloCore 16 IC bike has a manual magnetic resistance system. Thus, it cannot adjust the resistance automatically. Also, although a power adapter comes for the bike, it only powers up the console.
The resistance system is not electromagnetic, so you can adjust the resistance even if the cycle does not connect to a power source.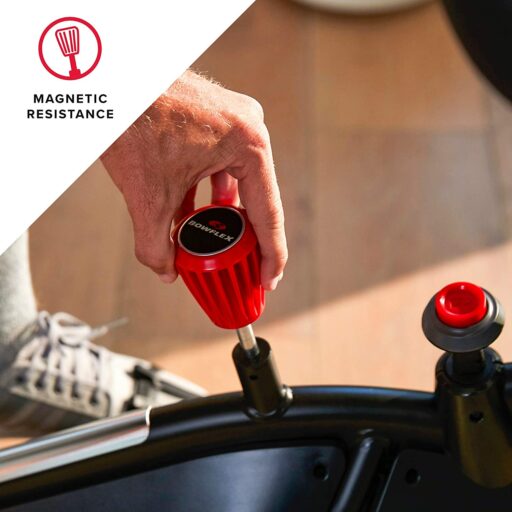 The bike's resistance system has a dual-sided magnetic brake that hugs the flywheel. The brake connects to the tension knob on the top of the mainframe tube. Therefore, when you turn the knob clockwise, the magnets cover more of the flywheel, increasing the pedaling difficulty.
The bike's magnetic brake offers superior micro-adjustability. It provides 100 distinct resistance levels. The lowest levels generate a relatively low pedaling difficulty, which is excellent for muscle toning, warm-ups, and even recovery training.
Conversely, the highest tension settings provide a high pedaling difficulty simulating a steep climb, which is excellent for anyone who loves a challenge.
The most important advantage of the bike's magnetic brake is that it does not touch the flywheel. Therefore, the pedaling motion is very smooth and quiet. Also, the wear-and-tear of the brake is virtually non-existent.
Drive system
The Bowflex VeloCore bike has the flywheel mounted at the rear. Although it features a thin edge to pass through the brake gap more quickly, it still has some extra weight built-in for improved momentum. The flywheel weighs 33 lbs (15 kg), providing a consistent pedaling motion.
The flywheel is bi-directional. Thus, it allows reversing pedaling. However, coasting is not possible on this bike. The pedals continue to spin for as long as the flywheel is spinning. Also, when pedaling in reverse, you will get the same resistance as when pedaling forward.
The bike pulley is considerably larger than your average road bike. Thus, the pedaling motion feels slightly different. In addition, the cycle uses a belt drivetrain incorporating a durable poly-v belt. Therefore, you don't have to worry about its lubrication.
The VeloCore 16 IC bike has a heavy-duty crankset featuring long steel arms. The included pedals are dual-sided and have toe cages with straps and SPD clips for spin shoes on the other side.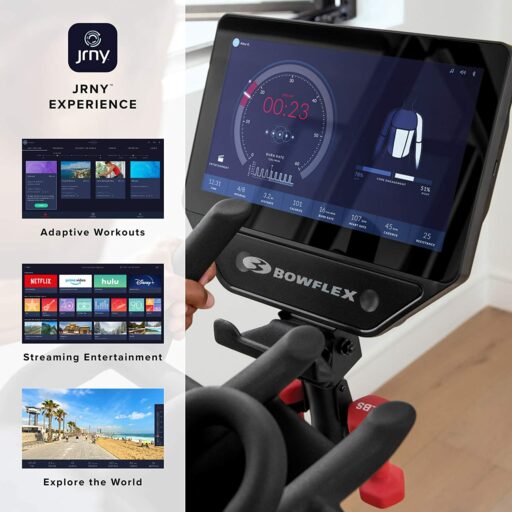 They are a durable metallic alloy and withstand any spin workout, even if the user is close to the maximum specified weight limit. They also have standard 9/16″ threads, so compatible options are widely available if you need to replace them.
16 IC Console
The Bowflex VeloCore 16 IC includes a 16″ smart console that operates as a tablet or multi-function display. It's a full touchscreen without any keypad. It connects to your local WiFi hotspot just like any smartphone or tablet.
It has installed multiple apps, including Netflix, Prime Video, Hulu, and Disney+, so you can view your favorite shows while working out if you have a subscription active for any of these.
The console is also compatible with the Zwift and Peloton fitness apps. Thus, if you already have an active subscription, you can use workouts from their database. However, the console comes with its JRNY fitness app, which offers private coaching videos for various workouts, training levels, and virtual trails worldwide.
The console connects to the bike's internal speed sensor, and when using a virtual trail, the video will speed up or slow down depending on your current pedaling speed. Of course, the JRNY app requires a monthly subscription (currently $19 per month). However, you don't need to pay for it to use the bike.
The console has its own standard multiple workout programs. There are pre-set interval programs, calorie-burning programs, heart rate programs, and more. In addition, you can set up workout goals for time, distance, calories, etc. The console has workout summary and tracking history functions, so you won't have to use an additional app.
The console tracks time, distance, calories, pulse, speed, burn rate, resistance, RPM, and more in standard mode. The speed and distance values can either be metric or imperial units.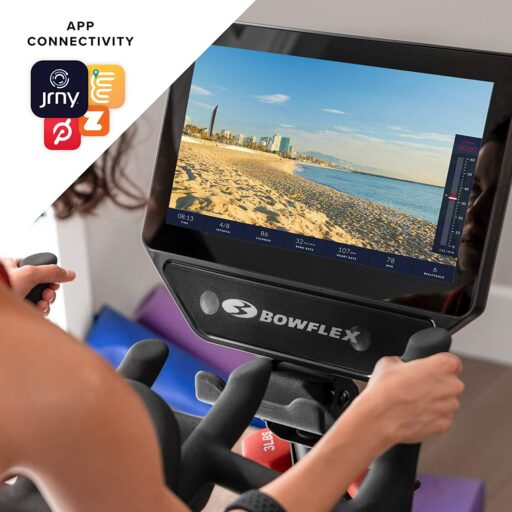 Also, although the bike does not have integrated grip pulse sensors, it has a wireless HR armband. If you wear the band, the console tracks your pulse using pre-set heart rate programs.
Last but not least, a USB port is available on the console. Therefore, you can connect your smartphone or tablet via a USB cable to recharge it.
16 IC Assembly and Maintenance
Although the bike's core comes pre-assembled, the rest of the parts require user assembly. For example, you will have to attach the two base stabilizers, the pedals, the seat post, the saddle, the handlebar post, the handlebar, the console mast, the console mount, the console, and the rest of the small accessories (i.e., dumbbell supports, bottle holders, etc.).
Therefore, it may take more than one hour of your time, but the overall process is not too complicated. The manual provides clear step-by-step assembly instructions and all the necessary tools for the bike.
For maintenance, you only have to keep the bike clean, keep liquids away from the console, periodically check for loose bolts and parts and retighten as needed. The drive and resistance mechanisms don't need any lubrication or maintenance.
Pros
Solid steel frame – can support users up to 325 lbs;
Aesthetic design;
Adjustable levelers on both bases;
Transport wheels on the front base;
Lifting handle on the rear base;
4-way adjustable seat;
Multi-grip ergonomic handlebar;
Side-to-side lean function for a more realistic ride sensation;
Balanced flywheel for a smooth pedaling motion;
Heavy-duty crankset made for standing-up spin workouts;
Dual-sided pedals, with toe cages on one side and SPD clips for spin shoes on the other;
Frictionless, wear-free, magnetic resistance with 100 levels;
Smooth and quiet belt drive, great for apartment use;
Multi-function smart console featuring a 16″ LCD;
Multiple apps pre-installed, including Netflix, Amazon Prime, Disney+, and Hulu;
Compatible with the Peloton app and Zwift app;
Pre-installed JRNY app for private coaching videos and scenic rides around the world;
Standard workout mode with multiple workout programs;
Workout target function;
Workout history tracking;
Wireless heart rate detection – Bluetooth HR armband included;
USB charging port;
Bottle holders included;
Dumbbell holder and 3 lbs dumbbells included;
Reasonably easy to assemble;
Little maintenance is required;
Decent warranty.
Cons
The JRNY app requires a monthly membership.
Bowflex VeloCore IC 16 Bike Summary
The Bowflex VeloCore IC 16 is an indoor cycling bike for home use. It features a heavy-duty frame with a side-to-side leaning function, a 100-level magnetic resistance system, and a 16″ display smart console with multiple pre-installed apps.
Its built-in JRNY app offers coaching videos and virtual scenic rides worldwide, but the console also has a standard workout mode with multiple workout programs. It also provides superior ergonomics and micro-adjustability. Moreover, it's an excellent bike for users of all levels, low to high-intensity cardio training, muscle toning, stamina and strength development, and weight loss.
I hope you found this article helpful and informative. Would you please speak up if you have anything you'd like to share or any opinions about my website? I look forward to your comments, questions, and the sharing of ideas.
Please remember to consult your physician to determine if you have any medical or physical conditions that could put your health and safety at risk or prevent you from using the equipment properly. In addition, your physician's advice is essential if you are taking medication that affects your heart rate, blood pressure, or cholesterol level.