The FDF Pacific Challenge AR Fluid Rower is a solidly built rower with a steel frame and anodized aluminum seat rail. It's not rated as 'commercial-grade'; however, the machine is heavy-duty and constructed to take a beating.
In particular, the durable build quality limits the amount of various noise you will hear from the FDF Pacific Challenge AR.  Besides the familiar sounds, such as the water splashing in the tank.
The 'fluid technology' allows for a smooth, even stroke throughout the entire rowing motion without any jarring or jerkiness. Additionally, the 'Dual Chamber' tank allows you to adjust the amount of water that is being 'used' in the rower. This enables you to adjust the resistance even further than just rowing fast or slow.
The performance monitor on the First Degree Fitness Pacific Challenge AR has everything you need for an excellent workout! The performance monitor is compatible with most heart rate monitors. It also has a built-in USB interface that allows the rower to be attached to a computer so you can analyze and keep track of your data.
Learn more in my complete review below!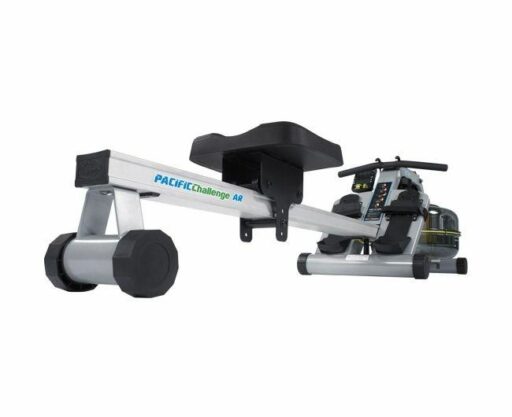 Product: FDF Pacific Challenge AR Fluid Rower
Price: For a great deal on this rower, merely go here on Amazon
Warranty: Frame 5 years / Tank and seals two years / Mechanical 2 years / Wear parts one year
My rating: 8/10
Affiliate Disclosure: As an Amazon Affiliate Program participant, I earn commissions on purchases made through links in this post. Full disclosure
Details and Specifications
Assembled dimensions: 77.8L x 20.9W x 20.1H inches (197L x 53W x 51H cm)
Assembled weight: 55 lbs (25 kg) w/o water; 92.5 (42 kg) with water
Weight capacity: 300 lbs (136 kg)
Frame: Aluminum / steel / acrylic combo
Footrests: Adjustable, with straps
Resistance type: Water, adjustable (4 levels)
Fitness console: Time, distance, strokes per minute, watts, calories/hour, 500m split time, HR capable, USB port
Warranty: Frame 5 years / Tank and seals two years / Mechanical 2 years / Wear parts one year
Pacific Challenge AR Frame
The First Degree Fitness Pacific Challenge AR rowing machine combines aluminum, steel, and acrylic parts in its construction. The front part of the frame which sustains the water tank is steel. This also stands for the small rear stabilizer.
The seat's rail, however, is made of heavy-duty anodized aluminum. This material is highly resistant to corrosion, but it also promotes a smooth movement for the seat. The seat rail has a user weight capacity of 300 lbs (136 kg). It's long enough to accommodate users up to 6'7″ (201 cm), allowing a full and healthy leg extension.
The machine is relatively large, especially lengthwise. It's 77.8″ (197 cm) long and 20.9″ (53 cm) wide. It's also advisable to allow at least two clearance feet on each side and at the rear for safe operation.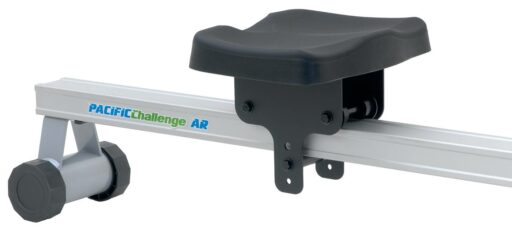 But on the other hand, the unit can be stored vertically, resting on the water tank's metallic front guard. When stored in a vertical position, its footprint is 20.1″ x 20.9″ (51 x 53 cm). Also, the water can remain inside the tank when the unit is stored vertically.
The unit is approx — 55 lbs (25 kg) without water in the tank in terms of weight. The water adds approx. 37.5 lbs (17 kg), so the trainer with a full tank of water weighs approximately 92.5 lbs (42 kg). This weight adds stability, though. Plus, the rear stabilizer features rotating polygonal caps, which can serve as levelers.
Despite its weight, the machine is moveable when it's already assembled. Its front base features two small wheels that facilitate its relocation.
Unlike the Concept2 rowers, this machine features a nylon strap drive, not a chain drive. This nylon strap will withstand wear and tear. It also generates less vibration than a chain and doesn't require lubrication.
Last but not least, this rowing machine features a gray paint finish. The steel parts are double-coated with corrosion-resistant paint, while the aluminum rail has its natural polish.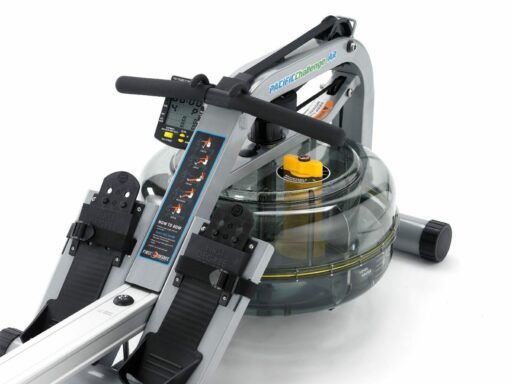 Seat, Footrests, and Pulling Handle
The seat features a contoured top and a thin layer of padding for optimal comfort. It rests on a durable steel frame that integrates Delrin® low friction rollers with highly durable ball bearings.
If you're wondering, the seat is approximately 14″ (35 cm) wide. Also, its top is approx. 13″ (33 cm) above floor level. Therefore, entry and exit shouldn't be too difficult.
This First Degree Fitness rowing machine comes with a set of size-adjustable footrests. They feature rear guards and straps so you can correctly stabilize your feet during rowing. Their angle is non-adjustable, though. They are attached to a metallic plate with an approx — 45 °, which is optimal for foot positioning during rowing.
The FDF Pacific Challenge AR has a slightly curved pulling handle. The curvature promotes natural hand positioning and reduces the stress on the wrists. A layer of rubber foam material also covers the handle to provide a comfortable and secure grip.
Pacific Challenge AR Water tank & resistance system
As opposed to the WaterRower models, the First Degree Fitness Pacific Challenge AR features an adjustable water tank. It has two chambers, the "storage" chamber and the "active" chamber.
There's a dial on top of the container with four levels of adjustment. This dial allows the water to be transferred from one chamber to another, increasing or decreasing the overall resistance.
For example, if you set the dial to the lowest setting, 3/4 of the water will move to the storage chamber, leaving the active chamber with only 1/4 of water, which results in the most moderate resistance. Conversely, the 4th "gear" generates a level of resistance similar to the one required by Olympic-level athletes.
The rower's water tank is a heavy-duty polycarbonate material. It has a capacity of 4.5 gals (17 l). Additionally, it's advisable to have a minimum of 2.3 gals (9 l) of water. It features a 3-blade impeller attached to a bungee cord, which facilitates its recovery.
Like most rowing machines with a water resistance system, the FDF Pacific Challenge AR offers a dynamic rowing response. In other words, the fastest you pull, the more resistance the impeller will generate. This results in a sensation similar to rowing a real boat through the water.
Also, the impeller doesn't make a high level of noise when rotating into the tank. Most users have described the sound generated as being "soothing."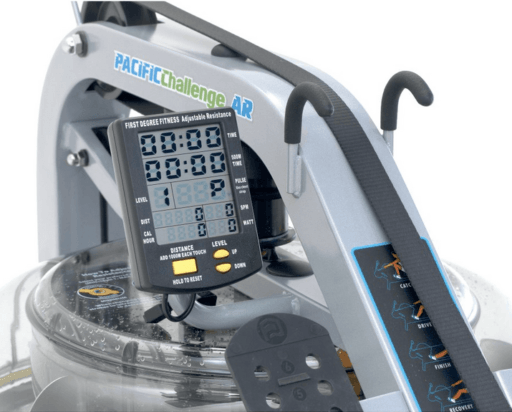 Console
The FDF Pacific Challenge AR fluid rower comes with a fitness console similar to the Newport model. It has a large LCD, which divides into several sections so that you can see all the workout metrics at once. It indicates time, 500m/time, distance, strokes per minute, distance, calories per hour, watts, and pulse.
The unit has four-level settings; it's advisable to select the level corresponding to the water tank's specified level. For example, if the container is one level 3, you should also choose level 3 on the console. This way, it can calculate your statistics accurately.
The console unit is telemetric. It can track your pulse via a wireless HR chest strap transmitter. However, an HR chest strap does not come included with the machine.
For distance, the computer offers the possibility to add 1000m for each press of the larger button. Also, this button covers the unit's reset function. By holding it down for three sec., the unit will reset.
It's battery-operated and comes with 2x AA batteries included. Also, it auto-pauses five sec. after ceasing the activity on the rower. It automatically shuts down after 5 minutes of inactivity, and all the values reset to zero.
The console also has a USB function. Its USB port allows you to connect it to a PC via cable to work with various First Degree Fitness online apps. Also, you can track your progress online and even compete with other users.
Pacific Challenge AR Assembly & Maintenance
The trainer's water tank comes pre-assembled and attached to the front steel frame. Therefore, you only need to connect the rail, the seat, and the rear stabilizer. This shouldn't take more than 20 minutes. Once assembled, fill the tank with water, and it should be ready for use. The manual provides clear assembly instructions and set up guidelines for the console—also, all the tools for the assembly part (included).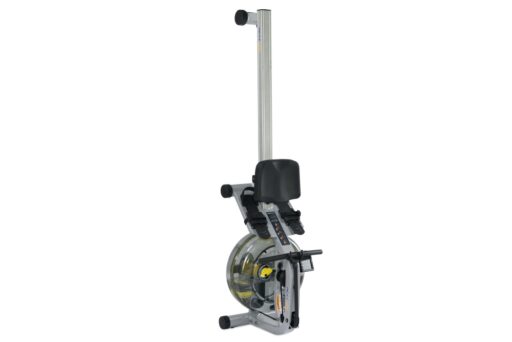 There's not much maintenance needed. You should treat the water inside the tank with chlorine pills. Several chlorine pills come included with the machine and should last for several years of use. Additionally, it is advisable to inspect the machine for loose bolts and parts periodically.
Pros
Sturdy frame – can support users up to 300 lbs (136 kg);
Superior aesthetics, aluminum, and steel frame;
It can store vertically;
The water doesn't require drainage for storage;
The rail is long enough to accommodate users up to 6'7″ (201 cm);
Easy to handle and transport;
Water-resistance system, providing the most natural rowing feel that you can get;
Dual-chamber water tank, with four distinct water resistance levels;
Contoured, ergonomically designed seat;
Advanced, 8-panel fitness console that tracks time, 500m time, pulse, distance, strokes per minute, calories per hour, and watts;
A USB connection for online workout data tracking or competing with other rowers;
Smooth and quiet operation;
Little maintenance required;
Easy to assemble;
Excellent warranty package.
Cons
No LED backlight on the LCD;
An HR chest strap does not come included with the rower.
FDF Pacific Challenge AR Fluid Rower Summary
The First Degree Fitness Pacific Challenge AR is a fluid rower with an adjustable water tank and mid-range console with online connectivity. Moreover, it's a durable trainer, and its rail and seat can support users up to 300 lbs. It features an ergonomic seat, adjustable footrests and can also be stored vertically.
Additionally, it is an excellent machine for full-body cardio training, stamina development, muscle toning, and weight loss. It's not one of the most affordable rowers but does offer excellent value for the price.
I hope you found this article helpful and informative. If you have anything you'd like to share or any opinions about my website, please speak up. I look forward to your comments, questions, and the sharing of ideas.