The Leikefitness Air Resistance Bike K22607 is made with heavy-duty steel and weighs 119 lbs (54 kg), twice the weight of a typical exercise bike, and has a maximum user weight capacity of up to 280 lbs (127 kg). This overall weight adds to the bike's stability, and you can be sure it won't move around during workouts.
The K22607 provides unlimited resistance for upper and lower body extremities based on air resistance; the harder you pedal, the more resistance you'll feel. It also comes equipped with pegs to place your feet on to work the upper body by itself. You'll experience smooth movement on the air bike with the joint chain and belt drive mechanism.
The Leikefitness Air Resistance Bike comes equipped with a standard HIIT fitness monitor that tracks time, total time, distance, speed, RPM, watts, calories burned, and pulse. Unfortunately, there aren't any pulse sensors in the handlebars, but the monitor can read your pulse from a wireless HR chest strap. However, the HR chest sells separately.
Learn more in my complete review below!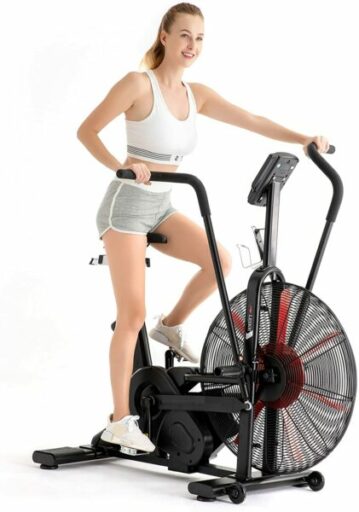 Product: Leikefitness Air Resistance Bike K22607
Price: For a great deal on this bike, merely go here on Amazon
Warranty: One-year return warranty / Lifetime free replacement parts
My rating: 8/10
Affiliate Disclosure: As an Amazon Affiliate Program participant, I earn commissions on purchases made through links in this post. Full disclosure
Details and Specifications
Assembled dimensions: 51.7L x 24W x 50H inches (131L x 61W x 127H cm)
Assembled weight: 118.8 lbs (54 kg)
Supported weight: 280 lbs (127 kg)
Handlebars: Mobile
Seat: 4-way adjustable
Drive: Belt & chain
Resistance: Air
Fitness Monitor: 7 workout programs
Warranty: One-year return warranty / Lifetime free replacement parts
K22607 Frame construction
The Leikefitness Air Resistance Bike K22607 features a durable steel frame combining oval, cylindrical, and rectangular tubes in its construction. Although it's a fan bike and does not have the extra heavy flywheel like a spin bike, it's still a pretty heavy fitness machine.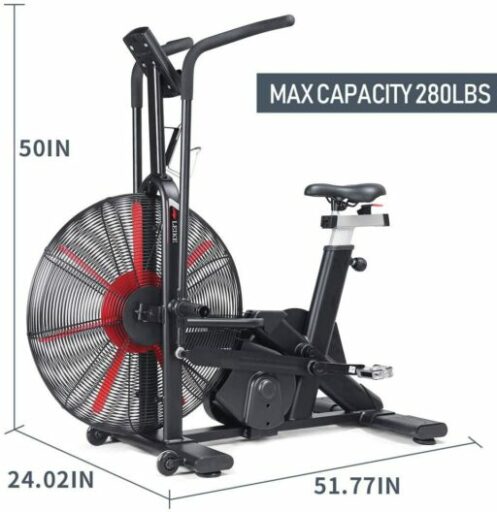 Once assembled, it weighs approximately 118.8 lbs (54 kg). Plus, it has a low center of gravity and adjustable levelers on its bar stabilizers, and therefore, it delivers excellent stability.
It's essential to note that the seat tubing features a triangular base and comes welded in two points to the median base bar. This type of construction considerably improves the bike's overall sturdiness. It's one reason it has a maximum weight capacity of up to 280 lbs (127 kg).
Most of the bike's frame comes double-coated with a corrosion-resistant and black chip-resistant paint finish. The only exceptions are the flywheel, red, and the seat post, which is extruded aluminum and does not have a paint finish. The only notable non-metallic part in the bike's construction is the drive system's cover, durable ABS material.
The fully assembled bike is a bit larger than the average spin bike. Fully assembled, it is approx 51.7″ (131 cm) long and 24″ (61 cm) wide. Also, its highest point is approx. 50″ (127 cm) above floor level. However, it is advisable to leave at least two feet of clearance all around it for easy access and unhindered usage.
Seat and handlebars
The saddle included with the Leikefitness K22607 fan bike is similar to other bike saddles. However, its top is polyurethane material, which is not all hard and has flex. It also has a median groove for improved air permeability.
It is also important to note that the bike's saddle has a standard collar-type connection system to its slider. Therefore, if you ever need/want to replace it, compatible replacements are widely available; you should be able to find one that fits in any bike shop.
The bike's seat is four-way adjustable. Its vertical post has nine adjustment positions, while its horizontal slider offers 11 different adjustment positions (with smaller increments).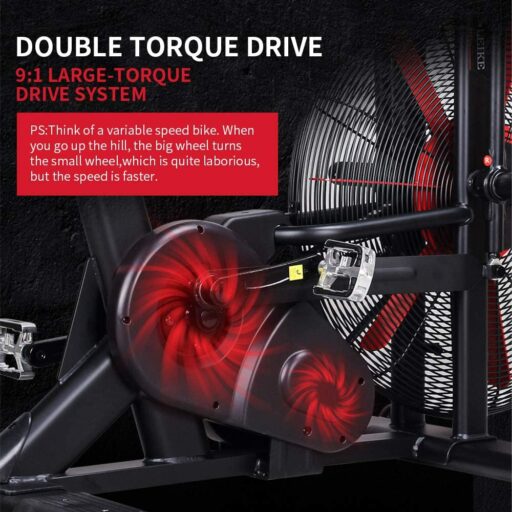 Therefore, the bike comfortably accommodates users between 5'2″ and 6'5″ (157 – 196 cm) with no problem, allowing a complete range of motion.
Like other air resistance bikes, the Leikefitness K22607 only has two mobile handlebars. They have standard, curved grips with PU sleeves for improved comfort. The handlebars connect directly to the pedal bars. Therefore, they continue to move for as long as you pedal. They do not lock to remain stationary during your workout.
The handlebar arms have footrests at their base. This feature is a plus, as not all air bikes have it. These pegs allow you to rest your feet while exercising using only your arms.
The handlebar grips do not have incorporated pulse sensors. However, the included fitness monitor does have a built-in pulse sensor.
K22607 Drive and resistance
The K22607 is an air resistance exercise bike. It comes equipped with a large, 7-blade fan, the main resistance-generating element. As you begin to pedal and move the bike's arms, the flywheel spins in its casing and generates pedaling resistance.
The bike does not have any extra resistance elements. The fan is the only resistance-generating element. Thus, the overall pedaling resistance is not adjustable.
However, like any other fitness machine with a fan resistance system, the bike delivers a dynamic response during usage. Therefore, if you pedal and move the arms faster, the fan will generate more resistance, and the workout will proportionally increase in difficulty.
The K22607 exercise bike features a dual-drive system. It integrates both a chain and a belt and has two concealed pulleys. This type of drive system considerably improves the overall motion stability. However, it also adds difficulty to the pedaling motion, apart from the fan's resistance.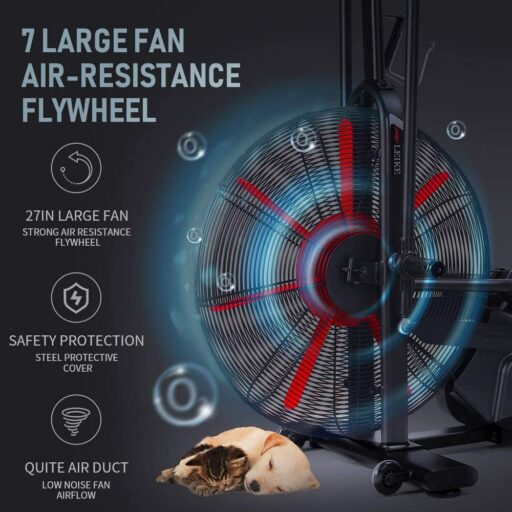 Of course, reverse pedaling is possible, but coasting or free-wheeling isn't. When pedaling in reverse, the fan generates the same resistance.
The bike comes equipped with a heavy-duty crankset, with solid steel crank arms similar to those on mountain bikes. The pedals also are durable aluminum alloys. Therefore, they should withstand the user's weight as long as they exceed the maximum specified weight limit, 280 lbs (127 kg).
The pedals do not have straps or SPD elements for spin shoes. They only have rubber inserts for improved adherence. They have standard 9/16 threads, though, so you can replace them with other pedals if you want.
Fitness Monitor
The Leikefitness air resistance bike features a pretty standard HIIT fitness monitor. It comes with an LCD divided into eight sub-sections to simultaneously show as many workout metrics as possible. It tracks time, total time, distance, speed, RPM, watts, calories burned, and pulse.
As I've mentioned earlier, the bike does not integrate pulse sensors. However, the monitor can read your pulse via a wireless HR chest strap. Unfortunately, this accessory does not come with the bike.
Although the bike is not motorized, and the included fitness monitor cannot automatically adjust the resistance, it does have seven workout programs to keep you motivated. Three of them are interval-based; the other four are target programs. Each program has its quick-access key on the right side of the monitor.
The interval programs are 20/10, 10/20, and custom. The numbers suggest that the work period is 20 seconds for the first interval program, while the rest is 10 seconds. For the 10/20 interval, the work duration is 10 seconds, while the rest is 20 seconds.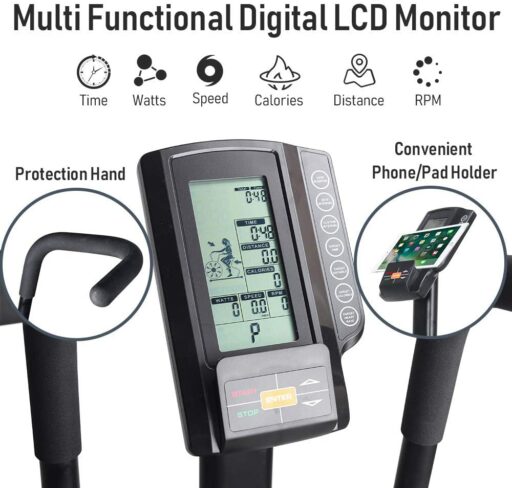 Of course, you can set up your desired values for both the work and the rest intervals for the custom interval program.
The four target programs allow you to select workout goals for time, distance, calories, and heart rate. If a workout target is set for time, distance, and calories, the LCD counts down from the selected value until it reaches zero.
The heart rate interval is a bit different. You select a BPM target, and the monitor prompts you to pedal faster or slow down your pace to remain within the selected BPM interval. Of course, you will have to use a wireless HR chest strap to use this program.
The fitness monitor also integrates a device holder with a small shelf above the bottom controls, which serves as a tablet or phone holder. However, it does not have any connection ports for your device and does not have online connectivity. It is battery-powered, and the batteries come included with the bike.
K22607 Assembly and Maintenance
The bike's drive and resistance elements come pre-assembled attached to the main body. So you only have to connect the base bars, the console post, the fitness monitor, the seat post, the saddle, the moving arms, the pedal bars, and the pedals.
Therefore, it shouldn't take more than an hour of your time. The task is straightforward, and the manual provides precise assembly instructions. All the necessary tools also come with the bike.
Since the bike's drive system integrates a chain, it requires periodic lubrication. Therefore, standard chain oil is the best choice for it. It's also advisable to periodically check for loose bolts and parts and re-tighten them, if necessary.
Pros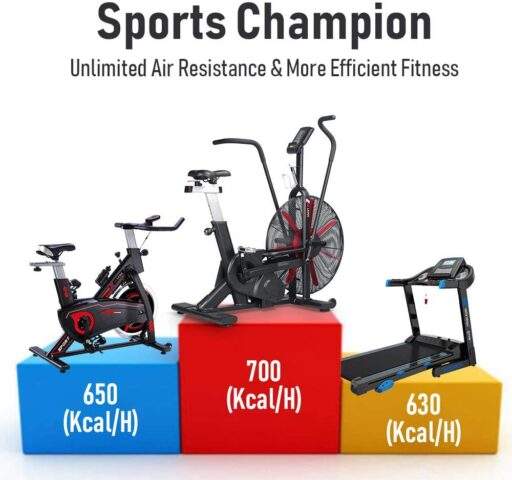 Sturdy steel frame able to support users up to 280 lbs (127 kg);
Aesthetic design;
Adjustable levelers on both bases;
Transport wheels on the front base;
Mobile handlebars for arms workouts;
Ergonomic saddle;
Footrests at the base of the moving arms;
Four-way adjustable (up, down, front, back) seat system;
Air resistance system, great for interval workouts;
The fitness monitor comes included;
Three interval programs – 10/20, 20/10, custom;
Four target programs for time, distance, calories, and heart rate;
Pulse reading function;
Device holder included;
The bottle holder comes included;
Little maintenance required;
Easy to assemble.
Cons
An HR chest strap does not come with the bike;
The fitness monitor LCD does not have a backlight.
Leikefitness Air Resistance Bike K22607 Summary
The Leikefitness K22607 is an air resistance exercise bike featuring a 7-blade fan, sturdy frame construction with a maximum user weight capacity of up to 280 lbs, and a four-way adjustable seat. In addition, it comes equipped with a HIIT, programmable fitness monitor.
Moreover, it's an excellent bike for high-intensity cardio workouts, interval training, muscle toning, endurance building, and weight loss. It's not one of the most affordable air bikes but does offer a pretty decent value for the price.
I hope you found this article helpful and informative. Would you please speak up if you have anything you'd like to share on the topic or any opinions about my website? I look forward to your comments, questions, and the sharing of ideas.
Please note: Before starting any exercise program, you should consult your physician to determine if you have any medical or physical conditions that could put your health and safety at risk or prevent you from using the equipment properly. In addition, your physician's advice is essential if you are taking medication that affects your heart rate, blood pressure, or cholesterol level.