The Marcy NS-6002RE Magnetic Rower brings home the ability to row in a slim yet durable and sleek design. This machine is built from premium steel and features a solid steel frame that will last for years. In addition, its sturdy build can accommodate a maximum user weight of 300 pounds.
Designed for all fitness levels, the NS-6002RE simulates the effect of rowing on a boat without the hassle of getting into the water. It comes with a tension knob that allows you to adjust the resistance. This exercise equipment strengthens different muscle groups and increases cardiovascular endurance while sculpting your muscles.
The Marcy NS-6002RE Magnetic Rower has an ultra-functional fitness monitor that acts as an odometer and displays the time elapsed, speed, total count, and calories burned. It lets you keep track of your progress to keep up your pace.
The NS-6002RE has a durable foam-padded seat for maximum comfort, and the foam handles feature a comfortable non-slip grip. The pedals are large to secure footing during use. Also, the pedal loops onto your foot to ensure your foot does not slide during use.
Learn more in my complete review below!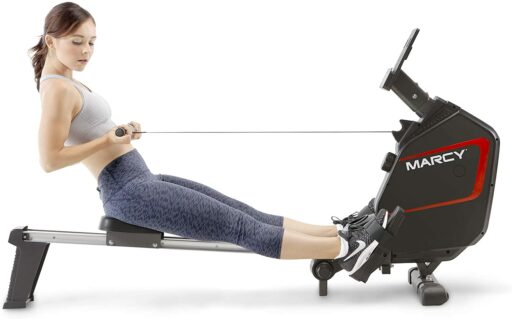 Product: Marcy NS-6002RE Magnetic Rower
Price: For a great deal on this rower, merely go here on Amazon
Warranty: 2 years limited
My rating: 7.75/10
Affiliate Disclosure: As an Amazon Affiliate Program participant, I earn commissions on purchases made through links in this post. Full disclosure
Details and Specifications
Assembled dimensions: 74.5″L x 20″W x 32″H (189L x 51W x 81H cm)
Assembled weight: 72 lbs (32.6 kg)
Flywheel weight: 8.8 lbs (4 kg)
Weight capacity: 300 lbs (136 kg)
Footrests: Non-pivoting, with straps
Resistance: Magnetic, eight levels
Fitness Monitor: Time, count, total count, calories, goals
Extras: Tablet holder, bottle holder
Warranty: 2 years limited
NS-6002RE Frame Construction
The Marcy NS-6002RE rowing machine has a steel frame but also integrates several parts made of different materials. For example, the main rail side sections are aluminum alloy, while the flywheel covers and several other small covers are hard ABS plastic.
Intended for home use, this rower is reasonably sturdy and has a maximum user weight capacity of 300 lbs (136 kg).
All the metallic parts in the unit's frame come powder coated with a corrosion-resistant finish, except for the main rail's aluminum elements. The color of the powder finish is black.
The fully assembled machine is fairly large, especially lengthwise. It is approx. 74″ (~189 cm) long and 20″ (~51 cm) wide.
Therefore, it requires a usage surface of at least 100″L x 60″W (254 x 152 cm), which pretty much means it may not fit too well in a small room. But on the other hand, its rail is foldable. With the rail folded up, its length is reduced by approximately two-thirds.
The unit isn't hefty; it weighs approximately 72 lbs (32.6 kg). Therefore, it may require two persons for transport, but once assembled, it is easy to move via the wheels integrated into its front stabilizer.
The other two base points of the machine do not have adjustable stabilizers. The rear "foot" is steel, with an ABS cover for improved aesthetics.
Seat and other parts
The Marcy NS-6002RE rower features a seat designed for optimal comfort. Its top is a high-density foam material with a contoured design to provide better positioning and prevent the user from sliding off it during rowing. It is approx—13″ (33 cm) wide, offering plenty of contact surface.
The base support of the seat is steel-made. It comes with two sets of wheels. These wheels integrate ball bearings to roll on the slide rail as smoothly as possible. They also have a rubberized layer on the outside to minimize noise. The seat and the rail are pretty sturdy, designed to support users up to 300 lbs (136 kg).
The seat is approx. 10″ (25.4 cm) above floor level. Therefore, it may be a little bit low for users with specific disabilities. So, you may want to look for a rower with a higher seat.
It's also important to mention that the machine's sliding rail is not completely horizontal. It has an incline of approx. 2°-3°, the recovery motion is a bit faster, and the leg push phase results in a slightly better workout for the legs than on a rower with an utterly horizontal rail.
The machine's pulling handle comes equipped with rubberized grips. It connects to a nylon strap, which is highly resistant to abrasion. Therefore, this is a plus, as it reduces noise during rowing compared to a chain drive rower. Plus, the strap does not require lubrication. Unfortunately, the handle has no HR pulse sensors, and the fitness monitor does not have a pulse reading function.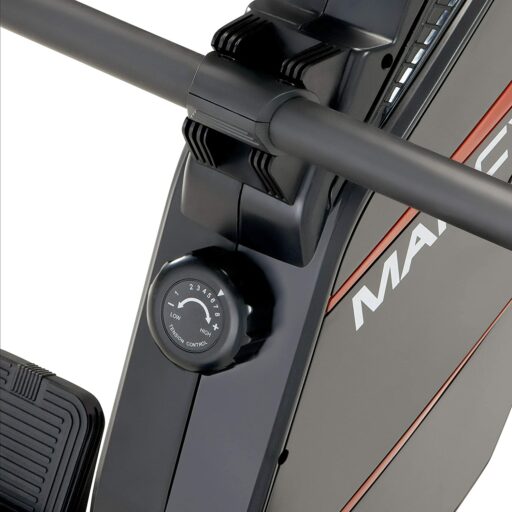 Last but not least, this Marcy rower comes equipped with a set of large footrests. They're made of thick ABS material and connect to two steel bars. Thus, they do not pivot. Instead, they have an angle of approx—65 °.
The footrests are non-adjustable. However, they're significant and can accommodate athletic shoes of all sizes. In addition, they feature a ribbed surface, small heel guards, and adjustable straps to keep your feet secured during your exercise routines.
NS-6002RE Resistance system
The Marcy NS-6002RE comes equipped with a manual magnetic resistance system. It integrates a mechanical, magnetic brake connecting the tension dial on the machine's front unit. When turning this dial clockwise, the magnetic brake moves closer to the flywheel, which results in more resistance.
Since the unit's internal brake is mechanical, it does not require an external power source for resistance adjustment. The resistance is also done exclusively from the dial; the console does not play any role in the resistance adjustment and does not have any preset programs that automatically adjust it.
This Marcy rowing machine has an 8.8 lbs (4 kg) flywheel. In addition, it has a perimeter-weighted structure, which improves the rowing motion's stability, adding a bit of inertia.
The other important element of the unit's drive system is the transmission. It features a belt, so you don't have to lubricate it. Plus, since there are no air resistance elements and the brake elements do not touch, the machine's operation is whisper-quiet.
The machine's resistance system has eight levels. The first level offers a relatively light resistance, excellent for recovery training. Conversely, the 8th resistance level provides quite a bit of tension, offering the possibility to perform a more intense workout and achieve a higher burn.
The NS-6002RE does not offer a dynamic response during rowing. Thus, the resistance is not strictly related to the strength you put behind each stroke. Instead, it is constant, given by the selected tension level on the dial. Moreover, this may only be important for professional rowing athletes who need to feel as close as possible to rowing a real boat. The machine provides a consistent, full-body cardio workout without the dynamic rowing response.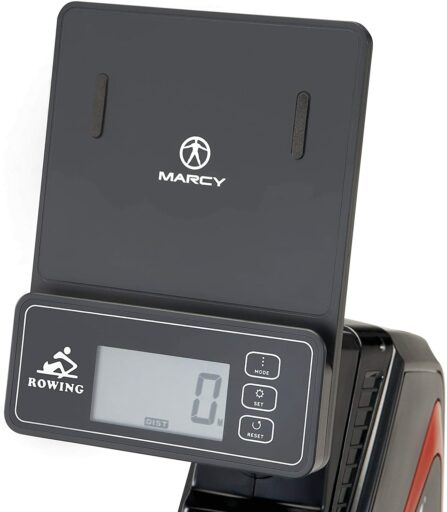 Fitness monitor
The Marcy NS-6002RE magnetic rower comes equipped with a simple fitness monitor. Accordingly, it does not have preset programs nor control the machine's resistance. Instead, it only tracks the main workout metrics, including time, speed, strokes per workout session (count), total strokes (odometer), and calories burned.
Unfortunately, the fitness monitor also does not have a pulse reading function. It doesn't have an internal HR receiver and cannot communicate with wireless HR transmitters. Therefore, if you need to monitor your pulse during your workout, you must use a separate device.
The monitor is straightforward to use. It has three buttons – Mode, Set, and Reset. The Mode button allows you to select any workout metrics shown, or the Scan Mode, which rotates all the metrics showing each one for four seconds.
The Set button allows you to set goals for time, count, and calories; once a goal is selected, it will count down to zero from the desired value for each.
And finally, the Reset button allows you to clear the time, count, and calories to zero. To reset the total stroke's value, you must remove the batteries from the fitness monitor.
The monitor requires two AAA (1.5 V) batteries which do not come with the rower. It automatically turns on when you begin rowing and turns off after four minutes of inactivity on the machine.
NS-6002RE Assembly and Maintenance
The front unit of the machine with the drive and resistance elements comes pre-assembled. Thus, you only need to attach the front base bar, connect the main rail to the front unit, insert the seat on the rail, close the rail with the rear stabilizer, and attach the footrests, the fitness monitor, and several other small covers.
Consequently, this may take up to an hour of your time. However, the manual provides pretty clear assembly instructions and diagrams, and an essential toolkit for the assembly comes included with the machine.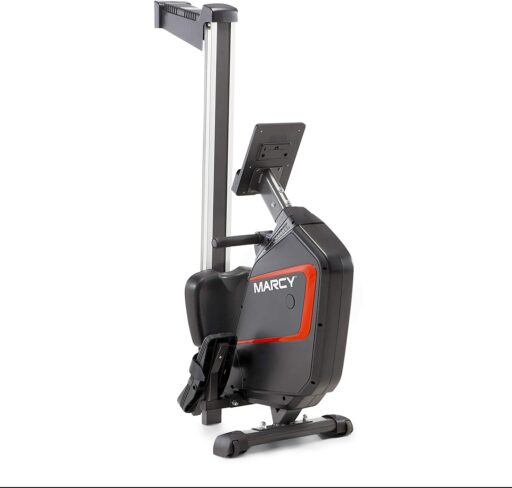 Regarding maintenance, maybe the most important aspect is keeping the aluminum side rails clean to prevent any nicks or damage to the wheels. The internal parts do not require any lubrication. So, other than this, you should only check for loose bolts and parts from time to time and retighten them as needed.
Pros
Sturdy frame construction – the machine can hold users up to 300 lbs;
Compact and aesthetic design;
The rail can fold up;
Transport wheels integrated into the front base;
Sturdy metallic seat with a foam top for optimal comfort;
Quiet aluminum track system;
Large footrests with straps;
Relatively long rail – can accommodate users up to 6'2″;
Smooth magnetic resistance system with eight distinct levels;
Fitness monitor included – it can track time, speed, count, total count, and calories burned;
The bottle holder comes included;
Tablet holder included;
Easy to assemble;
Little maintenance is required.
Cons
Batteries for the fitness monitor do not come with the machine;
The fitness monitor does not have a pulse reading or SPM function.
Marcy NS-6002RE Magnetic Rower Summary
The Marcy NS-6002RE is a magnetic rowing machine designed for home use. It features a sturdy, compact, and foldable steel frame with a weight capacity of 300 lbs. It also includes a standard fitness monitor, which allows you to set goals for time, count, and calories.
It's a great fitness machine for light to medium-intensity cardio workouts, stamina development, muscle toning, and weight loss. In addition, it offers the possibility to perform a consistent cardio workout involving most muscle groups. And finally, it's an affordable unit, a great alternative to any commercial magnetic rower.
I hope you found this article helpful and informative. Would you please speak up if you have anything you'd like to share on the topic or any opinions about my website? I look forward to your comments, questions, and the sharing of ideas.
Please note that you should consult your physician to determine if you have any medical or physical conditions that could risk your health and safety or prevent you from using the equipment properly. In addition, your physician's advice is essential if you are taking medication that affects your heart rate, blood pressure, or cholesterol level.