Rowing on the Stamina Wave 1435 Rowing Machine provides a dynamic, adaptive workout that helps you burn calories, tone the entire body, improve posture and boost your heart health. The rower combines a carefully-designed combination of performance-oriented features and comfort elements to drive results. Realize the benefits of real-world water rowing in the comfort of your home.
Dynamic water resistance on the Wave 1435 offers an adaptive workout that matches your pace. If you want to increase the resistance, row faster; for less resistance, row slower. Furthermore, you can also modify the baseline resistance level by adding or removing water from the tank.
The Stamina Wave 1435 rowing machine comes equipped with a fitness monitor. The monitor displays calories burned, pulse, time, stroke count, and total distance accrued on the rower. SCAN Mode allows you to cycle through these metrics in real time as you exercise. In addition, wear the included chest strap to monitor your heart rate efficiently.
The Wave 1435 includes free access to müüv, the smart audio coaching app. müüv helps you move 500+ minutes per month with the right mix of cardio, strength, and flexibility for a healthy and sustainable lifestyle. You'll get smart audio coaching personalized to you, progresses for you, and is fun to do. Download the müüv app on the Apple App Store or the Google Play store.
Learn more in my complete review below!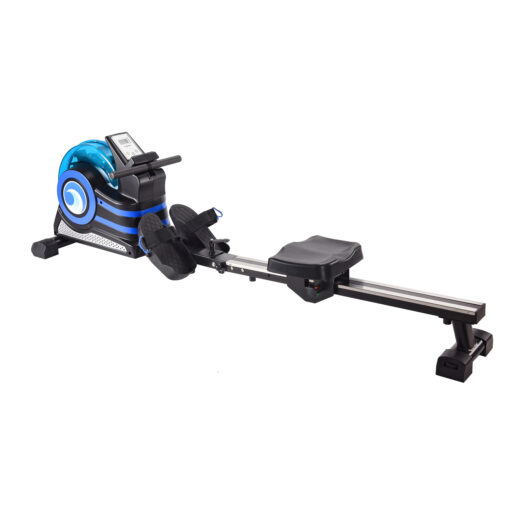 Product: Stamina Wave 1435 Rowing Machine
Price: For a great deal on this rower, merely go here to Amazon.com
Warranty: Frame 3 years / Parts 90 days
My rating: is 9/10
Affiliate Disclosure: As an Amazon Affiliate Program participant, I earn commissions on purchases made through links in this post. Full disclosure
Details and Specifications
Assembled dimensions: 76L x 20W x 21.25H inches (193L x 51W x 54H cm)
Assembled weight: 58 lbs (26.3 kg)
Weight capacity: 300 lbs (136 kg)
Frame: Steel
Footrests: Adjustable, with straps
Resistance: Water
Fitness Monitor: Time, distance, count, total count, calories, pulse, goals, Bluetooth
Extras: Heart rate chest strap
Warranty: Frame 3 years / Parts 90 days
1435 Frame construction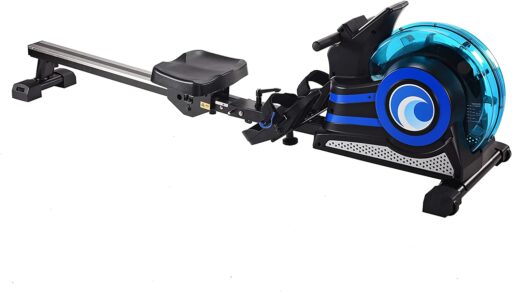 The Stamina Wave 1435 rowing machine features a steel frame. However, the rower integrates multiple parts made of different materials. For example, the side rail covers are extruded aluminum, the water tank is a polycarbonate material, and the footrests and the guards of the other drive elements are ABS plastic.
All the steel parts in the frame come coated with a rust-resistant black paint finish. The chromed aluminum covers on the rail do not have paint as they are highly resistant to corrosion.
The machine is not as significant as other water-resistance rowers. It is approximately 76″ (193 cm) long and 20″ (51 cm) wide. Its rail is approx. 35″ (89 cm), so the rower comfortably accommodates users up to 6'3″ (190 cm) with no problem, allowing a complete leg extension.
In addition, this Stamina rower is foldable. Its rail can fold up. With the rail folded up, the unit's length reduces by approx—60%.
Also, the machine is not heavy. Its net weight is approx. 58 lbs (26.3 kg), but with the water tank at its maximum fill, it will weigh approx. 30 lbs (13 kg) more. However, once assembled, the rower is pretty easy to move; its front base has transport wheels.
Seat and other parts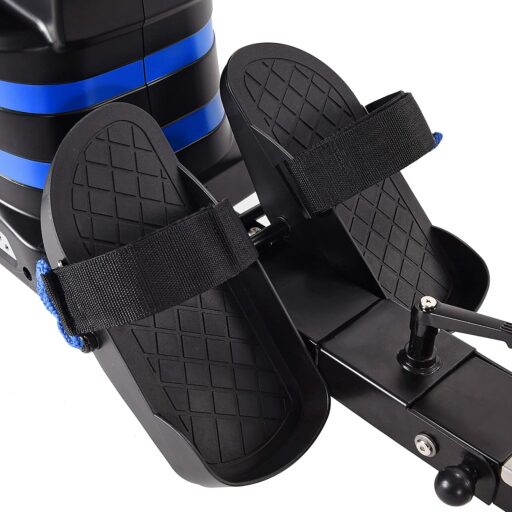 The Stamina Wave 1435 rowing machine comes equipped with a seat similar to the one included with the Sunny Health & Fitness SF-RW5866 but with an extra feature. Its base has a locking knob, so you can secure the seat in the desired position on the rail if you want to perform bicep curls or simple seated rows without the seat moving.
The top section of the seat is a thick layer of high-density foam material. It is approx. 14″ (35 cm) wide and provides plenty of contact surface. In addition, it has contours for better positioning for the user.
The seat's base is steel-made, integrating three sets of wheels. Two sets are on top of the rail, while the third moves on its bottom, closing the seat on the rail for extra stability. In addition, the wheels have internal ball bearings and a layer of silicone rubber on the outside for a smooth motion.
The rail and the seat are pretty sturdy and should support users up to 300 lbs (136 kg). In addition, the diagonal rail provides a better workout for the legs. Furthermore, the seat is approx—12″ (30 cm) above the floor.
The rower comes equipped with a set of oversized, non-adjustable thermoplastic material footrests. In addition, they have a textured surface, adjustable straps, and heel guards.
In addition, they have a pivoting design so that they can adapt better to the pressure your feet apply throughout the rowing motion. Finally, they have stoppers at the heels so they won't tilt backward past approx. 45°.
The pulling handle is a simple, straight bar. It has padded grips for improved and comfortable contact. It's attached to the machine's resistance system via a heavy-duty nylon strap, highly resistant to stretching and abrasion. Unfortunately, it does not have any controls or pulse sensors.
1435 Resistance system
The Stamina Wave 1435 rowing machine features a water resistance system. In addition, it comes equipped with a vertical water tank.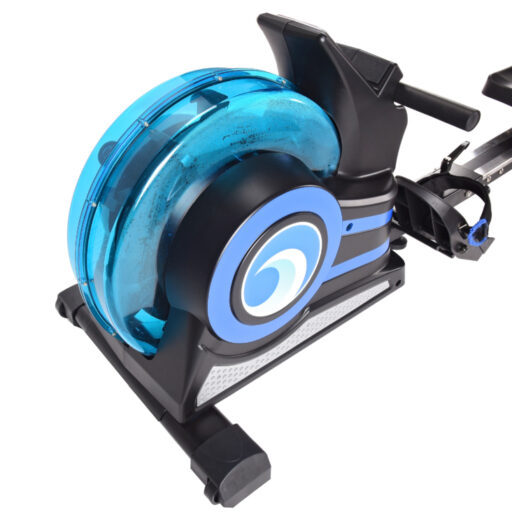 For instance, the vertical tank setup leads to superior resistance because the internal impeller has to push the water up when it spins and beat the gravity pulling it down. Furthermore, the impeller also slows down between pulls, which results in a more consistent resistance.
The water tank is a polycarbonate material. However, its exact capacity is not specified but is similar to other rowers, and it should have a total of approx. 3.5 – 4.5 gallons.
It is a single-chamber tank with no mechanical water level adjustment system. It has six fill levels marked on the tank. Therefore, if you want maximum resistance, you should fill it with water up to the 6th level.
Like other water rowing machines, the Stamina 15-1435 rower delivers a dynamic response during rowing. Unfortunately, it does not have any resistance adjustment elements. However, you can increase the water resistance by rowing faster. In particular, this emulates (up to a point) the sensation of rowing a real boat through the water.
The Wave 1435 rower does not generate excessive noise when in use. Of course, the flywheel spinning inside the tank water makes noise, but the noise level is pretty low. Furthermore, most users have described it as pleasant rather than annoying.
Fitness monitor
The Stamina Wave 1435 rowing machine has a pretty simple fitness monitor. However, it does have a few extra features. First, it has an LCD that tracks time, distance, count, total count, calories, and pulse. Unfortunately, it does not have a time/500m function.
The monitor's pulse reading function is telemetric. Therefore, it can read your pulse if you wear a 5 kHz heart rate chest strap. In addition, this accessory comes with the Wave 1435. Furthermore, the distance is in meters.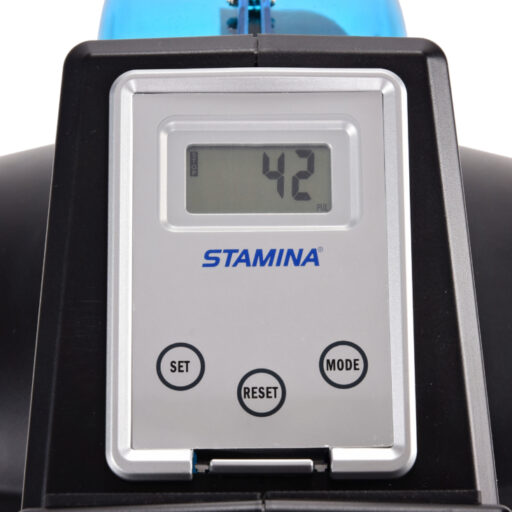 The fitness monitor does not have pre-set workout programs but does offer the possibility to set workout targets for all the workout metrics. The monitor will count down from the selected value after choosing a target for time, distance, count, or calories. For example, if setting a target value for HR pulse, the readout will flash if you exceed the chosen target, warning you to slow down.
In addition, the monitor has Bluetooth connectivity. Therefore, you can sync it with your phone or tablet via the Müüv app. Furthermore, this app is free and available for iOS and Android devices.
It offers audio coaching workouts and the possibility to track your progress online. You can also use it for other activities, like running, jogging, walking, cycling, etc.
The fitness monitor is battery-powered, requiring two AA batteries that do not come with the rower. When you begin rowing, it starts counting your strokes, calories, etc. In addition, it also automatically turns off if it doesn't detect any activity on the rower for more than four minutes.
1435 Assembly and Maintenance
The front section of the rower with the water tank comes pre-assembled. However, you still have to attach the front stabilizer, the rail with the seat, the rear stabilizer, and the fitness monitor. Next, you have to fill the tank with water.
The manual provides all the necessary instructions. All the tools for the assembly come with the rower and a siphon pump for filling the tank.
Once assembled, maintenance does not require much. However, you must refresh the water periodically by adding a tablet of sodium dichlor (56% chlorine) every 4-5 months. In addition, the rail should be kept free of any small objects or textile fibers to prevent damage to the seat's wheels.
Besides this, you only have to inspect the machine periodically to ensure that all the parts still function correctly and are tightened.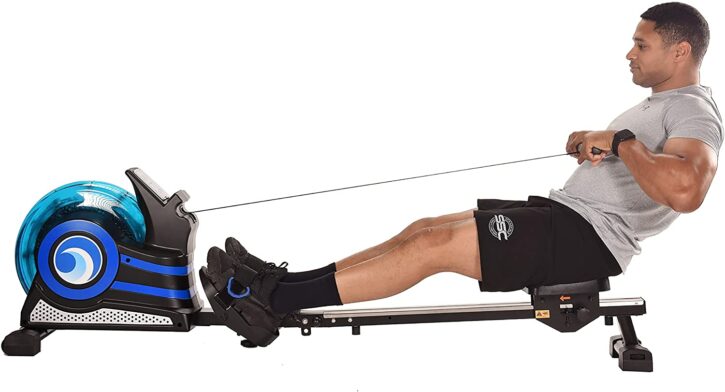 Pros
Sturdy frame – can support users up to 300 lbs;
Folding rail, space-saving design;
Transport wheels on the front base;
Adjustable levelers on the rear stabilizer;
Ergonomic, contoured designed seat;
Pivoting footrests with heel guards and adjustable straps;
Water-resistance system for a dynamic response;
Vertical water tank for extra resistance;
Fitness monitor included – it tracks time, distance, strokes, total strokes, calories, and pulse;
Target settings for all workout metrics;
Wireless HR chest strap included;
Bluetooth connectivity – compatible with the Müüv app;
Smooth and quiet operation;
Little maintenance is required;
Easy to assemble.
Cons
The fitness monitor LCD does not have a backlight;
The batteries for the monitor do not come with the rower;
The monitor does not have a phone/tablet holder.
Stamina Wave 1435 Rowing Machine Summary
The Stamina Wave 1435 is a water-resistance rower made for home use. It has a vertical polycarbonate tank, a set of pivoting footrests, a comfortable seat, and a fitness monitor that tracks time, distance, strokes, total strokes, calories, and pulse.
In addition, the monitor also has Bluetooth connectivity, and you can sync it with your phone via the Müüv app. Moreover, it's a reasonably decent fitness machine, great for a full-body cardio workout, muscle toning, and weight loss.
I hope you found this article helpful and informative. Would you please speak up if you have anything you'd like to share on the topic or any opinions about my website? I look forward to your comments, questions, and the sharing of ideas.
Please note that you should consult your physician to determine if you have any medical or physical conditions that could risk your health and safety or prevent you from using the equipment properly. In addition, your physician's advice is essential if you are taking medication that affects your heart rate, blood pressure, or cholesterol level.