Rack up a more muscular body and achieve a stronger physique with the Marcy STEELBODY STB-98005 Monster Cage Home Gym System! Engage in intensive training without leaving the comfort of your home – and save the cash needed for club membership fees with this multifunctional fitness gear!
This home gym system is made of heavy-duty steel construction. It has a powder coating, and the steelwork effectively resists scratches and chipping from intense use, giving you an investment built to last! In addition, the cage's spacious open area enables you to perform swift and expansive movements, letting you enjoy maximized mobility as you exercise.
The STEELBODY Home Gym System has a pull-up bar that is great for executing upper-body exercises. It's perfect for performing pull-up exercises that develop the chest and the back while building shoulder strength. Conveniently store your free weights and Olympic weight plates on the storage rack and posts, so you can efficiently train in one location.
With the assortment of equipment included in this innovative home gym, you can conveniently perform strength or cardio training or a weight lifting and bodybuilding program targeting the development of specific muscle groups. So, train like a pro and get your dream body without breaking the bank with the STEELBODY Monster Cage Home Gym System!
Learn more in my complete review below!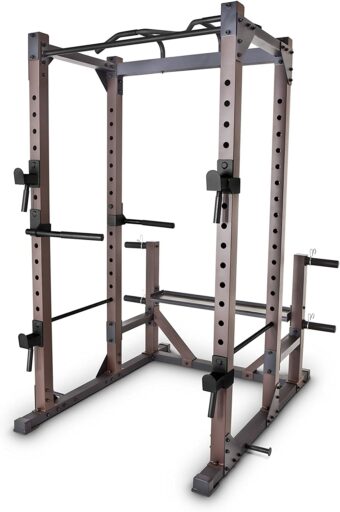 Product: Marcy STEELBODY STB-98005 Monster Cage Home Gym
Price: For a great deal on this gym, merely go here on Amazon
Warranty: Frame 10 years / Parts 2 years
My rating: 9.5/10
Affiliate Disclosure: As an Amazon Affiliate Program participant, I earn commissions on purchases made through links in this post. Full disclosure
Please note that the weight plates pictured in some images do not come with the cage.
Details and Specifications
Assembled dimensions cage: 74L x 65W x 95H inches (188L x 165W x 241H cm)
Assembled weight: 295 lbs (134 kg)
Weight capacity:
Pull-up bar and dip station: maximum weight 350 lbs (159 kg)
Bar catch: maximum weight of 500 lbs (226 kg)
Storage post: maximum weight of 100 lbs (45 kg)
Dumbbell-kettle weight tray: maximum weight 270 lbs (122 kg)
Compatible weight plates: Olympic & Standard
Possible exercises: 30+
Warranty: Frame 10 years / Parts 2 years
STB-98005 FrameConstructionn
The Marcy SteelBody STB-98005 Monster Cage features a heavy-duty construction consisting of 16-gauge rectangular steel bars. The main pillars of the unit are pretty thick, 3″ x 3″ (7.6 x 7.6 cm), offering superior sturdiness. All the main joints of the cage feature reinforcement plates for a secure connection.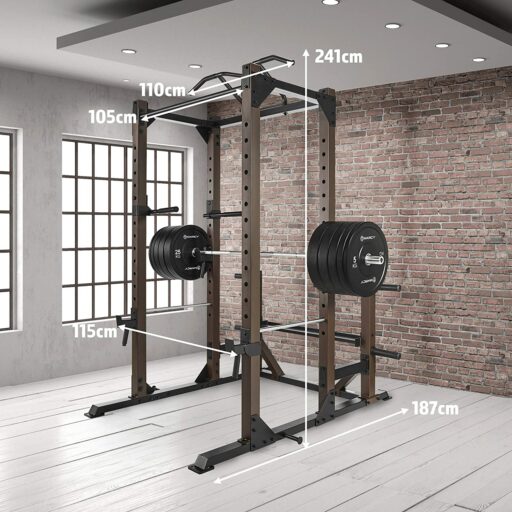 It's also important to mention that the cage's rear base section is equipped with oblique reinforcement bars, while the two short upright bars at the back also connect to the middle uprights with two extra bars. Therefore, it considerably improves the overall sturdiness of the unit.
Its net weight is approx 295 lbs (134 kg). This weight alone provides excellent stability, continually improving by adding weight plates, dumbbells, or kettlebells to its storage pegs and tray.
All the bars in its construction come coated with a corrosion-resistant and chip-resistant paint finish. In addition, the main upright bars feature a brown finish, while the rest of the bars and accessories are black, these being the only colors available for this power cage.
The fully assembled cage is relatively large. It is approx—74″ (188 cm) deep and 65″ (165 cm) wide. The inside is spacious as well, approx. 62.5″ (159 cm) deep and 42″ (107 cm) wide, so the cage offers plenty of space for the correct execution of all exercises.
The main upright bars feature 15 safety and bar catches; their distance is approximately—5″ (13 cm).
This Marcy power cage is pretty tall. The top chinning bar attached measures approx 95″ (241 cm) in height. Without this bar attached, it is approx—86″ (218 cm). So, either way, it won't fit in a room with a ceiling height of only seven feet. You will need a ceiling height of at least 8 1/2 feet to correctly execute all the pull-up/chin-up exercises.
Other parts
The Marcy SteelBody STB-98005 Monster Cage includes safety bars with bar catches on their end and an additional bar catch set. These are all rated for 500 lbs (~226 kg) load capacity.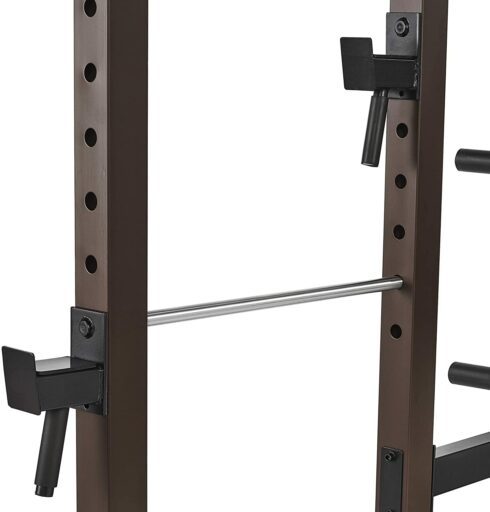 The short rear bars of the cage comes are equipped with two weight plate storage posts each. They have Olympic (2″) sleeves for Olympic plates, but these are removable so that you can store Standard (1″) plates on them as well. Each post holds plates up to 100 lbs (45 kg). The storage tray in-between the two rear bars can also support loads up to 270 lbs (~122 kilograms).
Apart from the cage, which provides a training setting for squats and other exercises, the Marcy SteelBody STB-98005 includes two other workout stations.
One of them is the chinning bar, which is attached to the rear top bar of the cage. It features a multi-grip design with curved lateral grips and parallel grips. However, attaching this bar to the cage is not entirely necessary.
The front upper section of the enclosure features a simple cylindrical bar, which also offers the possibility to perform chin-ups, pull-ups, and variations of these exercises. The chin-up bars have a weight capacity of 350 lbs (~159 kg).
The other attachment or workout station included with the Marcy STB-98005 is the dip station, which consists of two short bars (1.5″ in diameter) with rubberized grips. They attach to any of the 15 positions of the upright bars to execute dip exercises and variations. Like the chinning bar, the dip bars have a weight capacity of 350 lbs (~159 kg).
STB-98005 Accessories
The cage also includes a set of resistance band pegs. These can also be attached to the cage's base bars and support various resistance bands.
Finally, it is essential to mention that this Marcy power cage does not include any weight plates or barbells. Therefore, you will have to purchase these separately or use the ones you already have. Also, the cage is for Olympic (7′) bars.
Possible exercises
Pull-ups
Wide grip pull-ups
Muscle pull-ups
Behind head pull-ups
Around the world, pull-ups
One-arm pull-ups
Cliffhangers
Weighted pull-ups
Chin-ups
Close grip chin-ups
Wide grip chin-ups
One hand chin-ups
Weighted chin-ups
Dips
Weighted dips
Band-resisted dips
Dip to leg raise
Side-to-side dips
Gironda dips
Reverse Gironda dips
Hanging knee raises
Hanging leg raises
Push-ups
Deadlifts
Calf raises
Squats
Wide squats
Twisting squats
Chest presses
and more
Of course, exercises such as chest presses require a bench, which does not come with the cage.
STB-98005 Assembly and Maintenance
The Marcy STB-98005 Monster Cage requires complete assembly. Although the task isn't too complicated, it may take several hours. You will have to put the base together first, add the vertical bars, the reinforcement plates, and the bars, close the cage with the top bars, and connect the accessories.
The included manual provides pretty clear assembly instructions and schematics. Tools for assembly do not come included, though. Therefore, you will need an adjustable wrench, an Allen wrench, and a rubber mallet.
Once assembled, maintenance doesn't require much. Thus, all you need to do is periodically inspect the joints and bolts to re-tighten them if it's the case or replaces any potential broken parts. It's also important to mention that this cage is for indoor use only.
Pros
Sturdy frame, 16-ga steel;
Dip bars included;
Multi-grip pull-up bars;
Pull-up and dip handles included, rated for a weight capacity of 350 lbs;
Solid steel safety bars with catch bars rated for 500 lbs;
15 adjustment positions for the safety bars, J hooks, and dip handles;
Four weight plate storage posts with removable Olympic (2″) sleeves;
The dumbbell tray attachment included;
Elastic band pegs for the base bars;
Over 30+ possible exercises;
Easy to assemble;
Little maintenance is required.
Cons
Assembly tools do not come included;
No lat attachment option is available for this particular Marcy cage.
Marcy Steelbody STB-98005 Monster Cage Summary
The Marcy SteelBody STB-98005 is a standard power cage featuring a pull-up station with multiple grips, a set of safety bars with catches attached, and an extra set of catches. The rack also includes a set of dip handles.
It's a sturdy piece of equipment offering the possibility to perform more than 30+ exercises and provides a reasonably decent weight capacity of up to 500 lbs for its catches and safety bars.
I hope you found this article helpful and informative. Would you please speak up if you have anything you'd like to share on the topic or any opinions about my website? I look forward to your comments, questions, and the sharing of ideas.
Please remember that you should consult your physician to determine if you have any medical or physical conditions that could risk your health and safety or prevent you from using the equipment properly. In addition, your physician's advice is essential if you are taking medication that affects your heart rate, blood pressure, or cholesterol level.