The ONETWOFIT OT319 Indoor Cycling Bike is perfect for those who want to lose weight and get fit. The OT319 has a sturdy steel frame and features a 44 lbs chromed flywheel with a silent belt drive system to provide a stable and safe riding experience during exercise.
The exercise bike comes equipped with a standard manual friction resistance system. You can quickly reduce or increase the resistance by turning the red knob or pushing to stop the flywheel from spinning safely. It also has aluminum alloy cage pedals, preventing your feet from slipping and providing high safety.
The ONETWOFIT OT319 indoor cycling bike has a 4-way adjustable (up, down, front, back) padded seat. Furthermore, the soft PU cushion cushions shock absorption and reduce hip pressure, making you comfortable during exercise. In addition, the durable handlebar is 2-way adjustable (up, down) and features a multi-grip design.
Learn more in my complete review below!
Product: ONETWOFIT OT319 Indoor Cycling Bike
Price: For a great deal on this bike, merely go here to Amazon.com
Warranty: Not specified
My rating: is 8/10
Affiliate Disclosure: As an Amazon Affiliate Program participant, I earn commissions on purchases made through links in this post. Full disclosure
Details and Specifications
Assembled dimensions: 42.5L x 20.9W x 43.9H inches (108L x 53W x 111H cm)
Shipping weight: 98 lbs (44 kg)
Flywheel weight: 44 lbs (20 kg)
Supported weight: 330 lbs (150 kg)
Seat: 4-way adjustable
Drive system: Belt
Resistance: Friction
Fitness Monitor: Time, speed, distance, calories, scan
Extras: Phone holder, elbow rests
OT319 Frame Construction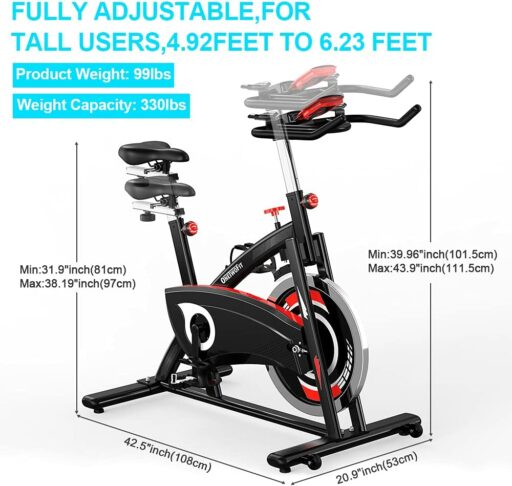 The ONETWOFIT OT319 indoor cycling bike features a durable steel frame. It's constructed on a triangular steel frame with the main tube slightly curved for improved sturdiness and aesthetics. Most of the tubes in its construction are oval, except for the cylindrical handlebar tubes and the rectangular seat slider.
It's also important to note that the seat tube joins the main curved tube and welds to the base tube. Therefore, it considerably improves the overall structural sturdiness of the bike.
All the steel tubes in the frame come double-coated with a black paint finish. The only exceptions are the flywheel, the seat tube, and the handlebar tube, which is chrome plated. In addition, the drive belt, the flywheel's side covers, and the fitness monitor's casing are ABS plastic.
Like most other spin bikes, the ONETWOFIT OT319 is not a large fitness machine. It is approx. 42.5″ (108 cm) long and 20.9″ (53 cm) wide with all the parts assembled. Therefore, it can fit pretty well even in a small room. However, it still is advisable to leave at least two feet of clearance all around it for safety and ease of use.
The bike is relatively heavy, weighing approx—98 lbs (44 kg). Therefore, two people should carry and assemble the bike. However, once completed, one person can move the bike quickly as its front stabilizer features two transport wheels. In addition, both base stabilizers have adjustable levelers.
Seat and handlebars
The ONETWOFIT OT319 indoor cycling bike has a pretty decent saddle. Its top is a high-density foam material (EVA or urethane) and has contoured to provide superior breathability. Furthermore, it is also flexible and has a collar-type attachment system. Therefore, it's easy to remove and replace if needed.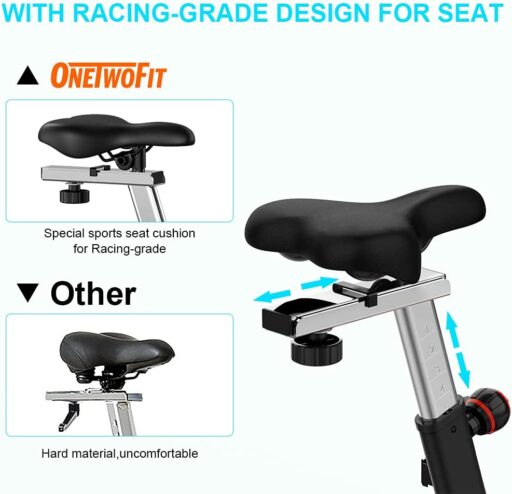 The bike's seat is adjustable (up, down, front, back). Its vertical post offers approximately 6.2″ (16 cm) of adjustment, from 31.9″ (81 cm) to 38.19″ (97 cm) above the floor.
In addition, the top slider also adds several inches for horizontal adjustment. Thus, the bike should comfortably accommodate users between 5'2″ and 6'5″ (157 – 196 cm). It also has a maximum user weight limit of 330 lbs (150 kg) which is quite impressive for a home-use spin bike.
Unlike the seat, the bike's handlebar assembly is only two-way adjustable (up, down). It does not have the horizontal slider feature. However, it does offer approximately 4″ (10 cm) of adjustment, from 39.9″ (101 cm) to 43.9″ (111.5 cm) above the floor.
The handlebar assembly features a multi-grip design. It offers the possibility to adopt a climbing grip, a close grip, an off-road grip, and a standard grip. In addition, it comes with a set of elbow rests so you can adopt an aero grip.
Furthermore, its side grips have a layer of PVC foam for superior contact. Unfortunately, they do not integrate HR pulse sensors, and the fitness monitor does not have a pulse reading function.
OT319 Resistance system
This ONETWOFIT OT319 indoor cycling bike has a standard manual friction resistance system. Therefore, you don't need a power cord or a power adapter. The only power source required is a set of batteries for the fitness monitor.
The resistance system consists of a felt pad attached under the mainframe tube above the flywheel. The pad connects to the bike's tension knob, so when you turn this knob clockwise, it applies more friction to the flywheel, increasing the pedaling difficulty.
The bike's resistance system does not have pre-determined levels or "clicks" like most magnetic exercise bikes have. For example, you tighten the brake on the flywheel until you get comfortable. As a general idea, the pad can tighten down on the flywheel to the point where you can barely pedal.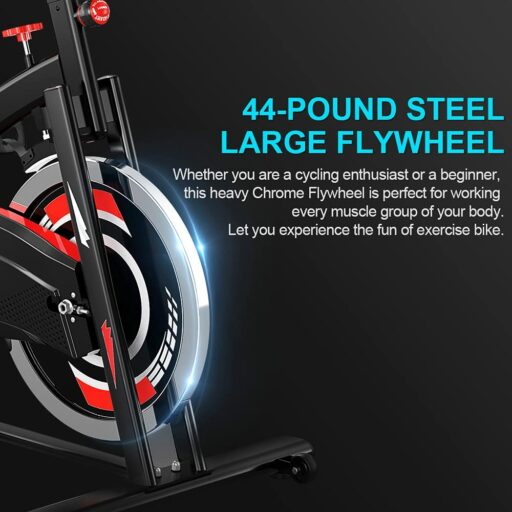 The bike's tension knob also has the function of an emergency brake. Thus, you can press it down to stop the flywheel from spinning. Especially if you've been pedaling at high speed, as the flywheel is weighty, and stopping it with your feet from the pedals may cause injuries.
One last aspect to note regards brake maintenance and replacement. Although the felt pad is durable and should last for at least a year, even with daily use, it will eventually wear out and require replacement. Furthermore, by adding a few drops of silicone lubricant on the edge of the flywheel, you can improve the smoothness of the ride.
Drive system
The ONETWOFIT OT319 indoor cycling bike has an extra-heavy flywheel. It weighs 44 lbs (20 kg), usually the flywheel weight of a club-level spin bike. It is also perimeter-weighted for superior inertia and a consistent pedaling motion.
The flywheel is bi-directional. Therefore, you can pedal in reverse if you want. However, coasting is not possible, and when pedaling in reverse, the pedaling motion has the same resistance as when you pedal forward. Thus, you can alternate pedaling sessions with reverse pedaling sessions to focus on different muscle groups.
The bike comes with a belt drive system. It uses a poly-v belt highly resistant to stretching and abrasion. Accordingly, it does not require periodic lubrication like a chain drive which is a plus. In addition, it also generates slightly less vibration than a chain drive, reflecting the ride's overall smoothness.
The bike features a heavy-duty crankset. The crank arms are steel-made, similar to the ones on road bikes. They're pretty long, so the bike promotes ample movement. The Q-Factor (spacing between the pedals) is also narrow (under 180mm), so the pedaling motion does not generate extra lateral stress on the user's joints.
Last but not least, the included pedals are aluminum alloy. Unfortunately, they do not have SPD clips for spin shoes but have toe cages if you need to secure your feet or perform workouts with extra thrust. Furthermore, they have 9/16″ threads, so compatible options should be available in any bike shop if you ever need or want to replace them.
OT319 Fitness monitor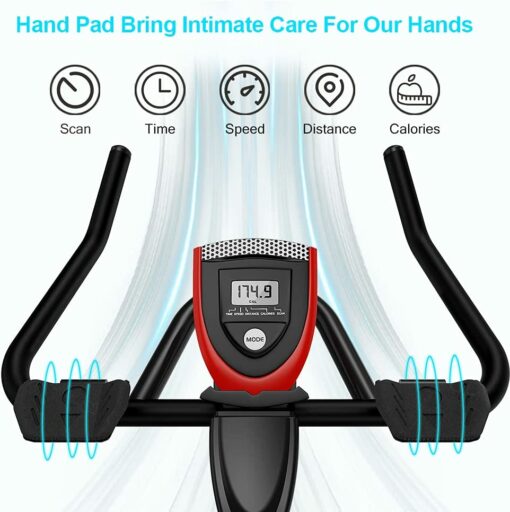 The fitness monitor included with the ONETWOFIT OT319 indoor cycling bike is pretty simple. Unfortunately, it does not have target settings, pre-set programs, or online connectivity. Instead, it features an LCD (without an LED backlight) that tracks time, speed, distance, and calories burned.
The monitor does not have an odometer or HR pulse tracking capability. Therefore, it is not telemetric, and you cannot sync it with a wireless HR chest strap. Thus, if you need to keep an eye on your pulse during your spin workouts, you will need to use a separate device.
The fitness monitor has only one button (MODE), and it's straightforward. Accordingly, you can press the button repeatedly to select between time, distance, speed, and calories burned. This way, you can also set the Scan Mode, which automatically rotates all the metrics, showing each one for a few seconds.
In addition, the button also covers the reset function of the monitor. You can press it down and hold it for a few seconds to clear all its values to zero.
As mentioned earlier, the fitness monitor is battery-powered and requires a set of AA batteries that do not come with the bike. It starts when you begin pedaling and automatically turns off if it does not detect flywheel movement for more than four minutes.
OT319 Assembly and Maintenance
The most important parts of the bike, such as the flywheel, the crankset, the belt, and the brake, come pre-installed and attached to the frame. However, the rest of the parts do require user assembly. For example, you will have to connect the two base pieces to the main frame, the seat, the pedals, the handlebar, and the fitness monitor.
Consequently, this shouldn't take more than 30-40 minutes of your time. In addition, an essential toolkit comes with the bike.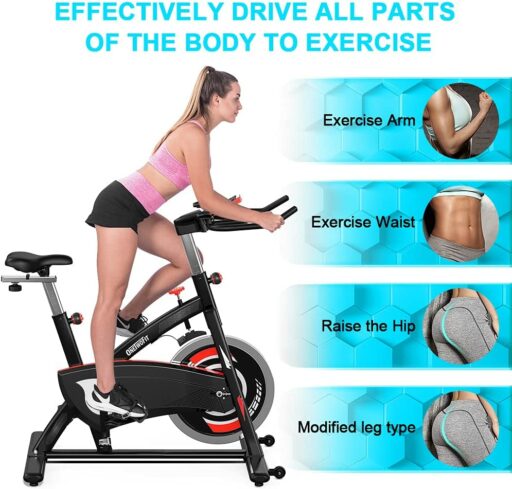 For maintenance, it is advisable to keep the bike clean. For example, the brake may require lubrication from time to time and eventual replacement. Other than that, it is also advisable to periodically inspect the bike to ensure that all the parts still function correctly and are tight in place.
Pros
Sturdy construction – supporting users up to 330 lbs;
Aesthetic design;
Both base bars have adjustable stabilizers;
Transport wheels on the front base;
4-way adjustable seat;
High-comfort saddle with a contoured surface;
Multi-grip handlebar covered by rubber foam for optimal comfort;
Elbow rests included;
Standard friction resistance;
Extra-heavy, 44-lbs perimeter-weighted flywheel for aggressive inertia;
Heavy-duty crank, able to support any user up to the maximum listed weight in an upright pedaling position;
Durable (aluminum alloy) pedals with toe cages;
Maintenance-free belt drive;
Fitness monitor included – it tracks time, speed, distance, and calories burned;
Phone holder included;
Easy to assemble;
Little maintenance is required.
Cons
The fitness monitor does not have a pulse reading function;
No RPM reading function on the fitness monitor;
The fitness monitor does not have a backlight;
There is no bottle holder.
ONETWOFIT OT319 Indoor Cycling Bike Summary
The ONETWOFIT OT319 is a home-use indoor cycling bike. It has a 44-lb flywheel, a friction resistance system, a 4-way adjustable seat, and a simple fitness monitor with one button for tracking time, speed, distance, and calories.
In addition, it's also a pretty sturdy bike, having a maximum user weight limit of 330 lbs. Moreover, it's a bike ideal for spin workouts, high-intensity cardio training, strength development, stamina development, and weight loss.
I hope you found this article helpful and informative. Would you please speak up if you have anything you'd like to share on the topic or any opinions about my website? I look forward to your comments, questions, and the sharing of ideas.
Please remember that you should consult your physician to determine if you have any medical or physical conditions that could risk your health and safety or prevent you from using the equipment properly. In addition, your physician's advice is essential if you are taking medication that affects your heart rate, blood pressure, or cholesterol level.