Combine high-quality performance and superior folding capabilities with the Sunny SF-T7718 Folding Treadmill with a 20″ Wide LoPro Deck by Sunny Health & Fitness. Run confidently on the extra wide running treadmill designed with comfort, stability, and a low-profile deck.
The SF-T7718 features a shock absorption that surrounds the bottom deck of the treadmill. The cushioning means less impact on your legs and joints and allows you to work out longer with less fatigue. In addition, it will give you the confidence to run without risking injury and keeping your workout comfortable on your joints.
In addition, the 20-inch (51 cm) extra wide running surface will support your stride and keeps you low to the ground giving you a natural running experience. This running surface supports speeds from 0.6 – 9 MPH (.97 – 14.5 kph). Furthermore, the durable deck has a maximum user weight of 250 lbs (113 kg).
The Sunny SF-T7718 Folding Treadmill console has an LCD monitor that displays your speed, time, distance, calories burned, pulse, and steps. In addition, the console has nine built-in workout programs. They're interval-based programs, each alternating different speed settings throughout its duration. Also, an infrared HR pulse sensor tracks your heart rate.
Learn more in my complete review below!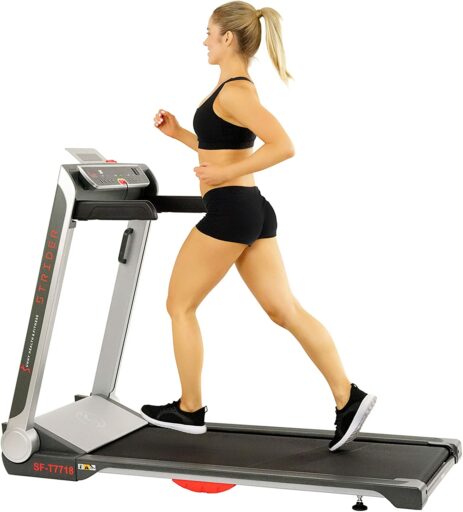 Product: Sunny SF-T7718 Folding Treadmill
Price: For a great deal on this treadmill, merely go here to Sunny Health & Fitness.com
Warranty: Frame 3 years / Parts 90 days
My rating: 8.25/10
Affiliate Disclosure: As an Amazon Affiliate Program participant, I earn commissions on purchases made through links in this post. Full disclosure
Details and Specifications
Assembled dimensions: 63L x 29.5W x 48H inches (160L x 75W x 122H cm)
Tread belt dimensions: 46L x 20W inches (117L x 51W cm)
Assembled weight: 117 lbs (53 kg)
Supported weight: 250 lbs (113 kg)
Motor: 1.25 CHP / 2.5 Peak HP
Speed range: 0.6 – 9.0 MPH (.97 – 14.5 kph)
Incline: No
Console: 9 programs, Bluetooth, USB port
Extras: Sound system, tablet holder
Warranty: Frame 3 years / Parts 90 days
SF-T7718 Frame & deck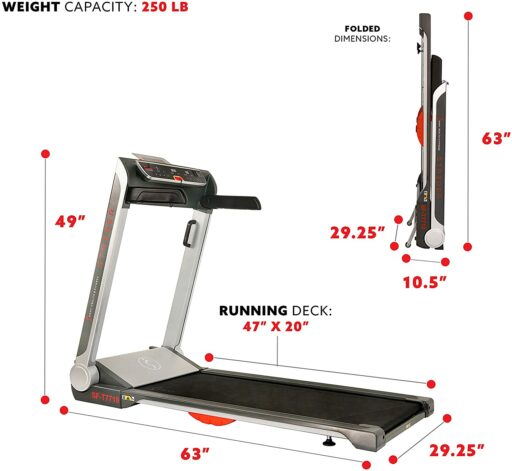 The Sunny SF-T7718 folding treadmill features a space-saving design with a fold-flat frame, which you can store in narrow spaces. In addition, the console mast with the side grips folds down over the deck, resulting in an overall height for the folded unit of 7.25″ (18.5 cm). Therefore, you can store it under your bed if there is a clearance over 7.5″ (19 cm).
Its folded footprint remains approx. 62″L x 29.5″W (157.5 x 75 cm). Therefore, you can also store it vertically. In addition, its front base features two small bars with transport wheels that facilitate the unit's relocation and serve as vertical stabilizers.
With the frame in the usable position, the unit's footprint measures approximately 63″L x 29.5″W (160 x 75 cm), while its highest point reaches approx—48″ (122 cm) to the top of the tablet holder.
The Sunny SF-T7718 treadmill features a steel frame. However, it has ABS covers for the console masts, motor, and side rails, for a more aesthetic aspect.
Although it is a light-capacity treadmill, it isn't exactly lightweight. Its net weight is approx. 117 lbs (53 kg) that provide plenty of stability. Furthermore, its rear part features a set of adjustable levelers, while its front section rests on rubber pads.
The machine's deck is durable for a light-capacity treadmill with a maximum user weight limit of 250 lbs (113 kg). It also integrates two shock absorption elements, one on each side. They provide higher protection for your joints than a walk or a jog on an asphalt or concrete surface.
The belt offers a walking surface of 46″L x 20″W (117 x 51 cm), which is an optimal surface for walking and jogging. Unfortunately, users taller than 6'0″ (183 cm) may find it a bit short for running. Therefore, this machine is in the walking/jogging treadmill category. Moreover, most running treadmills have a belt at least 60″ (152 cm) long.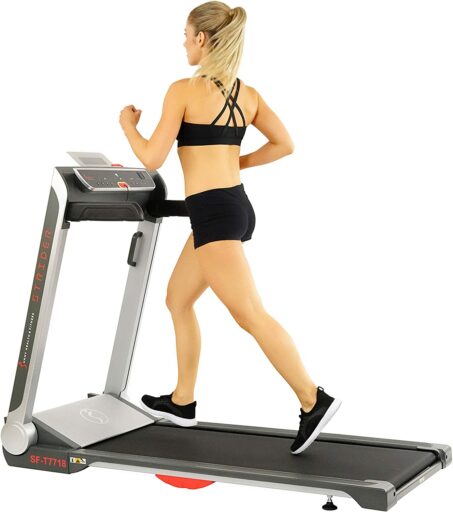 Unfortunately, this Sunny treadmill does not have an incline system. However, its walking surface has a low profile. Its step-up height is only approx—3″ (8 cm). Therefore, you won't have to worry about hitting the ceiling when using the machine.
Drive motor
The Sunny SF-T7718 folding treadmill is an electric treadmill. Thus, it requires a connection to a power circuit. It integrates a 2.5 HP Peak Power / 1.25 CHP drive motor that is more than enough for walking or jogging workouts. In addition, it will support any user up to 250 lbs (113 kg), for prolonged exercising routines, without overheating or losing performance.
This drive motor delivers a speed range between 0.6 MPH and 9.0 MPH (.97 – 14.5 kph). The speed is adjustable only from the console. There are +/- keys for gradual speed adjustment on the right side and quick speed controls for the 3 MPH and 6 MPH on the left side.
The speed increments are 0.1 MPH. Therefore, it allows you to find the perfect speed for your height and workout intensity. Moreover, the speed of the belt adjusts gradually and smoothly, without sudden jerking, allowing you to adjust your stride and pace with ease and safely.
There are two more aspects to note. One regards the level of noise generated and power consumption. The machine's motor is far from being loud, and depending on your running style, your cadence will create some noise. Furthermore, you barely hear it during a walking workout.
However, if running at full speed, your rhythm will become louder, but it's not loud enough to cover your TV's sound on a moderate volume setting.
The second and last aspect regards power consumption. The drive motor is not super strong; therefore, you won't have to worry about high electricity bills even if you use the machine daily.
SF-T7718 Console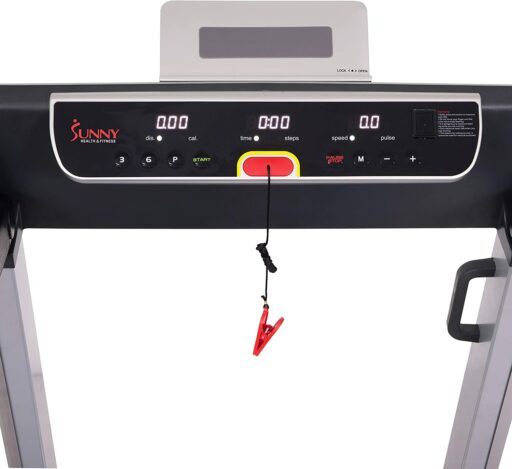 The Sunny SF-T7718 folding treadmill console is a simplified version of the ASUNA SpaceFlex 7750. It features a LED display that divides into three separate windows. The left window indicates distance and calories burned, the middle window shows time elapsed and step count, and the right window displays speed and pulse.
For speed and distance, there are only Imperial units available (MPH and miles). The console is not telemetric; therefore, it cannot read your pulse via a Polar HR chest strap. However, it has a contact sensor on the right side, so by pressing your finger against it, you can still benefit from a heart rate pulse reading.
Goal settings are available for time, distance, and calories burned. After choosing a goal, the console will begin to countdown from that value until it reaches zero. In addition, you can set up limits to break for each one of your workouts.
In terms of programs, the console offers nine preset ones, from P1 to P9. They're interval-based programs, each alternating different speed settings throughout its duration. In addition, each program has ten intervals. So, for instance, you can select a total time for each program, and each interval will last a 1/10th of that chosen duration.
Consequently, the starting speed for each program is either 1.2 MPH or 1.8 MPH. Finally, before the start of each interval, the console will beep to notify you about the speed change.
The SF-T7718 console has an integrated Bluetooth connection. Therefore, you can sync it with your phone or tablet to access the all-new free SunnyFit app for online tracking of your workout data. In addition, a USB port is also available. Unfortunately, this only serves as a docking port for recharging your phone or tablet.
And last, the console features a sound system and a tablet holder. The sound system consists of two small speakers under the console. An MP3 cable comes with the machine, which you can use to connect your phone or tablet and play your music through the console speakers.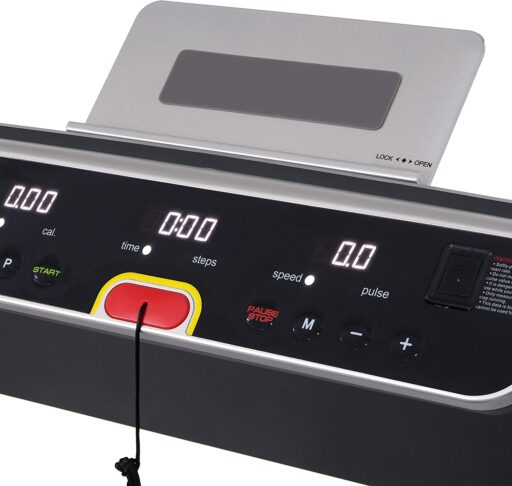 The tablet holder is at the top of the console. It has a non-slip element to prevent your phone or tablet from falling. In addition, it's also foldable, providing better storage possibilities for the whole machine.
SF-T7718 Assembly & Maintenance
The Sunny Health & Fitness SF-T7718 treadmill comes fully assembled. All you need to do is unfold it, plug it in, attach the magnetic safety key, and you're ready to go. However, before the first use, it's necessary to lubricate the belt with the included silicone lubricant.

For maintenance, the belt should be kept clean. It would be best if you wiped off any small objects, dust, sand, or textile fibers before each use to prevent any damage to the motor. Of course, the belt requires periodic lubrication. Furthermore, the console has a lubrication reminder which will prompt you to re-lubricate it after every 188 miles traveled.
Pros
The folding frame is storable either vertically or flat;
Relatively small footprint, ideal for apartment use;
Low deck profile (3″);
Adjustable stabilizers on the rear base;
Transport wheels on the front base;
Shock absorption elements on each side of the deck;
Speed range up to 9.0 MPH allowing jogging sessions;
Speed increments of 0.1 MPH give you the possibility to find the perfect pace for your workout;
Quick speed and incline buttons for the three and 6-level settings;
Pulse sensor on the right side of the console;
LED-based console with three displays indicating the distance, calories, time, steps, speed, and pulse;
Nine preset programs;
Goal settings for time, distance, and calories;
Bluetooth connectivity – the console is compatible with the all-new free SunnyFit app;
Lubrication reminder function;
The sound system included;
Audio cable included;
USB charging port included;
Folding tablet holder included;
Comes fully assembled;
Little maintenance is required.
Cons
There is not an incline function.
Sunny SF-T7718 Folding Treadmill Summary
The Sunny SF-T7718 is a walking/jogging treadmill featuring a fold-flat frame, a 2.5 HP motor, and a speed range of 0.6-9.0 MPH. In addition, its console offers nine preset programs and goal settings and is compatible with the all-new free SunnyFit app via Bluetooth.
It's an excellent treadmill for light to medium-intensity cardio workouts, muscle toning, speed walking, building stamina, and losing weight. Accordingly, it's an affordable treadmill with an excellent price/quality ratio.
I hope you found this article helpful and informative. Would you please speak up if you have anything you'd like to share on the topic or any opinions about my website? I look forward to your comments, questions, and the sharing of ideas.
Please note you should consult your physician to determine if you have any medical or physical conditions that could risk your health and safety or prevent you from using the equipment properly. In addition, your physician's advice is essential if you are taking medication that affects your heart rate, blood pressure, or cholesterol level.