Stay on track and move closer to reaching your goals with the Sunny ASUNA SpaceFlex 7750 Treadmill. It features a low inertia profile design for a more natural energy response with every foot strike. In addition, it folds completely flat and stands upright by itself against a wall or flat surface. Furthermore, transportation wheels make moving in and out easy and convenient.
Equipped with a 2.5 HP (1.25 CHP) drive motor to reach a maximum speed of 8 MPH. In addition, the motorized incline system offers 12 levels that will automatically go up and down with easy-to-reach buttons. Furthermore, it has three integrated shock absorption elements on each side to minimize the ground reaction resulting in less impact on the joints.
Exercising with your Sunny ASUNA SpaceFlex 7750 treadmill keeps you focused on achieving any personal fitness goal. In addition, the six separate LED windows display all the vital workout data such as incline level, heart rate, calories, time, distance, step count, and speed. The sleek modern design also has built-in speakers and AUX cable to connect and play music during your workout.
Monitor and maintain your target heart rate. Measuring your pulse rate is an essential tool for exercising correctly and efficiently. For instance, this critical piece of health data will help you better understand your health and fitness status.
Learn more in my complete review below!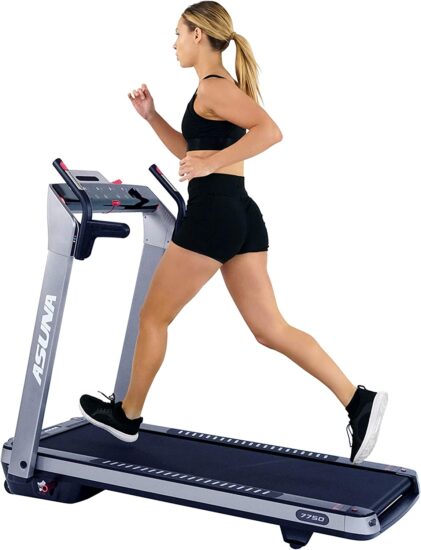 Product: Sunny ASUNA SpaceFlex 7750 Treadmill
Price: For a great deal on this treadmill, merely go here to Sunny Health & Fitness.com
Warranty: Frame 5 years / Parts 180 days
My rating: 9.5/10
Affiliate Disclosure: As a Sunny Health & Fitness Affiliate Program participant, I earn commissions on purchases made through links in the post. Full disclosure
Details and Specifications
Assembled dimensions: 57L x 29.5W x 48H inches (145L x 75W x 122H cm)
Tread belt dimensions: 51.2L x 19W inches (130L x 48W cm)
Assembled weight: 127 lbs (57.6 kg)
Weight capacity: 220 lbs (100 kg)
Motor: 2.5 HP (peak), 0.6 – 8.0 MPH speed range
Incline: Automatic, 12 levels
Console: 12 programs (8 preset, three custom, one manual)
Amenities: Sound system, USB charging port, tablet holder,
Warranty: Frame 5 years / Parts 180 days
7750 Frame
The Sunny ASUNA SpaceFlex 7750 treadmill has quite a compact design. Its assembled footprint is approx. 57″L x 29.5″W (145 x 75 cm). Of course, just like any other treadmill, it is advisable to leave at least three feet of clearance at the rear, and at least two feet of clearance on each side, for safe operation.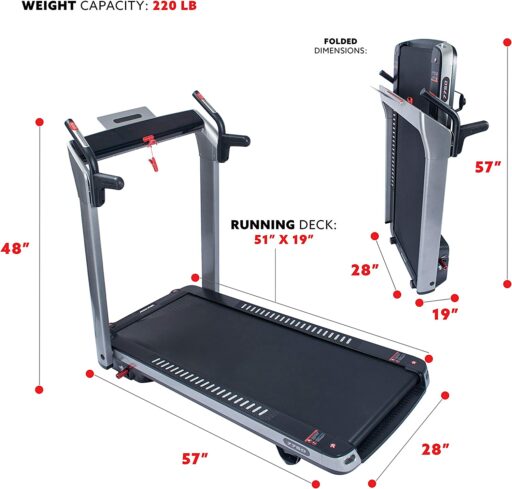 However, on the other hand, this Sunny treadmill can be folded and stored vertically or horizontally, with the console masts and console over the deck. When folded vertically, its dimensions become 12″D x 33″W x 59″H (31 x 84 x 150 cm).
Unlike other treadmills with a folding design, such as the ProForm 705 CST, the ASUNA 7750 folds slightly differently. It doesn't have a hydraulic system. Instead of folding the deck up, you fold the console masts down over the deck.
To store the unit vertically, you have to lift it after pulling out the second set of wheels at the front of the deck, which also serve as stabilizers.
The fully assembled machine is pretty heavy, weighing approximately 127 lbs (57.6 kg). Furthermore, this weight provides excellent stability, enhanced by its rubberized, adjustable stabilizers. In addition, despite its weight, the machine can easily be relocated once assembled, as its front base has transport wheels.
The treadmill has quite a durable, heavy-duty steel frame with thick console masts. All the steel parts in its construction come coated with a chip-resistant and corrosion-resistant paint finish. The colors used are gray/white for the console masts and black for the base frame.
Deck
The treadmill's deck can support users up to 220 lbs (100 kg). In addition, it comes with three shock absorption elements on each side.
For instance, walking or jogging on this treadmill has considerably less impact on your joints than when walking or jogging on concrete or asphalt. Therefore, you can perform longer walks with less workout-related pain.
The side rail covers of the deck are made of durable ABS material. In addition, they feature anti-slip stickers, which provide extra stability and foot adherence when you decide to rest without stopping the belt.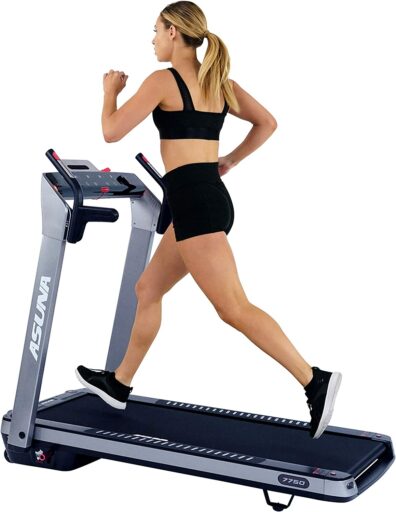 Since it's a machine for walking and jogging, its running platform is not as large as a running treadmill. It's 51.2″ (130 cm) long and 19″ (48 cm) wide. Therefore, it may not be the best choice for users taller than 6'2″ (188 cm).
7750 Incline & step-up height
Although it's a walking/jogging treadmill, the Sunny ASUNA SpaceFlex 7750 treadmill has a motorized incline system. It offers 12 levels of incline. However, it's important to note that its running platform is not entirely horizontal when the incline is on level 0 (or 0%).
With the incline set to 0%, the deck still has approx. 2.3° of incline (0r 4%) and further adjustments cannot render the running platform completely horizontal unless you place something under the rear base of the treadmill.
The unit's incline increments are approx—0.4%, from a 4% incline to 8.7% (2.3° – 5°). Since the machine's incline is automatic, it is adjustable only from the left hand-grips built-in control keys.
In addition, the treadmill requires a connection to a power circuit to adjust the incline. Furthermore, the console has quick incline buttons for the 3 and 5 incline levels. Also, some of the preset workout programs involve the incline system. So, when using one of them, the machine will auto-adjust the incline.
The deck's step-up height is approx—6″ (15.2 cm). With the incline set to the highest, the front of the deck will be elevated by approximately 2″ (5 cm). Therefore, it's advisable to use the machine in a room with a ceiling at least 10″ (26 cm) higher than the tallest user's height.
Drive Motor
This Sunny ASUNA SpaceFlex 7750 treadmill offers a 2.5 HP (1.25 CHP) motor, which is more than enough for walking or jogging workouts. It's also powerful enough to support any user up to 220 lbs (100 kg), for prolonged exercising routines, without overheating or losing performance.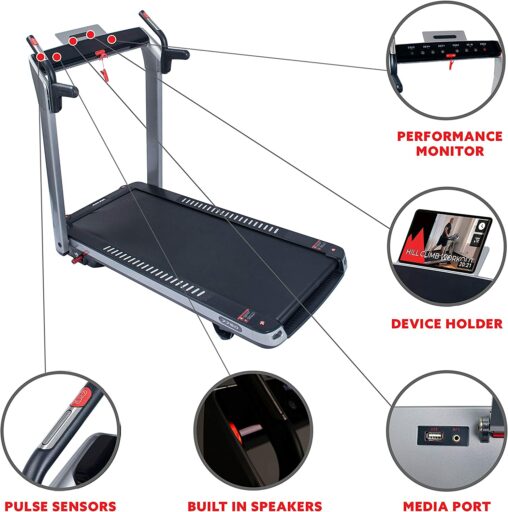 The motor offers a speed range between 0.6 MPH and 8.0 MPH. The speed is adjustable from the controls built into the right-hand grip.
The adjustment increments are 0.1 MPH, which is pretty convenient, as the speed will slowly and gradually increase or decrease, allowing you to adjust your pace. Therefore, this also allows you to find the perfect pace for your workout.
In addition, like the incline, the console has two quick keys for speed adjustment, one for 3.0 MPH and the other for 5.0 MPH.
Two other aspects to note regarding the level of noise generated and power consumption. First, the motor is far from being noisy; however, your cadence makes a sound during a walking workout. For example, if jogging at 8.0 MPH, you will listen to your tempo, and the unit will become louder.
However, it's not loud enough to cover your TV's sound in a moderate volume setting. While for power consumption, the motor is not precisely a mighty one, so you won't have to worry about high electricity bills even if you use the machine daily.
7750 Console
The Sunny ASUNA SpaceFlex 7750 treadmill has a LED console featuring six windows. They indicate incline, pulse/calories, time/program, distance/mode, step count, and speed from left to right. In addition, the console has eight buttons, including Start, Pause, Program, Mode, and incline/speed quick controls for the three and 5-level settings.
The speed and distance can either be imperial or metric units. To monitor y our pulse rate, you need to hold on to the sensors built into the handlebars. Unfortunately, the console is not compatible with wireless HR chest strap transmitters.
In addition, there are countdown settings for time, distance, and calories. For instance, these are great to use if you want to set up goals for your workout using the Manual mode.
Unfortunately, the treadmill's console does not have any online capabilities, nor is it not compatible with any online fitness apps. However, it has eight preset workout programs and three custom programs to keep you motivated.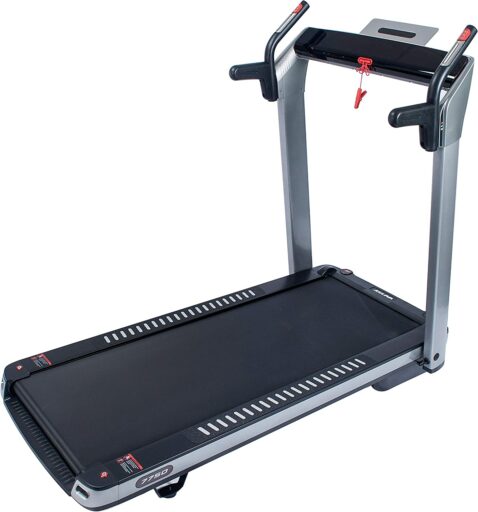 The P1 – P8 preset programs cover various workouts, some focusing on helping you keep a higher heart rate for a more intense cardio workout, others for endurance gain, and others weight-loss oriented.
There are no classic 10/20 or 20/10 preset interval workouts, but you can create your own via the Custom programs (U1, U2, U3). These allow you to make program profiles with the desired time, distance and incline settings.
In terms of amenities, there are three main features that I must mention here. One of them is the built-in sound system compatible with most MP3 players, smartphones, or tablets. In addition, it consists of two speakers, one on each side of the console, which render a pretty decent sound, considerably superior to the most phone-integrated speaker.
Furthermore, a USB port is available as well. However, this only serves for docking and charging your phone or tablet; it does not offer workout data transfer possibilities.
Lastly, the console features a folding tablet holder. It's placed at the top of the console, not covering the display windows, and is large enough to accommodate any tablet. In addition, it also has a non-slip surface.
7750 Assembly & Maintenance
The Sunny ASUNA SpaceFlex 7750 treadmill requires minimal assembly. It's essentially fully assembled and folded. All you have to do is unfold it and attach the side handlebars. The manual provides clear assembly/unfolding instructions and schematics and the necessary tool for connecting the side handlebars that comes with the machine.
Like most treadmills, the ASUNA 7750 requires periodic belt lubrication every few months. A small bottle of silicone lubricant comes with the treadmill. In addition, the walking belt requires cleaning to prevent fibers or other small objects from getting caught in the rollers or motor. And finally, it is advisable to periodically check for loose bolts and parts and retighten them to ensure the machine is in excellent and safe working condition.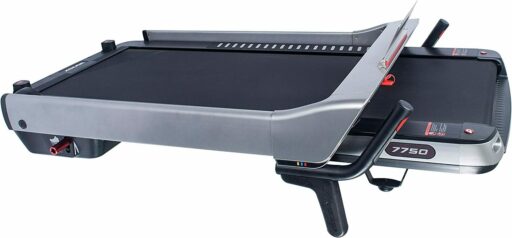 Pros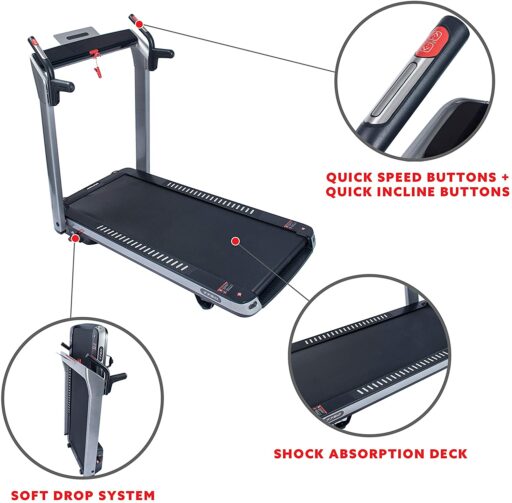 The folding frame can store vertically or flat;
Two sets of transport wheels;
Adjustable, rubberized stabilizers;
Relatively small footprint, significant for apartment use;
Three shock absorption cells on each side of the deck;
Automatic incline – 12 levels;
Speed range up to 8.0 MPH allowing jogging sessions;
Speed increments of 0.1 MPH give you the possibility to find the perfect pace for your workout;
Speed and incline controls integrate into the hand grips;
Quick speed and incline buttons for the three and 5-level settings;
Integrated HR pulse sensors included;
LED console with six windows that indicate incline, time, distance, step count, calories, pulse, and speed;
Eight preset programs;
Three custom programs;
Goal settings for time, distance, and calories;
The sound system included;
USB charging port included;
Folding tablet holder included;
A minor assembly is required;
Low maintenance.
Cons
The console does not have a built-in cooling fan;
The console does not have online connectivity.
Sunny ASUNA SpaceFlex 7750 Treadmill Summary
The Sunny ASUNA SpaceFlex 7750 treadmill is a light-capacity treadmill designed for walking and jogging workouts. It features a folding frame, and it comes with a 2.5 HP (1.25 CHP) drive motor, a motorized incline with 12 levels, and a durable deck that can support users up to 220 lbs.
In addition, its console offers eight preset programs and three custom programs. Furthermore, it offers great portability and storage possibilities. Accordingly, it's perfect for light to medium-intensity workouts, speed walking, muscle toning, stamina development, and weight loss. It's not exactly an affordable machine compared with other models in this feature range, but it does offer excellent quality.
I hope you found this article helpful and informative. Would you please speak up if you have anything you'd like to share on the topic or any opinions about my website? I look forward to your comments, questions, and the sharing of ideas.
Please remember that you should consult your physician to determine if you have any medical or physical conditions that could risk your health and safety or prevent you from using the equipment properly. In addition, your physician's advice is essential if you are taking medication that affects your heart rate, blood pressure, or cholesterol level.