The Niceday Indoor Cycling Bike features an advanced double-sided magnet system with 45 lbs (20.4 kg) flywheel to provide sufficient resistance for all fitness levels. Furthermore, the magnetic resistance has 100 micro-adjustable levels. Just twist the knob, and you can customize your exercise goals. Press the knob, and you can stop the stationary bike safely.
Made of thick 4 mm commercial reinforced steel, it has a maximum weight limit of up to 385 lbs (175 kg). Thanks to a 4-way adjustable seat and handlebar, this Niceday exercise bike has full adjustability and a personalized fit for users of all sizes, which is suitable for the entire family.
The Niceday indoor cycling bike syncs with the Kinomap and iConsole+ apps, so you can ride and sweat worldwide. The app and fitness monitor will record training data: calories, time, distance, total distance, speed, and pulse. With the tablet holder, you can place your Ipad or Smartphone on it while exercising.
You can use the adjustable toe cages and straps or turn the pedal over and clip in your shoes with the SPD-compatible pedals. In addition, the race-style seat minimizes the friction of the seat cushion on the legs, keeping you comfortable during the workout.
Learn more in my complete review below!
Product: Niceday Indoor Cycling Bike
Price: For a great deal on this bike, merely go here to Amazon.com
Warranty: Lifetime Quality Assurance
My rating: 8.5/10
Affiliate Disclosure: As an Amazon Affiliate Program participant, I earn commissions on purchases made through links in this post. Full disclosure
Details and Specifications
Assembled dimensions: 43.5L x 19.7W x 50H inches (110L x 50W x 127H cm)
Assembled weight: 110 lbs (50 kg)
Flywheel weight: 45 lbs (20.4 kg)
Supported weight: 385 lbs (175 kg)
Seat: 4-way adjustable
Handlebar: 4-way adjustable
Drive system: Belt
Resistance: Magnetic
Fitness Monitor: Time, speed, distance, total distance, calories, pulse, recovery, goals, Bluetooth
Extras: Tablet holder, dumbbell holder, bottle holders
Warranty: Lifetime Quality Assurance
Frame Construction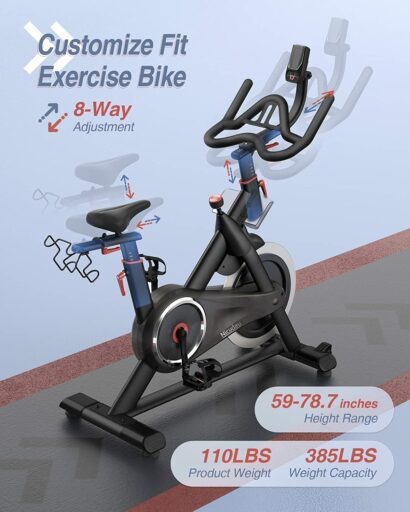 The Niceday indoor cycling bike features a triangular frame designed for superior sturdiness and a low center of gravity for improved stability. The frame is 4 mm (5/32″) commercial steel tubing to withstand most spin workouts.
All the steel tubes have a rust-resistant and abrasion-resistant black paint finish with red highlights. The only exceptions are the internal pulley and the central disc of the flywheel; these are corrosion-resistant alloys.
The bike also integrates several ABS plastic parts. However, these only have a cosmetic or protective role; they don't reduce the bike's overall sturdiness. The most notable ones are the belt guard, the magnetic brake guard, the base bar end caps, and the bottle holders.
The bike is heavy, weighing approximately 110 lbs (50 kg). Therefore, two people should carry and assemble the bike. However, it offers excellent portability once completed, as its front stabilizer has large transport wheels. In addition, its base bars have adjustable rubber pad levelers for improved stability.
The bike is not too large, with a footprint of approx. 43.5″L x 19.7″W (110 x 50 cm). Thus, it doesn't take up too much floor space. However, it is advisable to allow at least a few feet of clearance all around it, especially if you perform spin workouts that require you to mount and dismount repeatedly.
Seat and handlebars
The Niceday indoor cycling bike has a spin-type saddle. It's a bit slimmer than a standard bike seat but does have a layer of padding. In addition, its contoured top provides extra breathability. Also, its attachment system is collar-type, allowing easy removal. Compatible options are widely available if you ever want to replace them.
The bike's seat is adjustable (up, down, front, back). The applicable user inseam range for this bike is 27.5″ x 36.6″ (70 – 93 cm). Thus, it should accommodate users between 5'0″ and 6'6 ′ (153 – 198 cm). It also has a maximum user weight limit of 385 lbs (175 kg), which is in the range of commercial spin bikes.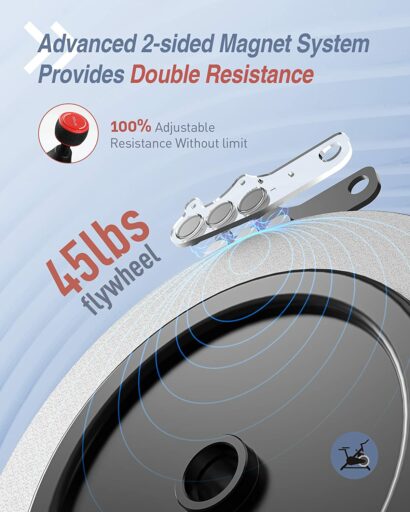 Like the seat, the bike's handlebar offers four-way adjustability (up, down, front, back). Its vertical post has several adjustment positions, while the horizontal slider adds a few inches of front-to-back adjustment. The highest point of the handlebar grips is approx. 44″ (112 cm), while the top of the fitness monitor reaches approx. 50″ (127 cm) above the floor level.
The bike's handlebar has a multi-grip design. It offers the possibility to adopt an off-road grip, a climbing grip, a semi-aero grip, a standard grip, and a close grip. A high-density rubber material covers it for a comfortable grip. It does not have pulse sensors, but the fitness monitor does have a pulse reading function.
Resistance system
The Niceday indoor cycling bike comes with a manual magnetic resistance system. For instance, it does not have an internal motor, and the console cannot adjust the resistance automatically. In addition, you don't need an adapter for the bike.
The main element of the bike's resistance system is a magnetic brake with two parallel sets of magnets that hug the top section of the flywheel. The brake connects to the tension knob above the main tube of the frame.
Therefore, when you turn the knob clockwise, the magnets cover the sides of the flywheel, which increases the pedaling difficulty. Furthermore, the bike's tension knob also has an emergency brake function. You can press it down to stop the flywheel instantly and safely.
The bike doesn't have pre-determined resistance levels. Instead, you turn the knob until you find a pedaling difficulty that you're comfortable using. As a general idea, if the magnets are down, the pedaling difficulty is pretty decent, simulating a hill climb and offering the possibility of performing a more consistent workout.
As opposed to indoor cycling bikes like the Sunny Health & Fitness P8150, which have a friction resistance system, the Niceday has a few advantages due to its magnetic resistance system. First, the magnets do not wear out, and you don't have to replace or lubricate them. And second, since they don't touch the flywheel, the pedaling motion is very smooth and quiet.
Drive system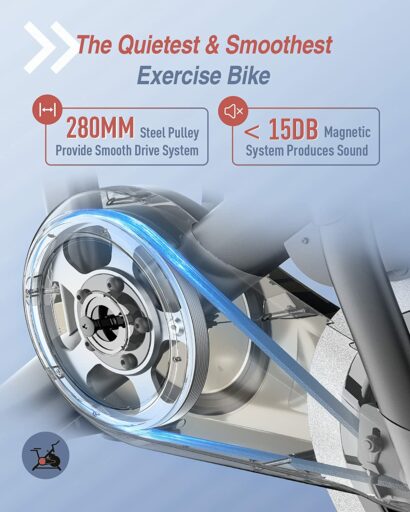 The Niceday indoor cycling bike has a flywheel weighing 45 lbs (20.4 kg). It has a thin, balanced design, made for superior inertia. In addition, it is also bi-directional; you can pedal in reverse on this bike. However, you cannot coast on it. If you stop pedaling, the flywheel will also stop spinning.
Also, due to the impressive weight of the flywheel, it is not advisable to try to stop it from the pedals with your feet as this may lead to injuries. So, if you need to stop, always press the tension knob to control the flywheel.
Like most other spin bikes with a magnetic resistance system, the Niceday bike features a belt drivetrain. However, it uses a poly-v belt designed for superior traction. Unlike a chain drive, the belt doesn't need lubrication which is a benefit. Furthermore, it generates less vibration than a chain contributing to the overall pedaling smoothness.
The bike comes with a durable crankset. Its pulley is steel-made; many other spin bikes have plastic pulleys. In addition, the crank arms are also steel-made. They have a flattened design like the arms of road bikes, painted black.
The bike's Q-Factor (spacing between the pedals) is not specified. But it's pretty narrow. I suspect thinner than 200 mm as the cycle doesn't generate extra stress on your knees during exercise.
The included pedals are metallic aluminum alloy, and they are dual-sided. They have toe cages on one side and SPD elements for spin shoes. Furthermore, they also have standard 9/16″ threads. So if you ever need or want to replace them, you should find compatible pedals in most bike shops or websites that sell bike parts.
Fitness monitor
The Niceday indoor cycling bike includes a multi-function fitness monitor. It features an LCD divided into six sub-sections to show up to 6 workout metrics at once. It tracks time, speed, distance, total distance, and calories burned. In addition, it also has a pulse reading function and a pulse recovery function, but the bike does not integrate pulse sensors.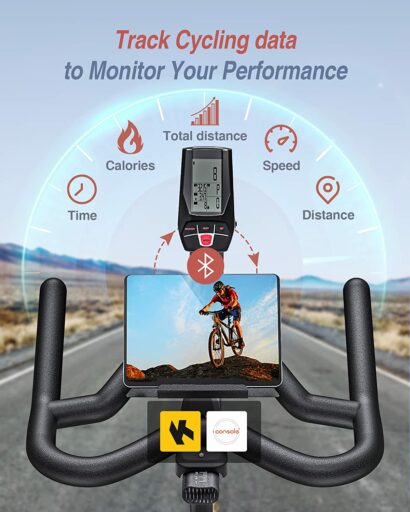 Unfortunately, the monitor unit does not have pre-set workout programs. However, it does offer the possibility to set goals for time, distance, or calories burned. After choosing a goal, it will count down from the selected value until it reaches zero. This feature can help you to keep track of your progress without using the unit's online connectivity.
The monitor unit has built-in Bluetooth. You can sync it with apps like Kinomap or iConsole+. These apps open various extra features like cycling on a virtual trail, training videos, challenges, or online progress tracking. Both apps are available for iOS and Android phones. The iConsole+ app is entirely free. The Kinomap app has some in-app purchases.
Regarding other accessories, there is a dumbbell holder, a dual bottle holder, and a device holder. The dumbbell holder attaches to the rear section of the bike's saddle, similar to the L NOW pooboo LD-501. It's a flexible metallic alloy. The plastic-made bottle holders attach to the frame above the tension knob. And finally, the device holder integrates into the bike's handlebar.
Assembly and Maintenance
The bike's assembly isn't too complex and shouldn't take more than an hour of your time. You will have to attach the two base bars to the main frame, the seat, the handlebars, the pedals, the fitness monitor, and the rest of the accessories. The manual provides clear assembly instructions and includes all necessary tools.
For maintenance, you only have to keep the bike clean. The drivetrain does not require lubrication. Furthermore, it is also advisable to periodically inspect the bike and check for loose bolts and parts and retighten or replace them as needed.
Pros
Sturdy construction that can support users up to 385 lbs;
Aesthetic design;
Both base bars have adjustable levelers
Transport wheels on the front base;
4-way adjustable seat;
4-way adjustable handlebar;
Multi-grip handlebar;
Frictionless magnetic resistance;
Extra-heavy (45 lbs) flywheel for superior inertia;
Heavy-duty metallic crank;
Durable (aluminum alloy) pedals with toe cages and SPD clips;
Maintenance-free belt drive;
Fitness monitor included – it tracks time, speed, distance, total distance, calories burned, and pulse;
Goal settings on the fitness monitor;
Recovery function;
Bluetooth connectivity – the bike is compatible with the Kinomap app and the iConsole+ app;
Device holder included;
Bottle holders included;
Dumbbell holder included;
Easy to assemble;
Little maintenance is required.
Cons
There are no handlebar-integrated HR pulse sensors;
The fitness monitor LCD does not have a backlight.
Niceday Indoor Cycling Bike Summary
The Niceday indoor cycling bike is a home-use fitness machine. It has a manual magnetic resistance system, a 45-pound flywheel, superior micro-adjustability, and an impressive 385 lb maximum user weight limit.
In addition, it also includes a fitness monitor that tracks the most crucial workout metrics and is compatible with apps like iConsole+ and Kinomap. Moreover, it's an excellent bike for spin workouts, muscle toning, stamina development, strength development, and weight loss.
I hope you found this article helpful and informative. Would you please speak up if you have anything you'd like to share on the topic or any opinions about my website? I look forward to your comments, questions, and the sharing of ideas.
Please remember that you should consult your physician to determine if you have any medical or physical conditions that could risk your health and safety or prevent you from using the equipment properly. In addition, your physician's advice is essential if you are taking medication that affects your heart rate, blood pressure, or cholesterol level.