L NOW Sport built the pooboo W268 Recumbent Bike with a compact design that conveniently fits into the smallest exercise spaces. Moreover, the solid construction supports a maximum user weight capacity of up to 300 lbs (136 kg). Shape, firm, and tone your physique and increase your body's cardiovascular endurance while burning calories and losing weight.
The W268 bike uses manual magnetic resistance with eight exceptional levels of resistance. Easily adjust the resistance during your workout by turning the convenient knob under the front handlebars. Magnetic resistance gives you a smooth and quiet riding experience.
The pooboo W268 Recumbent Bike comes equipped with a fitness console that displays your speed, time, distance, calories burned, and odometer. The W268 does not have a pulse reading function. Therefore, if you require pulse monitoring, you'll have to use a separate device.
The W268 padded seat and backrest are comfortable high-density foam wrapped with durable upholstery material. The large seat and backrest take the pressure off your tailbone and spine. Thus, it provides excellent lumbar support and comfort during long workout sessions.
Learn more in my complete review below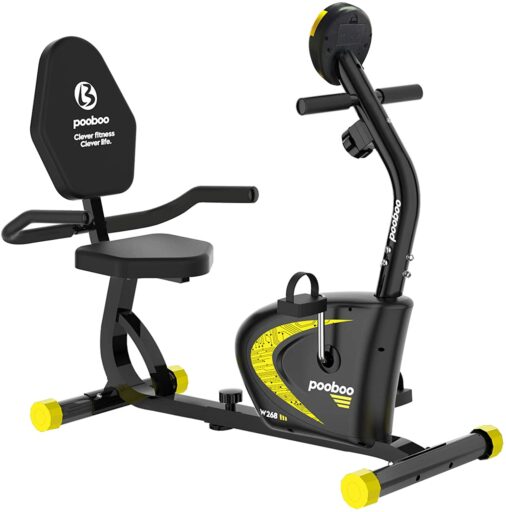 Product: pooboo W268 Recumbent Bike
Price: For a great deal on this bike, merely go here on Amazon
Warranty: 1 year limited
My rating: 9/10
Amazon Affiliate Disclosure: I may earn commissions on purchases made through links in this post.
Details and Specifications
Assembled dimensions: 55L x 25W x 40H inches (140L x 63W x 101H cm)
Assembled weight: 55 lbs (25 kg)
Weight capacity: 300 lbs (136 kg)
Seat: Adjustable
Pedals: Weighted, with straps
Resistance: Manual magnetic, 8 levels
Console: Time, distance, odometer, speed, calories, SCAN
Warranty: 1 year limited
W268 Frame construction
The pooboo W268 recumbent bike features a two-piece frame type. Its rear section that holds the seat connects to the front section that supports the drive and resistance elements. There are seven adjustment points on the frame bar that offer the possibility of securing it closer or farther from the pedals.
The bike's frame is steel-made and coated with a corrosion-resistant paint finish. The color used is black. The covers of the drive and resistance elements are hard ABS plastic; they have matching colors for the rest of the frame.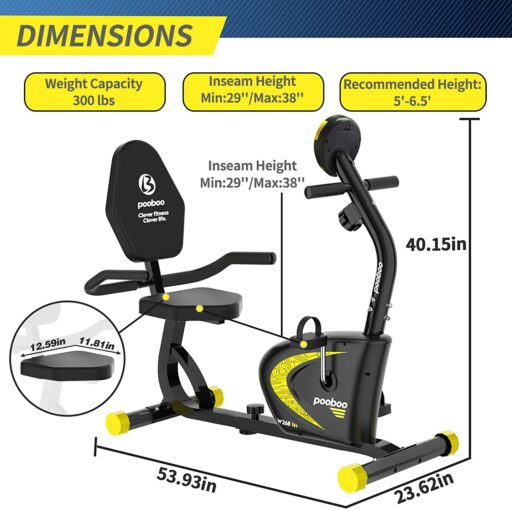 The bike has a step-through design. Although this may seem like an insignificant feature, it can be quite a plus for users with specific disabilities or elderly users. It simply allows for easier entry and exit.
The bike isn't giant. It measures approximately 55″ (140 cm) in length and 25″ (63 cm) in width. However, it is advisable to leave at least two feet of clearance all around it for ease of access and usage.
It weighs approximately 55 lbs (25 kg). Therefore, it can be assembled and carried by only one person. Once completed, it's even easier to move as its front base integrates two small wheels. Also, its rear base comes with polygonal caps that can rotate and serve as levelers.
Seat and handlebars
The pooboo W268 comes equipped with a seat designed for optimal comfort. Its bottom pad is approx—12.5″ (32 cm) wide and 11.5″ (29 cm) deep. The backrest has the same width and is approx. 16″ (47) long. Thus, the seat assembly offers plenty of contact surfaces. It's also durable enough to support users up to 300 lbs (136 kg).
Both the seat pad and the backrest pad integrate approx. 1.5″ (4 cm) of foam cushioning. The backrest is attached to a sturdy backbone, so it provides excellent lumbar support. Also, the backrest does not adjust independently from the seat. It doesn't recline, and you cannot change its height.
The bike's seat doesn't have a rail adjustment system as for the W258 model. The whole rear section of the cycle is adjustable. The lower bar makes available several adjustment positions.
Therefore, the bike can accommodate users between 5'0″ and 6'0″ (153 – 183 cm). Although they may use the bike, taller users may not benefit from a complete leg extension.
The bike comes with two sets of handlebars. One connects to the seat assembly, the other to the front mast of the bike. The seat handlebars attach directly to the seat frame via screws, so they're non-adjustable.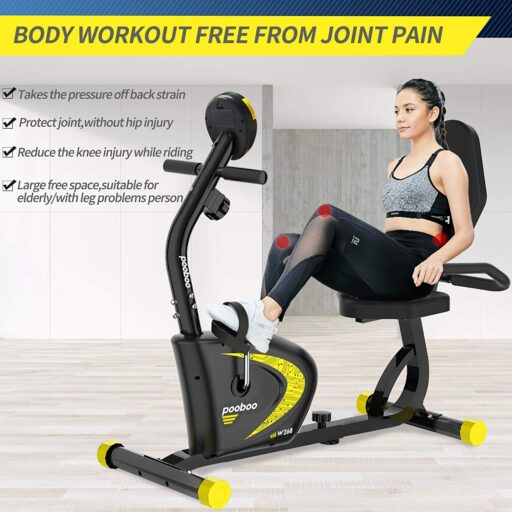 They don't integrate pulse sensors as for some other recumbent bikes. Also, they're set at a pretty comfortable height, approx. 19.5″ (50 cm) above floor level.
The front handlebars have a simple, straight design. Just as the seat handlebars, they have rubberized grips. Also, the front mast of the bike curves towards the seat, so if you want to exercise by holding the front handlebars, you will still benefit from a pretty comfortable position.
W268 Drive and resistance
The pooboo W268 comes equipped with a standard magnetic resistance system. It's not motorized, so the adjustment of the resistance is made manually. Also, the bike doesn't require an external power source and cannot adjust the resistance automatically.
The resistance system consists of an internal magnetic brake that connects to the tension knob on the front mast of the bike via a steel wire. Therefore, when you turn the knob, the brake's position to the flywheel changes; this increases or decreases the pedaling resistance.
The tension knob has eight pre-determined difficulty levels marked on it. The first two levels provide light resistance for gentle exercising, great for blood circulation improvement and workout warm-up. The 3-5 tension levels deliver moderate workout intensity, while the 6-8 levels offer considerably more resistance and the possibility to perform a more consistent workout.
The weight of the internal flywheel is not specified. But since the fully assembled unit only weighs 55 lbs (25 kg), its flywheel probably doesn't exceed 20 lbs (9 kg). However, it has a perimeter-weighted structure for a bit of extra inertia. It is also bi-directional.
Most recumbent exercise bikes equipped with a magnetic resistance system have a belt transmission. The pooboo W268 does not make an exception. It integrates a poly-v belt, which delivers a very smooth and quiet pedaling motion. Also, since it's a belt and not a chain, you don't have to worry about its lubrication.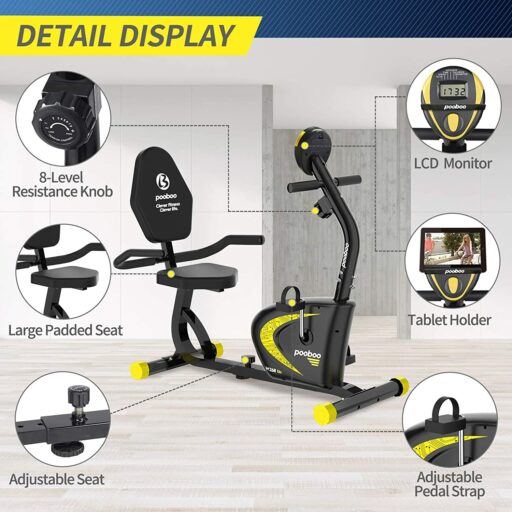 The bike's pedals are counter-balanced, so they always turn face-up when you remove your feet from them. They come with straps so you can secure your feet into position. They connect to durable steel crank arms; however, since this is not a spin bike, standing up on the pedals is not advisable.
Console
The bike's console does not play any role in the resistance adjustment. It does not have any preset programs, nor it has online connectivity. It's only a fitness console. It comes equipped with an LCD that tracks time, distance, total distance, speed, and calories burned.
The console does not have a pulse reading function, and the bike does not integrate any pulse sensors. It also cannot read your pulse from a wireless HR chest strap. Thus, if you want to monitor your heart rate during your workouts, you will have to use a separate device.
The console is straightforward to use. It only has one button, allowing you to select any workout metrics or select the Scan Mode. When this function is selected, the console rotates all the metrics showing each one for several seconds. The button also covers the Reset function. You can press and hold it for a few seconds to clear all the values to zero.
The fitness console is battery-powered, and it requires 2 AA batteries, which come included with the bike. It starts up automatically when you begin pedaling or when you press its button. It also turns off automatically if it does not detect any pedaling activity for more than four minutes.
W268 Assembly and Maintenance
The drive and resistance elements come pre-assembled, attached to the frame's front section, and covered by the ABS shrouds. However, the rest of the bike does require user assembly.
You will have to connect the rear frame section to the front frame section, attach the two base stabilizer bars, add the seat, the front upright bar (or the front mast), the fitness console, and the pedals. This may take up to one hour, but the process is far from being complicated. The included manual provides clear assembly instructions, and a few essential tools come included with the bike.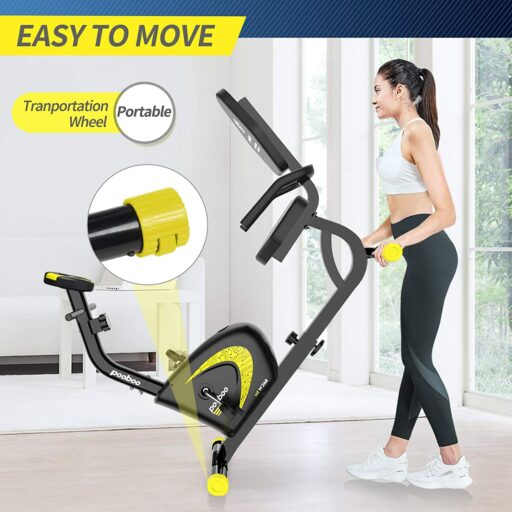 Since the bike features a belt drive system, it doesn't need internal maintenance, not for a very long time. You only have to keep the unit clean and periodically check for loose parts in terms of care.
Pros
Durable steel frame;
Aesthetic design;
Adjustable stabilizers on the rear base;
Transport wheels on the front base;
Cushioned seat with a large and firm backrest;
Multiple adjustment positions for the seat (the bike can accommodate users up to 6'0″);
Quiet magnetic resistance system;
Adjustable resistance offering distinct eight levels;
Counter-balanced pedals with straps;
Fitness console that tracks time, distance, total distance, speed, and calories burned;
Bottle holder included;
Reasonably easy to assemble;
Little to no maintenance is required.
Cons
No pulse reading function;
No backlight on the LCD.
pooboo W268 Recumbent Bike Summary
The pooboo W268 is a recumbent bike designed for home use, and it comes equipped with an 8-level manual magnetic resistance system, a quiet belt drive, and a fitness console. It has an adjustable, two-piece frame and can accommodate users up to 6'0″ and 300 lbs.
Moreover, it's a pretty decent exercise bike for light cardio workouts, recovery training, muscle toning, and weight loss. It's not one of the most affordable in this feature range but offers excellent value for the price.
I hope you found this article helpful and informative. If you have anything you would like to share or any opinions about my website, please speak up. I look forward to your comments, questions, and the sharing of ideas.