The Powerline BSG10X Home Gym is a resourceful weight stack home gym for those beginning to play around with this type of exercise equipment. With this in mind, the Powerline BSG10X is reasonably priced, offering a fair number of exercises and weight stack resistance.
Additionally, the Powerline BSG10X features 40+ exercises, an adequate number of options considering the price paid. Unfortunately, the Powerline BSG10X maxes out at 160 lbs resistance, therefore, making it a little weak for strength trainers looking to reach the "next level."
The compact Powerline BSG10X Home Gym sports a stable platform and multiple seat adjustments accommodating all shapes and sizes. The base of the home gym feels firm, and confidence of the trainer shows in limited 10-year coverage on the frame. The 11-gauge mainframe construction assures maximum strength, function, and durability.
A typical customer complaint in regards to fitness equipment is the amount of time and energy it takes to assemble a trainer upon shipment. If you can relate, you will appreciate that the  Powerline BSG10X is 90% pre-assembled upon delivery and ready to use after installing nine bolts.
Learn more in my complete review below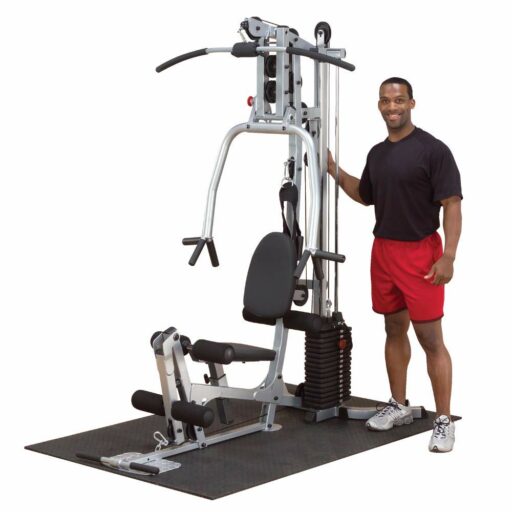 Product: Powerline BSG10X Home Gym
Price: For a great deal on this gym, merely go here on Amazon
Warranty: Frame 10 years / Parts 1 year
My rating: 8.25/10
Amazon Affiliate Disclosure: I may earn commissions on purchases made through links in this post.
Details and Specifications
Assembled dimensions: 70L x 42W x 80H inches (178L x 106W x 203H cm)
Assembled weight: 328 lbs (148.7 kg)
Resistance system: Weight stacks
Standard weight resistance: 160 lbs (72.5 kg)
Possible exercises: 40+
Warranty: Frame 10 years / Parts 1 year
BSG10X Frame construction
First of all, the Powerline BSG10X is not extremely bulky for a home gym. It has a footprint of 70″L x 42″W (210 x 139 cm), and with all the additions, it requires a workout area of 78″ x 42″ (198 x 139 cm). With the lat tower assembled, it's 80″ (203 cm) high, which means it should fit in a room with a 7′ (213 cm) ceiling, without any issues.
The machine's frame is steel square tubing. Even though a maximum weight capacity is not (specified for this machine), the seat and frame should be able to hold users up to 350 lbs (159 kg) without a problem. Also, when it comes to user height, this machine should be able to accommodate users up to 6'7″ (201 cm) comfortably.
All steel parts within the frame construction are coated with anti-corrosive, durable paint, electrostatically applied. The machine -however, is made for indoor use. If placed outside, temperature variations and excessive moisture can take their toll upon its parts.
This home gym machine does not feature a gliding seat for complete aerobic training. However, the height of the seat is adjustable and locks in your desired position via a knob. The backrest position is also adjustable. Both seat and backrest feature 2″ (5 cm) padding, and durable synthetic leather upholstery.
There are 13 pulleys on this machine, all made of fiberglass reinforced, durable nylon material. They integrate precision-machined, heavy-duty ball bearings, designed to last a lifetime.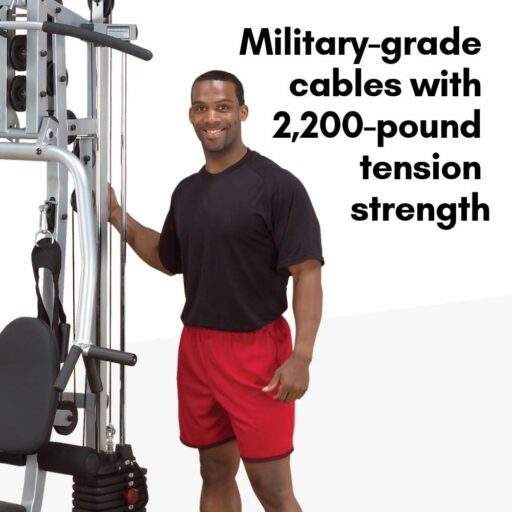 The supplied cables can withstand 2,200 lbs of tension. They're military spec, steel rope cables offering extreme durability. They also integrate swivels (on their ends), for more comfortable operation, and to eliminate any torsion resistance.
BSG10X workout stations
The BSG10X home gym includes several well-defined workout stations. These are:
Chest press station – designed for various grips and seated press, the pec station of this machine offers the possibility to work your pectorals and shoulder muscles.
Lat pulldown and high pulley station – an indispensable element for the development of shoulder, triceps, and back muscles. It integrates a standard, detachable lat bar, with a length of 49″ (124 cm) between the grips.
Seated row and low pulley station. This machine doesn't offer mobile seats with rollers for complete rowing exercises. However, this Powerline model does offer elements for seated row exercises. The low pulley station, on the other hand, provides the possibility to perform activities such as cable curls, shrugs, leg abductions, etc.
Mid pulley station – for abdominal crunches and triceps extensions; the accessories included with the machine cover an ab crunch harness.
Leg attachment and low pulley station. This element offers the possibility to execute exercises such as leg extensions, leg cable curls, or standing biceps curls. The accessory features consistently padded rollers, to provide the required comfort for leg extensions.
Upgrade possibilities
The first and most crucial aspect to be covered here is the fact that the machine's weight stack cannot be (upgraded). Therefore, you cannot add more weight plates over a maximum of 160 lbs. (72.5 kg).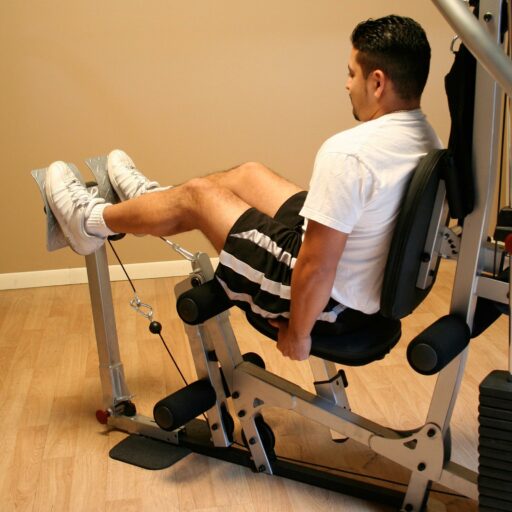 However, there's a leg press attachment available for this machine. Its part number is BSGLPX. It's a simple press attachment, with a steel plate for feet positioning.
Other options include a premium ankle strap with faux wool padding, stirrup handle, and a protective rubber mat.
Weight Resistance System and Increments
As I've mentioned above, the Powerline BSG10X machine features a weight stack resistance system. The weight stack includes 16 steel alloy weight plates, 10 lbs (4.5 kg) each, with a total weight of 160 pounds (72.5 kg).
In other words, this is a machine for beginners and intermediate users. And its weight adjustment increments are 10 lbs (4.5 kg). The main downside here is that the weight range is not upgradable.
A set of weight stickers is (supplied) with the machine, and they're supposed to be put on the plates in ascending order, top-to-bottom. The weight adjustment system is simple. You insert a pin into the plate with the desired weight.
BSG10X Possible Exercises
This home gym machine offers the possibility to perform over 40+ exercises. So, before I enumerate some of them, we'll start with the activities you can't achieve with this machine.
First of all, the machine doesn't feature a long or adjustable bench, and therefore its leg attachment doesn't support traditional leg curls. You can replace the horizontal leg curls with standing-up leg curls though, one leg at the time, using the low pulley station.
Secondly, the machine doesn't have a pec fly station either. In other words, you can't do pectoral fly exercises. Also, there isn't a possibility to add a pec fly station to this home gym machine. However, you can train the same group of muscles by performing standing cross-overs, with one arm, using the mid pulley station.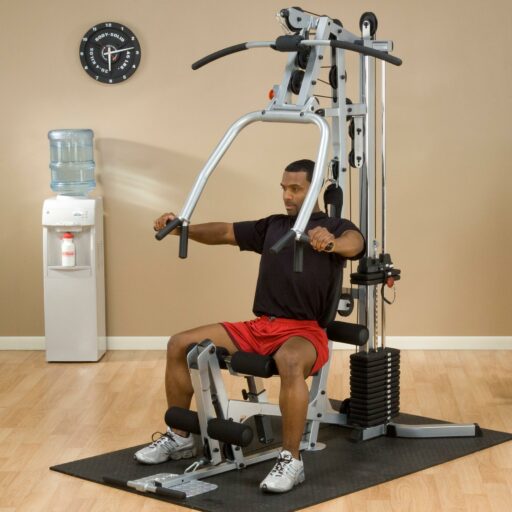 Among the possible exercises that can be (performed) with this machine, I can enumerate:
Vertical grip chest presses
Horizontal grip chest presses
Incline chest presses
High cable cross-overs
Lat pulldowns
Seated rows
Shrugs
Seated tricep extensions
Tricep press-down
Standing biceps curls
Concentration curls
Deltoid raises
Upright rows
Ab crunches
Oblique crunches
Standing leg curls
Leg extensions
Leg abductions
Glute kickbacks
… and more.
The machine doesn't come with an exercise chart or placard to attach to it, for quick reference. However, the manual offers quite a list of exercises and several exercise program suggestions.
BSG10X Assembly and Maintenance
The machine comes packaged in quite a heavy box (over 300 lbs) which means at least two people should receive the package. The assembly of the machine is far from being confusing. For this purpose, this Powerline gym ships 90% complete and it is easy to complete the construction.
For maintenance, you'll have to check the joints of the machine periodically and re-tighten the bolts if necessary. The guide rods and linear rods may require lubrication. Also, if any parts sustain damage, they should be replaced before re-using the machine, to avoid accidents.
Pros
Commercial quality construction, extremely sturdy frame;
Adjustable seat and backrest;
The durable upholstery and thick padding for optimal comfort;
Five workout stations, including pec station, lat pulldown station, leg attachment and low pulley station, mid pulley station, seated row station.
Over 40+ exercises available;
Possibility to add a leg press station;
Relatively small footprint for a home gym system;
Easy to set up;
Decent warranty package.
Cons
Limited weight range, without the possibility to upgrade;
Tools for assembly are not (supplied).
Powerline BSG10X Home Gym Summary
The Powerline BSG10X home gym machine with a solid construction, offering the possibility to perform more than 40+ exercises, for the most prestigious groups of muscles. It's not a machine for hardcore users, as it only offers a weight range between 10 and 160 lbs.
But on the other hand, it's an excellent machine for anyone who wants to build up strength and stamina from the comfort of their home. Moreover, this model has been around for quite a while, and it has an excellent price/value ratio.
I hope you found this article helpful and informative. If you have anything that you'd like to share or any opinions about my website, please do speak up. I look forward to your comments, questions, and the sharing of ideas.
Recommended articles:
Please follow and like us: