REP Fitness produces excellent fitness equipment for homes at an affordable price. For example, the REP Fitness PR-1000 Power Rack model integrates two pull-up bars (1.25-inch standard and 2-inch fat-grip) with a 400-pound weight capacity. The PR-1000 is an excellent centerpiece for your home or garage gym.
The PR-1000 is constructed with 2″ x 2″ 14-gauge steel and weighs 144 lbs, and supports 700 lbs of weight on the included j-cups. Also, its total dimensions are 83″ H x 48″ W x 48″ D (58″ W at the rear bottom brace and 26″ depth inside to inside, and 44″ wide inside to inside). The PR-1000 comes with weight horns to store plates and stabilize the rack, so there is no need to bolt it down.
Optional equipment for the REP Fitness PR-1000 Power Rack includes extra weight storage, dip attachment, and the lat pulldown and low row attachment. In particular, the lat pulldown and low row attachment bring a lot of versatility and exercise variations to the PR-1000.
The optional weight storage extension allows you to store 1000 lbs of plates and two barbells without additional space. The optional dip bars attachment is easy to install and adjust and has a 400 lb capacity.
Learn more in my complete review below!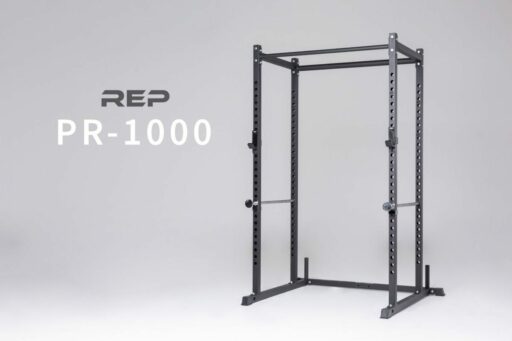 Product: REP Fitness PR-1000 Power Rack
Price: For a great deal on this gym, merely go here to Amazon.com
Warranty: 5 years limited
My rating: is 9/10
Affiliate Disclosure: As an Amazon Affiliate Program participant, I earn commissions on purchases made through links in this post. Full disclosure
Please note: Images contain optional attachments.
Details and Specifications
Assembled dimensions: 65L x 48W x 86H inches (165L x 122W x 218H cm)
Assembled weight: 216 lbs (98 kg)
Weight capacity:
Rack: 1,000 lbs (453.5 kg)
J-hooks & safety bars: 700 lbs (317.5 kg)
Upright bar positions: 28
Possible exercises: 40+
Warranty: 5 years limited
PR-1000 Power rack
The REP Fitness PR-1000 power rack features a sturdy, 14 gauge, 2″ × 2″ steel frame. In addition, the steel parts in its construction come coated with a corrosion-resistant paint finish, except for the upright bar of the lat machine, which is stainless steel.
The fully assembled unit is 48″ (122 cm) deep and 48″ (122 cm) wide. However, you will have to leave at least two ′ (61 cm) of clearance on each side and at least three ′ (91 cm) of clearance at the front of the unit to use an Olympic barbell and a bench.
Additionally, the height of the rack is approximately 83″ (211 cm). Therefore, leaving at least a few inches of clearance above the unit is advisable to execute all the pull-up exercises correctly.
The rack's pull-up bar is 1.25″ (3.1 cm) in diameter and 44″ (111.7 cm) long. It hangs at approx. 81″ (206 cm) above floor level.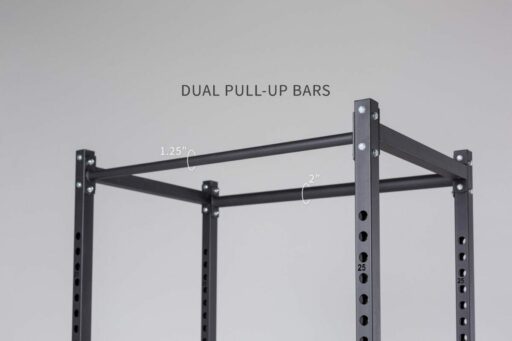 Therefore, even if you're over six ′ (183 cm) tall, you should be able to execute all exercises correctly. In addition, the pull-up bar has a weight capacity of 400 lbs (181 kg), so weighted pull-ups or chin-ups are options.
The unit's base does not have foot stabilizers or pre-drilled holes to secure it to the floor. However, the rack is pretty stable.
In addition, the upright bars of the rack feature 28 attachment positions for the safety bars and j-hooks. The distance between the adjustment positions is also 1″ (2.5 cm).
Optional Lat attachment, dip bars, and weight storage
The REP Fitness PR-1000 Power Rack is available with optional accessories such as weight storage, lat attachment/low row add-on, and dip attachment add-on.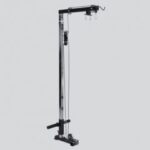 The optional lat attachment/low row add-on features a pretty standard structure. It has six durable nylon pulleys that integrate ball bearings for smooth and prolonged usage. The cables are steel-made and coated with a PVC layer to prevent the scratching of the pulleys. Additionally, the lat machine has a maximum weight capacity of 250 lbs (113 kg).
The weight carriage of the lat attachment features two 8.25″ (21 cm) pegs, 2″ in diameter, designed for Olympic (2″) plates. They do not remove to load it with 1″ Standard weight plates. The machine comes with a classic 38″ lat bar and a short bar for low rows.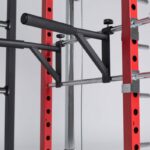 The two dip bars are approx. 25″ (65 cm) long. Similarly, like the pull-up bar, they have a user weight capacity of 400 lbs (181 kg).
Both safety bars are positioned on the same side of the power rack to install the dip attachment.
You can place the dip bars inside or outside the power rack, but when placed outside, you may need to add a few weight plates as a counterweight on the opposite storage peg.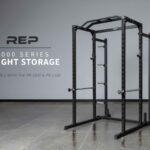 Even when square footage is at a premium, you shouldn't have to compromise. Instead, organize your gym by adding weight storage to your PR-1000 Power Rack.
Use this weight storage with the REP Fitness PR-1100 or PR-1000 power racks. It is not a standalone product.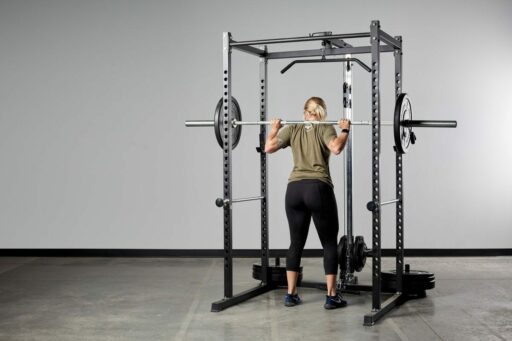 These are the optional primary attachments for the PR-1000 power rack. However, there are quite a few other attachments that you can add to this rack, including a bench, extra weight plate holders, extra j-hooks, and more.
PR-1000 Possible Exercises
Pull-ups
Wide grip pull-ups
Close-grip pull-ups
Parallel-grip pull-ups
Muscle pull-ups
Behind head pull-ups
Around the world, pull-ups
One-arm pull-ups
Cliffhangers
Weighted pull-ups
Chin-ups
Close grip chin-ups
Wide grip chin-ups
Parallel grip chin-up
One hand chin-ups
Weighted chin-ups
Hanging knee raises
Hanging leg raises
Dips
Weighted dips
Band-resisted dips
Dip to leg raise
Side-to-side dips
Gironda dips
Reverse Gironda dips
Lat pulldowns
Close-grip pulldowns
Behind head pulldowns
Aerobic rowing
Kneeling rowing
Biceps curls
Triceps press downs
Chest presses
Single-arm chest presses
Wide grip chest presses
Close grip chest presses
High-pulley crunches
High-pulley twist crunches
Seated trunk rotations
Standing trunk rotations
Stand-up leg curls
Calf raises
Sit-ups
Squats
Single-leg squats
Kneeling single-leg squats
Wide squats
Twisting squats
Jumping squats
Hip adductions
Hip abductions
and more
Of course, some of these exercises require extra optional accessories that do not come with this power rack. For example, chest presses require a bench (REP Fitness AB-3000 FID), while hip adductions call for an ankle cuff.
PR-1000 Assembly and Maintenance
The REP Fitness PR-1000 Power Rack comes in several separate boxes and requires complete assembly. However, the task is straightforward and shouldn't take more than 30 minutes to one hour. First, you will have to assemble the base, add the upright bars, close the cage with the top bars, and add the safety bars and j-hooks. However, the tools for assembly do not come with the power rack.
For maintenance, it is advisable to check regularly for loose bolts or damaged parts to re-tighten them or replace them before any accidents.
Pros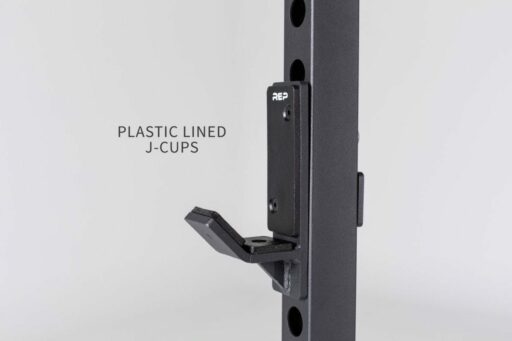 Sturdy, all-steel frame – can support loads up to 1,000 lbs;
Base weight storage;
Optional weight storage add-on;
Safety bars and j-hooks rated for 700 lbs;
Weight plate storage and balance pegs on the base bars;
28 numbered upright attachment positions for the catch bars and safety bars;
Plastic Lined J-Cups;
Extended Safeties;
Dual Pull-up Bars rated for 400 lbs;
Optional lat attachment/low row add-on;
Optional dip attachment add-on;
Over 40 possible exercises;
Quiet operation;
Little maintenance is required;
Reasonably easy to assemble for a home gym.
Cons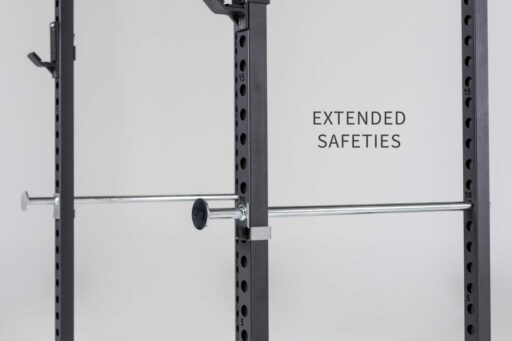 The ankle cuff for leg exercises does not come with the machine;
Tools for assembly do not come with the power rack.
REP Fitness PR-1000 Power Rack Summary
The REP Fitness PR-1000 is a power cage for home use, including a lat attachment with high and low pulleys and two dip arms. In particular, it's a strength-training system for users of all levels offering a load capacity of 1,000 lbs for the cage, 700 lbs for the safety bars, and 250 lbs for the lat machine.
Moreover, it's a versatile strength training system that allows the execution of over 40+  gym-quality exercises involving most muscle groups. And finally, it's an excellent piece of powerlifting equipment, offering great value for the price.
I hope you found this article helpful and informative. Would you please speak up if you have anything you'd like to share or any opinions about my website? I look forward to your comments, questions, and the sharing of ideas.
Please note you should consult your physician to determine if you have any medical or physical conditions that could put your health and safety at risk or prevent you from using the equipment properly. In addition, your physician's advice is essential if you are taking medication that affects your heart rate, blood pressure, or cholesterol level.