The Bowflex VeloCore 22 IC Bike rides like any premium stationery racer. Swift. Smooth. Seamless. Still. Until you shift into the leaning mode, helping to ignite your core and arms, leaning around sweeping bends in virtual destinations worldwide (right from your living room). Every inch of this bike creates a comfortable, more natural-feeling ride.
Sprint straight as an arrow in the stationary mode or go (un)stationary in the leaning mode. You'll rock, move, and flex your way through the curves of scenic destinations. No matter your chosen method, you're in for a comfortable, more natural-feeling ride that'll fit whatever the day's fortune.
Variety is the fruit of life. If you've got Peloton and Zwift subscriptions, you can connect and view from your smartphone, tablet, or smart TV. Then, bend the rules by streaming thousands of live and on-demand classes from an immersive bike that leans.
A JRNY Membership unlocks the ability to binge your existing Netflix, Hulu, Amazon Prime Video, and Disney+ accounts from the adjustable HD touchscreen. Can't decide between workouts and entertainment? Don't. You can do both at once.
Learn more in my complete review below!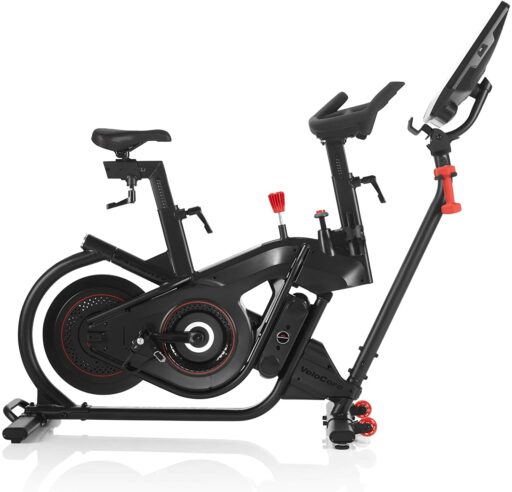 Product: Bowflex VeloCore 22 IC Bike
Price: For a great deal on this bike, merely go here to Bowflex.com
Warranty: Frame 2 years / Parts 2 years / Electronics 1 year / Labor 1 year
My rating: 9.5/10
Affiliate Disclosure: As a Bowflex Affiliate Program participant, I earn commissions on purchases made through links in this post. Full disclosure
Details and Specifications
Assembled dimensions: 59.8L x 24.1W x 55.3H inches (152L x 61W x 140H cm)
Assembled weight: 152.3 lbs (69.1 kg)
Supported weight: 325 lbs (147 kg)
Flywheel weight: 33 lbs (15 kg)
Seat: 4-way adjustable
Pedals: Caged & SPD
Drive: Belt
Resistance: Manual magnetic, 100 levels
Console: 22″ LCD touchscreen display, multiple apps pre-installed, wireless connectivity
Extras: Dumbbell set, device holder, Bluetooth HR armband
Warranty: Frame 2 years / Parts 2 years / Electronics 1 year / Labor 1 year
22 IC Frame Construction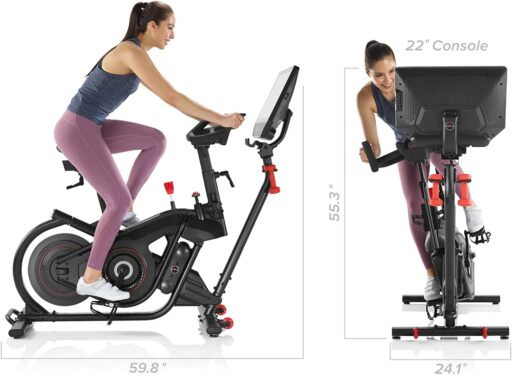 The Bowflex VeloCore 22 IC bike features a different frame construction than most other spin bikes. The main reason is the side-leaning feature, which allows for a side-to-side leaning motion during workouts for a more realistic simulation of a bicycle ride.
For instance, it makes the cycling experience more entertaining, engaging more muscle groups, especially the core, and arms. Also, the bike has a dumbbell set (3 lbs each), so you can perform arm exercises, such as curls, tricep presses, etc., as you ride.
The frame has a locking function if you don't want to use the side-to-side leaning motion. Of course, you can use the bike with the frame locked in like any other spin bike.
The bike's frame is steel-made. It combines cylindrical, oval, and rectangular tubes for improved sturdiness and aesthetics. In addition, all the steel parts come coated with a rust-resistant and abrasion-resistant black paint finish.
The bike is relatively large compared to other spin bikes. With all the parts assembled, it is approximately 59.8″ (152 cm) long and 24.1″ (61 cm) wide. Therefore, allowing at least two feet (61 cm) of clearance all around the bike for easy access and to execute the side-to-side motion without hindrance is also advisable.
The bike is also quite heavy. Its net weight is 152.3 lbs (69.1 kg). Therefore, two people should transport the packaged bike or use a hand truck.
However, once assembled, one person can quickly move the bike as its rear base stabilizer integrates a lifting handle while its front stabilizer comes with two transport wheels.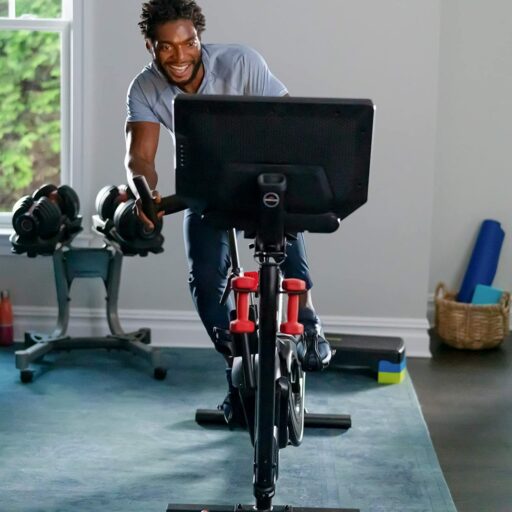 Seat and handlebars
The Bowflex VeloCore 22 IC bike features a four-way adjustable seat (up, down, front, back). In addition, its vertical post offers multiple adjustment positions, while its horizontal slider adds several inches of front-to-back adjustment.
Therefore, the bike comfortably accommodates users up to 6'5″ (196 cm) with no problem, allowing a complete leg extension. It also has a maximum user weight capacity of 325 lbs (147 kg).
The included saddle is not super comfortable, especially for beginners. However, it does integrate a layer of foam padding, and its top has contouring and a median cutout for improved breathability. In addition, it features a standard collar-type attachment system, so compatible replacements are widely available.
The VeloCore bike comes equipped with a multi-grip handlebar. It offers the possibility to adopt six different grips, including a cruise grip, a racing grip, a close grip, and a climbing grip. In addition, it is covered entirely by a layer of high-density foam for improved contact and comfort.
Unfortunately, the bike's handlebar is only two-way adjustable (up, down). In addition, it does not have a horizontal slider like the seat. However, it does offer several inches of vertical adjustment, which is enough for most users. It's also important to note that it lacks pulse sensors. However, the console is Bluetooth enabled, and the bike comes with a wireless HR armband.
22 IC Drive system
The Bowflex VeloCore 22 IC bike is a rear-drive indoor cycling bike. Thus, its flywheel attaches at the rear, similar to the Keiser M3i. As a result, the flywheel does not have the classic perimeter weighting, as is the case for most other spin bikes. However, although its edge is thinner, it still has an extra weight layer in its mid-section for improved inertia.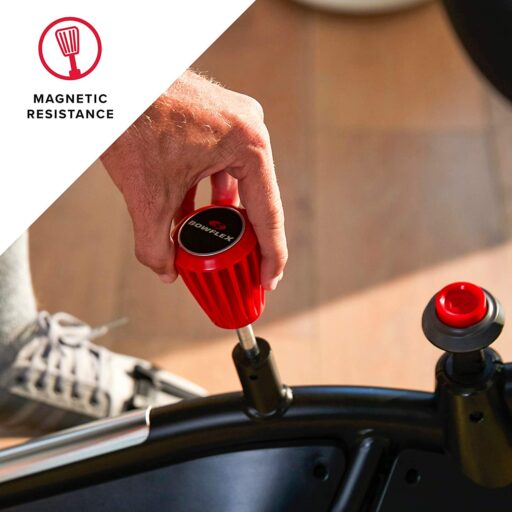 The bike's flywheel is pretty heavy. It weighs 33 lbs (15 kg) which means that the cycle provides a pretty consistent pedaling motion even with the resistance set to a minimum. It is also bi-directional, so you can pedal in reverse to add diversity to your workouts.
The VeloCore bike has a larger pulley than the average spin or road bike. Thus, the pedaling motion feels slightly different. However, the crank arms are steel-made, and the pedals are metallic, so they can support the user with no problem if they pedal while standing up.
The pedals are dual-sided, meaning they have SPD clips for spin shoes on one side and cages with straps on the other. They also have standard 9/16″ threads to find compatible replacements in any bike shop.
The bike uses a belt drive system. It integrates a poly-v belt highly resistant to abrasion and stretching. This type of drivetrain comes with a few advantages. For example, it does not require lubrication, generates less vibration than a chain, and contributes to the overall smoothness and quietness of the ride.
Resistance system
The Bowflex VeloCore 22 IC bike has a manual magnetic resistance system. It's important to note that even though the console connects to the resistance system and other internal sensors, it cannot automatically adjust the resistance. Thus, it is because the bike does not have an internal motor. The adapter only powers up the console.
The bike's resistance system has a dual magnetic brake that hugs the flywheel. The brake connects to the tension knob on the main tube of the frame. As you turn the knob clockwise, the brake covers a large portion of the flywheel, increasing resistance.
The bike makes available 100 distinct tension levels. That's quite an impressive micro-adjustability range, and the current resistance level displays on the console LCD.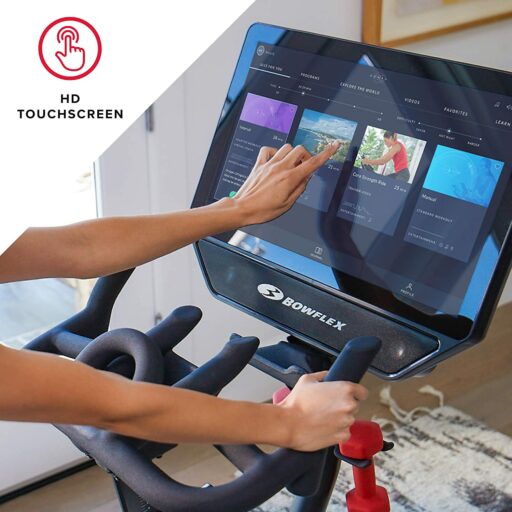 As a general idea, the lowest resistance level offers the possibility to perform a pretty light aerobic workout. But conversely, the bike simulates a steep climb on the highest tension levels, which is excellent for anyone who wants to improve stamina and boost their cardiovascular levels.
Like any other exercise bike with a magnetic resistance system, the main advantage of the magnetic brake is that it does not touch the flywheel. Therefore, the pedaling motion is seamless and tranquil. In addition, the wear-and-tear of the magnetic brake pads is virtually zero, so you don't have to worry about their replacement.
22 IC Console
The Bowflex VeloCore 22 IC bike has a smart console featuring a 22″ diagonal touchscreen LCD with an LED backlight for improved readability. Its touchscreen technology works pretty much like a tablet or other multifunction display. In addition, it has wireless technology and requires a WiFi connection to communicate with the multiple built-in apps.
The console has installed Netflix, Hulu, Amazon Prime Video, and Disney+ apps. An existing subscription is required. Its fitness app, JRNY, provides a wide array of coaching videos and scenic virtual rides worldwide.
The console connects to the bike's brake and internal sensors, so when riding on one of the virtual paths, the speed of the video changes according to your pedaling rate.
The JRNY app requires a monthly subscription (around $19). However, you receive six months of free membership with a bike purchase. The console is also compatible with the Peloton and Zwift apps. So, if you already have an existing subscription to these apps, you can use some of the workouts and workout features.
However, the usage of a fitness app is not necessary. The console has a standard mode with plenty of pre-set workout programs. During its first use, it runs a fitness assessment. Then, based on the evaluation, it provides a set of workouts most suitable for your fitness level. Its program database includes interval workouts, calorie-burning, climbing, random layout programs, etc.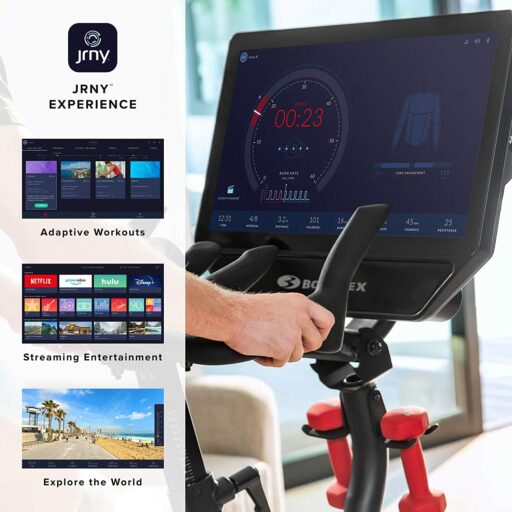 The console indicates multiple workout metrics, displaying the time, distance, speed, calories, RPM, resistance, and heart rate. The speed and distance can either be metric or imperial units.
The heart rate function is Bluetooth only; the bike does not have pulse sensors integrated into the handlebars. So you must use the provided HR armband or a similar device.
Last but not least, the console has a USB port. Thus, you can connect your smartphone or tablet via a USB cable to recharge it.
22 IC Assembly and Maintenance
The bike's main body comes pre-assembled. In addition, the flywheel, the brake, the drive system, all the internal sensors, and other parts are pre-assembled. Therefore, you only have to attach the base stabilizers, the pedals, the seat post, the saddle, the handlebar post, the handlebar, and the console.
Therefore, it will take more than an hour of your time, but the process is not too complicated. The manual provides clear assembly instructions and schematics, and all the tools for the task come with the bike.
Once assembled, maintenance doesn't require much. The drive mechanism does not require lubrication. So, you'll only have to keep the bike clean, periodically check for loose bolts and parts, retighten them as needed, and keep liquids away from the console.
Pros
Sturdy construction – can hold users up to 325 lbs;
Aesthetic design;
Side-to-side lean function for a more realistic ride;
Heavy frame, low center of gravity, excellent stability;
Transport wheels on the front base;
Lifting handle on the rear base;
Adjustable levelers on both bases;
4-way adjustable seat;
Multi-grip ergonomic handlebar;
Balanced flywheel for a smooth pedaling motion;
Heavy-duty crankset made for standing-up spin workouts;
Dual-sided pedals, with toe cages on one side and SPD clips for spin shoes on the other;
Frictionless, wear-free, magnetic resistance with 100 levels;
Poly-v belt drive for a smooth pedaling motion;
Multifunction innovative console featuring a 22″ LCD;
Multiple apps pre-installed, including Netflix, Amazon Prime, Disney+, and Hulu;
Compatible with the Peloton app and Zwift app;
Pre-installed JRNY app for private coaching videos and scenic rides around the world;
Standard workout mode with multiple workout programs;
Workout target function;
Workout history tracking;
Wireless heart rate detection – Bluetooth armband HR strap included;
USB charging port;
Bottle holders included;
Dumbbell holder and 3 lbs dumbbells included;
Reasonably easy to assemble;
Little maintenance is required;
Decent warranty.
Cons
The JRNY app requires a monthly membership.
Bowflex VeloCore 22 IC Bike Summary
The Bowflex VeloCore 22 IC bike is for home use. It features a durable frame with a side-to-side leaning function, a 100-level manual magnetic resistance system, and a smart 22″ diagonal console with multiple pre-installed apps.
The built-in JRNY app provides coaching videos and scenic rides worldwide. However, there is also a standard workout mode with multiple workout programs. The console also tracks time, distance, speed, calories, RPM, resistance, and heart rate.
Moreover, the bike also offers excellent micro-adjustability and ergonomics. Overall, it's a perfect indoor cycle, great for users of all levels, high-intensity cardio workouts, interval training, muscle toning, and weight loss.
I hope you found this article helpful and informative. Would you please speak up if you have anything you'd like to share or any opinions about my website? I look forward to your comments, questions, and the sharing of ideas.
Please remember to consult your physician to determine if you have any medical or physical conditions that could put your health and safety at risk or prevent you from using the equipment properly. In addition, your physician's advice is essential if you are taking medication that affects your heart rate, blood pressure, or cholesterol level.