Owning your in-home gym does not have to be large, bulky, or heavy! The Sunny SF-T7945 Walkstation Treadmill is versatile, subtle, and flexible; place the treadmill anywhere in your home and jump on for a quick stroll. Get your heart rate going while working, watching your favorite videos, or reading a book.
Place the treadmill under your desk, use the included remote control to adjust the speed, and get active! The Sunny Health & Fitness Walkstation Slim Treadmill is stylish, versatile, practical, and convenient – all you have to do is hop on!
Achieve a steady and consistent exercise program with speeds of 0.5 – 3.75 MPH, and measure your time, speed, calories burned, steps, and distance on the large 14L x 5W digital monitor screen. Go easy on your knees, feet, and joints with the treadmill's built-in shock absorbers—transportation wheels for easy portability. Tilt & roll out for use & away for storage.
Learn more in my complete review below!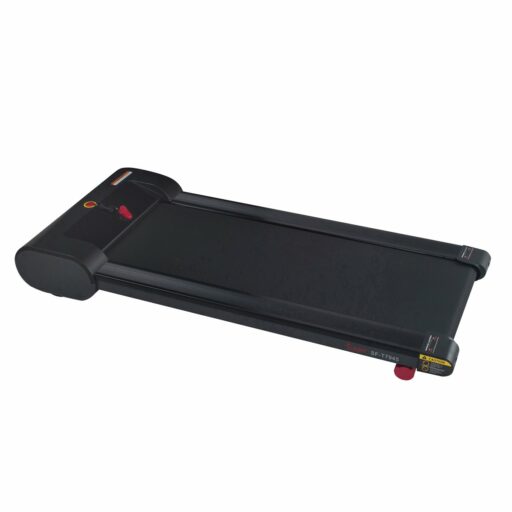 Product: Sunny SF-T7945 Walkstation Treadmill
Price: For a great deal on this treadmill, merely go here to Sunny Health & Fitness.com
Warranty: Frame 3 years / Parts 180 days
My rating: 8.25/10
Affiliate Disclosure: As a Sunny Health & Fitness Affiliate Program participant, I earn commissions on purchases made through links in the post. Full disclosure
Details and Specifications
Assembled dimensions: 50L x 21.5W x 6.5H inches (127L x 55W x 16.5H cm)
Tread belt dimensions: 39L x 14W inches (99L x 35.5W cm)
Assembled weight: 55.1 lbs (25 kg)
Supported weight: 220 lbs (100 kg)
Motor: 1.5 HP, 0.5 – 3.75 MPH
Incline: No
Console: Time, speed, distance, calories, steps
Warranty: Frame 3 years / Parts 180 days
SF-T7945 Frame Construction
The Sunny SF-T7945 Walkstation Treadmill is an under-desk walking treadmill. Therefore, it doesn't have upright bars and a waist-level console like most other treadmills for home use. Instead, it consists only of the walking platform while the console incorporates into its front section.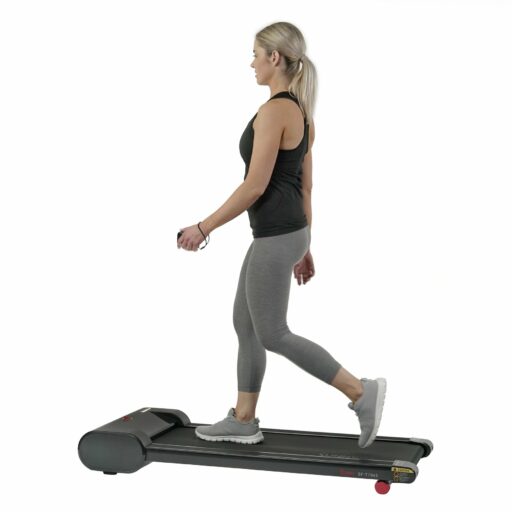 The machine's base is a steel tubing frame. All the tubes in its construction come double-coated with a chip-resistant and rust-resistant black—paint finish. Of course, the unit integrates several thermoplastic material parts. For example, the side rail covers, the motor cover, and several other small covers are plastic-made.
Like most other walking treadmills, the Sunny SF-T7945 model is not too large. Its net footprint is 50″L x 21.5″W (127 x 55 cm). Therefore, it should fit under most office desks as their underneath chair space is usually 22″ (56 cm) or more. Also, the machine's highest point is 6.5″ (16.5 cm). Therefore, it can fit under a bed or couch if clearance is at least 7″ (17 cm).
Although the treadmill has no extra support for storing vertically, the manual doesn't specify anything about its vertical storage. However, the treadmill can keep upright against a wall.
It's not super heavy either; its net weight is only 55.1 lbs (25 kg), so one person can carry the machine. Plus, its front base integrates a set of wheels for easy transportation.
Deck construction and step-up height
The Sunny SF-T7945 Walkstation features a cushioned deck. It integrates six rubber cushions (three on each deck) concealed by the side rail covers. Even though these shock absorption elements aren't super significant or visible on each side of the deck, they still do their job, considerably reducing the impact of your cadence.
The machine offers a walking area of approx. 39″L x 14″W (99 x 35.5 cm). It's not a super large walking surface, but considering it is a walking treadmill, it comfortably accommodates users up to 6'3″ (190 cm). The inner deck board is durable, so the treadmill has a maximum user weight limit of 220 lbs (100 kg).
The unit's integrated tread belt features a multi-layer construction. Its top layer is rubber-made with a textured surface to provide a superior grip. In addition, the belt and the deck board have a bit of flex. Thus, the cushioning elements reduce some of the shock generated by your foot strikes.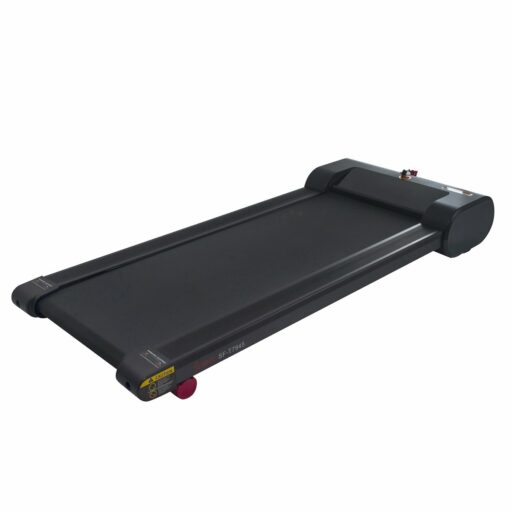 The exact size of the machine's internal rollers is not specified. However, it is inevitable that they have a tapered design for improved traction and prolonging the belt's lifespan. They also integrate high-grade sealed ball bearings for a smooth belt motion.
Last but not least, the height of the walking surface (or the step-up height) is approx—4″ (10 cm). Therefore, there shouldn't be any ceiling height issues if you use the machine in a room with a ceiling height of at least 5″ (13 cm) higher than your height.
SF-T7945 Drive motor
The Sunny SF-T7945 is an electric treadmill. Therefore, it requires an external power source connection, including a power cord with a U.S. standard plug. The cable connector is in the front of the machine. There is also an On/Off switch near it.
The machine's drive motor is not super powerful. It's a 1.5 HP peak power motor. However, it will withstand long walks without losing performance or overheating. It also comes equipped with a small flywheel for improved motion stability.
Since the Sunny SF-T7945 is a walking treadmill, its drive motor only offers a speed range between 0.5 MPH and 3.75 MPH. So, you can perform a light jog at best on the highest speed setting. The speed adjustment increments are 0.1 MPH, which is excellent as the machine allows you to quickly and safely adjust your pace.
The remote control has no quick speed selection buttons, only the gradual speed adjustment buttons. These have a double function, though. A short press will adjust the speed by 0.1 MPH while pressing and holding them to change.
Since the treadmill doesn't have a super powerful motor, its usage shouldn't significantly increase the cost of your electricity bill even if you exercise daily. Also, the motor is pretty quiet, but your cadence may generate more or less noise depending on your walking gear, weight, or technique.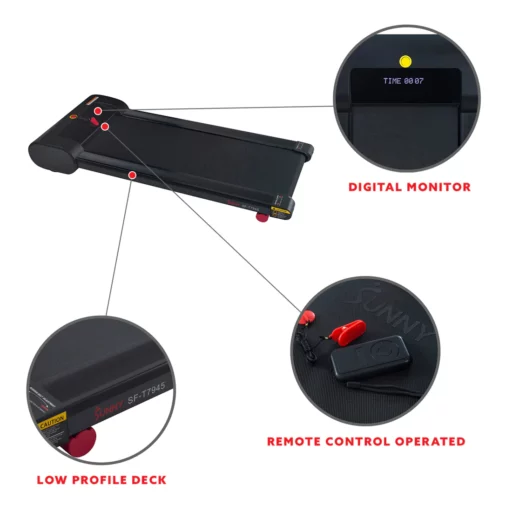 Console
The Sunny SF-T7945 Walkstation treadmill has a pretty simple LED display console. Unfortunately, it lacks pre-set workout programs, Bluetooth, or online connectivity. It also isn't compatible with any fitness apps.
It tracks time, distance, speed, steps, and calories burned. The speed and distance are in English units (MPH and miles); there is no option for setting them to Metric units. Also, the treadmill does not have a pulse reading function.
The console has no controls, just the display, so you can only adjust the speed from the provided remote control. The remote includes a battery and features five buttons. These are Speed+, Speed-, Start/Pause, Stop, and Display Switch.
The functions of the first four are pretty straightforward. The Display Switch function allows you to scroll through the workout metrics and select the one you want to view. However, the console has a Scan Mode as well. It rotates all the metrics showing each one for 5 seconds.
Two other console functions are the Lubrication Reminder and the Power Saving Mode. The treadmill requires lubricating every 188 miles and emits a beeping sound with the "OIL" message on display notifying you that you should be lubricating the belt.
The Power Saving Mode initiates after 10 minutes of inactivity on the machine. When this occurs, the monitor automatically turns off.
SF-T7945 Assembly and Maintenance
One major plus of the Sunny SF-T7945 treadmill is that it doesn't require assembly. You unbox it, connect the power cable, turn it on, and you're ready to go. However, the belt may require a bit of adjusting before the first use. An Allen wrench comes with the machine, and the manual provides clear instructions.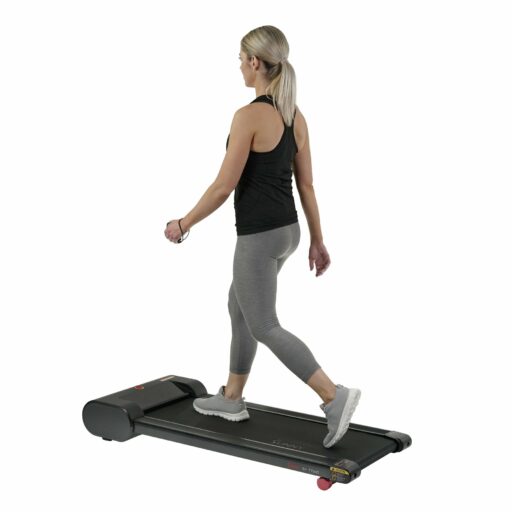 It would help to keep the machine clean, especially the belt, to prevent any dirt or textile fibers from getting caught in the motor for maintenance. The belt also requires periodic lubrication. A bottle of silicone oil comes with the treadmill, and you can also use pretty much any generic treadmill oil.
Pros
Sturdy deck for a walking treadmill – can support users up to 220 lbs;
Sleek, low profile design – 6.5″ – it can store under a bed;
Can fit under most desks;
It can hold vertically against a wall;
No assembly is required;
Transport wheels on the front base;
Shock absorption elements integrated into the deck;
Speed adjustment increments of 0.1 MPH give you the possibility to find the perfect pace for your workout;
Fairly decent motor – 1.5 HP;
Easy-to-use LED monitor which tracks time, distance, speed, steps, and calories burned;
Remote-controlled console;
Lubrication reminder function;
Scan function;
Sleep mode function;
Low noise level;
Little maintenance is required.
Cons
There is no pulse reading function;
No workout programs;
No app compatibility.
Sunny SF-T7945 Walkstation Treadmill Summary
The Sunny SF-T7945 Walkstation is a walking treadmill for home or office use. It comes equipped with a 1.5 HP motor, and it offers a speed range of 0.5 – 3.75 MPH, a walking surface of 39″L x 14″W, and a remote-controlled LED console.
It does not have a pulse reading function, pre-set programs, or online connectivity. Moreover, it's a machine designed for walking, light cardio training, muscle toning, and weight loss.
I hope you found this article helpful and informative. Would you please speak up if you have anything you'd like to share or any opinions about my website? I look forward to your comments, questions, and the sharing of ideas.
Please remember to consult your physician to determine if you have any medical or physical conditions that could put your health and safety at risk or prevent you from using the equipment properly. In addition, your physician's advice is essential if you are taking medication that affects your heart rate, blood pressure, or cholesterol level.