Switch up the intensity of your workouts on the UREVO Magnetic Rowing Machine with the convenient tension knobs. You can increase or decrease the eight levels of magnetic resistance, so your training can remain challenging and effective throughout your fitness journey. Subtle control of the magnetic resistance from 1-8 is suitable for the whole family.
Tracking your fitness progress on the UREVO Magnetic Rowing machine is simple. The equipped fitness monitor features an LCD that tracks exercise time/500m, stroke count, strokes per minute, distance, calories, and watts. Unfortunately, there is no pulse reading function. So, you will have to use a separate device to track the pulse.
This rowing machine features an ergonomic seat and aluminum rail, making it smoother and quieter than other rowers. In addition, the applicable inseam length for this rower is approximately 37″ (94 cm). Therefore, this rowing machine comfortably accommodates users up to 6'5″ (196 cm) with no problem.
Oversized, textured footrests provide users with a non-slip surface, and the security of high-quality safety straps keeps your feet in place throughout your rowing routine. In addition, the non-slip foam grip-pulling handle and an oversized seat offer excellent comfort and make working out more enjoyable.
Learn more in my complete review below!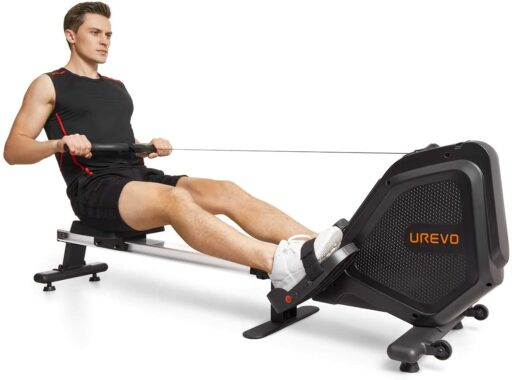 Product: UREVO Magnetic Rowing Machine Model #UR9RW0010
Price: For a great deal on this gym, merely go here to Amazon.com
Warranty: 1 year limited
My rating: is 8/10
Affiliate Disclosure: As an Amazon Affiliate Program participant, I earn commissions on purchases made through links in this post. Full disclosure
Details and Specifications
Assembled dimensions: 70.8L x 20.8W x 22.4H inches (180L x 53W x 57H cm)
Assembled weight: 65 lbs (29.4 kg)
Weight capacity: 265 lbs (120 kg)
Frame: Steel & aluminum
Resistance type: Magnetic, eight levels
Fitness monitor: Time/500m, count, distance, calories, total strokes, strokes per minute (SPM), goals
Warranty: 1 year limited
UR9RW0010 Frame Construction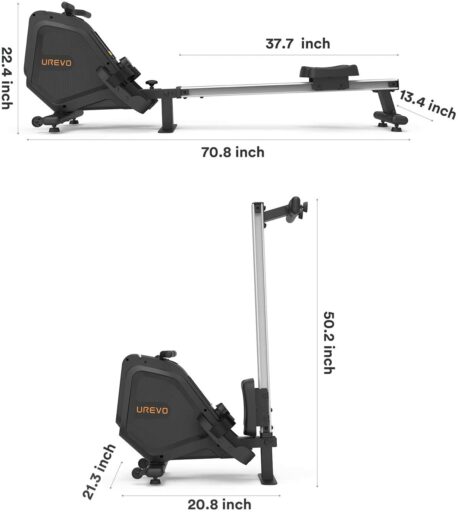 The UREVO Magnetic Rowing Machine combines steel, aluminum, and thermoplastic parts in its construction. For example, the front part of the machine that holds the drive and resistance elements is steel.
The rail is extruded aluminum to have high corrosion resistance and provide a smoother motion for the seat. The unit's rear, middle, and front stabilizers are also steel-made. And finally, the covers of the resistance mechanism are made of durable ABS thermoplastic material.
All the steel parts in the machine's construction come coated with a corrosion-resistant black paint finish. In addition, the rail has its natural polish, while the plastic covers, the footrests, and the seat pad are also black to fit the machine's color theme.
The UREVO rower is not as large as commercial-grade models. However, it still is approximately 70.8″ (180 cm) long and 20.8″ (53 cm) wide. Therefore, leaving at least two feet of clearance at the rear and on each rail is advisable to access and correctly execute the full rowing motion efficiently and safely.
The unit's rail is relatively long. Therefore, this machine's applicable inseam length is approximately—37″ (94 cm). So, the rower should comfortably accommodate users up to 6'5″ (196 cm) with no problem.
The rail is also foldable. With the rail folded up, the rower's footprint becomes approximately 22.4″L x 20.8″W (57 x 53 cm), while its height reaches approximately 50″ (127 cm). The unit is not too heavy, weighing around 65 lbs (29.4 kg). Therefore, one person can carry and assemble the machine. Also, its front base integrates a set of transport wheels for easy relocation.
Seat and other parts
The UREVO magnetic rowing machine comes equipped with a padded seat, similar to the one included with the Fitness Reality 2646. It is approximately 12″ (30 cm) wide, providing plenty of contact surface. In addition, its top section is high-density foam to reduce the impact on your tailbone. It also has contouring for extra comfort.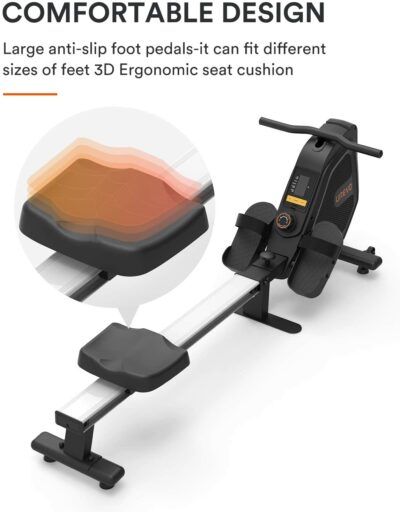 The base of the seat is steel-made. It integrates two sets of wheels that slide through the side grooves of the rail. The side of the seat frame conceals the wheels for improved safety. Furthermore, they also integrate ball bearings for a smooth seat motion and have a rubber layer outside to reduce noise.
The seat and the rail have a maximum user weight capacity of 265 lbs (120 kg). In addition, the rail is not perfectly horizontal. Instead, it slants forward by approx. 1-2 degrees. Thus, the machine provides a slightly better workout for the legs. Also, if you're wondering, the seat is approx—10″ (25 cm) above the floor.
The UREVO magnetic rowing machine has two oversized, durable ABS thermoplastic footrests. They have a textured surface and adjustable straps for maximum foot stability. However, they do not pivot and connect to the frame via two metallic rods, providing a firm push. Their angle is approx. 45°.
The rower features a pulling handle with an ergonomic, curved design. In addition, it has PVC foam sleeves for an improved grip. However, it does not have resistance controls or HR pulse sensors like the more expensive rowers. Instead, it is attached to a durable nylon strap, highly resistant to abrasion.
UR9RW0010 Resistance system
The UREVO rower comes equipped with a manual magnetic resistance system, similar to the XTERRA Fitness ERG160. Therefore, since its internal brake is mechanical with manual action, the machine cannot adjust the resistance automatically.
The resistance system consists of a magnetic brake connected to the internal flywheel system and the tension knob on the front unit of the rower. Thus, turning the knob changes the position of the brake to the flywheel, increasing or decreasing the rowing resistance.
There are two main advantages to this type of resistance system. First, the brake does not touch the flywheel, so no friction and no drag lead to a very smooth and quiet rowing motion. Two, since the brake does not touch the flywheel, it doesn't suffer any wear and tear.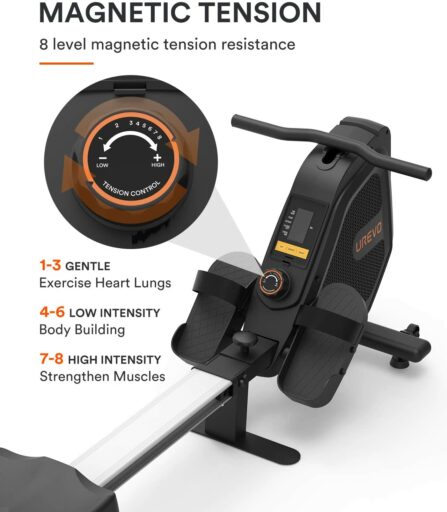 The UREVO rower offers eight distinct levels of resistance. The first level delivers a reasonably light workout load, great for warming up, developing stamina, and toning. Conversely, the 8th level of resistance provides considerably more resistance, great for anyone who wants to push their limits or reach a high cardio rate in a brief time.
One last important aspect to note here regards the rower not providing a dynamic response. For example, the resistance does not depend on how fast you row, as is the case for air or water resistance rowers. Instead, the resistance is determined by the setting chosen on the magnetic resistance knob.  However, the machine still provides a pretty consistent full-body cardio workout.
Fitness Monitor
The UREVO magnetic rowing machine has a fitness monitor that offers more features than a simple one. The LCD divides into six sub-sections: time/500m, stroke count, strokes per minute (SPM), distance, calories, and watts.
The monitor does not have a pulse reading function, so if you need to keep track of your pulse, you will have to use a separate device during your workouts.
Unfortunately, the fitness monitor does not have Bluetooth or online connectivity. It also does not have any pre-set workout programs. Instead, it has three buttons – Set, Mode, and Reset.
The Set button allows you to select goals for some workout metrics available on the monitor. Next, the Mode button covers the selection function. And finally, the Reset button clears all the values on the monitor to zero.
The monitor is battery-powered, requiring two AA batteries. It starts monitoring your workout stats when you begin rowing. It also turns off automatically after a few minutes of inactivity on the machine to save battery life.
UR9RW0010 Assembly and Maintenance
The main drive and resistance components of the rower come pre-assembled. The rest of the parts require user assembly. You will have to attach the front stabilizer, the footrests, the seat, the rear stabilizer, and the middle stabilizer and put the batteries into the fitness monitor.
Consequently, this shouldn't take more than 30-40 minutes of your time. All the necessary tools come with the machine, and the manual provides precise assembly instructions.
It is essential to keep the rower clean, especially the rail, to prevent any damage to the seat wheels for maintenance. The internal parts do not require lubrication or any maintenance. It is also advisable to periodically check for loose bolts and parts and retighten them as needed.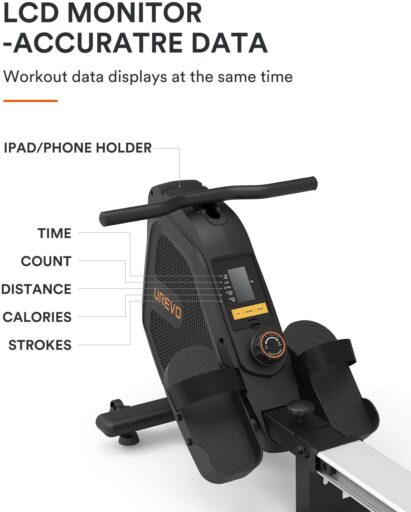 Pros
Sturdy frame – can hold users up to 265 lbs (120 kg);
Folding rail, space-saving design;
Transport wheels on the front base;
Adjustable stabilizers on the rear base;
Middle stabilizer for extra support during standing rows or bicep curls;
Oversized, padded seat for improved comfort;
Relatively long rail – can accommodate users up to 6'5″ (196 cm);
Large footrests with adjustable straps;
Quiet magnetic resistance with eight distinct levels;
Fitness monitor included – it tracks time/500m, stroke count, strokes per minute (SPM), distance, calories, and watts;
Target setting function;
Device holder included;
Easy to assemble;
Batteries for the monitor included;
Little maintenance is required.
Cons
The LCD fitness monitor does not have a backlight;
The fitness monitor does not have a pulse reading function.
UREVO Magnetic Rowing Machine Summary
The UREVO UR9RW0010 is a rowing machine made for home use. It offers eight levels of magnetic resistance, a durable aluminum rail that comfortably accommodates users up to 6'5″ and 265 lbs, and an oversized comfortable seat. In addition, it also integrates a fitness monitor that tracks the main workout metrics.
Moreover, it's a great trainer for a full-body cardio workout, muscle toning, recovery training, and weight loss. It's also an affordable rower for less than $250.
I hope you found this article helpful and informative. Please speak up if you have anything you'd like to share on the topic or opinions about my website.? I look forward to your comments, questions, and the sharing of ideas.
Please remember that you should consult your physician to determine if you have any medical or physical conditions that could risk your health and safety or prevent you from using the equipment properly. In addition, your physician's advice is essential if you are taking medication that affects your heart rate, blood pressure, or cholesterol level.