The YESOUL M1 Indoor Cycling Bike features a triangular stable body with an "H"-shaped base for more stable riding; all stainless steel structure with piano paint, wear-resistant appearance, and long service life. The bike comfortably accommodates users between 5'1″ and 6'4″ (155 – 193 cm) with no problem and has a maximum user weight limit of 270 lbs (122 kg).
Adjustable 100-level manual magnetic resistance system, turn the knob to adjust (increase or decrease) the intensity of your workout and press the knob to stop the flywheel immediately and safely. The magnetic resistance is designed for no physical friction with the flywheel and is smooth and silent. It will not disturb your neighbors and family.
The Bluetooth connectivity allows you to watch exercise videos or listen to music while exercising, making your fitness fun. In addition, you can sync your smartphone or tablet with the free YESOUL app. The YESOUL app shows multiple workout metrics in real-time such as your heart rate, calorie, distance, time, resistance, cadence, etc. Store your fitness data in the app to monitor your progress.
Real-life riding and competing with friends online. The YESOUL M1 indoor cycling bike is compatible with other apps, including Zwift and Kinomap. In addition, YESOUL has set up studios in many countries, and you can exercise with elite trainers, and enjoy music, all while receiving professional instruction.
Learn more in my complete review below!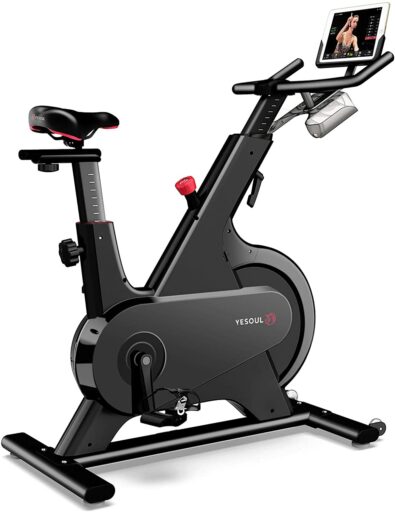 Product: YESOUL M1 Indoor Cycling Bike
Price: For a great deal on this bike, merely go here to Amazon.com
Warranty: 1 year limited
My rating: is 8/10
Affiliate Disclosure: As an Amazon Affiliate Program participant, I earn commissions on purchases made through links in this post. Full disclosure
Please note that the tablet and smartphone pictured in some images do not come with the bike.
Details and Specifications
Assembled dimensions: 39.3L x 20W x 49.2H inches (100L x 51W x 125H cm)
Assembled weight: 75 lbs (34 kg)
Flywheel weight: 16.5 lbs (7.5 kg)
Supported weight: 270 lbs (122 kg)
Seat: 4-way adjustable
Drive system: Belt
Resistance: Magnetic, 100 levels
Fitness monitoring: Built-in Bluetooth, YESOUL app, compatible with Kinomap and Zwift
Extras: Device holder, bottle holder.
Warranty: 1 year limited
M1 Frame Construction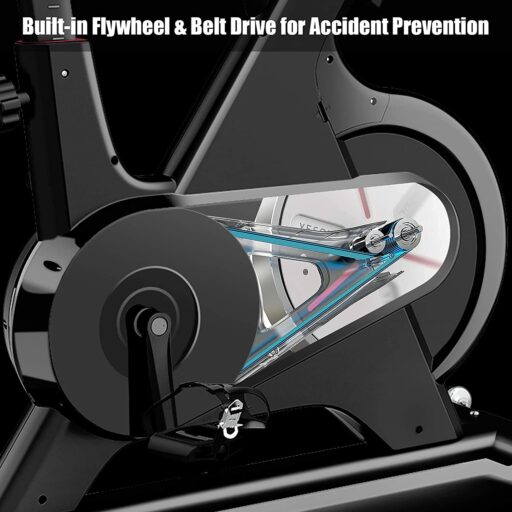 The YESOUL M1 indoor cycling bike features a triangular steel frame. Most of the bike's construction tubes are oval for improved sturdiness and aesthetics. Also, all the steel tubes come double-coated with a corrosion-resistant and chip-resistant black paint finish. Finally, the flywheel and most of the bike's body have thermoplastic ABS covers.
The bike doesn't take up too much space. Its footprint is 39.3″L x 20″W (100 x 51 cm), while its highest point is 49.2″ (125 cm). Therefore, leaving at least two feet of clearance all around it is advisable for easy access and safe usage.
The bike is not too heavy either, weighing approx—75 lbs (34 kg). Thus, one person can carry and assemble the bike. Furthermore, it is easily relocated once completed, as its front base has two transport wheels.
Although the bike is not too heavy, it has a low center of gravity which considerably improves its stability. Also, both its base bars have adjustable levelers. Therefore, using the bike on a rubber mat is not necessary.
Seat and handlebars
The YESOUL M1 bike features a four-way adjustable seat (up, down, front, back). In addition, its vertical post offers ten adjustment positions, while its horizontal slider adds several inches of front-to-back adjustment.
Therefore, the bike comfortably accommodates users between 5'1″ and 6'4″ (155 – 193 cm) with no problem, allowing a complete range of motion. It also has a maximum user weight limit of 270 lbs (122 kg).
The included seat is pretty decent as well. Its inner shell is made of durable nylon material. It integrates a layer of padding for improved comfort. In addition, it comes with contouring to provide better positioning for the user.
Also, its attachment system is collar-based, so if you ever need or want to replace it, you should be able to find a compatible saddle in any bike shop.
The bike's handlebar features a pretty standard design. It offers the possibility to adopt three main grips. These are standard grip, cruise grip, and climbing grip. It does not have drop-down grips or aero grips. However, the bike does come with a dual bottle holder and a device holder. Both of them attach to the handlebar assembly.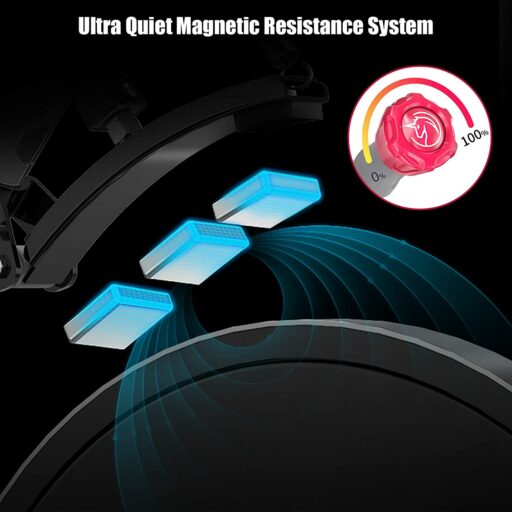 A layer of PVC foam covers the bike's handlebar to provide an improved and comfortable grip. Unfortunately, the handlebars do not have HR pulse sensors or other adjustment controls. Unlike the seat, the handlebars are only two-way adjustable (up, down). Its vertical post offers eight adjustment positions.
M1 Drive system
The YESOUL M1 indoor cycling bike comes equipped with a front-drive system. In addition, it integrates a perimeter-weighted flywheel which is fully covered for improved safety. Its exact weight is not specified, but as a general idea, since the bike's total weight is 75 lbs, the flywheel probably weighs around 25 lbs (11.3 kg).
The flywheel is bi-directional. Thus, you can pedal in reverse if you want. Unfortunately, you cannot coast because the bike has a standard drive system. When pedaling in reverse, the resistance remains constant, given the difficulty generated by the magnetic brake.
The crankset features a large, durable thermoplastic material pulley with nylon-coated steel arms. The included pedals are also metallic alloy. They have toe cages with straps if you need extra foot stability. Unfortunately, they do not have SPD clips for spin shoes. However, their threads are standard 9/16, so compatible options are widely available.
The bike's drive system uses a poly-v belt resistant to stretching and abrasion. This belt drive system comes with several advantages over a chain drivetrain. For example, it generates slightly less vibration and noise than a chain. In addition, it also does not require periodic lubrication.
Resistance system
The YESOUL M1 comes equipped with a manual magnetic resistance system. Therefore, you don't need a power adapter or an external power source. However, on the other hand, since the bike does not have a motor, it cannot adjust the resistance automatically like the more expensive spin bikes.
The bike's resistance system consists of a magnetic brake placed above the flywheel, connected to the tension knob on top of the frame, and concealed by the flywheel guards. Therefore, when you turn the knob, the magnets change their position to the flywheel, increasing or decreasing the workout load.
The main advantage of a magnetic brake over a friction brake is that the brake pad does not touch the flywheel. Thus, there is no friction or wear-and-tear, and the pedaling motion is smooth and quiet. In addition, the brake pad does not need lubrication either, and you don't have to worry about its replacement.
The bike doesn't have pre-determined resistance levels like other exercise bikes. However, from the lowest resistance point to the highest, there are approx—100 levels of difficulty. As a general idea, with the magnets as close as possible to the flywheel, the pedaling motion delivers quite a bit of resistance, simulating a steep climb.
M1 Bluetooth and app connectivity
The YESOUL M1 bike does not come with a fitness monitor. However, it does have built-in Bluetooth connectivity. Therefore, you can sync it with your smartphone or tablet utilizing the free YESOUL Fitness app.
This app is available for both iOS and Android systems. In addition, a QR code comes with the bike that you can scan with your smart device to install the app.
The YESOUL app shows multiple workout metrics, including time, distance, speed, calories, the bike's resistance level, and cadence. It also monitors pulse. Unfortunately, it requires a heart rate pulse strap that does not come with the bike. However, it should be compatible with most 5.3 kHz HR chest or armband monitors.
The YESOUL app also offers 255 minutes of scenic cycling, several courses of endurance fat-burning, and online workout data tracking. Furthermore, the bike is compatible with similar fitness apps, such as Kinomap and Zwift (required subscriptions).
So, if you already have a subscription to these apps, you should be able to sync your bike with them. But, unfortunately, it is not compatible with the Peloton app (at least not for the moment).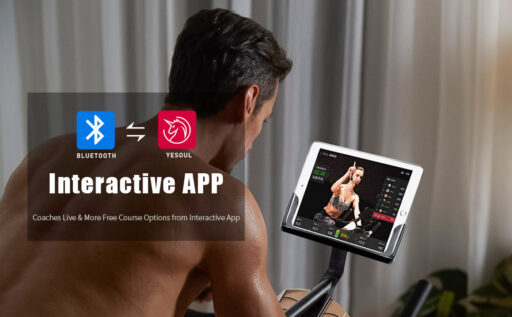 The internal Bluetooth module is battery-powered. It requires a CR2477 battery that comes with the bike. Its location is at the top of the handlebar under the insulation strip and is easily accessed.
M1 Assembly and Maintenance
The bike's main body comes pre-assembled. Therefore, you only need to attach the two base bars, the pedals, the handlebar, the support bar of the device holder and bottle holder, and the two holders.
Consequently, this shouldn't take more than 30 minutes of your time. The manual provides clear assembly instructions and all the necessary assembly tools with the bike.
Since the bike uses a belt drive, lubricating the drivetrain is unnecessary. So, for maintenance, you only have to keep the cycle clean and periodically check for loose parts and retighten them as needed.
Pros
Durable steel frame – can support users up to 300 lbs;
Aesthetic design;
Transport wheels on the front base;
Adjustable levelers on both base bars;
Durable pedals with toe cages and standard threads;
Multi-grip handlebar;
Tablet holder included;
Bottle holder included;
4-way adjustable seat;
Maintenance-free belt drive;
Perimeter-weighted flywheel for improved inertia;
100 levels of magnetic resistance;
Built-in Bluetooth module;
Free YESOUL app;
Compatible with Kinomap and Zwift (paid subscription required);
Little maintenance is needed;
Easy to assemble;
All the tools required for the assembly come with the bike.
Cons
It doesn't have a fitness monitor;
No front-to-back adjustability for the handlebar;
A heart rate chest strap does not come with the bike.
YESOUL M1 Indoor Cycling Bike Summary
The YESOUL M1 is an indoor cycling bike made for home use. It has a manual magnetic resistance system, a perimeter-weighted flywheel, and a four-way adjustable seat.
Unfortunately, it does not come with a fitness monitor, but it has a built-in Bluetooth module and is compatible with the free YESOUL fitness app. It will also sync with the Zwift and Kinomap apps (subscriptions required). Moreover, it's an excellent bike for spin workouts, interval training, stamina development, and weight loss.
I hope you found this article helpful and informative. Please speak up if you have anything you'd like to share on the topic or opinions about my website.? I look forward to your comments, questions, and the sharing of ideas.
Please remember that you should consult your physician to determine if you have any medical or physical conditions that could risk your health and safety or prevent you from using the equipment properly. In addition, your physician's advice is essential if you are taking medication that affects your heart rate, blood pressure, or cholesterol level.