Designed for gym use but perfect for the home user, the WaterRower Gronk M1 Hi-Rise Rowing Machine can withstand up to 700 pounds (317 kg). The Gronk Mi Hi-Rise quality is unsurpassed, and the machine is for users up to 6'7″ (201 cm). If you're taller than this, you may miss out on the full range of motion this unit offers.
Older users will find that the rowing seat is slightly higher than the standard, with an overall height of 20″ for the machine. A higher position allows users to get on and off the machine with less strain. The M1's comfort is superb, with the pulling handle and seat both adequately padded. The grips on the pulling handle are firm and textured to prevent slippage when rowing.
When it's time to begin rowing, you'll need to fill the water reservoir before rowing for the first time. Inside the water, the flywheel is "paddles" that allow for a swish of water, much as you would experience on the water. And when you row faster, the resistance level is increased automatically. The M1 water resistance allows for limitless strength and fitness potential.
With near-silent construction, you can use the M1 at all times of the day and night without fear of waking up your kids, wife, or husband. The M1 also features the famous S4 monitoring system that most high-end models offer. In addition, users can store up to 9 manual programs, connect to a PC to download apps, use zone features, and do much more right on the S4.
Learn more in my complete review below!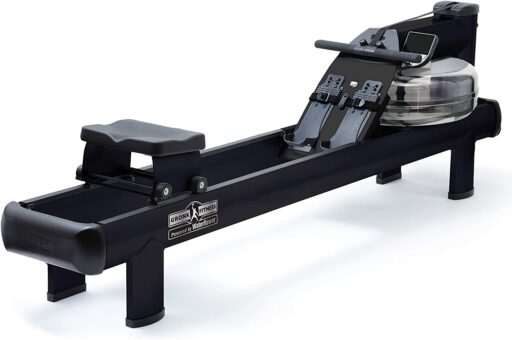 Product: WaterRower Gronk M1 Hi-Rise Rowing Machine
Price: For a great deal on this rower, merely go here on Amazon
Warranty: Frame 5 years / Parts 3 years (if registered with WaterRower).
My rating: 9.8/10
Affiliate Disclosure: As an Amazon Affiliate Program participant, I earn commissions on purchases made through links in this post. Full disclosure
Details and Specifications
Assembled dimensions: 88L x 22W x 28.5H inches (224L x 56W x 72H cm)
Assembled weight: 79 lbs (36 kg) w/o water; 116 lb (52.6 kg) w/ water
Supported weight: 700 lbs (317 kg)
Frame: Aluminum
Footrests: Size-adjustable, with straps
Resistance type: Water
Console: S4 Series Performance Monitor
Warranty: Frame 5 years / Parts 3 years (if registered with WaterRower) / otherwise 1-year limited default
Gronk M1 Frame Construction
The WaterRower Gronk M1 Hi-Rise rower features a heavy-duty frame of aluminum tubing. Each side rail is a one-piece component with the Hi-Rise elements directly welded. Therefore, you can't remove them.
The unit's frame construction is similar to the M1 Hi-Rise model but is considerably lighter, considering its frame is aluminum, not steel. However, the machine still is rather heavy.
Without water in the tank, it weighs approx. 79 lbs (36 kg), while with the tank filled to the top level, it weighs approx. 116 lbs (52.6 kg). Furthermore, this weight is a plus; it adds stability to the machine.
The fully assembled unit is considerably large, especially lengthwise. It is approx 88″ (224 cm) long and 22″ (56 cm) wide. Therefore, leaving at least two clearance feet at the rear and on each side is advisable for unhindered usage. Thus, the Gronk M1 Hi-Rise may not fit a small room or apartment best.
In vertical position, its footprint becomes 28.5″L x 22″W (72 x 56 cm) and requires a ceiling height of at least 90″ (228 cm). Therefore, the water can remain in the tank when the unit is stored vertically.
The Gronk M1 rower does not have adjustable stabilizers on its "feet" as other machines. However, the Hi-Rise elements have protective caps. These prevent floor damage, but placing the rower on a rubberized mat or a carpet is still advisable.
Also, the front base of the unit integrates two transport wheels which facilitate its relocation. Therefore, this machine can be easily handled and moved once completed by one person.
The two rails of the rower are pretty long. However, they will accommodate users with an inseam of up to 38″ (96.5 cm). Thus, it should accommodate users up to 6'7 ″ (201 cm) with no problem, allowing a complete and healthy leg extension.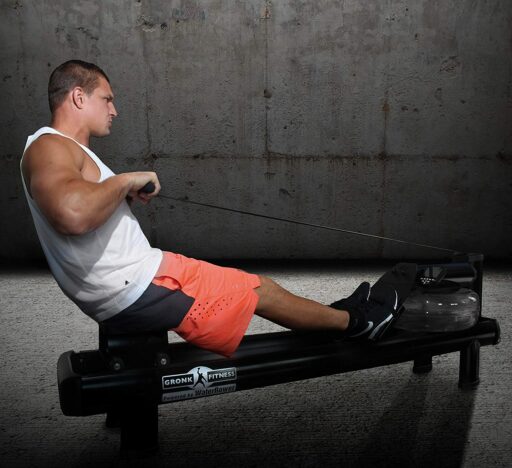 Seat and other parts
The WaterRower Gronk M1 Hi-Rise rower seat features similar construction to most other WaterRower machines' seats. It has a high-density foam top covered by a durable vinyl material layer and is contoured to better position the user.
Additionally, it also offers plenty of contact surfaces for the user; it is approx 12.5″ (32 cm) wide and 9″ (23 cm) deep.
The seat base is steel-made and durable enough to support users up to 700 lbs (317 kg). It features four wheels, two on top of the rails and the other on their inner side for extra stability. The wheels integrate ball bearings to provide smooth motion for the seat. Also, their outer coating minimizes noise.
Since it's a "Hi-Rise" rower, the seat stands at approx. 20″ (51 cm) above floor level. Thus, it considerably facilitates entry and exit for users with specific disabilities or the elderly.
The Gronk M1 rower comes equipped with a set of adjustable footrests. As a result, they will accommodate athletic shoes of all sizes. In addition, they feature heel guards and adjustable straps to provide perfect stability for your feet during rowing.
The angle of the footrests is non-adjustable. They are attached to a fixed metallic plate, supporting the leg push phase from the rowing motion. The plate is angled approx. 45 degrees.
The rower's pulling handle is a short straight bar with rubberized grips. Its length is approx 15.5″ (40 cm). It does not integrate HR pulse sensors or other controls like different machines, but the rower's exercise monitor has a pulse reading function.
The pulling handle is attached to a heavy-duty, abrasion-resistant nylon strap. Since it's not a chain, it eliminates the need for periodic lubrication.
Gronk M1 Water tank and resistance system
The Gronk M1 rower comes equipped with a similar water tank as most other WaterRower products. It is made of durable polycarbonate material and has a capacity of approx. 4.5 gallons. It does not integrate a water level adjustment mechanism like the First Degree Fitness Apollo Pro II. However, you can still adjust the overall resistance level by manually removing or adding water.

The water tank walls are transparent, featuring a gray hue. However, you can make the tank and the water appear blue or another color by adding a unique, non-corrosive colorant (a bottle of blue dye comes with the machine).
The main resistance-generating element is a durable 2-blade impeller placed inside the tank and attached to the pulley system. Therefore, the impeller rotates inside the tank when you pull the handle, adding difficulty to the rowing motion.
Like any other rowing machine equipped with a water resistance system, the WaterRower Gronk M1 delivers a dynamic response during rowing. Therefore, the resistance generated by the impeller is proportional to the strength you put behind each stroke (the harder you pull, the more resistance you will have), which resembles the sensation generated by the oars of a real rowboat.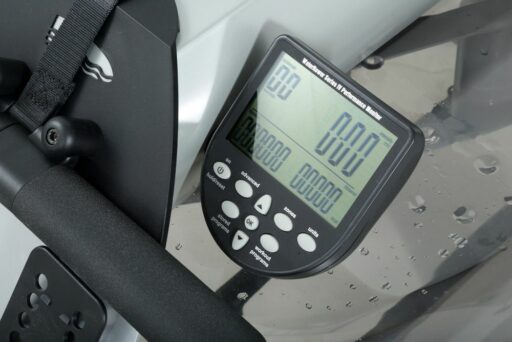 Concerning the noise level generated by this water-resistance rower, I can say it is considerably quiet. The impeller's spinning inside the water tank does create some sound, but the level is low. Also, most users have described it as soothing.
S4 Monitor
The WaterRower Gronk M1 Hi-Rise rowing machine comes equipped with the S4 Series Performance Monitor. In addition, the monitor features an LCD divided into multiple sub-sections to show as many workout metrics as possible.
It indicates intensity (or speed), watts, Kcalories per hour, stroke rate, heart rate, and distance traveled. It also features Interval Workout Settings for distance and intensity and 9 Advanced Workout Programs.
The monitor unit can be programmed to show the distance in meters, miles, km, or number of strokes. The same goes for speed; it displays m/s, mph, /500m, or /2 km).
As I've mentioned, the monitor has a pulse reading function, but the machine does not have any pulse sensors. So, to benefit from a pulse reading, you will have to use an ANT+ or Polar HR chest strap transmitter.
It is also important to mention that the WaterRower S4 monitor has a PC interface capability. Thus, you can connect it to your PC via cable to various online fitness apps such as WaterRower's Online Rowing Community, WebRacing, and WaterCoach FIT.
The S4 monitor requires 4 AA batteries as its power source. In addition, it has an On/Off/Reset button and a sleep function that initiates after 2 minutes of inactivity on the rower.

Gronk M1 Assembly and Maintenance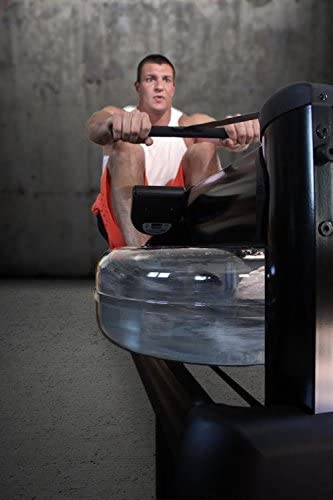 The machine's water tank comes pre-assembled, but the rest of the unit does require assembly. However, the task isn't too complicated and shouldn't take more than 30-40 minutes.
You will have to attach the two main rails, connect them with the rear end cap, place the seat on the rails, connect the water tank to the rail system, add the footrests, connect the bungee cord to the pulling network, and finally attach the S4 monitor.
The manual provides clear, step-by-step assembly instructions with illustrations for each step. In addition, all the tools required for the assembly are included, along with a siphon pump for filling up the water tank.
Once assembled, maintenance doesn't require much. You will have to add a chlorine purification tablet to the tank every six months. In addition, it's advisable to keep the unit's rails clean to prevent damage to them or the seat wheels.
Please note that the Gronk M1 water rowing machine has a 1-year warranty by default. However, if you register your product on the WaterRower website, its warranty will extend to 5 years for the frame and three years for the parts.
Pros
Extremely sturdy frame – can support users up to 700 lbs;
Superior aesthetics;
Can be stored in a vertical position;
Easy to handle and transport;
Large, adjustable footrests with heel guards and straps;
Contoured, padded, and ergonomically designed seat;
Long rails – can accommodate users with an inseam up to 38″ (96.5 cm);
20″ elevation from floor level, easy to mount and dismount;
Water-resistance system, providing a dynamic response during rowing and a natural rowing feel;
S4 Series Performance Monitor included;
HR strap compatible;
Smooth and quiet operation;
Rowing machine for users of all levels;
Little maintenance is required;
Easy to assemble.
Cons
HR chest strap for pulse tracking does not come with the rower;
There are no adjustable stabilizers.
WaterRower Gronk M1 Hi-Rise Rowing Machine Summary
The WaterRower Gronk M1 Hi-Rise is a heavy-duty, commercial-grade water resistance rower featuring a sturdy aluminum frame, a 4.5-gallon water tank, adjustable footrests, and the advanced S4 Series monitor with nine workout programs and PC interfacing possibilities. In addition, the unit features extra-long rails and has an impressive 700 lbs weight capacity.
It's an excellent machine for users of all levels, allowing them to perform full-body cardio workouts, tone muscles, improve strength and stamina, and lose weight. And finally, it's not exactly one of the most affordable rowers, but it offers excellent value and quality for the price.
I hope you found this article helpful and informative. Would you please speak up if you have anything you'd like to share or any opinions about my website? I look forward to your comments, questions, and the sharing of ideas.
Please remember that you should consult your physician to determine if you have any medical or physical conditions that could risk your health and safety or prevent you from using the equipment properly. In addition, your physician's advice is essential if you are taking medication that affects your heart rate, blood pressure, or cholesterol level.