The Runow 3305EB Folding Treadmill for home use comes with a 2.5 HP Permanent Magnet Direct Current Motor that supports speeds up to 8.1 MHP. Combined with three manual inclines and a 280-pound weight capacity, it's tough enough to meet your different exercise intensities.
Equipped with a longer and broader running area (49.2″ X 16.5″), this RUNOW portable treadmill provides comfortable and free running. In addition, the built-in double Shock-absorbing System better protects your knees and ankles.
The RUNOW 3305EB folding treadmill features an 18-inch LED Monitor that tracks your speed, distance, calories burned, time, and pulse. In addition, the RUNOW foldable treadmill possesses 36 Preset Programs, 3 User Programs, and 1 Manual Program, making your walking, jogging, and running scientifically more efficient.
Learn more in my complete review below!
Product: RUNOW 3305EB Folding Treadmill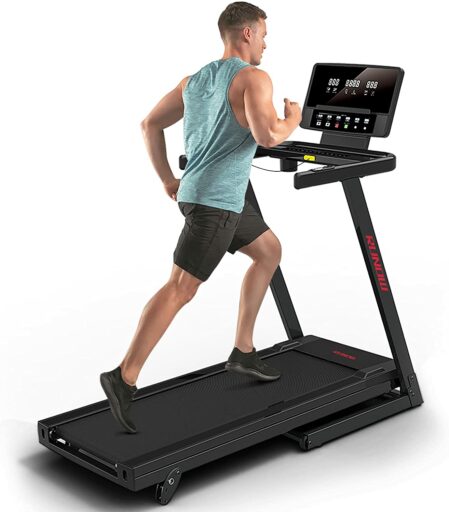 Price: For a great deal on this treadmill, merely go here to Amazon.com
Warranty: 1 year limited
My rating: 8.5/10
Affiliate Disclosure: As an Amazon Affiliate Program participant, I earn commissions on purchases made through links in this post. Full disclosure
Details and Specifications
Assembled dimensions: 60.4L x 26.6W x 55.9H inches (153L x 67W x 142H cm)
Tread belt dimensions: 49.2L x 16.5W inches (125L x 42W cm)
Shipping weight: 121 lbs (55 kg)
Supported weight: 280 lbs (127 kg)
Motor: 2.5 HP, 0.6 – 8.1 MPH (1 – 13 kmh)
Incline: Manual, three levels
Console: 40 programs, 36 preset, three users, one manual, three workout modes,
Extras: Device holder, bottle holders
Warranty: 1 year limited
3305EB Frame Construction
The RUNOW 3305EB treadmill features a rectangular tubing steel frame. In addition, all the steel tubes in its construction come coated with a corrosion-resistant black paint finish. Finally, of course, the machine also integrates several plastic parts.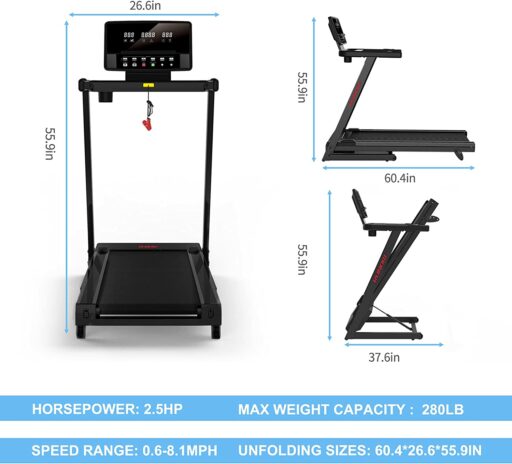 However, their role is protective and cosmetic so that they won't reduce the overall sturdiness of the treadmill. The most notable ones are the motor cover, the side rail covers, the console display casing, and the accessory tray.
This RUNOW treadmill is not super large compared to other models. It is approximately 60.4″ (153 cm) long and 26.6″ (67 cm) wide, while its highest point is the top of the console, which reaches 55.9″ (142 cm) above the floor.
Allowing at least two feet of clearance on each side of the treadmill and at least three feet at the back of the deck is advisable for safe usage.
The unit's frame is foldable. The deck folds up to save space when the machine is unused. With the deck folded up, the unit's footprint becomes 37.6″L x 26.6″W (95 x 67 cm). Also, the folding mechanism involves a hydraulic cylinder that slowly lowers the deck when you unfold it.
This treadmill is relatively heavy, weighing approx—120 lbs (54.4 kg). Therefore, two people should carry or use a hand truck to move the packaged treadmill. However, one person can move it once assembled, as the front base frame has transport wheels.
Deck construction and incline
The RUNOW 3305EB treadmill offers a running surface of 49.2″L x 16.5″W (125 x 42 cm). Therefore, it should comfortably accommodate users up to 6'0″ (183 cm), allowing for a complete range of motion. The deck is also pretty durable; it has a maximum user weight limit of 280 lbs (127 kg).
The belt features a multi-layer construction. Its top layer has a diamond pattern to improve your footwear's grip while running. The multi-layer design also adds to the overall cushioning of the running platform.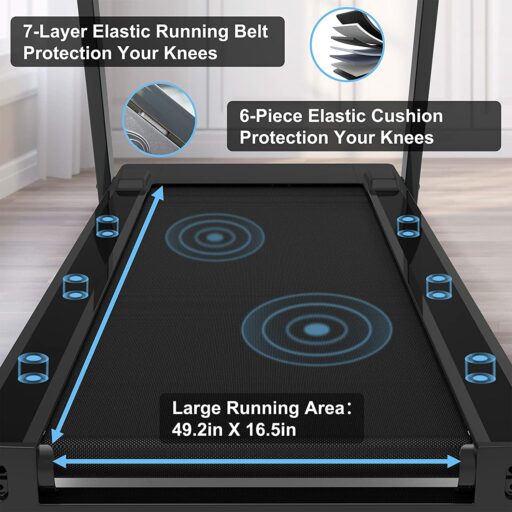 The machine's deck comes equipped with several cushioning elements. The shock absorption is higher in the front of the deck to reduce the impact of each foot strike and lower at the rear to promote a better push. All the cushioning elements have side rail covers.
This RUNOW treadmill has a standard manual incline system similar to the Sunny FA-7967. It consists of two folding feet attached to the rear corners of the deck. Since the incline system requires manual adjustment, you cannot adjust it while running on the treadmill; you must pause your workout.
The unit's incline system makes available three levels of incline. These are 0°, 2°, and 4°. With the pitch at 0°, the height of the running platform is approx—6″ (15 cm). Therefore, you should place and use the machine in a room with a ceiling at least 10″ (25 cm) taller than the tallest user.
3305EB Drive motor
The RUNOW 3305EB is an electric treadmill. Thus, it requires a power connection to power up its console and set the belt in motion. It requires a 110 V power source and a standard US plug cable. The cable connects to the front section of the deck where the motor is.
The machine comes equipped with a 2.5 HP (peak power) motor. It's not a super powerful motor, but for a home-use treadmill, it should suffice. It provides decent performance for prolonged workouts (at least two hours) without losing performance or overheating. It also integrates a small flywheel for improved motion stability.
The unit's motor offers a speed range between 0.6 and 8.1 MPH (1 to 13 kmh). The adjustment increments are 0.1 MPH, so you can safely adapt your pace when you increase or decrease the speed.
The console has controls for gradual speed adjustment and also for quick speed adjustment, for 1.2 MPH (2 kmh), 2.5 MPH (4 kmh), 3.7 MPH (6 kmh), 5.6 MPH (8 kmh), 6.2 MPH (10 kmh), and 7.5 MPH (12 kmh). In addition, the right-hand rail of the treadmill also has integrated controls for gradual speed adjustment.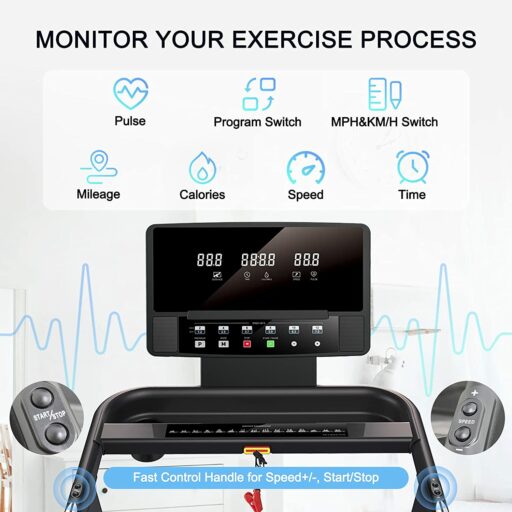 Last but not least, the machine's motor is relatively quiet. Its maximum noise output is 60 dB. However, depending on your workout gear, running technique, weight, type of floor, and other factors, your cadence may generate more or less noise. But as a general idea, the noise of the motor should not cover the sound of a TV set on a moderate volume level.
Console
As mentioned, the RUNOW 3305EB folding treadmill has an 18-inch LED console. Its display divides into three windows that indicate distance, time/calories, and speed/pulse. The speed and distance can either be in Imperial or Metric units.
The pulse reading function is hand-grip only. Thus, you cannot sync the console with any wireless HR chest strap. Holding on to the sensors integrated into the machine's handrails to read your pulse is your only option.
Unfortunately, this treadmill does not have Bluetooth connectivity and is not compatible with any fitness app. However, it has a pretty decent program base to keep you motivated. To begin with, it has a manual mode that allows you to adjust the speed as you like during the workout.
Next, three workout modes allow you to select workout targets for time, distance, and calories burned. After choosing a goal, the console will count from the target to zero. And finally, 36 preset programs, three users, and one manual are built into the console, which has various segment layouts for different workouts.
Although the console does not have a Bluetooth function, it does have a set of speakers. It also integrates a small shelf that can support your smartphone or tablet.
3305EB Assembly and Maintenance
The machine's deck with the belt, rollers, incline elements, and motor comes pre-assembled. Therefore, you only have to secure the two upright bars to attach the handrail system and the console. Consequently, it shouldn't take more than 30 minutes of your time. All the tools come with the machine, and the manual provides precise assembly instructions.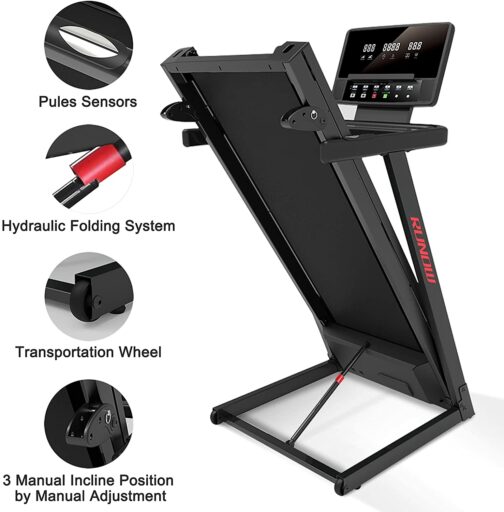 Once assembled, maintenance doesn't require much. You must keep the machine clean, especially the belt, to prevent any textile fibers or other small objects from being caught in the motor. The belt also requires lubrication every few months with standard treadmill oil.
Pros
Sturdy construction – can support users up to 280 lbs;
Folding deck, space-saving design;
Transport wheels on the front base frame;
Pulse sensors and controls integrated into the handrails;
Six shock absorption elements;
Manual incline – 3 levels (0°, 2°, 4°);
Speed range between 0.6 and 8.1 MPH;
Speed adjustment increments of 0.1 MPH;
Quick speed selection controls for 1.2, 2.5, 3.7, 5.6, 6.2, and 7.5 MPH;
36 preset, three users, and one manual workout program;
Goal settings for time, distance, and calories;
Device holder integrated into the console;
Accessory tray;
Minor assembly is required;
Little maintenance is needed.
Cons
The console does not have a step-counting function;
The console does not have online connectivity.
RUNOW 3305EB Folding Treadmill Summary
The RUNOW 3305EB is a home-use electric folding treadmill. It comes equipped with a 2.5 HP motor with a speed range of 0.6 – 8.1 MPH, a manual incline system, and a 49.2″L x 16.5″W running surface.
In addition, it also has an 18-inch LED console with 36 preset workout programs. Moreover, it's an affordable treadmill, great for users of all levels, light to medium-intensity cardio, stamina development, muscle toning, and weight loss.
I hope you found this article helpful and informative. Would you please speak up if you have anything you'd like to share on the topic or any opinions about my website? I look forward to your comments, questions, and the sharing of ideas.
Please remember to consult your physician to determine if you have any medical or physical conditions that could put your health and safety at risk or prevent you from using the equipment properly. In addition, your physician's advice is essential if you are taking medication that affects your heart rate, blood pressure, or cholesterol level.