Save space and get a killer workout with this practical, compact, easy-to-use Body Power 3-in-1 Conversion Rowing Machine. It combines three of the best gym cardio and strength training tools: a traditional rower, ROM rower, and cable training.
For traditional rowing, leave the setup and perform your workout as you would on any rowing machine. Then, adjust it to ROM rowing, which allows for independent arm movement and is the perfect swimmer workout. For strength building, use the resistance cables by attaching the trundle bars and lowering the arms.
This Body Power 3-in-1 Conversion Rowing Machine provides a full-body workout to target different areas, like the forearms, triceps, traps, shoulders, hamstrings, and more. In addition, each of the exercises possible with this unique machine is low-impact, making it perfect for people with painful joints.
Comfortable and convenient, this machine has eight manual resistance settings and an adjustable fitness monitor that calculates and displays time, row count, and calories burned. In addition, the monitor has three workout goal target settings. Now you can develop your muscles without using weights by instead using your body weight as the resistance.
Learn more in my complete review below!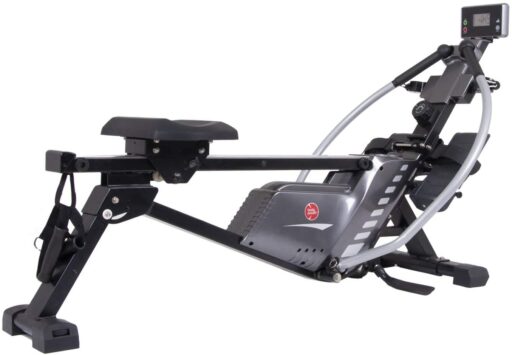 Product: Body Power 3-in-1 Conversion Rowing Machine BRW3268
Price: For a great deal on this rower, merely go here to Amazon.com
Warranty: Frame 1 year / Parts 90 days
My rating: 8.5/10
Affiliate Disclosure: As an Amazon Affiliate Program participant, I earn commissions on purchases made through links in this post. Full disclosure
Details and Specifications
Assembled dimensions: 66L x 30W x 36H inches (168L x 76W x 91H cm)
Assembled weight: 74 lbs (33.5 kg)
Supported weight: 250 lbs (113.3 kg)
Footrests: Pivoting, with straps
Resistance: Magnetic, eight levels
Fitness Monitor: Time, stroke count, calories burned
Warranty: Frame 1 year / Parts 90 days
BRW3268 Frame Construction
The Body Power 3-in-1 conversion rowing machine features a solid steel frame with a corrosion-resistant black paint finish. The only difference is the oar set which has a gray paint finish. Also, the tubing used for the core frame is rectangular, the oars are cylindrical, and the base bars are oval.
Of course, the rower also integrates several parts made from durable thermoplastic material. The most notable ones are the covers of the resistance system, the footrest, and several other trim surfaces.
The unit's resistance system is different from other magnetic rowers. The unit's frame has an additional oblique bar under the rail that holds all the main components of the resistance system. There's also a set of footplates at the base of the resistance system, which can support standing rows and other resistance band exercises.
The Body Power BRW3268 is not too large compared to other rowing machines. With all the parts assembled, it is approximately 66″ (168 cm) long and 30″ (76 cm) wide. Its highest point is the top of the fitness monitor, which reaches approx—36″ (91 cm) above the floor level.
The rear stabilizer of the rower can fold up, and the machine can store vertically on its front stabilizer and the front end of the rail. The fitness monitor's support bar can also fold back over the rail. In its folded position, the unit has a footprint of approx. 15″D x 30″W (38 x 76 cm).
Last, the rower is not super heavy, weighing approximately 74 lbs (33.5 kg). Therefore, one person can transport and assemble the machine. Also, once completed, it relocates via its front base, which features a set of small transport wheels.
Seat and other parts
The Body Power 3-in-1 conversion rowing machine features a seat with a high-density top with a contoured and textured shape to prevent the user from sliding backward during rowing. It's approx. 14″ (~35 cm) wide, providing plenty of contact surface.
The base frame of the seat is steel-made. It integrates three sets of wheels—two roll on the machine's rail and the third on the bottom for extra stability. The wheels integrate ball bearings and have an outer rubber layer for reduced noise during usage.
The rower's seat sits approximately 15″ (38 cm) above the floor. It's quite a plus, especially for users with disabilities, as it makes mounting and dismounting much more accessible.
In addition, the rail is pretty long, so the machine comfortably accommodates users up to 6'3″ (190 cm) with no problem allowing a complete leg extension. Also, the seat and the rail are pretty sturdy, having a maximum user weight limit of 250 lbs (113 kg).
The Body Power BRW3268 comes equipped with a set of pivoting footrests. They slightly tilt on their axis as you row to allow your feet to adapt better to your position throughout each stroke. In addition, they're from a durable polymer, featuring heel guards and adjustable straps.
Although the footrests have a pivoting design, they also have stoppers at the rear. Thus, they cannot tilt past an angle of approx. 60°.
The unit's oars curve slightly, with PVC foam grips and ball grips at the top. Their base joints allow them to move laterally so that you can perform a rowing motion resembling a real boat's action.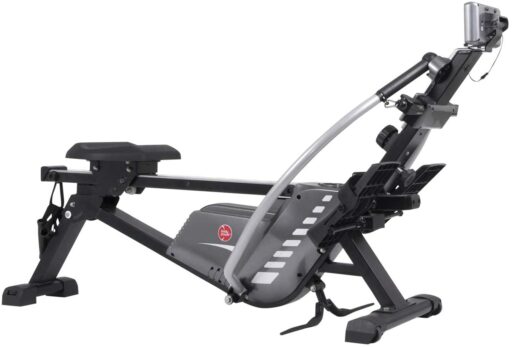 They attach to the rower's drive system power cords. A set of standard D-handles also comes with the machine. You can attach these to the power cords and perform seated or standing rows, bicep curls, or tricep exercises.
BRW3268 Resistance system
The Body Power 3-in-1 conversion rowing machine has a manual magnetic resistance system. Therefore, you don't need a power adapter or an external power source. However, on the other hand, the monitor cannot adjust the resistance automatically. Also, its fitness monitor does not have pre-set programs.
The machine's resistance system consists of a magnetic brake connected to the machine's tension knob. When you turn this knob, the brake moves closer or farther from the internal flywheel. Therefore, increasing or decreasing the rowing difficulty.
The unit offers eight levels of resistance. The lowest level delivers a light rowing difficulty, which is excellent for beginners or a light aerobic workout. Although the 8th level of resistance provides a distinguishably more incredible difficulty than the 1st level, it's not super challenging. Nevertheless, it does offer the possibility of performing a more consistent workout.
The main advantage of the magnetic resistance system is that the brake does not touch the internal components. Therefore, the unit generates considerably less noise than an air-resistance or water-resistance rower. Also, since the brake does not touch the flywheel, it suffers no wear and tear.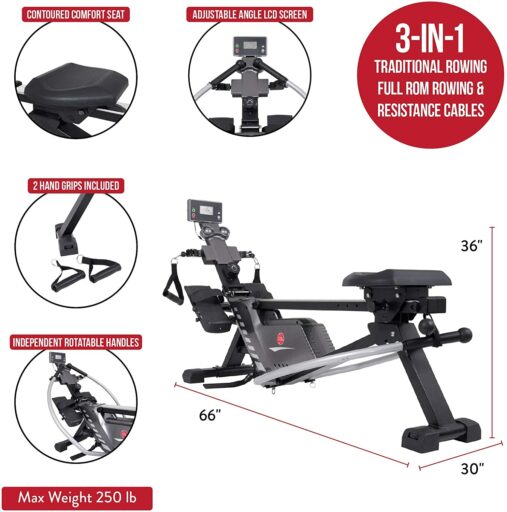 It's also important to note that it does not provide a dynamic response during rowing since the rower has neither air nor water resistance elements. Therefore, the resistance does not increase if you pull the oars faster, as for water or air resistance rowing machines.
In addition, this may also take away from the genuine rowing feel, but the machine compensates with the two independent oars rowing system.
Fitness monitor
The Body Power 3-in-1 conversion rowing machine comes equipped with a pretty simple fitness monitor. It has an LCD without an LED backlight that tracks time, stroke count, and calories burned. In addition, it also does not have a split-time or a stroke-per-minute reading. Unfortunately, it also does not track pulse or distance.
The monitor is pretty easy to use. It has three buttons – Set, Mode, and Reset. The Set button offers the possibility to create goals for your workouts. For example, you can set a goal for the number of calories you want to burn, and the monitor will count down from the selected value until it reaches zero.
The Mode button allows you to scroll through the metrics selecting the one you want to view on display. And finally, the reset button clears all the values to zero.
Unfortunately, the monitor has no pre-set programs, Bluetooth, or online connectivity and is incompatible with fitness apps. It is battery-powered, and the batteries come with the rower. It starts when you row and automatically turns off if it does not detect any activity on the machine for more than a few minutes.
BRW3268 Assembly and Maintenance
The Body Power BRW3268 rowing machine requires minimal user assembly. Most problematic parts (i.e., drive, resistance, etc.) are already pre-assembled into the mainframe. The manual provides pretty clear assembly instructions. Also, all of the assembly tools for the task come with the rower.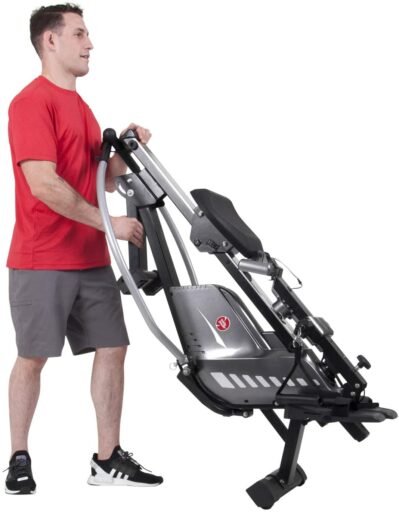 Once assembled, you don't have to worry too much about maintenance. However, you must keep the unit clean, periodically check for loose parts, and retighten them as needed.
Pros
Sturdy frame construction – can support users up to 250 lbs;
Folding design and can store upright;
Transport wheels integrated into the front base;
Adjustable levelers on the rear base;
Padded and contoured seat for optimal comfort;
Independent oar action, which simulates the rowing of a real boat;
D-handles for cable exercises included;
Large, adjustable footrests with straps for maximum foot stability;
Frictionless magnetic resistance with eight levels of difficulty;
Fitness monitor included – time, stroke count, and calories burned;
Goal setting function on the fitness monitor;
Device holder included;
Batteries for the fitness monitor included;
Easy to assemble;
Little maintenance is required.
Cons
The fitness monitor does not have a pulse reading function;
The fitness monitor does not have any pre-set workout programs;
The fitness monitor LCD does not have a backlight.
Body Power 3-in-1 Conversion Rowing Machine Summary
The Body Power BRW3268 is a rowing machine made for home use. It features an 8-level manual magnetic resistance system, a sturdy steel frame, a drive system with an independent oar action, and a pretty long rail that comfortably accommodates users up to 6'3″ (190 cm) with no problem. In addition, it also includes a simple fitness monitor. In all, it's a reasonably decent rower, great for a full-body cardio workout.
I hope you found this article helpful and informative. Would you please speak up if you have anything you'd like to share on the topic or any opinions about my website? I look forward to your comments, questions, and the sharing of ideas.
Please remember to consult your physician to determine if you have any medical or physical conditions that could put your health and safety at risk or prevent you from using the equipment properly. In addition, your physician's advice is essential if you are taking medication that affects your heart rate, blood pressure, or cholesterol level.