Kick-start your in-home workout with the Sunny SF-RW5864 Magnetic Rowing Machine. Produce powerful strokes on the Sunny rower while you push back on the long 40″ slide rail with a 41″ inseam. With a simple twist of the resistance knob, you can increase or decrease resistance so your workout can remain challenging and effective throughout your fitness journey.
Unlike traditional rowers, the non-slip grip handlebars provide full-motion capabilities giving the user an authentic rowing experience—challenging muscle groups in your upper and lower body with ergonomic rowing arms. As you row, the rhythmic motion helps you target muscle groups in the back, abs, arms, and glutes.
The Sunny SF-RW5864 magnetic rowing machine features a molded padded seat designed to be comfortable and functional to ensure proper blood flow in the glutes for prolonged and vigorous workouts. In addition, the high-profile seat design is 22 inches from the ground, making it easy for anyone to get on/off the rower without bending and straining their back.
The SF-RW5864 has a simple fitness monitor to track stroke count, calories burned, and time. Use the set option to create custom workouts, goals, and time trials. Then, quickly glance at your workout information with the eye-level digital monitor.
Learn more in my complete review below!
Product: Sunny SF-RW5864 Magnetic Rowing Machine
Price: For a great deal on this rower, merely go here to Sunny Health & Fitness.com
Warranty: Frame 3 years / Parts 180 days
My rating: is 8/10
Affiliate Disclosure: As a Sunny Health & Fitness Affiliate Program participant, I earn commissions on purchases made through links in the post. Full disclosure
Details and Specifications
Assembled dimensions: 73L x 24W x 42H inches (185L x 61W x 107H cm)
Assembled weight: 94.8 lbs (43 kg)
Weight capacity: 265 lbs (120 kg)
Footrests: Pivoting, with straps
Resistance type: Magnetic, eight levels
Fitness Monitor: Time, count, total count, calories, SCAN
Warranty: Frame 3 years / Parts 180 days
SF-RW5864 Frame Construction
The Sunny SF-RW5864 magnetic rowing machine features a steel tubing frame combining rectangular, oval, and cylindrical tubes in its construction for improved aesthetics and sturdiness. In addition, all the steel tubes have a durable gray paint finish.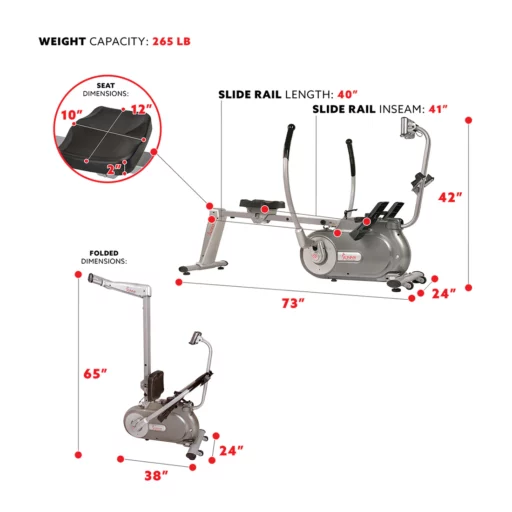 Of course, this Sunny rower also has several non-metallic parts in its construction. The most notable ones are the drive and resistance elements, the covers of the rear stabilizer, and the footrests. These are rigid ABS polymers.
The rower is relatively large. With all the parts assembled, it is approximately 73″ (185 cm) long and 24″ (61 cm) wide. It's also advisable to leave at least two feet of clearance on each side, and another two feet at the rear of the unit, to be sure you can safely execute the rowing motion properly without any hindrance.
The rower's frame is foldable. The rail with the seat can fold up to save some space. With the rail folded, the unit's footprint reduces to 38″L x 24″W (96.5 x 61 cm), while its height reaches 65″ (165 cm). The machine is relatively heavy as well. However, once assembled, it's easy to move as its front base has transport wheels.
The unit's rail is relatively long, and this machine's applicable user inseam length is 41″ (104 cm). Therefore, the rower comfortably accommodates users up to 6'5″ (196 cm) with no problem allowing for a full leg extension.
Seat and other parts
The Sunny SF-RW5864 magnetic rowing machine comes equipped with a pretty standard seat. Its top is high-density foam and has a contoured surface for improved comfort.
It is approximately 12″ (30.4 cm) wide and 10″ (25.4 cm) deep. In addition, it also stands pretty high above the floor; its highest point (at the rear of the rail) is 22″ (56 cm), making entry and exit considerably more accessible, especially for the elderly.
The seat's base is steel-made, just like the rest of the frame. It comes equipped with three sets of wheels. Two sets slide atop the rail, while the third is at the bottom for improved stability. The wheels integrate high-grade ball bearings with an outer rubber layer for smooth motion and reduced noise.
The Sunny SF-RW5864 rower features a dual-action oar rowing system. Its oars are tubular steel attached to the unit's drive system and have rubberized grips with ball grips at the top. Unfortunately, they do not have any HR pulse sensors or other controls.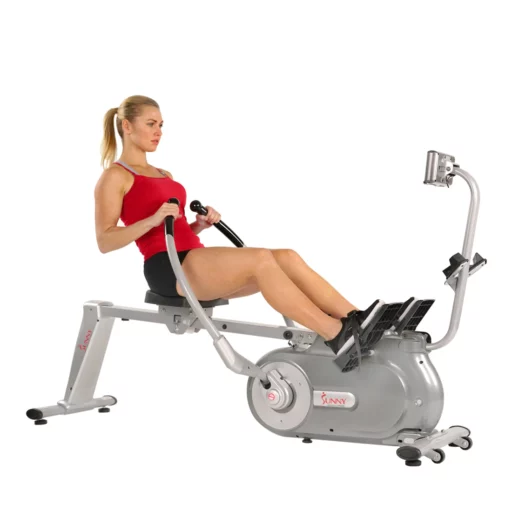 The machine's footrests are a bit larger than the older SF-RW5624 model. However, they're a durable thermoplastic material. In addition, they have a textured surface, heel guards, and adjustable straps, so you can perfectly secure your feet on them.
The footrests are not size-adjustable but large enough to accommodate athletic shoes. In addition, they have a pivoting design. Therefore, they can tilt back and forth on their axis to adapt better to the positioning of your feet during rowing. Furthermore, they have heel stoppers but won't tilt backward past an angle of approximately 50°.
SF-RW5864 resistance and drive
The Sunny SF-RW5864 magnetic rowing machine has a manual magnetic resistance system. Thus, you don't need an adapter or an external power source. However, it also means the monitor cannot adjust the resistance automatically.
The rower integrates a magnetic brake connected to the tension knob on the front unit via a steel cable. Thus, when you turn the knob left or right, the magnets change their position to the internal flywheel, decreasing or increasing the workout load.
The rower makes available eight difficulty settings. The first one delivers a relatively light resistance, which is great for warm-up or recovery training. Conversely, the 8th tension level provides considerably more resistance, offering quite a challenge even for a seasoned user.
Furthermore, the machine does not provide a dynamic response during rowing, so you won't meet more resistance if you pull faster, like a water-resistance rower or an air rower.
However, it offers a dual-action oar drive system that simulates oars on a real boat. The oars move independently, so you can row using only one oar. Furthermore, they can also move laterally, so you can engage more muscles and diversify your workouts.
One last aspect to note regards the rower's drive system. The machine integrates three pulleys, a chain, and a belt. This drive system stabilizes the rowing motion, resistance, and ride consistency.
Fitness monitor
The Sunny SF-RW5864 magnetic rowing machine comes equipped with a simple fitness monitor. However, it does not have Bluetooth or online connectivity, and it also does not have pre-set workout programs.
It features an LCD that tracks time, count (strokes performed during the current workout), total count (strokes performed since the first use), and calories burned. However, it does not show time/500m and distance. Unfortunately, it also doesn't have a pulse reading function. Therefore, you must use a separate device to monitor your pulse.
Although the monitor does not have pre-set programs, it allows setting time, count, and calorie goals. After choosing a goal, it will count down from the selected value until zero. This function is helpful if you want to keep track of your progress and push your limits with every training session.
The fitness monitor is pretty easy to use. It has three buttons: Set, Mode, and Reset. The Set button covers the goal-setting function. The Mode button allows you to scroll through the workout metrics and select the one you want to view.
You can also select the Scan Mode, which automatically rotates all the metrics showing each one for 6 seconds. Finally, the Reset button clears the time, count, and calorie values to zero.
The battery-operated fitness monitor requires two AAA batteries which come with the rower. It begins recording your data when it detects oar movement. In addition, it also automatically turns off after four minutes of inactivity on the rower.
SF-RW5864 Assembly and Maintenance
The rower's main drive and resistance components come pre-assembled with the attached display arm and monitor. The rest of the parts require user assembly. You will have to connect the front base stabilizer, the footrests, the oar support plate, the oars, the seat with the rail, and the rear stabilizer.
Consequently, it shouldn't take more than one hour of your time. All the necessary tools come with the rower, and the manual provides step-by-step assembly instructions with attached schematics.
You only have to keep the rower clean, especially the rail, to prevent damage to the seat's wheels for maintenance. Although the internal drive system integrates a chain, it is pre-lubricated and shouldn't need further lubrication for many years. It is also advisable to periodically check for loose bolts and parts and retighten them.
Pros
Sturdy construction – can support users up to 265 lbs;
Dual oar action;
Independent oar movement;
Space-saving, folding design;
Adjustable levelers;
Transport wheels included;
Contoured seat with a 22″ height for easy entry and exit;
Long rail (40″) – for users up to 6'5″;
Pivoting footrests with heel guards and adjustable straps;
Manual magnetic resistance with eight distinct levels;
Dual drive system (chain and belt) for extra motion stability and added resistance;
Fitness monitor included – it tracks time, count, t-count, and calories burned;
Goal settings for time, count, and calories;
Device holder integrated into the fitness monitor;
Display arm for the fitness monitor with angle adjustability;
Quiet operation;
Easy to assemble;
Little maintenance is required;
Excellent warranty.
Cons
The fitness monitor doesn't have a backlight;
The fitness does not have 500/time, distance, or HR pulse readings;
The fitness monitor does not have any workout programs or online connectivity.
Sunny SF-RW5864 Magnetic Rowing Machine Summary
The Sunny SF-RW5864 is a rowing machine made for home use. It features an 8-level magnetic resistance, a dual oar action drive system, a comfortable seat, and a fitness monitor that tracks time, count, total count, and calories burned.
In addition, it also has a high seat (22″) with a contoured saddle and a 40″ long rail. Moreover, it's an excellent machine for users of all levels for a full-body cardio workout, muscle toning, stamina development, and weight loss.
I hope you found this article helpful and informative. Would you please speak up if you have anything you'd like to share on the topic or any opinions about my website? I look forward to your comments, questions, and the sharing of ideas.
Please remember to consult your physician to determine if you have any medical or physical conditions that could put your health and safety at risk or prevent you from using the equipment properly. In addition, your physician's advice is essential if you are taking medication that affects your heart rate, blood pressure, or cholesterol level.