The Tunturi C30 Cardio Fit Elliptical is a fitness machine for home use, and it offers quite a few more features than an elementary model. It's in the same range of features as the Marcy NS-40501E. However, the Marcy elliptical does not have a pulse reading function like the Tunturi C30 has.
The Tunturi C30 Cardio Fit Elliptical features eight different resistance levels, allowing the user to customize their workout depending on the desired challenge for the moment. In addition, the C30 offers the low-impact, total body workout afforded by a cross-trainer.
The comfortable foam leather saddle is adjustable through a wide range. Its easy-to-read LCD shows the current speed, elapsed time, distance (trip and total), calories burned, and heart rate. Immediately above the display is a substantial holder for a tablet or smartphone.
With 90 years of producing related products, Tunturi has brought its unique fitness line back to the USA. Their "cardio fit" line is a series of machines that feature simple controls for the casual or beginning user.
Learn more in our complete review below!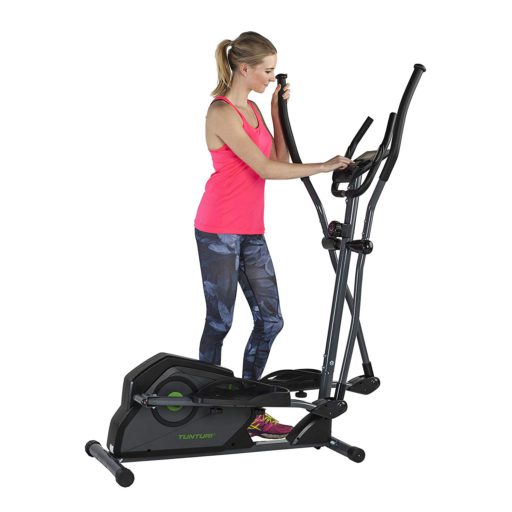 Product: Tunturi C30 Cardio Fit Elliptical
Price: For a great deal on this elliptical, merely go here on Amazon
Warranty: Frame 2 years / Parts 2 years
My rating: 7/10
Affiliate Disclosure: As an Amazon Affiliate Program participant, I earn commissions on purchases made through links in this post. Full disclosure
Details & Specifications
Assembled dimensions: 49L x 24W x 64H inches (125L x 61W x 162.5H cm)
Assembled weight: 75 lbs (34 kg)
Weight capacity: 242 lbs (110 kg)
Stride: 16 inches (40 cm)
Incline: No
Pedals: Adjustable
Resistance: Manual magnetic, eight levels
Console: Time, distance, total distance, speed, calories, pulse, goals, SCAN
Extras: Tablet holder
Warranty: Frame 2 years / Parts 2 years
C30 Frame & parts
The Tunturi Cardio Fit C30 cross-trainer features a frame made of steel tubing. There are a few exceptions, though. For example, the covers of the drive mechanism, the pedals, and several other small covers have durable ABS material. In addition, all the steel parts come with a rust-resistant paint finish; the color used is dark gray.
As I've mentioned earlier, the Tunturi C30 is a machine made for home use, so it does not provide a heavy-duty setup like a commercial unit. However, it's still durable enough to support users up to 242 lbs (110 kg). In addition, the fully assembled unit is not extremely heavy. It weighs approximately — 75 lbs (34 kg), which means that one person is all that it takes to construct the machine.
Its center of gravity is pretty close to the ground; therefore, the unit provides excellent stability. Its rear base has rotating polygonal stabilizers, which allow you to level the machine on an uneven floor. It is advisable to place and use it on a mat.
Compared to other elliptical trainers, such as the BodyCraft ECT400G, the Tunturi C30 is not a large unit. When fully set up, its footprint is approximately 49″L x 24″W (125 x 61 cm). However, you will have to consider the moving elements' extension when the machine is in use. Furthermore, it's advisable to leave at least two feet of clearance all around the unit for safe operation and access.
The C30 has two sets of handlebars. One is mobile, and one is stationary. The mobile handlebars feature an extended rubberized area with oval grips at the top. The non-moving handlebars also have rubberized grips, and they also integrate stainless steel pulse sensors.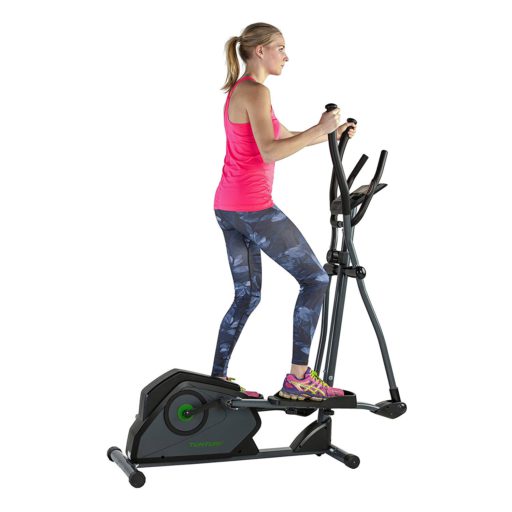 The machine's pedals are heavy-duty ABS material. They're attached to steel bars, and they should be able to support users up to 242 lbs (110 kg) with no problem. Each pedal has three connection positions on its bar. They're also easy to connect/disconnect to their bars via two knobs each.
Stride, elliptical path & step-up height
Compared to other similar rear-drive elliptical trainers, the Tunturi C30 Cardio Fit features a slightly longer stride.
It measures 16″ (~40 cm), providing an ampler range of motion for taller users. Thus, it should accommodate users comfortably up to 6'1″ – 6'2″ (185 – 188 cm).
Like most elliptical machines with a rear drive, the Tunturi C30 has a slightly inclined forward elliptical path. Thus, the ride on this machine feels like descending on a very soft ramp. This can be a plus, as it provides a better workout for the glutes.
The step-up pedal height of this elliptical trainer is approximately 10″ (25.4 cm). Also, the pedal's highest point is about 14″ (35.5 cm). Therefore, it's advisable to use the machine in a room with a ceiling of at least 20″ (51 cm) higher than your height.
C30 drive & resistance
Although it's a light-capacity elliptical trainer, the Tunturi C30 Cardio Fit has a relatively heavy internal flywheel. It's also perimeter-weighted, which means it delivers more aggressive inertia and smooth rotating motion.
The flywheel is bi-directional; you can pedal in reverse if you want. Therefore, you can diversify your workouts. In addition, when pedaling in reverse, the console continues to track your workout stats based on the flywheel rotations.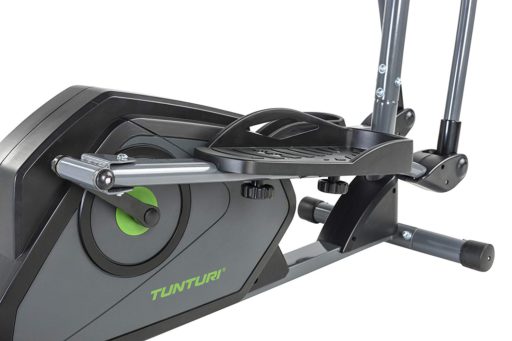 This Tunturi elliptical trainer features a manual magnetic resistance system. This means it integrates a magnetic brake attached to the tension knob on the console mast. By turning the knob clockwise, the brake moves closer to the flywheel, which increases the intensity of the internal magnetic field. This leads to more incredible pedaling difficulty.
There are eight tension levels specified on the resistance dial of the machine. The first one delivers little resistance. Conversely, the 8th tension level provides quite a bit of pedaling difficulty. This is excellent if you want to achieve a higher heart rate in a shorter period and a better overall cardio workout.
Like most other fitness machines with a magnetic resistance system, this elliptical trainer features a belt drive system. It uses a heavy-duty rubber belt, which provides a very smooth and quiet pedaling motion. As opposed to a chain drive, it does not require periodic lubrication. Also, it generates less vibration than a chain.
Console
The C30 has a fitness console that tracks time, distance, total distance, speed, calories, and pulse. Unfortunately, for the speed and distance readings, there are only metric units available.
For pulse reading, the machine has metallic HR pulse sensors in the fixed handlebars. Unfortunately, the console is not telemetric, and therefore, it does not read your pulse through an HR chest strap. Thus, to benefit from a pulse reading, you will have to use the sensors.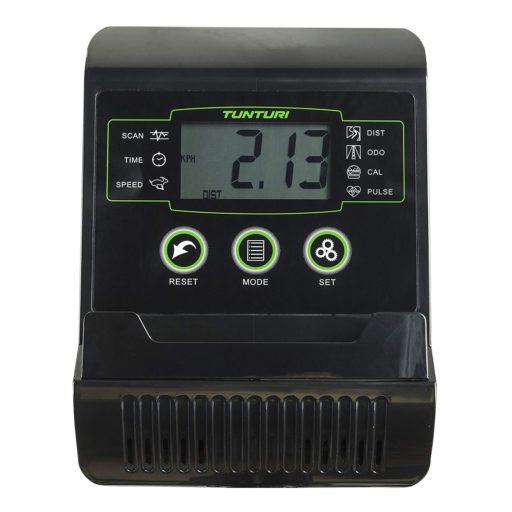 The unit is relatively easy to operate. There are three main buttons: MODE, SET, and RESET. The MODE button allows you to toggle the unit's SCAN function ON/OFF.
When the SCAN function is ON, the display shows each workout metric for 4 seconds. The SET button allows you to set up goals for time, distance, and calories. And the RESET button clears all the values to zero.
The console has no other onboard programs, only the target settings for time, distance, and calories. It also does not connect online, nor is it compatible with any online fitness apps.
The console is battery-operated and uses two AA batteries that do not come with the machine. It starts up when you begin to pedal or press a button. It also has a sleep mode if there is no activity on the bike for 4 minutes.
Last but not least, the machine's console incorporates a tablet holder. This accessory is at the bottom of the unit; it's large enough to accommodate any tablet.
C30 Assembly & Maintenance
The base of the machine with all the drive and resistance elements comes pre-assembled. The other parts require assembly, though.
As a general idea, you will have to attach the base bars to the mainframe, the console mast (and connect the tension cable), the pedals, the moving arms, the fixed handlebars, and finally, the console. This may take more than an hour.
However, the manual provides clear step-by-step assembly instructions, and the included schematics are pretty helpful — also, an essential toolkit (is provided) for the assembly.
Maintenance doesn't require much. You have to keep the unit clean, keep any liquids away from the console, and check for loose parts from time to time. The internal mechanism does not require any lubrication.
Pros
Fairly sturdy construction – can support users up to 242 lbs (110 kg)
It comes with adjustable stabilizers on the rear base;
Transport wheels on the front base;
Fixed and mobile handlebars;
Bi-directional flywheel provides a smooth and steady pedaling motion with a consistent momentum;
Oversized, non-slip pedals;
Three attachment positions for each pedal;
There are eight levels of magnetic resistance;
A console that can track time, distance, total distance, speed, and calories burned;
Pulse sensors and pulse reading function;
Target settings for time, distance, and calories;
Tablet holder included;
Its operation is quiet;
Easy to assemble;
Little maintenance is required.
Cons
The LCD isn't backlit;
If a tablet is on the tablet holder, it will block the view of the LCD.
Tunturi Cardio Fit C30 Elliptical Summary
The Tunturi Cardio Fit C30 is a light-capacity elliptical trainer made for home use. Furthermore, it has a manual magnetic resistance system, adjustable pedals, and a console that tracks the most crucial workout metrics. It also has a pulse reading function through integrated pulse sensors.
Moreover, it's an excellent machine for light to medium-intensity cardio workouts, recovery training, stamina development, muscle toning, and even weight loss. In all, it offers a fairly decent value for the price.
I hope you found this article helpful and informative. If you have anything you'd like to share or opinions about my website, please speak up. I look forward to your comments, questions, and the sharing of ideas.