Emulate the sound and feel of actual water rowing with the FDF Apollo Pro II Reserve AR Rowing Machine. To help save space when not in use, the Apollo Pro II can store upright and comes with front-mounted transport wheels for a smooth relocation.
The commercial-grade Apollo Pro II rower is highly functional and ergonomically designed for optimum comfort. Apollo Pro II has a high-quality steel head frame and hand-lacquered American Ash wood side rails (sourced from sustainable forests) for long-lasting durability with its distinct look and feel.
The FDF Apollo Pro II's water tank utilizes a unique triple-bladed impeller and baffled tank. The result is it delivers instant catch and consistent motion with no dead spots throughout the whole stroke. In addition, its Variable Fluid Resistance system allows you to adjust your rowing intensity from feather-light to Olympic sprint with the simple turn of a dial.
The FDF Apollo Pro II Reserve AR Rowing Machine comes with a multi-level monitor to keep you motivated as you work out. It displays your workout data as you exercise, including time, distance, 500m split time, strokes per minute, calories per hour, watts, and heart rate.  The monitor also features a handy USB port.
Learn more in my complete review below!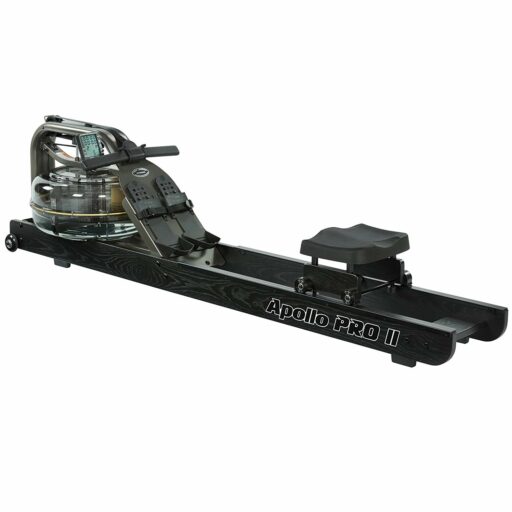 Product: FDF Apollo Pro II Reserve AR Rowing Machine
Price: For a great deal on this rower, merely go here on Amazon
Warranty: Frame 10 years / Tank & seals 3 years / Mechanical 2 years / Wear parts 1 year
My rating: 9/10
Affiliate Disclosure: As an Amazon Affiliate Program participant, I earn commissions on purchases made through links in this post. Full disclosure
Details and Specifications
Assembled dimensions: 84L x 22W x 21H inches (213L x 56W x 54H cm)
Product weight: 75 lbs (34 kg) w/o water; 112.5 lb (51 kg) w/ water
Supported weight: 330 lbs (150 kg)
Frame: Wood (Ash) & steel
Footrests: Adjustable, with straps
Resistance: Water, adjustable (4 levels)
Console: Time, distance, strokes per minute, watts, calories/hour, 500m split time, HR capable, USB port
Warranty: Frame 10 years / Tank & seals 3 years / Mechanical 2 years / Wear parts 1 year
Apollo Pro II Frame construction
The Apollo Pro II Black Reserve AR from First Degree Fitness (FDF) features a frame that combines wood and steel elements. The front part which supports the water tank is steel tubing. Its rails are American Ashwood, which has protective black paint.
The machine is not too heavy; it weighs approx. 75 lbs (34 kg) without water inside the tank, and approx. 112 lbs (51 kg) with water. It can be handled, transported, and stored with ease, though, as it has a set of large silicone wheels at the front.
Like several other First Degree Fitness rowers, the Apollo Pro II Black Reserve stores vertically. Therefore, the water can remain in the tank when the vertical machine. Its storage footprint is 22″ x 21″ (56 x 54 cm), but when it's in the usage position, this rower is relatively large, especially lengthwise.
It measures 84″ (213 cm) in length and 22″ (56 cm) in width. Furthermore, it is advisable to leave at least two clearance feet on each side and at the rear for safe operation. The machine's side rails are long enough to accommodate users up to 6'7″ (201 cm).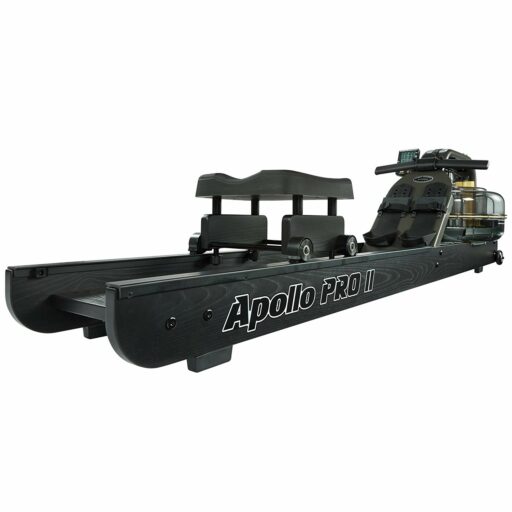 The machine's frame offers excellent stability. It rests on four large rubberized stabilizers. However, they are not adjustable. So if the floor or the surface where you'll be using this machine is uneven, it's advisable to use a rubberized mat.
One last aspect to note here regards the paint finish of the metallic frame of the water tank. To match the rest of the machine, the color used for this section is also black. In addition, the paint finish is corrosion and scratch-resistant.
Seat, Footrests, and Pulling Handle
The FDF Apollo Pro II Black Reserve features a durable seat to support users up to 330 lbs (150 kg). In addition, it has a contoured and textured surface to prevent you from sliding off. Unfortunately, it doesn't integrate extreme cushioning but does have a layer of padding. Thus, I can safely say that it provides optimal comfort.
The seat has a smooth and quiet action. It has four heavy-duty wheels that integrate industrial-grade ball bearings. Each wheel has a top cover to prevent clothing or other objects from catching the wheels. However, for example, they're not entirely concealed, such as for the FDF Vortex VX-3.
The top of the seat is approx. 16″ (40 cm) above floor level. Therefore, entry and exit are reasonably accessible, which is a plus for users with disabilities or the elderly.
The FDF Apollo Pro II Black Reserve comes with adjustable footrests. Their angle is non-adjustable. The metallic plate they sit on is approximately 45 °, which is pretty standard for most rowing machines. The footrests are length-adjustable, though. They feature heel guards and adjustable straps to deliver maximum foot stability.
Finally, the rower has a slightly curved pulling handle to reduce the wrists' stress during exercising. In addition, it features high-density foam grips for optimal comfort and is attached to a heavy-duty nylon strap.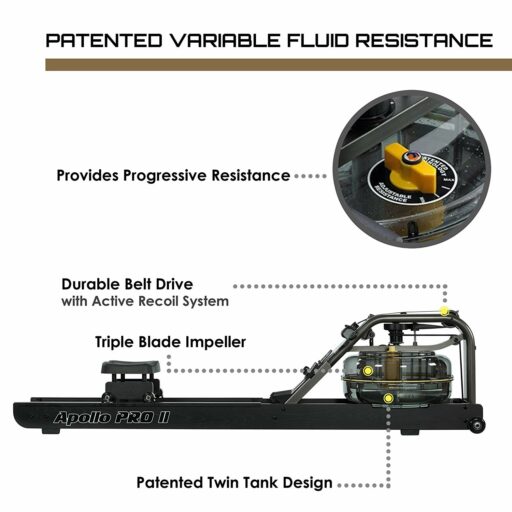 Apollo Pro II Water tank & drive system
The Apollo Pro II Black Reserve comes with a durable polycarbonate water tank that integrates a unique 3-bladed impeller designed to deliver an instant catch and a consistent resistance throughout the stroke. It's a twin-chamber tank featuring a "storage" chamber and the "active" chamber.
The dial on the top of the tank allows you to change the active chamber's water level. Thus, it will adjust the overall resistance.
For example, if you have all the water in the active chamber, the machine will generate the maximum resistance level possible, providing pro athletes' training.
Conversely, if you set the dial to the minimum level, 3/4 of the water will pass into the storage chamber, and the machine will generate 3/4 less resistance.
The water tank capacity is 4.5 gal (17 liters), and to generate resistance, it requires a quantity of water between 2.3 and 4.5 gals (9-17 liters). Therefore, it's advisable to fill to its maximum capacity of 17 liters for you to benefit from the four distinctive levels of resistance.
Since it's a fluid rower, the Apollo Pro II Black Reserve generates a dynamic response during rowing and a feel similar to rowing a real boat. Differently put, the resistance varies proportionally with the speed and strength you put behind each stroke, regardless of the selected resistance level.
Therefore, it is quite a plus for users who want to train professionally, as the machine's drive and resistance can prevent them from developing bad habits or improper form.
Finally, the level of noise generated by the water tank is minimal. The First Degree Fitness fluid rowers are far less noisy than air resistance rowers. In addition, the sound produced by the impeller in the water tank can have a relaxing, disconnecting effect.
Console
The Apollo II Pro Black Reserve comes with an advanced console. It has a large LCD, which divides into multiple panels, which allows all of the workout metrics to be displayed simultaneously; you don't have to use a scan function to rotate them.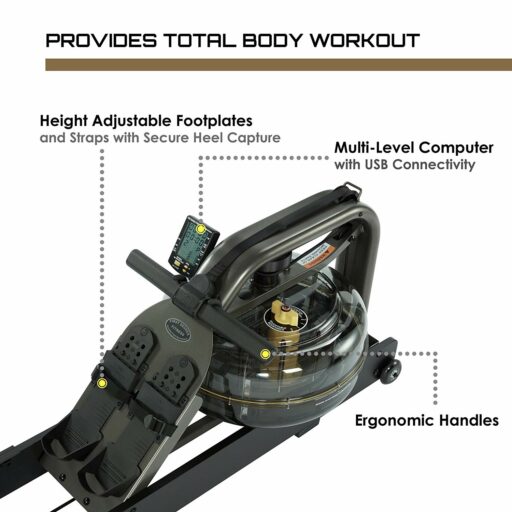 The unit shows time, 500M time, strokes per minute, distance, pulse, watts, and calories per hour. The console offers the possibility to add 1000m for each press of the large button for the range. Also, this button covers the unit's reset function. By holding it down for three sec., the metrics will reset.
Since the water tank features four resistance levels, the console also has a 4-level difficulty function. Therefore, to benefit from correct readings, it is required to correlate the water tank's resistance with the resistance level selected on the console.
For example, if the dial on the water tank is on MAX, you must set the console at level 4 to provide optimal tracking of the fitness statistics displayed.
The unit has a USB port to connect it to a PC via USB cable. For example, it enables you to use various First Degree Fitness apps, such as the "NetAthlon 2 XF for Rowers". These apps allow you to save and track your workout data online or compete with other rowers.
The console is telemetrically enabled, and it can read your pulse via a wireless HR chest strap transmitter. However, the HR chest strap does not come with the rower. The console is battery-operated, and it uses two AA batteries, which are also not provided.
Apollo Pro II Assembly and Maintenance
The machine's water tank comes pre-assembled and integrated into the metallic frame. Therefore, you will only need to attach the machine's two main rails, the seat, the footrests, and the console; then, connect the bungee cord to the hook under the frame's rear board and fill up the tank with water.
The included manual will guide you through the whole process — all of the tools necessary come with the machine. The task shouldn't take more than one hour.
Maintenance requires you to periodically add a chlorine pill into the water tank to prevent algae's formation — the chlorine pills come with the rower. The rails should be kept clean, free of any objects or textile fibers that damage the seat's wheels. It's advisable to check the machine's integrity periodically, check for loose or broken bolts and parts and re-tighten / replace them if it's the case.
Pros
Durable construction and a maximum weight capacity of 330 lbs (150 kg);
Elegant design;
It can store standing vertically;
Easy to handle and transport;
Adjustable footrests;
Water-resistance system, delivering a dynamic response and a natural rowing feel;
Dual-chamber water tank, with four distinctive water resistance levels;
Contoured, textured, and ergonomically designed seat;
The seat is relatively high, offering easy entry and exit;
The advanced console included featuring a multi-panel LCD which shows time, 500m time, pulse, distance, strokes per minute, calories per hour, and watts simultaneously;
The USB connection, for online workout data tracking or using online apps;
Its operation is smooth and quiet;
Rowing machine for users of all levels;
Little maintenance required;
Easy to assemble;
Excellent warranty.
Cons
The LCD isn't backlit;
The HR chest strap does not come with the machine.
FDF Apollo Pro II Reserve AR Summary
The FDF Apollo Pro II Reserve AR is a commercial-grade fluid rower. It comes with a 4-level water tank and an advanced console. It has an aesthetic design, combining American Ashwood & steel components, supporting up to 330 lbs (150 kg).
Moreover, it's an excellent machine for users of all levels, from beginners to Olympic athletes, perfect for full-body cardio workouts, interval workouts, endurance development, and weight loss. Admittedly, it's not an inexpensive fitness machine, but considering that it offers commercial-grade quality, the price-value ratio is not bad at all.
I hope you found this article helpful and informative. Would you please speak up if you have anything you'd like to share on the topic or any opinions about my website? I look forward to your comments, questions, and the sharing of ideas.