The Marcy NS-714U Upright Bike may not have the fancy features of an expensive bike, but it has everything you need. Its sturdy design to lightweight and magnetic resistance has absolutely everything that a cycle must-have. Still not convinced? Well, let me discuss its features so that you can buy the bike without worrying.
The frame of an exercise bike is the most important thing. If a bike does not have a sturdy frame, the exercise bike will never be highly durable. Incidentally, this Marcy exercise bike has a stable and robust structure. Even though the bike weighs 41lbs, the frame is strong enough to carry 300 lbs weight easily.
It is, of course, essential that your exercise bike offers proper resistance. Without adequate resistance, it becomes utterly useless to work out on an exercise bike. Luckily, the Marcy Ns-714U upright bike provides you with manual magnetic resistance. In addition, the bike offers 8-levels of magnetic resistance, which helps beginners and intermediate users get a good workout.
Easily track your progress and monitor your pace with this bike's battery-operated digital LCD. In addition, it has a built-in odometer and keeps track of speed, distance, time, and calories burned with a single touch. You can also quickly move or transport the unit without exerting too much effort, as the Marcy NS-714U Upright Bike comes built with wheels that enable quick transport.
Learn more in my complete review below!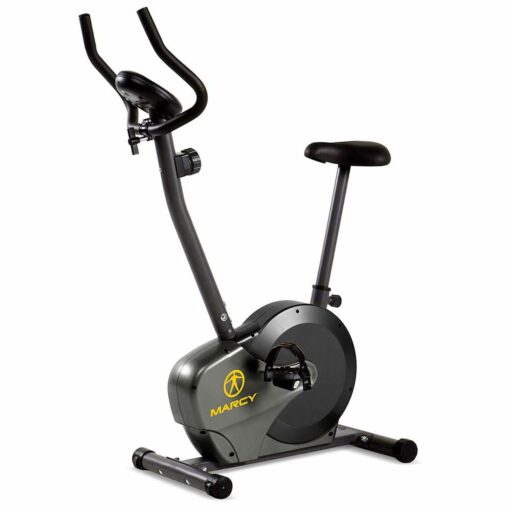 Product: Marcy NS-714U Upright Bike
Price: For a great deal on this bike, merely go here on Amazon
Warranty: 2 years limited
My rating: 8.5/10
Affiliate Disclosure: As an Amazon Affiliate Program participant, I earn commissions on purchases made through links in this post. Full disclosure
Details and Specifications
Assembled dimensions: 28L x 16W x 52H inches (81 x 48 x 130 cm)
Product weight: 41 lbs (23 kg)
Supported weight: 300 lbs (136 kg)
Handlebars: Adjustable
Seat: 2-way adjustable
Pedals: With straps
Resistance: Manual magnetic, eight levels
Bottle holder: No
Fitness console: Yes
Warranty: 2 years
NS-714U Frame
Although this Marcy exercise bike features lightweight construction, its frame is pretty sturdy, designed to support users up to 300 lbs (136 kg). The fully assembled bike weighs only 41 lbs (23 kg), which means it's not too difficult for only one person to transport and assemble.
Plus, the front base bar integrates two small wheels, facilitating the unit's relocation once it's constructed. Also, its rear base comes with polygonal rotating caps, which serve as stabilizers.
The Marcy NS-714U does not have a folding design. However, it's far from being a large fitness machine. With all the parts assembled, its base is approx — 28″ (71 cm) long and 16″ (48 cm) wide. The handlebar tips extend over the front support, though, so the unit's total length is approx 31″ (81 cm).
Thus, the bike doesn't take too much space. However, it is advisable to leave at least two feet of clearance all around it for safe operation and a safe entry/exit.
The bike's frame is cylindrical steel tubing, except for the longitudinal bar within the base part. There are several ABS parts in its construction as well, these being the flywheel covers and several other small covers. All the steel parts in the bike's construction come with a corrosion-resistant paint finish; the color used is gray, except for the crank arms, which have a chrome finish.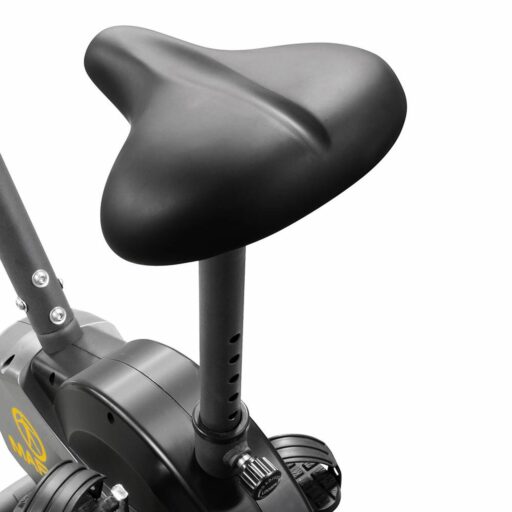 Seat & handlebars
The Marcy NS-714U features an adjustable handlebar. Unfortunately, its height is not adjustable, but you can change its angle position via the small knob on the front.
The handlebar features a multi-grip design. A layer of rubber foam material fully covers it to deliver a secure and comfortable grip. However, it doesn't integrate pulse sensors, and the bike's console cannot track your pulse.
The bike's seat is only two-way adjustable (up, down). Its upright post offers several extra inches of adjustability compared to the ME-708 model. It has an adjustment span between 28″ and 40″ (71 – 101 cm). This means it can accommodate users between 4'10" and 6'1″ (147 – 185 cm), promoting a complete leg extension.
The saddle included with the bike features a standard design. It's approximately 10″ (25.4 cm) long and 10″ (25.4 cm) at its widest point. It integrates a layer of padding for optimal comfort. In addition, its surface features a longitudinal groove to allow optimal airflow and prevent overheating.
NS-714U Resistance system
This Marcy exercise bike has a manual magnetic resistance system. It consists of a small magnetic brake attached to the tension dial on the console mast through a steel cable. As you turn the knob clockwise, the brake will come closer to the flywheel, increasing resistance.
Conversely, if you turn the dial counter-clockwise, the brake will move away from the wheel, decreasing resistance. Needless to say, since the resistance manual, the bike does not require being connected to a power source.
There are eight levels of resistance marked on the tension dial. The lower 1-2 levels provide very little resistance. These are for users who require recovery training or minimal stress on the joints due to various reasons. The top 7-8 tension levels aren't extremely tough.
The bike can deliver a mid-range resistance at best. However, when exercising on one of the high resistance settings and increasing your RPM, you can achieve a consistent cardio workout.
Drive system
Like most upright exercise bikes with a magnetic resistance system, the Marcy NS-714U features a belt drive system. It uses a heavy-duty, stretch-resistant belt. The main advantages of a belt drive are that it doesn't require lubrication. In addition, it generates less vibration than a chain, and the pedaling motion is almost entirely silent.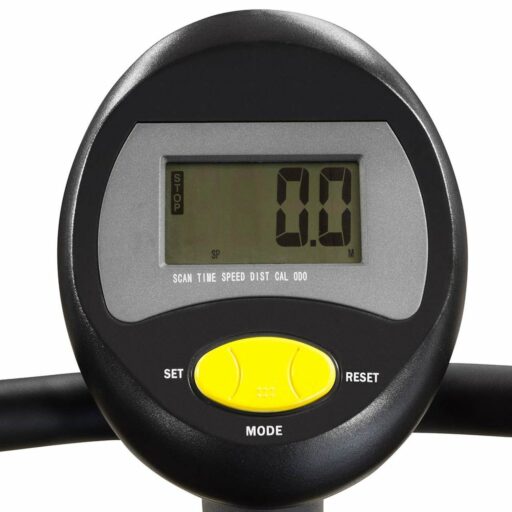 The bike integrates a small perimeter-weighted flywheel, which delivers a smooth and steady pedaling motion. Its weight is not specified, but since the bike's total weight is only 41 lbs, the flywheel weight is probably somewhere between 8-12 lbs (3.6 – 5.4 kg).
The flywheel is not bi-directional. Thus, if you pedal in reverse, you won't get any resistance. Also, pedaling in reverse is not advisable as it can result in damage to the internal parts.
The bike comes with a durable crankset with solid steel crank arms. However, it's an upright bike and doesn't support standing-up pedaling exercises like a spin bike. Therefore, it's advisable only to pedal when seated.
The included pedals are weighted and self-leveling. They also have adjustable straps. In addition, they have a non-slip surface and standard threads, so in case you need to replace them, compatible alternatives are widely available.
NS-714U Console
The Marcy NS-714U includes a fitness console. In addition, it features a 3.5″ LCD that can track time, distance, total distance, speed, and calories. Unfortunately, the bike's handlebars don't have integrated pulse sensors. Additionally, the unit cannot monitor your heart rate (it's not compatible with HR chest strap transmitters).
The console is relatively easy to operate. First, it has a SCAN function that rotates all the workout metrics showing each one for 4 seconds. The SCAN function can be toggled ON/OFF via the Mode button, so you can select one of the parameters to view at all times.
The SET button allows you to set up a countdown target for time, distance, and calories, while the Reset button clears all the values to zero.
The console uses 2 AA batteries, which do not come included with the bike. It has a sleep mode to which will enter after 8 minutes of inactivity on the bike. You can turn it on by pressing any of the buttons or by pedaling.
NS-714U Assembly and Maintenance
The base frame with the internal parts comes pre-assembled. You only need to attach the bike's base bars, the console mast, the handlebars, the console, the seat post, the seat, and the pedals. This shouldn't take more than 30-40 min. All the tools needed for the assembly come included, and the manual provides excellent step-by-step assembly instructions.
Since the bike has a belt drive system, you don't have to lubricate its internal parts. Therefore, you don't have to do much for maintenance. However, the periodic check of its joins, bolts, and nuts is advisable, and retighten them if necessary.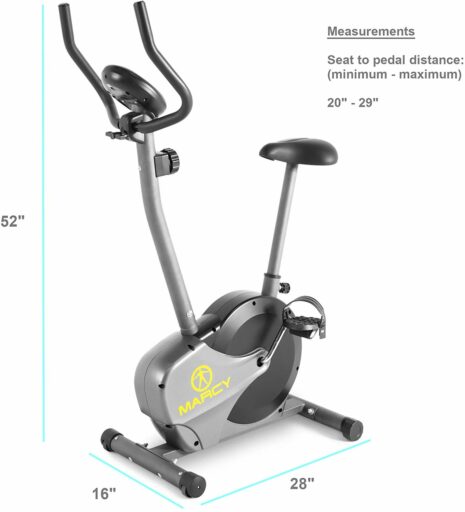 Pros
Solid construction, high user capacity (300 lbs) for a basic bike;
Adjustable stabilizers on the rear base;
Transport wheels;
2-way adjustable seat with an adjustment span between 28″ and 40″;
Multi-grip, adjustable handlebar;
Balanced flywheel, supplying a smooth and consistent momentum;
Quiet belt drive;
Weighted pedals with adjustable straps;
Zero friction magnetic resistance;
Eight distinct tension settings;
Fitness console included, capable of tracking time, speed, distance, calories;
ODO, SCAN, and goal setting functions on the console;
Little maintenance required;
Easy to assemble.
Cons
No pulse reading function;
The LCD isn't backlit;
No tablet holder.
Marcy NS-714U Upright Bike Summary
The Marcy NS-714U is an upright exercise bike for home use, and it features a solid steel frame with a weight capacity of 300 lbs and manual magnetic resistance. It has an adjustable seat and handlebars and also includes a fitness console that tracks the essential metrics.
Moreover, it's an exercise bike for beginners and intermediate users, great for light to medium cardio workouts, stamina training, recovery training, and weight loss. You can burn up to 3-400 calories per hour on it, depending on the resistance levels used. And finally, it's one of the most inexpensive exercise bikes available at the moment.
I hope you found this article helpful and informative. If you have anything you'd like to share or any opinions about my website, please speak up. I look forward to your comments, questions, and the sharing of ideas.