The Tunturi Cardio Fit B40 Upright Bike is a great bike to help stay in shape, for rehabilitation, and consequently, lose weight. The Cardio Fit B40 is the perfect upright bike for low to moderate-intensity workouts.
A 13.2 lb (6 kg) magnetic flywheel gives the B40 a lot of resistance. The flywheel has a balanced structure designed to provide a smooth and steady pedaling motion. It is possible to set 8 different levels of resistance for various workouts.
The LCD shows speed, time, distance, calories, and pulse during a workout. Because the monitor is battery-operated, the Cardio Fit B40 does not need electricity. This enables you to position the bike anywhere you like. With three programs, you can do a varied workout with the Tunturi Cardio Fit B40.
The Tunturi Cardio Fit B40 has oversized ergonomically shaped pedals. These are comfortable for short and long workouts. The foot fits well in the pedal and gives enough resistance. Also, the B40 has an ergonomically shaped saddle that feels very comfortable during long workouts.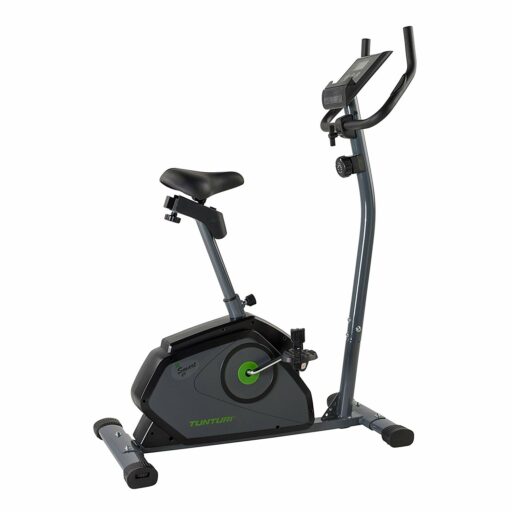 Learn more in my complete review below!
Product: Tunturi Cardio Fit B40 Upright Bike
Price: For a great deal on this bike, merely go here on Amazon
Warranty: 2 years
My rating: 8/10
Affiliate Disclosure: As an Amazon Affiliate Program participant, I earn commissions on purchases made through links in this post. Full disclosure
Details and Specifications
Assembled dimensions: 40.6L x 19.7W x 51.2H inches (103L x 50W x 130H cm)
Flywheel weight: 13.2 lbs (6 kg)
Assembled weight: 48.5 lbs (22 kg)
Weight capacity: 242.5 lbs (110 kg)
Seat: 4-way adjustable
Pedals: Weighted, with straps
Drive: Belt
Resistance: Manual magnetic, eight levels
Fitness Console: Time, distance, speed, calories, ODO, pulse, SCAN, goal setting
Amenities: Tablet holder
Warranty: 2 years limited
B40 Frame construction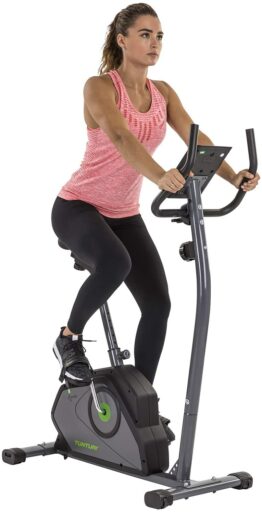 The Tunturi Cardio Fit B40 features a frame made of steel tubing. It combines cylindrical, ovalized, and rectangular bars in its structure. For example, the front mast and the seat post are circular, the base stabilizers are oval, and the central longitudinal base bar is rectangular.
All the steel bars in the unit's frame are double-coated with an abrasion-resistant and corrosion-resistant paint finish. The color used is dark gray, this being the only color available for this model.
Of course, the bike's construction also integrates ABS parts. For example, the covers of the drive and resistance elements and several other small covers are durable ABS plastic. Also, the rear base bar comes with adjustable levelers.
Like most other upright exercise bikes made for home use, the Tunturi B40 is not an extremely large unit. With its frame fully set up, it has a footprint of approx. 41″L x 20″W (103 x 50 cm). Thus, it shouldn't require more than 70″ x 60″ (178 x 152 cm) of usable space.
The fully assembled unit only weighs approx. 48.5 lbs (22 kg); therefore, it's relatively easy to assemble and transport by only one person. Plus, its front base has a set of transport wheels, which considerably ease its relocation.
There are two more notable features to mention here concerning the construction of this bike. One of them is the step-through design. This type of construction offers better access to the seat, making entry and exit considerably more accessible, especially for elderly users or users with specific disabilities. The other feature is the small plate with three notches in it, welded at the console mast base. This offers the possibility of attaching resistance bands to it, and therefore, you can also exercise with your arms while you pedal.
Seat and handlebars
The Tunturi B40 has a 4-way adjustable seat. Its upright post has several adjustment positions, but the seat also has an oblique slider, which offers several more adjustment inches. Therefore, the bike can accommodate users between 5'0″ and 6'2″ (153 – 188 cm). Also, the seat assembly has a maximum user weight capacity of 242.5 lbs (110 kg).
The saddle itself provides for optimal comfort. It's a pretty much standard bike seat. It does not have extra air cell cushioning. However, it does integrate a layer of foam padding and has a durable and flexible overall structure.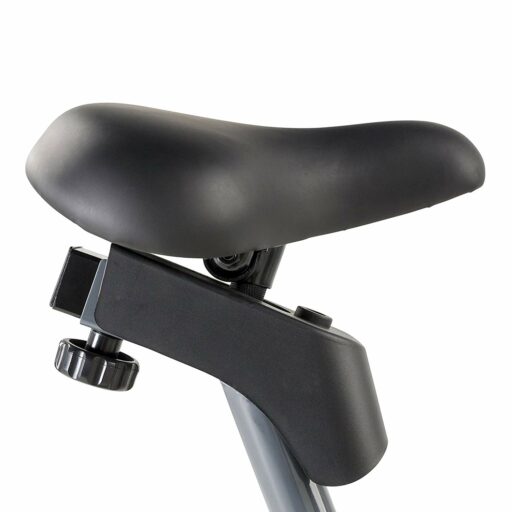 Its surface is contoured and has a longitudinal groove to promote breathability. Its attachment system to the slider features a standard collar; therefore, compatible options are widely available if you want to replace it.
The bike comes with a standard U-shaped handlebar. Its front grips are curved up to provide a more comfortable aero position. In addition, it offers the possibility to adopt at least three grips for your workouts.
The bike's handlebar is angle-adjustable. It is attached to the front mast via a small knob, which allows you to unlock, adjust, and re-tighten it in the desired position. A layer of rubber foam material covers its grips for optimal comfort. It also integrates metallic HR sensors, so the fitness console can monitor your pulse by holding on to them.
B40 Drive System
The Tunturi Cardio Fit B40 has a 13.2 lbs (6 kg) flywheel, a balanced structure designed to provide a smooth and steady pedaling motion. Although it is far from being as heavy as the flywheel of the average spin bike (which is approx. 40 lbs), its weight shouldn't matter that much, though, as the bike's resistance system is magnetic.
The internal drivetrain uses a heavy-duty poly-v belt. Therefore, the bike hardly generates any noise during pedaling. Also, since it's a belt, not a chain, it does not require periodic lubrication. Therefore, you don't have to go through the hassle of taking the covers apart every 2-3 months to lubricate their internal parts.
The bike comes with a durable crankset featuring solid steel crank arms with a chrome finish. However, it's not made for spin workouts or for standing up during pedaling. Since it's an upright bike, not a spin bike, it's for seated exercises only.
The pedals feature a weighted design. Their weight elements enable them always to turn up if you remove your feet from them. They have a non-slip surface and adjustable straps as well.
Pedaling in reverse is possible as well. And when pedaling in reverse, the console continues to track your workout metrics.
Resistance System
As I've mentioned earlier, this Tunturi exercise bike features a magnetic resistance system. It integrates a mechanical, magnetic brake attached to the tension dial on the front mast of the bike. By turning the dial clockwise, the brake moves closer to the metallic flywheel and generates more resistance.
Since the machine's resistance system involves a mechanical brake, the bike doesn't need a power source connection. Also, the console does not play any role in the resistance adjustment. Instead, it only tracks your workout metrics, and it is battery-powered.
The bike offers eight levels of resistance. The first one is relatively light, great for warm-ups or recovery training. The top 7-8 levels deliver a distinguishably higher resistance, simulating a steep climb.
B40 Console
The fitness console is battery-powered. It uses 2 AA batteries and starts up when you begin pedaling or pressing its Mode button. It also has a sleep mode to enter after four minutes of inactivity on the bike.
The fitness console features an LCD that tracks all the important workout metrics, including time, distance, total distance, speed, calories, and pulse. There is also a Scan function that rotates all these metrics, showing each one for 4 seconds.
The fitness console offers the possibility to select goals for time, distance, calories, and pulse. The SCAN mode needs to be Off to set a goal. Once a target is assigned, the console will show the remaining amount towards that goal. For the pulse goal, there is a difference, though.
Once you choose a pulsing target, the fitness console will notify you if you exceed it. The pulse target range is between 40 and 240.
The speed and distance values are shown only in metric units (km/h and km). There is no option for miles or MPH. The console is not telemetric; it cannot read your pulse from an HR chest belt, so you have to use the integrated pulse sensors.
There are three available buttons on the console, which are Set, Mode, and Reset. The Mode button allows you to enter set-up mode and enable/disable the Scan function.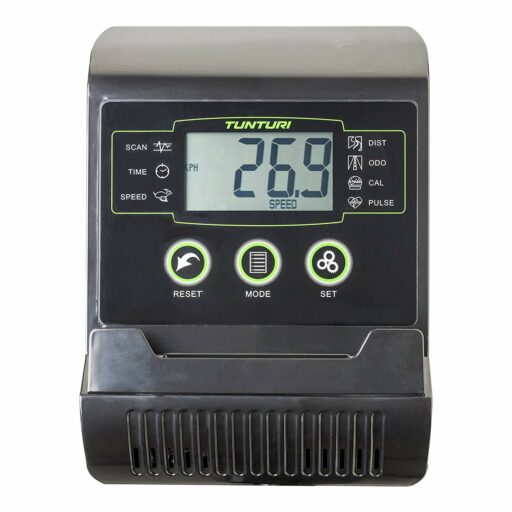 The Set button covers the goal-setting role, and finally, the Reset button will allow you to clear all the values on the console to zero, except the Odometer (or total distance). To select the Odometer, you have to remove the batteries.
Amenities
Finally, the fitness console features a tablet holder, which is at the very bottom. It's relatively large so that it can accommodate any smartphone or tablet. However, the fitness console does not have any connection ports for your tablet or smartphone and cannot communicate with your device in any way.
B40 Assembly and Maintenance
The mainframe of the Tunturi B40 comes pre-assembled, with the resistance and drive elements already in place. Therefore, you only need to attach the base stabilizers, the front mast, the seat bars, the saddle, the handlebar, the console, the pedals and connect the cables.
This shouldn't take more than one hour. The manual provides clear set-up instructions and an essential toolkit (is included).
Internal maintenance is not (required) for this bike, at least not for an extended period. All you need to do is keep the unit clean and periodically check for loose bolts and parts.
Pros
Fairly sturdy frame for a light exercise bike;
Step-through design;
Adjustable stabilizers on the rear base;
Transport wheels on the front base;
Multi-grip and angle adjustable handlebar;
Pulse sensors integrated into the handlebar;
4-way adjustable seat;
Quiet belt drive;
Zero friction magnetic resistance;
Eight resistance settings;
Weighted pedals with adjustable straps;
Fitness Console included;
ODO, SCAN, and goal setting functions on the fitness console;
Little maintenance required;
Easy to assemble.
Cons
No bottle holder;
The LCD does not have a backlight;
A tablet placed on the tablet holder will cover the LCD;
The calorie reading is not too accurate;
Value's in metric units (km/h, km) only.
Tunturi Cardio Fit B40 Upright Bike Summary
The Tunturi Cardio Fit B40 is an upright exercise bike made for home use. It features a manual magnetic resistance system with eight levels, a 4-way adjustable seat, and angle-adjustable handlebars, and its console tracks the main workout metrics and offers goal settings. It's a relatively small and light trainer, easy to assemble and handle.
It's for low to moderate-intensity workouts, muscle toning, calorie-burning, stamina development, and recovery training. And finally, it's an affordable exercise bike, offering reasonably decent value for the price.
I hope you found this article helpful and informative. If you have anything you'd like to share or opinions about the content on my website, please speak up. I look forward to your comments, questions, and the sharing of ideas.