Longtime Bowflex fans have eagerly anticipated the brand-new Bowflex Results BXE216 Elliptical. Exercising with low impact on your joints/tendons has always benefited from using Bowflex fitness equipment, yet this is one of the first "traditional ellipticals" built with Bowflex style.
The BXE216 has 25 levels of resistance to suit everything from light to challenging elliptical cross-training (strength and cardio) for home gym users at all ability levels. A top-notch feature is its 35-pound flywheel, which satisfies a commercial weight standard. The console can hold a tablet computer to help keep you motivated, and the built-in workout computer supports up to four user profiles.
As the name claims, this elliptical focuses on results.  The ellipse-shaped stride path is a generous 22 inches long. That's a bit longer than the average person's natural gait — and studies show that by stretching your stride a bit, you can burn more calories without perceiving a more significant effort.
Also supporting your progress are built-in training programs and a Bluetooth connection for syncing the workout data with mobile fitness apps. In addition to the usual elliptical workout feedback (time, distance, heart rate, total calories burned, etc.), you'll see calorie burn per minute, which can motivate you more than a cumulative report.
Learn more in my complete review below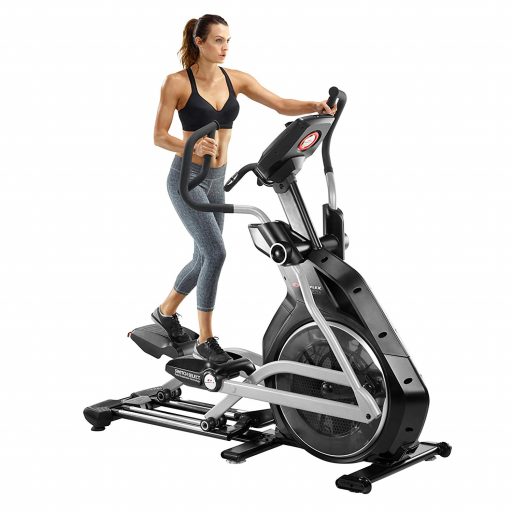 Product: Bowflex Results BXE216 Elliptical
Price: For a great deal on this elliptical, merely go here on Amazon
Warranty: Frame 15 years / Parts 5 years / Electronics 5 years / Labor 2 years
My rating: 8/10
Affiliate Disclosure: As an Amazon Affiliate Program participant, I earn commissions on purchases made through links in this post. Full disclosure
Details and Specifications
Assembled dimensions: 77L x 31W x 70H inches (197L x 79W x 178H cm)
Assembled weight: 263 lbs (119 kg)
Flywheel weight: 35 lbs (15.8 kg)
Supported weight: 400 lbs (181.4 kg)
Stride: 22 inches (56 cm)
Incline: Motorized, 0%-15%
Pedals: With adjustable cushioning
Handlebars: Both mobile and fixed (with pulse sensors)
Resistance: Motorized magnetic, 25 levels
Console: 11 programs, four user profiles, Bluetooth enabled, USB port
Amenities: Cooling fan, sound system, media tray, accessory tray
Warranty: Frame 15 years, Parts 5 years, Electronics 5 years, Labor 2 years
BXE216 Frame construction
The Bowflex BXE216 elliptical trainer has the exact dimensions and footprint as the BXE116. It's a reasonably large fitness machine and with the frame fully assembled, it takes 77″L x 31″W (197 x 79 cm) of floor space. On top of that, Bowflex recommends assigning a workout area for this unit of at least 125″ 79″ (315.5 x 200.7 cm).
The unit is also hefty. It weighs approx. 263 lbs (119 kg), and due to this fact, it is advisable to be transported and assembled by two persons.
But on the other hand, once it (is constructed), its relocation isn't too tricky as its front base features transport wheels, while the rear base has a lifting handle. The backplate also comes with a set of covers that can serve as footrests.
The machine's frame is heavy-duty steel tubing. It has quite an impressive sturdiness, supporting users up to 400 lbs (181.4 kg). However, there are several hard plastic parts in its construction, as well.
These are the covers of the drive system and several other covers which don't affect the unit's overall sturdiness. All its three bases come with large, adjustable stabilizers, so you can perfectly level it on any flooring.
This elliptical trainer features a different paint finish than the BXE116. Only the base frame and the console mast have a black finish; the moving arms and the pedals' bars are light grays. The paint finish used for all the metallic parts is rust-resistant and abrasion-resistant, and with proper care, it can remain good as new for an extended time.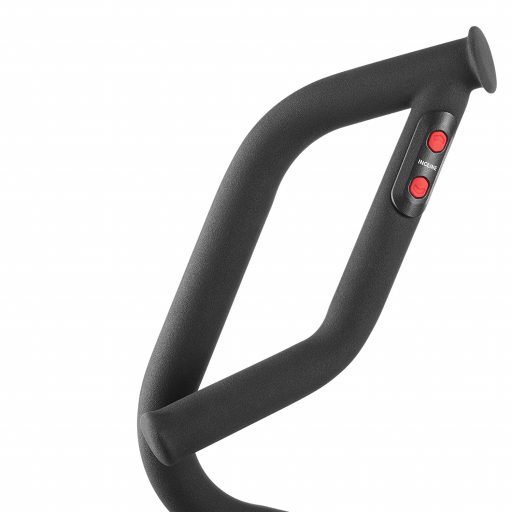 Incline, stride & step-up height
Like the Schwinn MY17 470 and Nautilus E618, this Bowflex elliptical trainer features an automatic incline system with a range of 0% – 15%.
The incline system integrates a small motor and a lever connected to the unit's pedal track assembly. Therefore, the internal motor will move the bar and change the track assembly ramp when you adjust the incline.
Since the incline system is motorized, it's only adjustable from the unit's console. The machine also requires being connected to a power source.
The machine's incline is adjustable in increments of 1%. There are incline controls in the left mobile hand-grip. However, the console comes with quick keys for the 1, 3, 6, 9, 12, and 15 incline settings. Also, some of the unit's programs involve incline and will automatically adjust it.
The Bowflex BXE216 elliptical machine offers a relatively long stride of 22″ (56 cm). This means it can accommodate users comfortably between 5'2″ and 6'5″ (157 – 196 cm). The stride is non-adjustable. So, in case you're looking for a unit with an adjustable stride, you might want to have a look at the Octane Fitness Q47x.
When it comes to pedal step-up height, at their lowest position, the pedals are approx. 16″ (41 cm) above floor level. At their highest point and with the incline set at maximum, the pedal height reaches approximately 29″ (73.7 cm).
Therefore, it's advisable to use the machine in a room with a ceiling height of at least 35″ (89 cm) higher than your size.
BXE216 Drive system
Its wheel weighs 35 lbs (15.8 kg) and has most of its weight situated in its perimeter. Thus, it delivers higher inertia and a more consistent momentum than many other models, offering the possibility to perform workouts of higher intensity. However, even though the flywheel's weight is pretty close to the wheels in most spin bikes, the pedaling motion generates very little stress on the joints.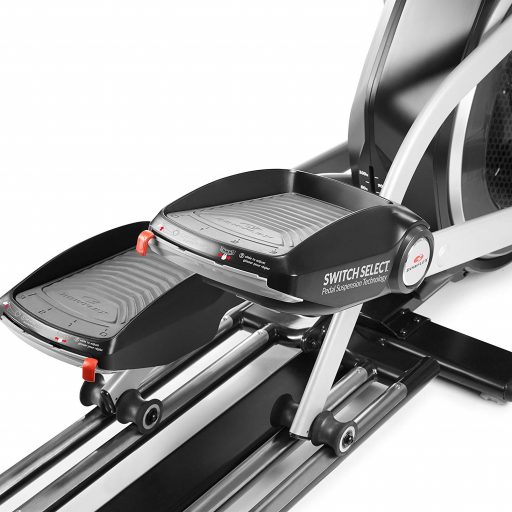 The machine's transmission features a heavy-duty v-belt, which delivers a very smooth, vibration-free motion. Also, since there is no contact between the resistance elements, while the pedal wheels are rubberized, the machine's operation is almost silent.
Pedals and handlebars
One of the essential features of the Bowflex BXE216 is the Switch Select™ pedal articulation system. Specifically, the trainer's pedals integrate a mechanism that allows their angle adjustments. Each pedal has an adjustment lever, which lets you set the angle and firmness of action according to your weight.
The 0 position is the lowest cushion setting (flat). The #1 setting is for users under 150 lbs. (68 kg). The #2 setting is for 150-225 lbs. (68-102 kg), and the #3 setting is for users who exceed 225 lbs. (102 kg).
The pedals glide on dual aluminum tracks. With this in mind, the double-track system considerably improves stability, promoting a sure-step stride. Each pedal arm comes with two large wheels with sealed ball bearings and rubberized shells for a quiet and smooth pedaling experience.
This Bowflex elliptical trainer features two sets of handlebars, one mobile, one fixed. In particular, the mobile handlebars have a multi-grip design; they integrate controls for incline and resistance adjustment.
Their connection points with the pedal bars and the console mast integrate heavy-duty ball bearings, delivering a smooth, drag-free motion.
The fixed bars feature stainless steel pulse sensors. They are connected directly to the console mast. Both types of handlebars have rubberized grips, providing superior comfort.
If you're wondering, the pedals and the moving arms are connected to the same pulley system and move simultaneously. You cannot lock the arms and run only the pedals, and vice-versa.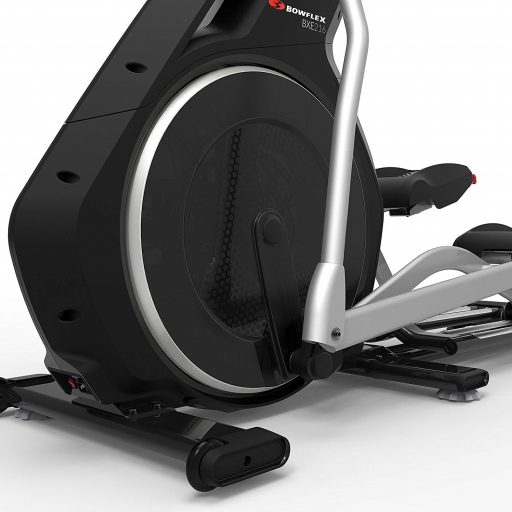 Resistance system
The Bowflex BXE216 elliptical trainer features an automatic eddy current resistance system. Therefore, the resistance is only adjustable from its console or the controls in the right mobile grip.
Also, the machine requires a connection to a power source. It needs a 120V power source, a 120V AC, 60 Hz input, and a 2 Amp adapter (is included). The adapter plugs into the machine close to its front base.
The unit's resistance system consists of a small servo motor and a magnetic brake pad. As you select a specified resistance level, the motor will adjust the brake's position to deliver more or less drag onto the flywheel.
Some of the unit's onboard programs directly control the resistance, so the machine will auto-adjust the strength according to the current workout segment when using one.
This Bowflex elliptical trainer offers 25 levels of resistance. The console unit also has quick resistance adjustment keys for the 1, 3, 6, 9, 15, and 25 settings.
The first five resistance settings promote light workouts, perfect for warmups or recovery training. In contrast, the top resistance settings allow you to perform exercises for strength development or high-intensity cardio workouts.
BXE216 Console unit
The console included with the BXE216 treadmill offers quite an impressive array of features. It's equipped with a large, 9-inch diagonal display, full color, and LED backlight, offering superior readability.
It keeps track of all the workout metrics a professional athlete would want to keep an eye on, including time, distance, speed, incline, total calories burned, average calories burned per minute, heart rate, and heart rate zone.
Furthermore, it also has a multi-color Burn Rate Display, which indicates the proportion of calories burned for a minute at the current workout levels. It has a Sprint Display section for the remaining sprint segment during an interval program. It also shows the segmented grid of the workout program in use.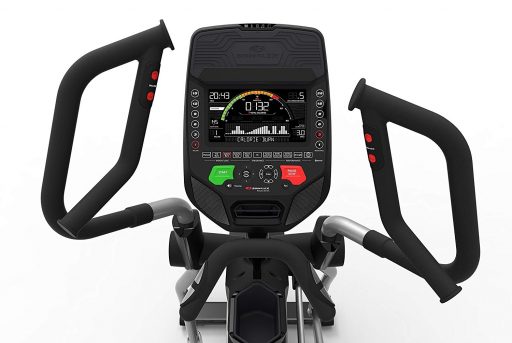 The console unit is telemetric. Not only that, it can track your pulse through the metallic sensors integrated into the stationary handlebars, but it can also read it via an HR chest strap transmitter that operates in the 4.5kHz – 5.5kHz range—an HR chest strap accessory (is included) with this trainer.
Bluetooth 4.0 enabled
The BXE216 is a trainer of the Bowflex Results Series™; thus, its console is Bluetooth 4.0 enabled. It's compatible with the Bowflex Trainer app, so you can sync it with your mobile device to stream your workout directly to this app.
The workout data can be exported via USB and uploaded on various fitness websites such as Bowflex Connect, MyFitnessPal, or UnderArmour. The USB port also doubles as a docking recharging port for your smartphone or tablet.
RunSocial is also an online application compatible with this fitness machine. This app allows you to view and run on a virtual trail on your smart TV, tablet, or phone, based on a GoogleMaps trail. You can create running events, run with friends, and benefit from many other interactive and fun features through this app.
Workout programs
The console unit has 11 onboard programs. These are Manual, Fat Burn, Calorie Burn, Calorie Goal, Target Heart Rate, 5k Distance, Varied Interval, 8 Min. Interval, 16 Min. Interval, Strength, and Custom.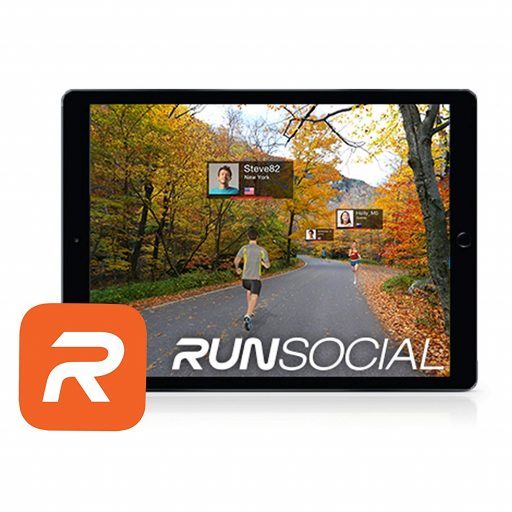 The Manual program allows you to freely exercise on the machine, adjusting the incline and resistance you like during your session. The Custom program gives you the possibility to design your workout. The rest of the programs are (pre-set), but you can always make adjustments for them.
There are four user profiles available on the console. If multiple persons use the machine, each one can have their settings. For each user profile, the user can input their specific data, such as weight, age, and gender, so that the unit can calculate the calorie consumption more accurately.
Amenities
This console integrates a sound system, a cooling fan, and a tablet holder in other amenities. The sound system and the fan are at the bottom of the unit. The sound system consists of two speakers who deliver a pretty decent sound rendition. It's compatible with most smartphones, MP3 players, or tablets.
The fan is in between the two speakers; it has three-speed settings. And finally, the tablet is placed at the top, above the unit's display, so if you place a tablet on it, it won't block the view of your workout data.
BXE216 Assembly and Maintenance
The core of the machine, in other words, the drive and resistance system, comes pre-assembled, attached to the front part of the frame. For assembly, you will have to connect the rail assembly to the front, central frame part, connect the front base stabilizer, attach the console mast, the handlebars, the pedals, the console, and several plastic covers.
This may take up to two hours. However, it's not a complicated process; the included manual provides very clear schematics and step-by-step instructions. Also, all the tools necessary for the assembly (are included).
It's recommended for maintenance to check the unit for loose bolts and parts periodically — also, a bottle of lubricant for the unit's joints (is included). It would help if you cleaned the pedal rails to prevent any damage.
Pros
Sturdy construction, similar to commercial machines;
Excellent frame, crank, and pedals, being able to support users up to 400 lbs;
Adjustable stabilizers on all base bars;
Adjustable pedals, with three-position angles and three pressure levels;
Stout, 35 lbs flywheel, being also perimeter-weighted for a consistent momentum and smooth pedaling;
Multi-grip handlebars, with incline/resistance controls;
Pulse sensors integrated into the fixed handlebars;
Motorized incline, with a range between 0% and 15%;
Quiet operation, ideal for apartment use;
25 levels of eddy current resistance;
11 workout programs;
Four user profiles;
Bluetooth 4.0 enabled;
Compatible with the "Bowflex Trainer" app, Bowflex Connect, MyFitnessPal, and RunSocial;
A USB port for manual data transfer online and for recharging your smartphone or tablet;
Goal tracking functions for time, distance and calories;
Easy-to-read 9-inch LCD;
LED backlight for each monitor for better readability
Sound system included;
Cooling fan included;
Media tray included;
Bottle/accessory holders included;
HR chest strap transmitter included;
Little maintenance required;
Excellent warranty.
Cons
The cooling fan is not too overpowering.
Bowflex Results BXE216 Summary
The Bowflex Results BXE216 is an elliptical machine that makes available 25 levels of magnetic resistance, 15 levels of automatic incline, adjustable & cushioned pedals, and a Bluetooth-enabled console compatible with the Bowflex Trainer app and RunSocial, and eleven workout programs.
Although it's not a commercial trainer, it has an impressive weight capacity of 400 lbs and a massive, inertia-enhanced flywheel. Therefore, it's perfect for light to intense cardio workouts, muscle toning, intervals, strength and stamina development, and weight loss. In all, it's a pretty complete fitness machine with an excellent price/quality ratio.
I hope you found this article helpful and informative. If you have anything you'd like to share or opinions about the content on my website, please speak up. I look forward to your comments, questions, and the sharing of ideas.