The Body-Solid G10B-LP Home Gym with Leg and Calf Press offers more than 50 unique exercises, helping you build strength and improve conditioning and endurance. Great for home or professional gyms. This home gym machine features seven stations for a total-body workout.
The G10B-LP features bi-angular press arms that guide you through the natural range of motion while applying resistance from two directions. Thus, eliminating the ability to rest your chest muscles and increasing muscle interaction by 25 percent. Instead, enjoy increased intensity through a full range of safe, convergent, multi-joint, multi-plane movements.
When assembled, the Body-Solid Bi-Angular Gym measures 84 by 135 by 83.5 inches (L x W x H). It comes with two 210-pound weight stacks (each stack with a 50lb upgrade available) machine-drilled to exact specifications, with weight stack shrouds included for safety. DuraFirm back and seat pads stand up to rigorous use and will never bottom out.
The Body-Solid G10B-LP with leg press is a great deal. It's doubtful you can find equipment that offers functional movements and so much weight capacity (both included and with the optional 50-pound add-on) in this price range.
Learn more in my complete review below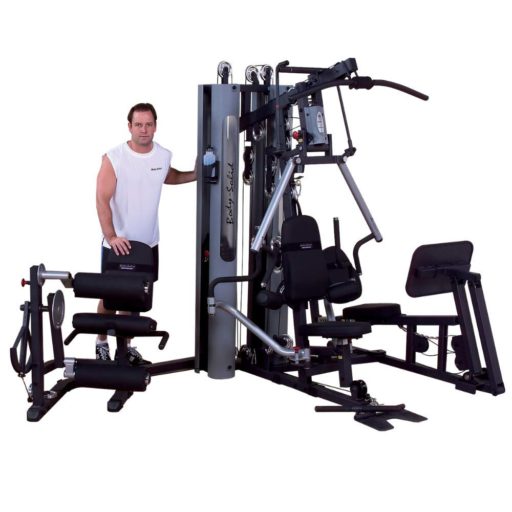 Product: Body-Solid G10B-LP Home Gym
Price: For a great deal on this gym, merely go here on Amazon
Warranty: In-home lifetime that covers everything (see the commercial warranty below)
My Rating: 9.8/10
Affiliate Disclosure: As an Amazon Affiliate Program participant, I earn commissions on purchases made through links in this post. Full disclosure
Details and Specifications
Key Exercise Stations: Biangular Motion Chest Press, Lat Pulldown / High Pulley, Seated Row / Low Pulley, Leg Extension / Leg Curl, Ab Crunch / Mid Pulley Station, Perfect Pec Fly Station, Leg Press / Seated Calf Press
GLP Leg Press with a 2:1 ratio meaning 210 lb. The stack feels like 420 lbs.
Included Accessories: Lat Bar, Revolving Straight Bar, Utility Strap, Ab/Triceps Strap, Full-Size Exercise Chart
Two 210 lb. weight stacks / upgradeable to 260 lbs. with SP50 stack option
Body-Solid In-Home Lifetime Warranty that covers everything
Commercial Warranty: Lifetime Frame & Welds / 3 years Pulleys, Bushings, Bearings, Hardware, Plates, Guide Rods / 1 year Cables, Upholstery, Grips (Normal Wear)
Workout Stations
If you are thinking about how best to manage your home gym space, a multi-gym is one of the best options available that also provides a wide range of exercise options.
The Body-Solid G10B-LP has been designed with upper and lower body workouts in mind, including all the features you would expect from a high-quality home gym system.
After using the bi-angular press arms, move to the lat pulldown/high pulley station to perform lat pulldowns, triceps press-downs, and cable crossovers. Adjustable hold-down pads stabilize you for lifts beyond your body weight.
The ab crunch/intermediate pulley station helps develop abs and triceps. The pec station has swivel arms designed for unilateral and bilateral movements, so you get the maximum stretch for deep muscle toning.
Key Exercise Stations: Biangular Motion Chest Press, Lat Pulldown / High Pulley, Seated Row / Low Pulley, Leg Extension / Leg Curl, Ab Crunch / Mid Pulley Station, Perfect Pec Fly Station, Leg Press / Seated Calf Press.
G10B-LP Chest Workouts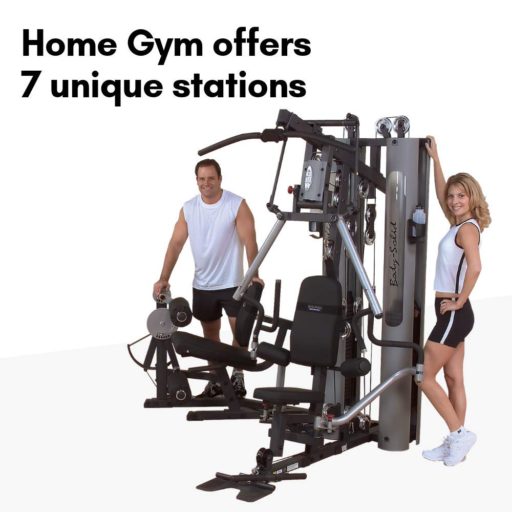 For overall size and strength, the pressing arms can adjust to their lowest position to create a range of motion that will press the handles straight out in front of your chest.
Although this is an excellent way to focus on lower and middle chest development, you can change the locking pin's position at the top of the arms to target your upper chest. With the arms set to more of an incline, the motion range will focus more on working the upper chest.
The second set of arms moves in more of an arc-type motion to create a similar motion range as dumbbells fly and target the inner chest. Again, these can be adjusted to different starting positions depending on how flexible your shoulders are, allowing you to work your inner chest effectively without the risk of shoulder injuries.
One of the most attractive Body-Solid G10B-LP features is its versatility, demonstrated by the pec fly arms and main chest press lever arm. Each offers a choice of starting positions to closely match your natural plane of motion in an exercise.
Even the pivot point in the pec fly arms lets you extend your arms to a position where you can efficiently isolate the chest or rear delts. The main pressing arm and pec fly arms will be ideal for developing overall strength and muscle mass in the chest regarding training specific body parts.
G10B-LP Back Workouts
Using a lat pulldown attachment allows you to perform a whole range of pulldown variations, targetting your lats, biceps, brachioradialis, traps, and rhomboids. With the back being such a big complex group of muscles, it's essential to include a range of exercises in your back workouts that work the muscles from various angles.
To make this possible, the Body-Solid G10B includes both a high and low cable pulley, with a well-padded seat providing a comfortable platform for performing variations of lat pulldowns.
The following is a list of some of the back exercises that are possible using the high and low cable pulleys: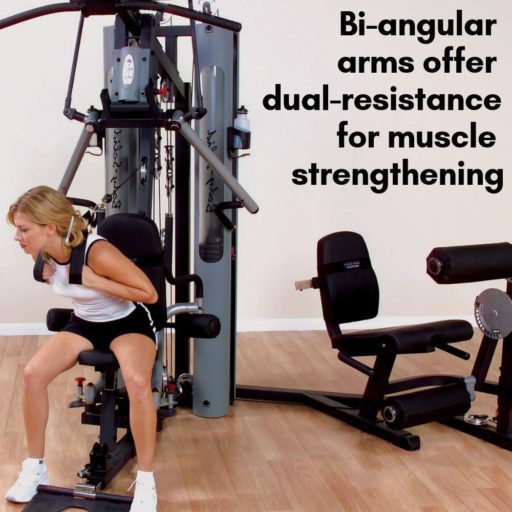 Wide lat pulldowns
Behind the neck pulldowns
Close-grip pulldowns
A standing straight arm pulldown.
Seated Rows
Upright rows
Bent over rows
Cable shrugs
G10B-LP Training your biceps, triceps, and shoulders
If you want to strengthen and tone your biceps, triceps, and shoulders, the low and high cable pulleys can support a wide range of valuable exercises. Using a simple carabiner clip, you can quickly switch between different attachments to isolate specific muscles.
Setting the arms to their highest position will take more of the work away from the chest and create an even steeper range of motion, which is ideal for working your shoulders and triceps.
The Body-Solid G10B-LP provides some of the most popular options, including a straight bar and a lat bar.
Although you can access a high, low, and mid-range pulley, a GCCA G Series Cable Column attachment is also available as an optional upgrade (available from Body-Solid).
G10B-LP Leg press station
An essential part of maintaining a well-balanced physique can keep your lower body in proportion with your upper body. Unfortunately, it's easy to overdevelop your chest, back, and shoulder muscles with some home gym systems.
Fortunately, this isn't the case with the Body-Solid G10B-LP, which provides the GLP G Series Leg Press Attachment standard. The cable pulley system has a 2:1 ratio. This means that despite the weight stack being 210 lbs, the resistance feels like 420 pounds.
Having the leg press attachment creates a broader range of lower body exercises. Specifically to help you build stronger quads, hamstrings, and calves, including single-leg presses, double-leg presses, and seated calf presses.
As with all of Body-Solid's 'G' Series home gyms, you can upgrade the weight stack with the SP50 50 lb upgrade. With this, your new 260 lb weight stack will feel more like 520 lbs.
Due to the leg press being one of the exercises where you can lift the most weight, this is extremely important for ensuring your leg workouts remain challenging and valuable.
You can adjust the range of motion to suit your preferred lifting style and height using a simple quick-lock pin just behind the seat. You also have a set of handles to keep your upper body stationary when pressing against such heavyweights.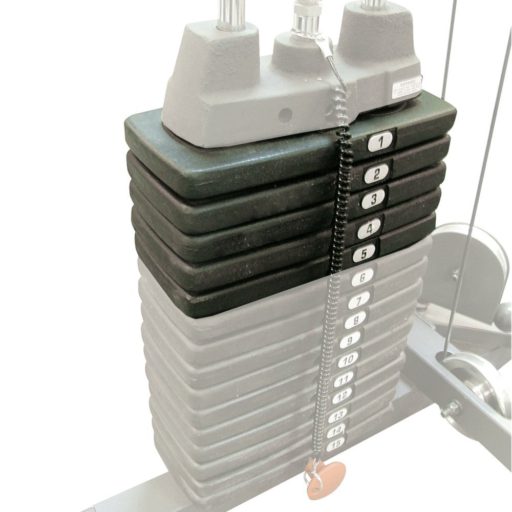 G10B-LP Leg developer station
A practical lower body workout is essential to any strength or fitness program. Regular lower-body workouts will help keep your physique balanced and promote more significant strength gains in your upper body. This is due to the increased leg strength for exercises such as deadlifts.
The leg developer station's SmoothGlide bearing system, combined with the self-aligning leg cuffs, guides you through the most demanding leg curls and extensions. In addition, this station uses its weight stack, allowing two users to work out simultaneously.
Despite the leg developer providing just two lower body exercises (leg extensions, and leg curls, you can also use an ankle wrap attachment with the lower cable pulley for exercises such as cable lunges and cable hip extensions. Thus, the leg developer is designed more for isolation work.
Positioning your upper body at a slight incline creates a more excellent range of motion in both the leg extension and hamstring curl. In addition, it results in a better stretch and contraction of the target muscle.
Each padded roller's angle is easily adjustable using a combination of quick-release locking pins and a range of predefined settings. The back support is also adjustable. Therefore,  allowing you to position yourself on the seat is most suitable for your leg length.
Optional Upgrades
50-pound weight stack add-on kit with fast and straightforward installation. It includes five 10-pound plates. (1 kit per weight stack needed.)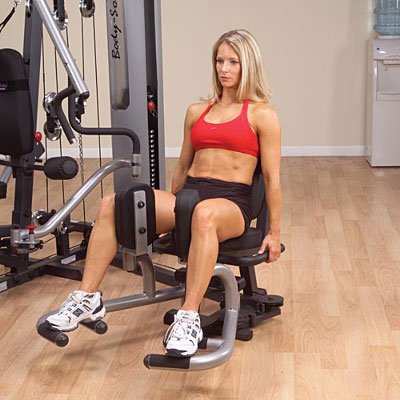 Smoother, stronger, and sleeker. Includes the correct amount of pulleys to replace the original set of nylon pulleys.
Five range-of-motion adjustments accommodate users of all sizes.
Assembly
When ordering a new home gym system, you might wonder how easy it will be to set up. Most will include some manual, but the quality of assembly instructions can differ significantly between manufacturers.
This can be especially true with multi-station home gyms like the Body-Solid G10B-LP. In particular, where you have multiple weight towers to assemble and a complex multi-point cable system. One option is to hire a professional with experience setting up this home fitness equipment. So who can you trust to get the job done?
Amazon has recently introduced several home assembly services for ellipticals, treadmills, and home gyms. You can even find hundreds of highly-rated reviews from customers who have already taken advantage of Amazon's professional home gym assembly service.
Pros
Home gym offers more than 50 unique exercises and features the company's Bi-Angular Technology;
Arms guide users through an optimal range of motion while applying resistance from two directions;
Smooth, multidirectional resistance increases muscle interaction by 25%, making the workout more intense for improved results;
Two 210-pound weight stacks;
Includes limited lifetime manufacturer's warranty;
Biangular motion chest press;
Lat pulldown/high pulley;
Seated row/low pulley;
Leg press included;
Leg extension/leg curl;
Ab crunch/mid pulley station;
Perfect pec fly station;
Weight stack shrouds;
Lumbar support pads;
DuraFirm upholstery.
Cons
Body-Solid G10B-LP Gome Gym Summary
The smooth, multidirectional resistance increases muscle interaction by a full 25%. Thus, making your workout more intense and providing improved results. The various starting positions for the Bi-Angular Arms also help isolate the muscles you want to work.
The adjustable range of motion available for most exercises leads to faster strength and muscle gains. Therefore, the unilateral and bilateral movements combine to create maximum stretch and contraction in the muscle.
Overall, when you consider how many exercises you have to choose from and the amount of upgrade options available, the G10B-LP  represents excellent monetary value.
I hope you found this article helpful and informative. Please speak up if you have anything you'd like to share on the topic or opinions about my website.? I look forward to your comments, questions, and the sharing of ideas.
Please remember that you should consult your physician to determine if you have any medical or physical conditions that could risk your health and safety or prevent you from using the equipment properly. In addition, your physician's advice is essential if you are taking medication that affects your heart rate, blood pressure, or cholesterol level.