The Fitness Reality U2500 Super Max Foldable Magnetic Upright Bike supports a weight capacity of 400 lbs. With this in mind, it's constructed for long life and durability. Features like the "high torque" 3 piece crank system, magnetic resistance, heart pulse monitoring, and a "double drive" transmission system are all included for a very affordable price.
The Fitness Reality U2500 offers eight levels of magnetic tension resistance so you can work out and progress at your own pace, increasing or decreasing the intensity of your exercise to suit your individual needs.  The tension is easily adjustable via a simple-to-use turn-dial at the top of the bike's console.
The Fitness Reality U2500's console is straightforward to use. It features a large LCD screen that displays motivating workout stats as you exercise, including time, speed, distance, odometer, scan, calories burned, and pulse.  Your pulse is measured via the built-in sensors in the handlebars so you can keep track of and stay within your target heart-rate zone.
It can fold away when not in use, making the U2500 excellent for limited-sized rooms and spaces. Additionally, it's effortless to get on and off the bike, providing a more effective and comfortable workout.
Learn more in my complete review below!
Product: Fitness Reality U2500 Super Max Foldable Magnetic Upright Bike, 400lb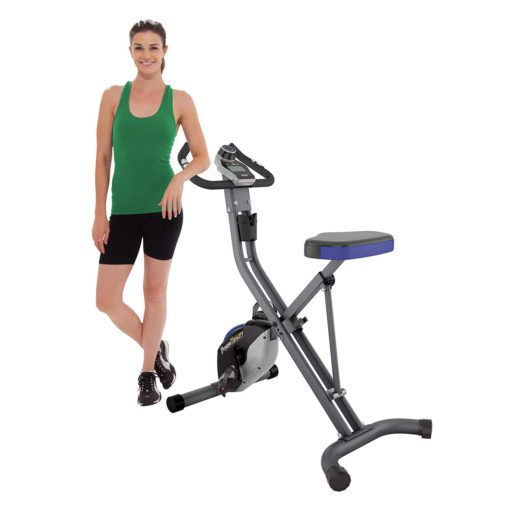 Warranty: Frame 1 year / Parts 90 days
My rating: 8.75/10
Affiliate Disclosure: As an Amazon Affiliate Program participant, I earn commissions on purchases made through links in this post. Full disclosure
Details and Specifications
Assembled dimensions: 39L x 26.4W x 48.4H inches (99L x 67W x 123H cm)
Assembled weight: 50.7 lbs (23 kg)
Supported weight: 400 lbs (181 kg)
Seat: Adjustable
Pedals: with straps
Resistance: Manual magnetic, eight levels
Fitness console: Included
Warranty: Frame 1 year / Parts 90 days
Frame construction
As the title suggests, the Fitness Reality U2500 features a frame with a folding design. Specifically, it's an "X" type frame consisting of two main pieces, one for the handlebar and the other that hosts the resistance system, pedals, and the seat. Unlike other exercise bikes, this particular bike has an impressive weight capacity of 400 lbs (181kg).
Along with the folding, space-saving design, the bike doesn't take too much space when in use either. The dimensions are 39″L x 26.4″W (99 x 67 cm) of floor space when fully set up. As a result, it can be an excellent choice for a cardio machine, even if the area is a luxury. Conversely, with the frame folded, the bike's dimensions are reduced to 24.8″L x 26.4″W (63 x 67 cm).
Even though it has a considerably sturdy steel frame, this Fitness Reality exercise bike isn't too heavy. It weighs only 50.7 lbs (23 kg), which means its assembly, handling, and transport aren't tricky. Plus, its front base features a set of small wheels that facilitate its relocation.
The rear base bar comes with rotating polygonal stabilizers, which can level perfectly in any flooring. Also, the rear base has a curved design, which considerably enhances the bike's overall stability.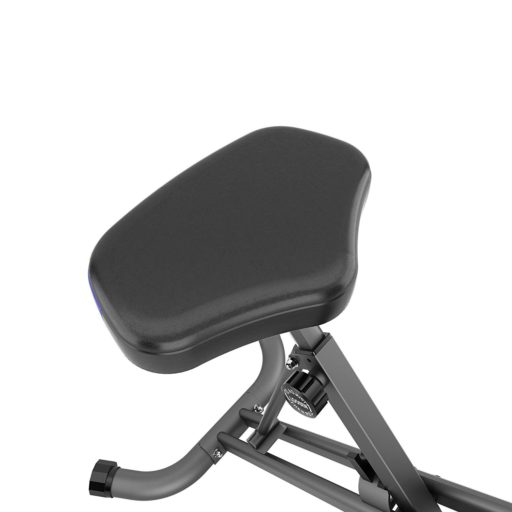 All of the steel parts within the frame construction of the Fitness Reality U2500 Super Max upright bike feature a gray powder coating finish, which is resistant to corrosion.
U2500 Seat and handlebars
One of the major pluses of this Fitness Reality exercise bike is the seat, which is considerably wide for a bike of this caliber, providing excellent comfort. The seat is 14″ (35.5 cm) wide and 9″ (23 cm) long and integrates a generous layer of cushioning.
The seat is 2-way adjustable, and its upright bar features several adjustment holes. The adjusting is via a large turn-knob on the right side. It can accommodate users between 5'1″ to 6'5″.
The bike's handlebar is non-adjustable; however, it features a multi-grip design. In addition, it has a layer of foam padding to deliver a secure and comfortable grip. It also incorporates EKG pulse sensors so that the fitness monitor tracks your heart rate.
Drive and resistance
The Fitness Reality U2500 upright exercise bike features a belt drive system involving a heavy-duty V-belt, resistant to stretching and maintenance-free.
It also renders the use of the bike extremely quiet. Furthermore, it comes with a precision balanced and perimeter weighted flywheel, which generates a steady pedaling motion and a reasonably decent momentum.
The bike's crankset is a 3-piece component with steel crank arms. It's pretty solid, but keep in mind that this is an upright bike for light to medium exercising routines, not a spin bike.
Thus, the crankset is not robust enough to hold the user's whole weight in a stand-up pedaling routine. In fact, due to the folding bike design, pedaling while standing up would be pretty awkward.
The pedals supplied with this fitness machine are weighted, self-adjusting, also feature straps. The threads on the pedals are a standard size. Therefore you can easily find replacements for them if you want a different model. In addition, the bike's Q-Factor is narrow, promoting a natural foot placement during pedaling, eliminating any lateral stress on the knees and ankles.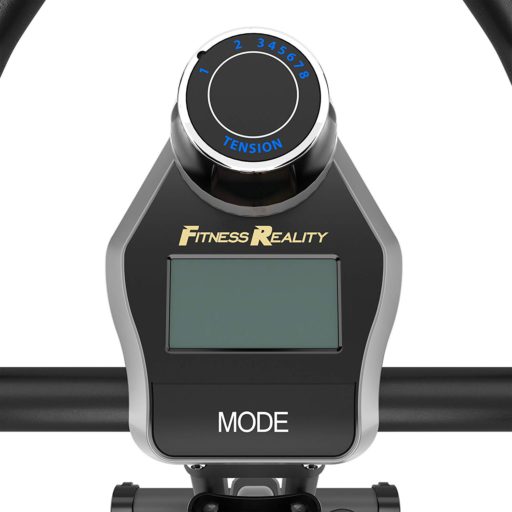 This Fitness Reality exercise bike features a manual magnetic resistance system, which involves a free magnetic brake pad connected via a tension wire to the resistance adjustment dial. As you turn the dial, the magnetic element moves closer to or farther away from the bike's flywheel, increasing or decreasing the resistance.
The bike makes available eight resistance settings. The cycle provides the training set for a light to a medium cardio workout. The first 1-3 settings generate light resistance, ideal for rehab training or a gentle warm-up, while the 8th level delivers enough resistance to make you sweat in minutes.
U2500 Fitness Monitor
The fitness monitor included with the Fitness Reality U2500 upright bike offers a bit more than a basic one, as it can also monitor your pulse. However, it is not telemetric and can only read your pulse if you hold the metallic EKG sensors into the handlebars.
The fitness monitor can track time, speed, distance, total distance, calories burned, and pulse. However, it does not have any preset workout programs, nor has any target setting function. Instead, it has a SCAN function, which rotates the workout metrics, showing each for several seconds.
The monitor is relatively easy to operate. It starts up automatically when it detects pedal movement, and it will automatically turn off 4 minutes after inactivity on the bike. However, it only features one button (MODE), and it also turns on by pressing this button.
Thus, by pressing the button multiple times, the display will cycle between the values mentioned above, and you can choose the one you want to view at any time or select the SCAN function.
Finally, the monitor is battery-powered and requires 2 AA batteries, which come supplied with the bike.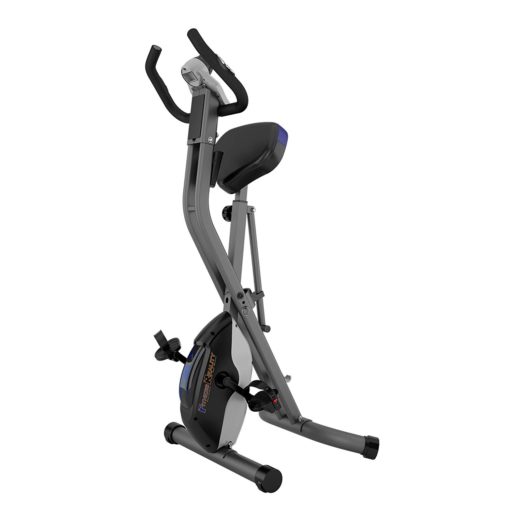 U2500 Assembly and Maintenance
The bike's assembly shouldn't take more than 30-40 minutes. Furthermore, all the tools required for it are (included), and the manual provides pretty clear step-by-step assembly instructions.
Specifically, the two pieces of the frame come attached, and the resistance/drive system is pre-mounted to the main bar of the frame. Next, you need to attach the front and rear stabilizers, the pedals, the seat, and finally, the handlebar with the fitness monitor. And finally, connect the tension and pulse wires.
Maintenance doesn't require much. All the internal components are pre-lubricated from the factory, and since the bike has a belt drive system, it doesn't require any lubrication. Thus, for maintenance, you'll have to wipe the dust from the frame and periodically check for loose parts and bolts.
Pros
Substantial frame for a foldable bike, being able to support users up to 400 lbs;
U-shaped rear base with adjustable levelers, which considerably improve the bike's stability;
Transport wheels included;
Small footprint when fully assembled;
Foldable, great for a small apartment;
Highly comfortable, oversized seat, offering 2-way adjustability;
Multi-grip handlebar with EKG sensors;
Oversized, self-leveling pedals, with adjustable straps and standard threads;
Smooth and quiet operation;
Fitness monitor included;
Accessory holder included;
Easy to assemble;
Little maintenance is required.
Cons
The calories reading isn't too accurate;
No tablet holder;
The LCD does not have an LED backlight.
Fitness Reality U2500 Super Max Summary
The Fitness Reality U2500 Super Max is one of the sturdiest and most durable foldable upright bikes that you can find at the moment. It's an excellent choice for apartment use since it doesn't take much space when assembled, and it's easy to store.
In particular, it's perfect for light to medium cardio training for muscle toning, stamina development, and weight loss. Also, it's quite a unique item of fitness equipment, offering exceptional value for the price.
I hope you found this article helpful and informative. Would you please speak up if you have anything you'd like to share on the topic or any opinions about my website? I look forward to your comments, questions, and the sharing of ideas.