Spin in comfort with the L Now D600 Indoor Cycling Bike. Designed for home use, the L Now D600 provides a challenging workout for beginners or intermediates in the comfort of your home, simulating a natural road-bike feel. The L Now D600 utilizes a 22 lb flywheel and a consistently smooth and quiet operation belt drive system.
Simulate cycling on different terrains with the L Now D600's friction adjustable resistance and press-down brake. Turn the resistance knob to increase or decrease the opposition's intensity and sit or stand to simulate cycling on flats or hill climbing. The resistance knob doubles as an emergency brake – push it down to stop.
It has an LCD fitness monitor that displays the time, speed, distance, and miles you've ridden to keep track of your workout. It also reads out your pulse and the calories you've burned while exercising.
The L Now D600 indoor cycling bike's saddle is 4-way adjustable (up, down, forwards, backward) to give the best fit possible for each individual. In addition, the L Now D600 spin bike features multi-grip handlebars with three different grip positions, offering different cycling postures so you can choose which style of cycling suits you best.
Learn more in my complete review below!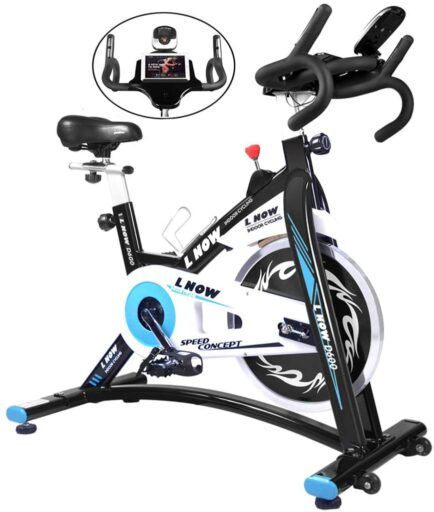 Product: L NOW D600 Indoor Cycling Bike
Price: For a great deal on this bike, merely go here on L NOW Sport.com
Warranty: 1 year limited
My rating: 8.75/10
Affiliate Disclosure: As an L NOW Sport Affiliate Program participant, I earn commissions on purchases made through links in the post. Full disclosure
Please note that some images contain pictures of a tablet that sells separately.
Details and Specifications
Assembled dimensions: 41L x 21W x 46H inches (104L x 53W x 117H cm)
Assembled weight: 77 lbs (35 kg)
Flywheel weight: 22 lbs (10 kg)
Supported weight: 280 lbs
Handlebars: 2-way adjustable
Seat: 4-way adjustable
Pedals: With toe cages
Drive: Belt
Resistance: Standard friction
Bottle holder: No
Fitness Monitor: Basic
Warranty: 1 year limited
D600 Frame Construction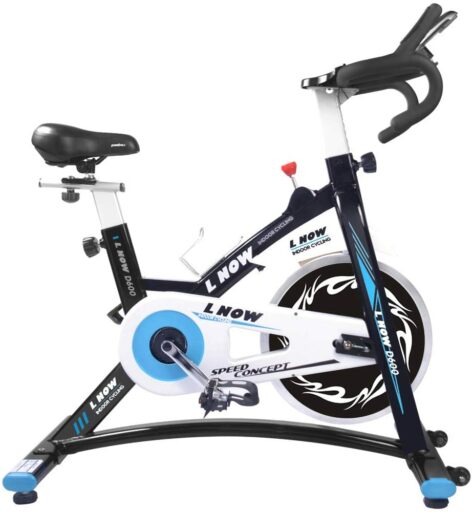 The frame of the D600 is steel tubing. As a result, this exercise bike has a very sturdy construction and quite an aesthetic design, with a slightly curved main and base connection bar.
The frame construction also integrates several plastic parts. I count the belt guard, the base tube caps, the brake pad cover, the fitness monitor, and the adjustment knobs. However, these don't play any role in the bike's overall sturdiness.
The bike's frame is double-coated with corrosion-resistant paint. The primary color is dark blue, while the L NOW logo is painted white. In addition, the handlebars and seat posts feature a chrome finish, which is also corrosion-resistant.
Both base tubes feature adjustable stabilizers with large pads; differently put, you should be able to level it on any flooring perfectly. The bike itself isn't too heavy. But still, its 77 lbs (35 kg) assembled weight adds plenty of stability.
As in most spin bikes, the frame does not fold; the front base comes with two transport wheels, facilitating the trainer's relocation once you have finished your workout.
One last aspect to note regards the bike's assembled dimensions. The L NOW D600 is far from being a large fitness machine. However, when fully assembled, it takes only 41″L x 21″W (104 x 53 cm) of floor space, while the handlebar reaches a height of approx. 46″ (117 cm) above floor level.
However, it is advisable to maintain at least two feet of clearance on the bike's sides for safe operation and at least one foot at the rear and front.
Seat and handlebars
The L-NOW D600 indoor cycling bike has a much more comfortable seat than many spin bikes. Its saddle is quite a bit wider than the average spin seat. Additionally, it integrates a generous layer of padding.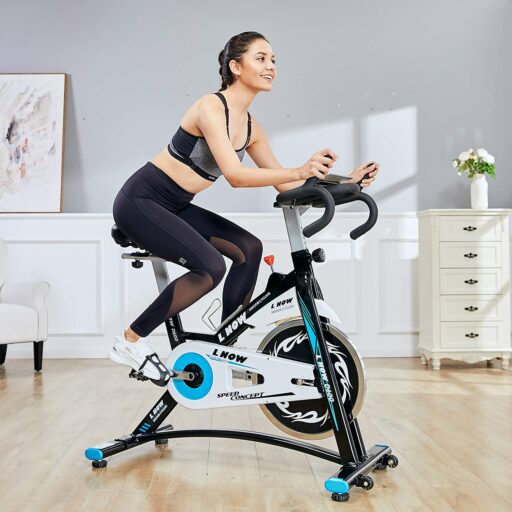 It has a contoured design with a longitudinal groove to better blood flow and reduces overheating. It also comes with two springs, which are essential to its overall cushioning.
The seat is 4-way adjustable. In addition, it has a standard connection mechanism to its bar. Therefore, if you want to replace it, you should find a compatible one in most bike shops.
The bike's handlebar is only 2-way adjustable (up and down). However, it features a multi-grip design, promoting various workout postures. In addition, it features drop-down bars and integrates a loop aero bar.
The handlebar assembly is urethane dipped to provide a secure and comfortable grip. It's also equipped with integrated HR pulse sensors so the fitness monitor can track your pulse.
Given the seat and handlebars adjustability, the L NOW D600 indoor cycling bike can adequately accommodate users between 4'7″ and 6'2″ (140 – 188 cm). If you're taller, you should still be able to use this cycling trainer but may not benefit from a complete leg extension.
D600 Drive system
The L NOW D600 indoor cycling bike has a belt drive system like most other L NOW bikes. This type of drive comes with two main advantages. First, it's tranquil, and transmission doesn't require periodic lubrication. It consists of a heavy-duty v-belt, resistant to stretching and designed to last many years of daily use.
The flywheel on this bike is considerably lighter than the other models. It weighs only 22 lbs (10 kg). But the perimeter-weighted flywheel provides consistent momentum and a smooth pedaling motion. It's also a bi-directional flywheel, allowing you to pedal in reverse.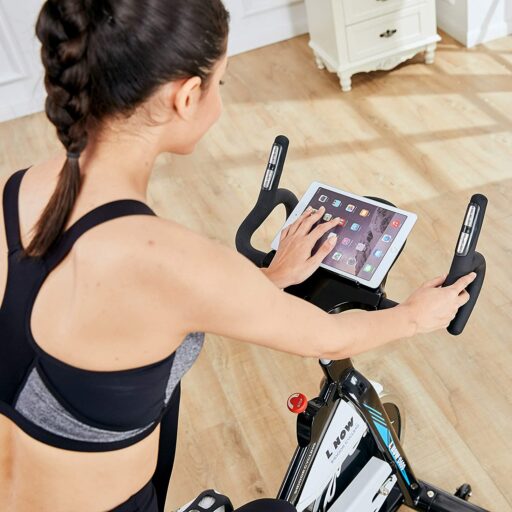 It's a cycling trainer designed for all spin workouts; it comes equipped with a solid crankset featuring solid steel arms. Thus, the crankset can support users up to 400 lbs (181.4 kg) in standing-up pedaling routines.
The pedals do not have SPD clips for spin shoes, only toe cages with adjustable straps. They are a durable metallic alloy designed to last for many years of use. They also have standard threads; therefore, replacement options are widely available if you want SPD pedals for this bike.
Resistance system
This L NOW indoor cycling bike has a standard friction resistance system. It consists of a felt pad connected to the adjustment knob on the central tube of the frame. When you tighten the knob, the resistance pad will also tighten onto the flywheel generating more drag and offering the possibility of a more consistent workout.
The tension knob doesn't have any levels specified on it. Instead, you turn it until the brake pad generates the resistance required for your workout.
The tension knob also acts as an emergency brake. You can press it down to quickly stop the spinning of the flywheel. Therefore, it is advisable to change the way of pedaling.
D600 Fitness monitor
This exercise bike has a fitness monitor that can track speed, time, distance, and calories and monitor your pulse if you hold on to the handlebars' EKG sensors. Also, it features an odometer function, keeping track of how many miles you've been pedaling.
It also has a SCAN function, which rotates all the above values, holding each onscreen for several seconds. However, you can lock any of these values onscreen to view at all times.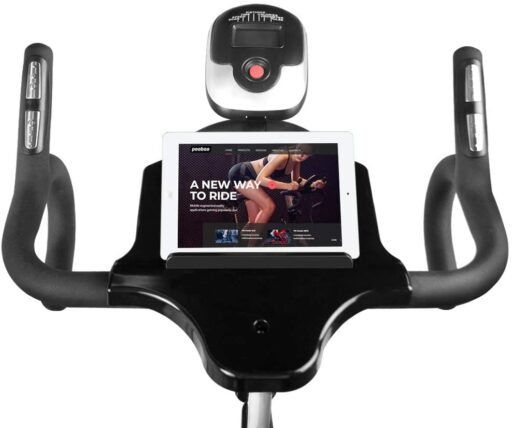 The fitness monitor is battery-powered. Its usage is straightforward. It will start if you push its button or if you begin pedaling. After several minutes of inactivity on the bike, it also has a sleep mode to enter to save battery life.
Assembly and Maintenance
The L NOW D600 exercise bike is relatively easy to assemble. Most of it comes ready-assembled. The flywheel, drive belt, resistance knob, and cranks are already attached to the bike's mainframe. Next, you'll have to install the two base bars, the seat and the handlebars with their posts, the pedals, and the fitness monitor.
Therefore, it shouldn't take longer than 30-40 min. The manual provides excellent guidance, and the tools for assembly are (included).
Since it's a belt-drive bike, its transmission does not require lubrication. Therefore, all you have to do for maintenance is periodically check for loose bolts and parts and replace the resistance pad when it wears out. The pad should last for at least one year of daily use.
Pros
Sturdy, steel construction;
Appealing design;
Bases with adjustable stabilizers;
Extra comfortable seat for an indoor cycling trainer, with a thick layer of padding, contoured surface, and a longitudinal groove to promote healthy blood circulation;
The seat is 4-way adjustable;
2-way adjustable handlebar;
Multi-grip handlebar with drop-down bars and loop aero bar;
EKG integrated into the handlebar;
Balanced flywheel for a smooth pedaling motion and solid momentum;
Heavy-duty crank, able to support any user up to the maximum listed weight in an upright pedaling position;
Durable, metallic alloy pedals with toe cages;
The fitness monitor included tracking speed, time, distance, total distance, calories, and pulse;
Quiet operation, great for apartment use;
Easy to assemble;
Little maintenance is required.
Cons
The fitness monitor LCD doesn't have any backlight;
The calories reading function of the fitness monitor may not be too accurate;
No bottle holder.
Please note that some images contain pictures of a tablet that sells separately.
L Now D600 Indoor Cycling Bike Summary
The L NOW D600 is an indoor cycling trainer with sturdy construction, similar to commercial-grade spin bikes. It features a cushioned, 4-way adjustable seat and a multi-grip handlebar with drop-down bars.
It comes with a standard friction resistance system and a mid-range flywheel. Compared to other bikes, it offers an average weight capacity of 280 lbs. Also, it includes a fitness monitor, which many other bikes do not have.
This L NOW exercise bike is perfect for medium to intense cardio training, stamina development, intervals, and weight loss. Moreover, considering its versatility and the extra features over other models, I can safely say that it offers excellent value for the price.
I hope you found this article helpful and informative. Would you please speak up if you have anything you'd like to share on the topic or any opinions about my website? I look forward to your comments, questions, and the sharing of ideas.
Please remember that you should consult your physician to determine if you have any medical or physical conditions that could risk your health and safety or prevent you from using the equipment properly. In addition, your physician's advice is essential if you are taking medication that affects your heart rate, blood pressure, or cholesterol level.