If you're looking for a new elliptical for your home gym, the Sole Fitness E35 Elliptical Trainer is a great option. In addition, the E35 elliptical has a moderate price, providing users with all the necessary features and accessories. As a result, this is one of the most reliable, smoothest, and best ellipticals.
The Sole E35 is a top seller because it provides vital performance features such as a high-quality, 25-pound flywheel, a 20-inch stride, and 20 incline settings. This elliptical will fulfill all your workout needs and allow you to reach your fitness goals effectively.
A top performance feature of the Sole E35 is its power incline. Twenty settings allow targeted muscle-toning that's impossible on trainers with just one flat elliptical path. For even more dynamic training, the pedals can move in reverse motion too.
The Sole Fitness E35 Elliptical Trainer comes equipped with a fitness console that features an enhanced 7.5-inch LCD that tracks your workout's following values: Resistance Level, watts, Incline Ramp, Distance, Strides per Min/speed, Total Strides, Calories per minute, and hour, target and Average Heart Rate, Time Remaining, and Time Elapsed.
Learn more in my complete review below!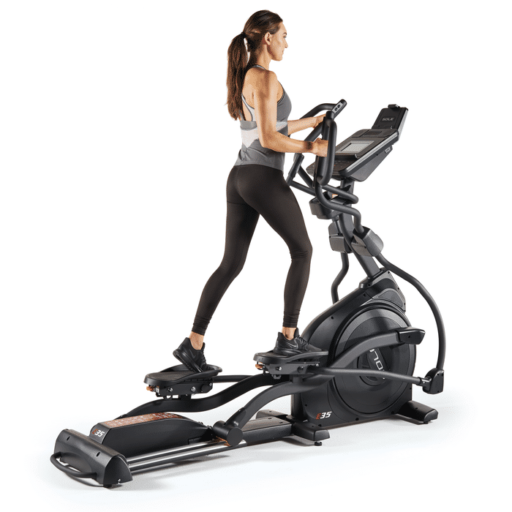 Product: Sole Fitness E35 Elliptical Trainer
Price: For a great deal on this elliptical, merely go here on Sole Fitness.com
Warranty: Lifetime frame / 5-year parts and electronics / 2-year labor
My rating: 9.25/10
Affiliate Disclosure: As a participant of the Sole Fitness Affiliate Program, I earn commissions on purchases made through links in the post. Full disclosure
Details and Specifications
Flywheel: 25-Lb
Magnetic Bidirectional: Yes
Resistance: 20 levels
Incline Ramp: Yes, 0-30°
Stride Length: 20″-22″
Console: Bluetooth
Programs: 10
Maximum user weight: 375 pounds
Machine Weight: 215 Lbs
Folding: NO
Dimensions: 83″L X 27″W X 58″H
Power Source: AC adapter
Speaker: Yes
Cooling Fan: Yes
Bottle Holder: Yes
Media Shelf: Yes
E35 Frame Construction
The Sole Fitness E35 Elliptical Trainer has a 375-pound maximum user weight capacity and a 20-inch stride, which is standard for an elliptical of this price tag. This stride allows the E35 to accommodate users of up to 6'5″, offering a complete range of motion.
The step-up height of the pedals is approximately 14 inches. However, Sole Fitness E35 has taller people in mind, which means smaller users will have a better experience with the Sole E95S, accommodating users of different heights.
This elliptical is 82 inches long, 31 inches wide, and 67 inches high, so it's pretty average, and it weighs 231 pounds when assembled. In addition, the E35 comes with two transport wheels, so you'll have no issue finding the perfect spot for it at home.
This elliptical is not foldable, which is a bummer if you need to store it regularly. It won't be as easy as folding it and tucking it away. However, the transport wheels help with that, and even though it could be more comfortable, it's not burdensome to move it around. Overall, the Sole E35 offers excellent specs, and it accommodates tall users of beginner to intermediate fitness levels.
Pedals and Handlebars
The 15-inch pedals are fully adjustable to accommodate all feet and body shapes. Sole engineers and physiotherapists found the solution for ankle and hip sores that you might get on most elliptical machines. The exercises pressure the lower body joints when pedaling by pushing the feet outward.
That's why the 2 percent inward adjustment helps to keep your ankle and hips aligned. They also fixed the numb toe issue that you get on many ellipticals after more extended exercise. In addition, you can adjust the pedal steep from 0 to 10 degrees.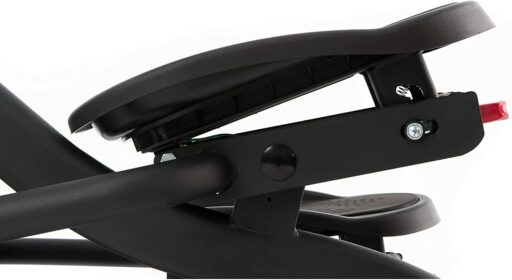 Unlike most elliptical machines with straight vertical wide handlebars, the Sole E35 elliptical has multi-grip position handles, which might not seem so important. However, it's one of the necessary features most high-end elliptical machines lack.
Sole Fitness E35 elliptical trainer provides five firm grips on the handlebars grips. In addition, the moving handlebars have controls for incline and resistance. As a result, you don't have to take your hands off the grip during the workout to change resistance or incline. Instead, you can adjust them by pushing the buttons located on the grips.
You find this feature usually on more expensive machines. The stationary handlebars also have pulse sensors for monitoring the heart rate. The size, shape, and built-in technology on the grips are unique in this price range.
E35 Stride and incline ramp
The Sole E35 offers an incredible power incline. In addition, users have 20 settings to play with, targeting different muscle groups for toning.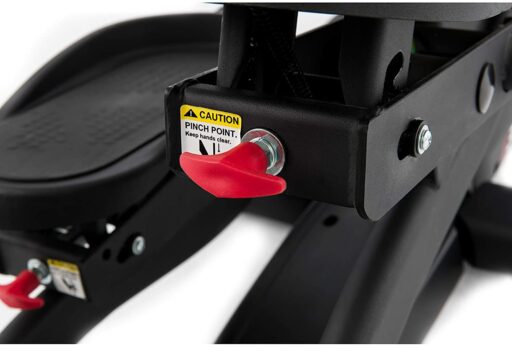 That wouldn't be possible with ellipticals that only offer one flat elliptical path, so the E35 is above average in this respect.
You can control your incline with the controls on the handlebars. Therefore, you won't even have to take your hands off the handlebars to switch things up and challenge yourself further. Another great thing about the Sole E35 incline is that it rises to 30 degrees above average. Most ellipticals only offer a 20-degree incline, so you'll enjoy this feature.
The stride of the Sole E35 is another excellent feature, and it is adjustable from 20 inches to 22 inches. That means average-height users and tall users will be able to find a comfortable fit and enjoy all the benefits this elliptical has to offer, including a full range of motion.
Overall, the stride and incline on the Sole E35 elliptical are two of the most essential and powerful features this machine offers. They promote not only comfort but also effective cardio workouts and muscle toning.
Resistance
With 20 quiet and smooth magnetic resistance, the Sole Fitness E35 elliptical trainer provides a challenging workout for most athletes. You can adjust the resistance directly from the handlebars. In addition, E35 has a 25-Lb flywheel that provides smooth motion for the exercises.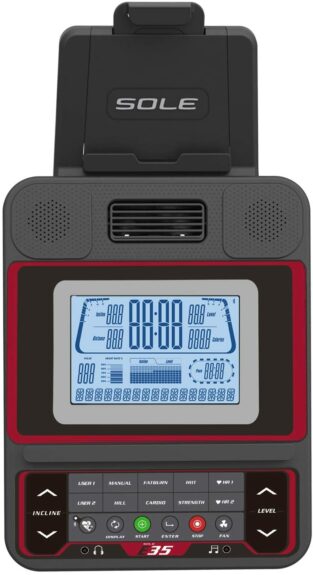 This feature allows you to keep your hands on the handlebars during the exercise. For example, you must slow down the training on some elliptical machines and reach out to the console to change resistance.
The resistance level also automatically adjusts based on your heart rate. By wearing an HR chest strap monitor or placing your hands on the heart sensor grips, the machine decides which resistance is best and when to change resistance. This feature allows you to stay in the target heart rate range and improve cardiovascular health.
The Sole 35 elliptical machine has a front-drive system, which means the wheel and the mechanism are below the console. The front drive makes this elliptical more compact compared to rear-drive elliptical trainers.
E35 Console
The Sole Fitness E35 elliptical trainer has a 7.5-inch LCD built into the console where you can access all ten workout programs. These workout programs include five classic elliptical workouts: cardio, hill, fat burn, interval, and strength.
Two heart rate workout programs automatically adjust the resistance to reach your target heart rate zone. There's also a manual workout mode and two workout programs you can design yourself. In addition, you'll be able to create two user profiles to save your custom workouts.
You can also use your tablet or smartphone as a control center with the Sole Fitness app's help. The Sole app will run in the background, and you'll be able to quickly control the incline and resistance levels.
Plus, the E35 is Bluetooth enabled, allowing you to connect to other fitness apps such as MapMyRun, iHealth, and FitBit. In addition, the E35 console is large enough to give you a clear view of your data so that you can keep track of everything, and the angle is adjustable.
Because you can connect to your fitness apps, you'll be able to save your training data and export it to your favorite apps. Therefore, it will allow you to keep track of the essential stats and determine your goals more effectively.
On the Sole E35 console, you can track the following workout values: Resistance Level, watts, Incline Ramp, Distance, Strides per Min/speed, Total Strides, Calories per minute and hour, target and Average Heart Rate, Time Remaining, and Time Elapsed.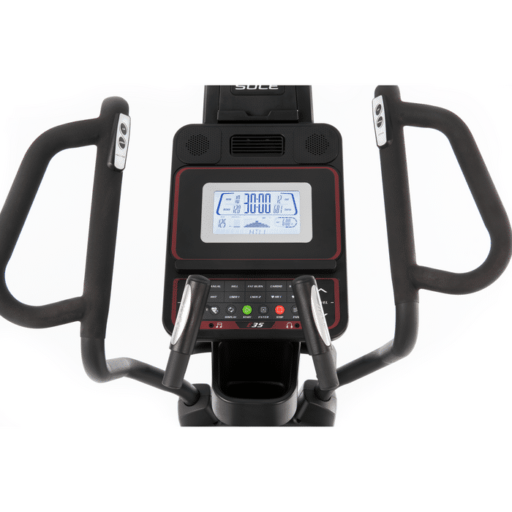 Wireless and touch heart rate sensors. This Sole elliptical is compatible with an HR chest strap (included) and has pulse sensors on the stationary handlebars.
EXPERIENCE STUDIO RISK-FREE FOR 30 DAYS
Access thousands of instructor-led classes that deliver a more innovative workout at home or on the go by connecting to any cardio equipment and heart rate monitor for real-time metrics.
Studio offers the popularity of group fitness with the flexibility of taking a class any time. Courses by an elite instructor and a music playlist guide motivate users to reach new personal fitness goals.
The workouts are done for all levels and range from 10 minutes to 60 minutes. In addition, they utilize heart rate metrics and data from your equipment across all of our workouts to help you work out smarter.
Amenities
Like all the new sole machines, this Sole Fitness E35 elliptical trainer has a cooling fan to keep the trainees fresh and speakers to keep you entertained. You can plug in your MP3 device and listen to music; however, the speakers are not high quality, so don't count on using them.
E35 Assembly and Maintenance
The Sole Elliptical E35 comes securely boxed and packaged. However, as the machine weighs 215 lbs, you'll want the delivery people to take it directly to the room you plan on installing the elliptical, or you'll likely have to get some help later to move it.
It will take a few hours to assemble the E35, so take your time. It's not hard to build (many users find it relatively easy), but this is a sturdy, high-tech piece of machinery with many components. It does come with all the tools necessary for assembly, but you may want to use your own.
You'll need to wipe down all areas in the sweat path with a damp cloth after each workout for maintenance. If a squeak, thump, clicking, or rough feeling develops, the leading cause is most likely dirt build-up on the rear rails, and polyurethane wheels are also a source of the noise.
Noise from build-up on the tracks can cause a thumping sound that you would swear is coming from inside the machine's main body because noise travels through the frame's tubing.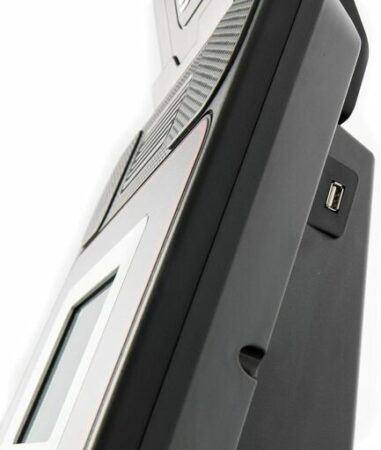 Clean the rails and wheels with a lint-free cloth and rubbing alcohol. The stubborn build-up is removable with your thumbnail or a non-metallic scraper, like a plastic knife's back edge. After cleaning, apply a small amount of lubricant on the rails with your fingers or a lint-free cloth. You only need a thin coat of lubrication; to wipe off any excess.
Pros
Reputable brand;
Industry-leading warranty;
Hushed operation;
25-pound flywheel;
Ergonomic 20″ stride;
Cushioned pedals;
Pedals have an adjustable angle;
Power incline with 20 settings;
Ten workout programs;
30-day free trial of Sole's Studio fitness app;
Heart rate control;
Wireless and touch heart rate receivers;
Wireless chest strap included;
Bluetooth connection;
Tablet computer holder;
iPod compatible;
Cooling fans;
Water bottle holder;
Accessory tray;
Customer support.
Cons
Cannot download new workouts;
The stride length isn't adjustable separate from the incline.
Sole Fitness E35 Elliptical Trainer Summary
The Sole Fitness E35 elliptical trainer helps you exercise longer and allows you to reach your goals faster. Accordingly, you get a high-intensity workout with low impact from the Sole E35 elliptical. It was designed by engineers and physiotherapists for its unique ergonomic features to adjust the machine to your size and body form. It's tranquil and has many useful functionalities.
The Sole E35 has four rear wheels on heavy-duty rails to provide a smoother, more stable feel and reduce side-to-side foot pedal motion. Last but not least, Sole E35 is bidirectional so that you can work on different muscles.
I hope you found this article helpful and informative. Would you please speak up if you have anything you'd like to share on the topic or any opinions about my website? I look forward to your comments, questions, and the sharing of ideas.
Please remember that you should consult your physician to determine if you have any medical or physical conditions that could risk your health and safety or prevent you from using the equipment properly. In addition, your physician's advice is essential if you are taking medication that affects your heart rate, blood pressure, or cholesterol level.