Reap the benefits of an active lifestyle when using the Sunny SF-B2952 Upright Bike. Build a robust health and fitness foundation as you increase your cardiovascular strength, burn calories, and develop muscles throughout your legs, hips, and core. Transform your physique while relishing a comfortable, low-impact upright bike cycling experience.
The SF-B2952 has eight manual magnetic levels that offer a sufficient workout experience for every fitness level user and provide quick, easy, and reliable changes to the resistance level. In addition, bikes with magnetic resistance never contact the flywheel, resulting in a near-silent, stable, and virtually low maintenance experience.
The Sunny SF-B2952 Upright Bike features an LCD fitness monitor that tracks your time, speed, distance, rotations per minute, and pulse with an easy-to-use display. It also has a calendar, clock, scan, recovery mode, thermometer, BMI, and body fat percentage calculator.
Measuring your HR pulse rate while riding the SF-B2952  is essential for exercising correctly and efficiently. The more steady and prolonged the elevated heart rate is during the workout, the more fat melts away. This critical health data will help you better understand your health and fitness status.
Learn more in my complete review below!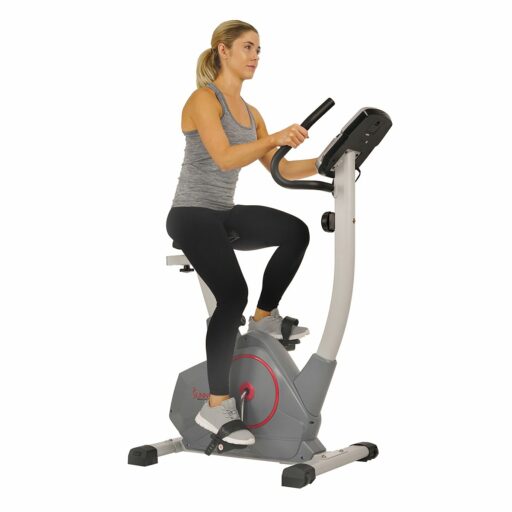 Product: Sunny SF-B2952 Upright Bike
Price: For a great deal on this bike, merely go here to Sunny Health & Fitness.com
Warranty: Frame 3 years / Parts 180 days
My rating: 8.75/10
Affiliate Disclosure: As a Sunny Health & Fitness Affiliate Program participant, I earn commissions on purchases made through links in this post. Full disclosure
Details and Specifications
Assembled dimensions: 40.5L x 21W x 51H inches (103L x 53W x 126H cm)
Assembled weight: 56 lbs (25.4 kg)
Supported weight: 275 lbs (125 kg)
Seat: 4-way adjustable
Resistance: Manual magnetic, eight levels
Fitness Monitor: Time, distance, speed, RPM, calories, pulse, goals, Recovery
Extras: Tablet holder, HR zone sticker
Warranty: Frame 3 years / Parts 180 days
SF-B2952 Frame Construction
The Sunny Health & Fitness SF-B2952 upright bike features a steel frame with large ABS plastic guards covering all the drive and resistance elements and most of the unit's base frame.
All the steel parts in the bike's construction come with a rust-resistant and chip-resistant gray paint finish. In addition, the ABS covers are also gray, with the "Sunny" logo written in red.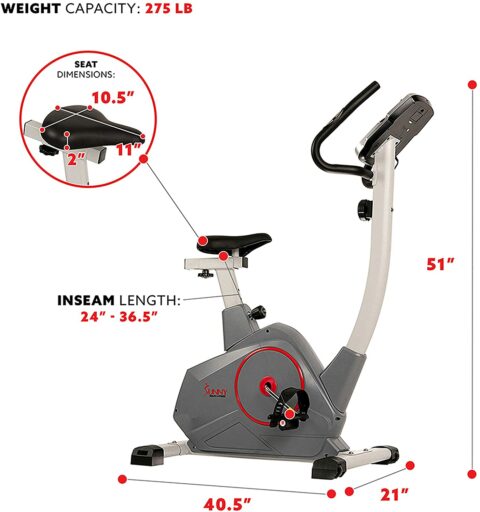 The Sunny SF-B2952 is slightly bulkier than other upright bikes with similar features. However, it's still a pretty compact fitness machine. With the frame fully assembled, it is only 40.5″ (103 cm) long and 21″ (53 cm) wide. Also, its highest point is the top of the handlebars; they reach approx. 51″ (126 cm) above floor level.
The bike isn't hefty. It weighs approx 56 lbs (25.4 kg). Therefore, it can be carried and assembled by only one person. Moreover, it is effortless to relocate once completed, as its front base incorporates transport wheels.
Although the bike doesn't offer the 100+ lbs weight of commercial-grade upright bikes, it does provide excellent stability. That's because it has a shallow center of gravity. In addition, its rear base is equipped with adjustable levelers to stabilize your bike on any floor correctly.
Seat and handlebars
The Sunny SF-B2952 comes equipped with a four-way adjustable seat. In addition, its vertical post features several adjustment notches, allowing the bikes to adjust for users with an inseam between 24″ (61 cm) and 36.5″ (92 cm).
Plus, the horizontal slider of the seat adds a few extra inches of front-to-back adjustment. Therefore, the bike should be able to accommodate users between 5'2″ (157 cm) and 6'5″ (196 cm).
The included saddle has a pretty standard design. It has a PU top with a longitudinal groove for extra breathability. In addition, it is slightly larger than the race saddles included with most spin bikes, providing a different contact surface.
The seat slider has a triangular plate to which the saddle attaches via three screws. Also, the adjustment system is pretty standard. The upright post and the horizontal slider feature large knobs, which are easy to grip and turn. Thus, you can adjust the bike to your dimensions in less than a minute.
The bike's handlebar is non-adjustable. Its vertical post is stationary, and the handlebar attaches to it via two bolts. Therefore, it does not have an angle adjustment feature.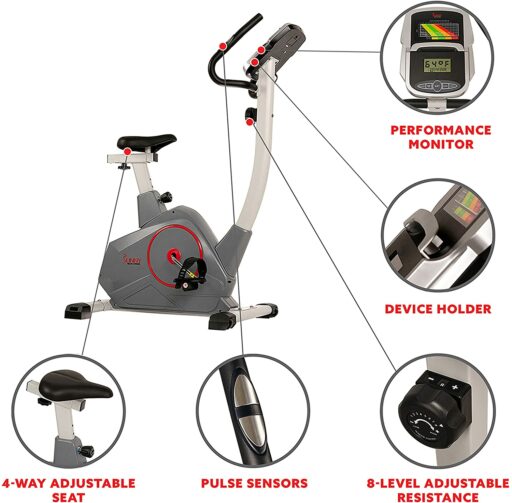 The handlebar features a multi-grip design. A layer of rubber foam material covers it to provide a comfortable grip. Also, its side grips integrate stainless steel HR pulse sensors, and the fitness monitor can track your heart rate, so you won't have to use a separate HRC device during your workouts.
SF-B2952 Resistance system
The Sunny SF-B2952 upright bike has a mechanical, magnetic brake system with manual action. Therefore, the bike doesn't require an external power source.
However, on the other hand, its fitness monitor cannot automatically adjust the resistance and does not have preset workout programs like the upright bikes with a motorized resistance system.
The bike's resistance system consists of a magnetic brake attached to the flywheel assembly and connected to the tension knob on the bike's front mast through a steel wire. Turning this knob left or right, the brake changes its position to the internal flywheel, increasing or decreasing the pedaling difficulty.
Like many other upright bikes with a manual magnetic resistance system, the Sunny SF-B2952 offers eight difficulty levels. The first one delivers a relatively light resistance, which is great for recovery training or muscle toning.
The 8th tension level provides considerably more pedal resistance allowing you to reach a higher cardiovascular rate in a shorter time and benefit from a more consistent workout.
The bike's flywheel has most of its weight placed in its perimeter. Therefore, it provides extra inertia. Its exact weight is not specified, but the bike's net weight is only 56 lbs (25.4 kg), so the internal flywheel shouldn't weigh more than 20 lbs (9 kg).
The flywheel and the resistance system allow reverse pedaling. However, coasting on the bike is impossible, so when pedaling in reverse, the cycle provides the same resistance as pedaling forward.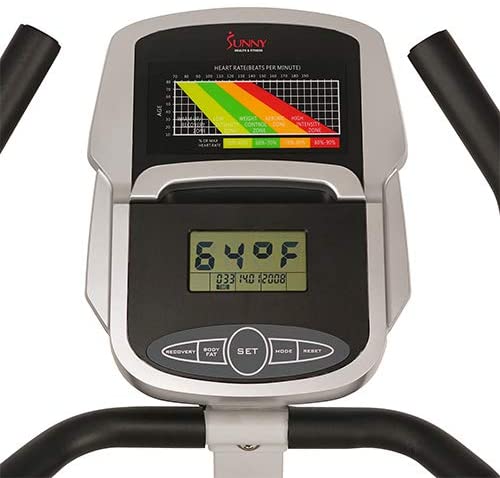 When pedaling in reverse, the bike's fitness monitor should continue to track your distance traveled, calories burned, and all the other metrics.
Drive system
The bike's internal drivetrain uses a belt. Therefore, internal lubrication is not necessary. Another advantage of a belt drive system is the whisper-quiet pedaling motion.
Finally, the bike comes equipped with a durable crankset featuring steel arms. However, since it is not a spin bike, it is not meant for standing-up pedaling exercises. The pedals are also mostly plastic, so standing up on the bike may damage them.
The pedals have a weighted design. Therefore, they turn face-up whenever you remove your feet from them. They also have adjustable straps.
SF-B2952 Fitness monitor
The SF-B2952 fitness monitor doesn't have any preset programs and doesn't have online connectivity. Instead, it features a large LCD divided into six sub-sections. The smaller sections show speed, RPM, time, distance, calories, and pulse. Speed and RPM share the same part, and they display alternatively.
At the top, the most extensive section gives you the possibility to either select one of these metrics to be shown at all times or select the Scan mode, and each one displays for 6 seconds.
The speed and distance values can only be displayed in imperial units (MPH and miles) on the monitor. Unfortunately, there is no setting for metric units. In addition, the monitor doesn't have a built-in HR receiver and cannot communicate with wireless HR armbands, chest straps, or smartwatches.
Although the monitor has no preset programs, it offers goal settings for time, distance, calories, and pulse. So, if a goal for any workout metrics is selected, the monitor will show the remaining amount until you reach your goal. Likewise, it will beep for the heart rate goal when the set pulse rate is achieved.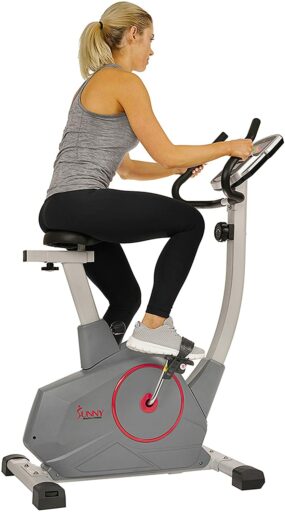 A Recovery function and a BMI function are also available. The Recovery function requires you to use the pulse sensors. It measures the amount of time your heart takes to return to an average BPM after the workout, and based on the result, it will give you a fitness rating between F1 (best) and F6 (poor).
The BMI (Body Mass Index) function calculates your body fat percentage based on your input data: height, weight, age, and gender. Therefore, these two applications allow you to keep track of your fitness level and weight loss.
Amenities
The tablet holder and the HRC sticker are two other notable features of the bike's monitor. The tablet holder consists of a small tray placed above the monitor display; this tray is large enough to accommodate any tablet. The HRC sticker is placed on the top section of the monitor and shows a grid of heart rate zones that you should aim for depending on your age to benefit from a better aerobic output, fat burn, etc.
SF-B2952 Assembly and Maintenance
The main body of the bike comes pre-assembled. Therefore, you only have to attach the bike's two-base bars, the front upright bar, the seat post, the seat, the handlebar, the fitness monitor, and the pedals. Therefore, it shouldn't take more than an hour. The task is relatively simple, and the manual provides step-by-step instructions. A set of necessary tools also comes with the bike.
The bike's internal components don't need any maintenance (at least not for an extended time). Therefore, in terms of care, it's only advisable to wipe off the sweat that may drop on the frame at the end of the workout and periodically check for loose bolts or parts.
Pros
Sturdy construction – can support users up to 275 lbs;
Compact design;
Adjustable stabilizers on the rear base;
Transport wheels;
Pulse sensors integrated into the handlebar;
Bi-directional flywheel;
Smooth, frictionless magnetic resistance;
Whisper-quiet belt drive;
Weighted pedals with straps;
Multi-window fitness monitor;
Goal settings on the monitor;
Recovery function;
BMI function;
Date, clock, and room temperature readings;
HRC sticker;
Tablet holder;
Easy to assemble;
Little maintenance is required;
Decent warranty.
Cons
There is no bottle holder;
The fitness monitor doesn't have online connectivity;
There is no handlebar adjustability.
Sunny SF-B2952 Upright Bike Summary
The Sunny Health & Fitness SF-B2952 is an upright exercise bike for home use, equipped with a manual magnetic resistance system. It offers eight difficulty levels, a decent user capacity of 275 lbs, and a fitness monitor that tracks all the essential workout metrics.
It's an excellent machine for light to medium cardio workouts, muscle toning, stamina development, and weight loss. It's also an affordable bike compared to most light-commercial models, offering great value for the price.
I hope you found this article helpful and informative. Would you please speak up if you have anything you'd like to share or any opinions about my website? I look forward to your comments, questions, and the sharing of ideas.
Please remember that you should consult your physician to determine if you have any medical or physical conditions that could risk your health and safety or prevent you from using the equipment properly. In addition, your physician's advice is essential if you are taking medication that affects your heart rate, blood pressure, or cholesterol level.