The 3G Cardio Elite Runner Treadmill features a powerful 4.0 HP motor (continuous duty), reaching speeds up to 12 miles per hour (in increments of 0.5 mph). In addition, the treadmill can incline between 0 (flat) to a 15 percent grade with a power incline.
The Elite Runner features a sizeable 22″ x 62″  deck for running, jogging, or walking. This treadmill is built to last and comes with the best home warranty I have seen on treadmills. In addition, the upgraded orthopedic treadmill belt is thicker and more comfortable than competitor belts.
This model includes an LED display with Zero-Glare™ matte finish display and windows that display speed, incline, time, distance traveled, calories, pulse, and pace. In addition, you can use the eight automatic programs (walking or running, a steady pace or intervals, flat or hills) and two customizable programs. Easy to use dedicated incline and speed buttons.
This running machine offers the optimal training setting for users of all fitness levels as a general overview. In addition, it features a sturdy construction that supports a maximum user weight capacity of 400 pounds, and running on it provides the same feel as any other commercial treadmill.
Learn more in my complete review below!
Product: 3G Cardio Elite Runner Treadmill
Price: For a great deal on this treadmill, merely go here on Amazon
Warranty: Residential Warranty: Frame lifetime / Motor lifetime / Parts 10 years / Labor 2 years
My rating: 8.75/10
Affiliate Disclosure: As an Amazon Affiliate Program participant, I earn commissions on purchases made through links in this post. Full disclosure
Details and Specifications
Assembled dimensions: 84L x 35.5W x 58H inches (213.4L x 90.1W x 147.3H cm)
Tread belt dimensions: 62L x 22W inches (157.4L x 55.8W cm)
Product weight: 386 lbs (175 kg)
Supported weight: 400 lbs (181.4 kg)
Motor: 4.0 HP, Continuous duty
Incline: Automatic, 0%-15%
Deck cushioning: Yes
Speed levels: 0.5-12 MPH.
Training programs: 8
Pulse sensors: Yes
Amenities: Chest strap, sound system, cooling fan, tablet holder, bottle/accessory holders
Residential Warranty: Frame lifetime / Motor lifetime / Parts 10 years / Labor 2 years
Commercial Warranty: Frame 5 years / Motor 5 years / Parts 5 years / Labor 1 year
Elite Runner Frame and deck
Overall, the machine is pretty heavy, with an assembled weight of 386 lbs (175 kg) and the running deck holding most of the machine's weight. Due to this fact, the deck is non-folding. So, assembling it directly where it will be in use is a good idea.
On the other hand, its massive weight is essential to the treadmill's stability. So you can be sure it won't rock as you run on it.
The running surface is spacious, a few inches longer and wider than the average treadbelt required for running. At 62″L x 22″W (157.4L x 55.8W cm), it provides a running surface comfortable for taller users as well.
For example, a user up to 6'6′-6'7″ (198 – 201 cm) tall should not feel cramped or hindered, even running on the highest speed setting.
The deck incorporates a heavy-duty, 2-ply running belt, highly resistant to stretching. It also features 3″ rollers with enclosed ball bearings, designed to last up to 10 years, even if the machine is used daily for at least 6 hours.
One last important aspect to mention is its suspension system. It incorporates the commercial Ortho Flex Shock cushioning, considerably diminishing each foot strike's impact, rendering a much more comfortable running than concrete or asphalt.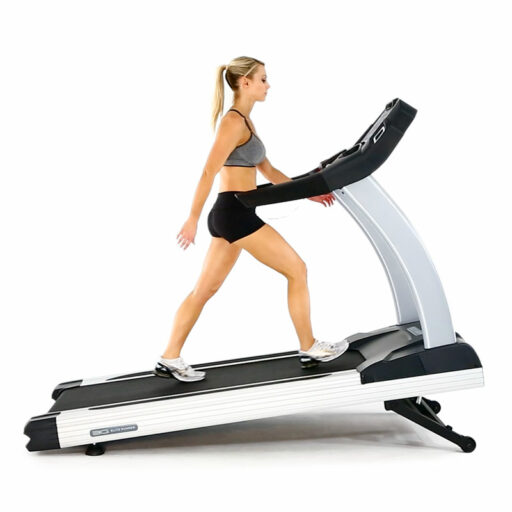 Incline
The 3G Cardio Elite Runner features a motorized, automatic incline system. The treadmill's front base is the central active element that produces the slope. The rear part of this base lifts as the incline increases, the bottom resting on the front caster wheels.
The maximum incline is not as extreme as in other commercial treadmills, which is why some would consider this treadmill only a light commercial one. However, it does provide a maximum incline of 15% (CCA 10°), which considerably increases the workout spectrum.
Actually, at the maximum slope and a speed setting of 10 MPH+, a non-professional runner shouldn't be able to last more than several minutes.
At 0% incline, the running surface gives you an elevation of 8″ (20.3 cm). However, the slope should also add a couple more inches. Therefore, to determine the required ceiling height to use this treadmill safely, you should add at least 15″ (38 cm) to your size.
Since the incline is motorized, it is only adjustable via the machine's console. Adjustments are in increments of 1%.
Elite Runner Drive Motor
The treadmill deck is not the only element that indicates the machine's maximum user capacity. Its engine should also withstand the stress of the user's weight, cadence, and training.
The good news is that the 3G Elite Runner comes with a 4.0 HP motor, made for continuous duty, and supports users up to 400 lbs for prolonged workout sessions.
This treadmill has a speed range between 0.5 and 12 MPH, an acceptable speed range for users of all levels. It is adjustable in increments of 0.1 and 0.5, but there are also direct keys for several speed settings. As a result, the transition to a selected speed setting doesn't happen abruptly, allowing the runner to adjust their pace.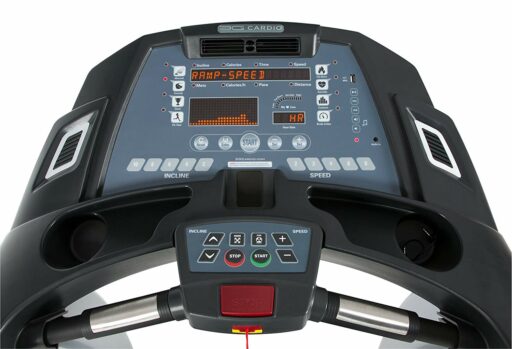 This 3G treadmill has a power draw rating of 15 amp, but its real draw is between 10 and 12 amp because it requires to be connected to a 110V power circuit and has an American standard plug.
Console and amenities
The console equipped on the 3G Elite Runner treadmill features three displays that indicate different values. The top screen shows incline, calories, calories/h, time, speed, distance, pace, and Mets. If you're wondering, the Mets value represents how much harder your body works than if it were at rest.
The bigger monitor to the left offers the grid for adjusting incline and speed within a workout program. The smaller display to the right dedicates to heart rate.
There are eight preset workout programs onboard: Manual, Course, Goal, Fit Test, Fat Burn, Aerobic, Custom, and Body Index. Some of them have multiple settings, though. For example, there are 8 Courses under the Course tab, two programs under the Fit Test, and 2 Custom program profiles.
The treadmill will automatically adjust incline and speed using a specific course according to the selected route. In addition, the Custom user profiles allow you to create and save your workout.
With the Goal function, you can set up goals for time, calories, and distance for your daily workout, while the Manual mode allows you to control incline and speed as you exercise freely. Finally, the heart rate programs focus on establishing your fitness level and offering a safe HR interval for your workouts.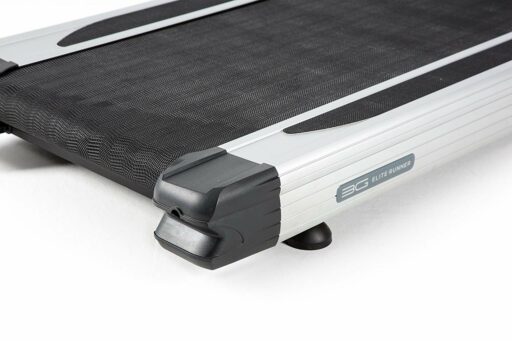 Speaking of heart rate, the transversal grip of the treadmill includes pulse sensors. However, the console can also wirelessly read your heart rate via the HR chest strap transmitter.
The treadmill's dashboard integrates several other amenities. It has a sound system compatible with most MP3 or smart devices and a USB charging port. The top part hosts a 2-speed cooling fan, while the lower portion is two bottle/accessory holders. The dashboard also includes a tablet holder.
Elite Runner Assembly and Maintenance
Although the machine's assembly process is not complicated, it's somewhat problematic, as the device is weighty. In addition, it requires at least two people to carry and assemble it, and it's best to build it where it's supposed to be in use.
The runner's deck is already pre-assembled. First, you must attach the left and right console masts, the handlebars, and the side covers and connect the console. The whole assembly shouldn't take longer than 30 minutes. Tools and manuals are (included).
Just like any other treadmill, maintenance requires the periodical lubrication of the running belt that requires 100% pure liquid silicone lubricant, which also comes provided.
Typically, home use involves lubrication once every 4-6 months, and commercial usage may need monthly lubrication. The treadbelt should also be cleaned and wiped with a damp cloth weekly.
Pros
A highly sturdy piece of equipment;
Able to support users up to 400 lbs;
Spacious running surface;
Heavy-duty orthopedic tread belt;
Cushioned deck;
Motorized incline with a 0%-15% range;
Continuous duty motor, with 4.0 HP;
Speeds for all ranges of users, from 0.5 to 12 MPH;
Numerous amenities, including a sound system, cooling fan, accessory holders, and media tray;
Pulse sensors;
Telemetry enabled the console;
HR chest strap transmitter included;
Eight main workout programs, some of them having multiple levels and options;
Easy assembly;
Little maintenance is required;
Excellent warranty package.
Cons
Weighty machine;
No online connectivity.
3G Cardio Elite Runner Treadmill Summary
The 3G Cardio Elite Runner is a light commercial treadmill, but one of the models with a high maximum user weight capacity of 400 lbs, a well-constructed, durable deck, and a 4.0 HP CHP high-performance motor.
It's not one of the cheapies, but it's safe to say that its quality exceeds the price. In addition, it offers an impressive array of features and provides training possibilities to cover just about any runner's athletic needs.
Whether you want it for walking, jogging, running, interval training, cardio training, or weight loss, the 3G Cardio Elite Runner Treadmill has what it takes to help you achieve your athletic goals.
I hope you found this article helpful and informative. Would you please speak up if you have anything you'd like to share on the topic or any opinions about my website? I look forward to your comments, questions, and the sharing of ideas.
Please remember that you should consult your physician to determine if you have any medical or physical conditions that could risk your health and safety or prevent you from using the equipment properly. In addition, your physician's advice is essential if you are taking medication that affects your heart rate, blood pressure, or cholesterol level.