The Bowflex Max Trainer M3 is the most affordable option in the Max Trainer line. It doesn't have all the features and programs of the M9, but it still offers zero joint impact and burns many calories in a short workout.
The M3 is a superior alternative to an elliptical and achieves that goal in many respects. For example, an independent study found that people working out at the same intensity for the same amount of time burned 2.5x the calories on the Max Trainer than on the elliptical.
The Bowflex M3 has two workout programs, Manual and Max Interval (for automatic interval training). The machine also allows you to choose from 8 resistance levels to adjust the workout's difficulty. As you build up your stamina and get in better shape over time, you can gradually crank up the resistance to keep reaching higher levels.
The display is well-designed and includes easy-to-read indicators for calories burned and your burn rate (a good measure of intensity). In addition, you can monitor your heart rate with the included chest strap. However, it's less convenient than having the machine automatically measure it for you through the contact grips. In addition, wireless HR chest straps are also more accurate.
Learn more in my complete review below!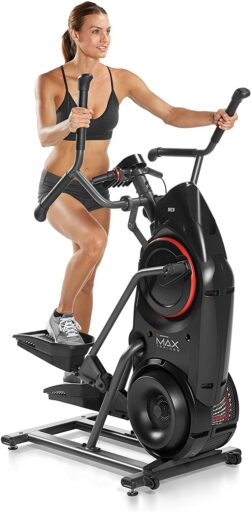 Product: Bowflex Max Trainer M3
Price: For a great deal on this hybrid, merely go here on Amazon
Warranty: 1 year
My rating: 9.25/10
Affiliate Disclosure: As an Amazon Affiliate Program participant, I earn commissions on purchases made through links in this post. Full disclosure
Details and Specifications
Assembled dimensions: 49L x 26W x 64.7H (124L x 66W x 164H cm)
Assembled weight: 143 lbs (65 kg)
Weight capacity: 300 lbs (136 kg)
Elliptical path: 10″ (25.4 cm) vertical, 4″ (10.1 cm) horizontal
Handlebars: Mobile and fixed (with HR pulse sensors)
Resistance: Air & magnetic, eight levels
Console: 2 programs, two user profiles
Extras: HR chest strap, bottle holder, and a device holder
Warranty: 1 year
M3 Frame Construction
The Bowflex Max Trainer M3 has a heavy-duty steel frame. All the steel parts in its construction are double-coated with a corrosion-resistant and chip-resistant paint finish. The color used is black, the only color available for this model. Also, most of the machine's body has ABS covers for extra protection.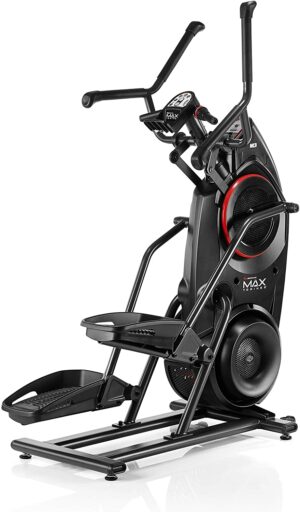 An important aspect with regards to this Bowflex Max Trainer is its footprint. It takes very little floor space compared to most other conventional elliptical machines. It is only 49″ (124 cm) long and 26″ (66 cm) wide so it can fit pretty well in a small room as well. However, leaving at least two feet of clearance all around the machine is advisable for easy access and unhindered usage.
Although it's not a large machine, the Bowflex M3 is relatively heavy. With all the parts assembled, it weighs approx. 143 lbs (~65 kg). This weight plays a vital role in its overall stability. Its base bars have adjustable levelers, so you can correctly stabilize them on any floor.
Despite its weight, the trainer is easy to move. Its front base integrates a set of wheels, considerably easing its relocation. Using these wheels to move the machine, you won't be handling more than 30% of its total weight.
The Bowflex Max Trainer M3 has two handlebars, one mobile and one fixed. The mobile handlebars have two extended grips (low/high) to promote various workout postures. However, they are attached to the machine's pulley and pedal system and are not locked to remain stationary. Instead, they continue to move for as long as you pedal.
The fixed handlebars have short grips. The grips on both handlebar sets are rubberized for extra comfort. It's important to mention that none of the handlebar grips integrate any pulse sensors, but the machine's console can read your pulse from a wireless HR chest strap.
Elliptical path, Q-factor, and pedal height
First, the Bowflex M3 Max Trainer comes equipped with pedals designed to minimize the workout impact on your joints and back. To start with, they feature large trays to accommodate all sizes of athletic shoes. In addition, they have rubberized and ribbed inserts for extra cushioning and foot adherence. They also adapt to the position of your foot with each step.
The machine's pedals and internal joints are highly durable and designed to support users up to 300 lbs (136 kg), which is not bad for a home-use machine. Their bars feature large wheels with sealed ball bearings and an outer high-density rubber layer for a smooth motion.
As mentioned above, the Bowflex M3 Max Trainer combines an elliptical trainer and a stepper. Therefore, its elliptical path is almost entirely vertical. As a result, it offers a motion range of 10″ (25.4 cm) vertical and 4″ (10.1 cm) horizontal putting a lot of focus on your thighs and glutes.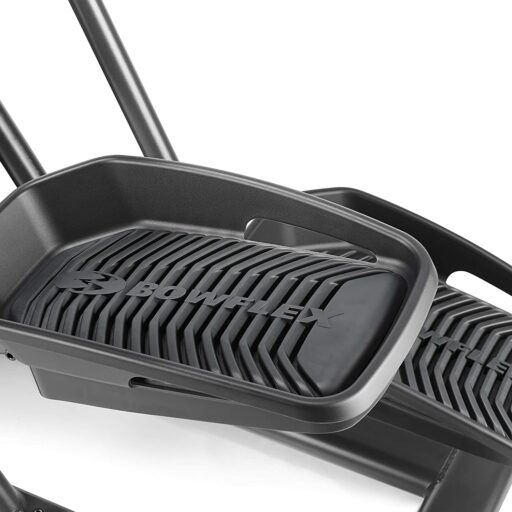 The machine's pedal Q-factor (spacing between the pedals) is also pretty narrow. It is only approximately 1.5″ (3.8 cm), meaning that your feet' position on the pedals is natural, without any lateral stress on your knees or ankles.
Considering that the Max Trainer M3 has an almost entirely vertical path, user height shouldn't be an issue. Users up to 6'8″ (201 cm) should use it with no problem if they don't exceed the specified (300 lbs) weight capacity.
Last but not least, the maximum pedal height is approx—15″ (38 cm). Therefore, you should place and use the machine in a room with a ceiling at least 15″ higher than yourself or the tallest user.
M3 Drive and resistance
The Bowflex Max Trainer M3 has a dual pulley and belt drive system. The moving arm system connects to a pulley, which is attached to an intermediary pulley through a poly-v belt. In contrast, the intermediary pulley connects the machine's flywheel system to a second belt.
This type of drive system improves the smoothness of the ride and adds difficulty to the pedaling motion. Also, drivetrain lubrication is not required since the transmissions use belts, not chains.
The machine's tension system combines air resistance with magnetic resistance. The main resistance-generating element is a gigantic flywheel fan placed on the bottom left side of the machine. As you pedal, this flywheel fan spins into its casing, and the air current generated adds resistance to the pedaling motion.
Like any fitness machine with an air resistance system, the Bowflex Max Trainer M3 produces a dynamic response during usage. In other words, if you pedal faster, the fan will spin faster and generate more resistance.
This Bowflex cross trainer integrates a magnetic brake mechanism and a balanced metallic flywheel. The brake connects to the tension dial on the right fixed grip of the machine. When you turn the dial, the magnetic brake moves closer to the metallic flywheel adding magnetic resistance to the ride.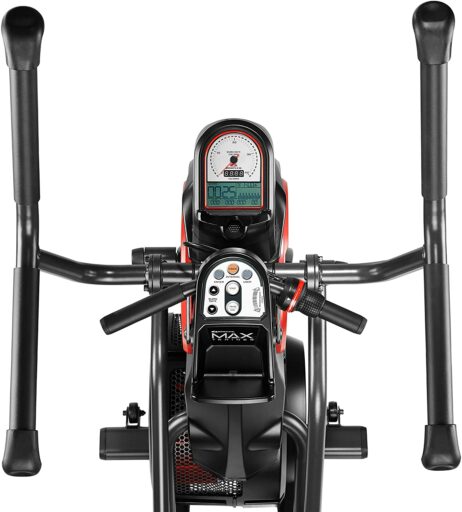 The magnetic brake offers eight distinct tension levels. On the first level, you will work just with the resistance generated by the fan. However, the 8th level of resistance adds much resistance, requiring more strength to push each pedal down.
Console
The Bowflex M3 doesn't offer many console features compared to the other Max Trainer models. It features two displays; the top LED display indicates Burn Rate, Target Burn Rate, and Calories Burned. The bottom LCD shows the elapsed time, the active interval workout, total time, RPM, heart rate, the user profile, and the resistance level.
As mentioned above, the machine does not have integrated pulse sensors in its handgrips. However, it comes with a wireless HR chest strap. Thus, if you want the console to monitor your pulse, you can wear the HR chest strap during the workout.
The console only has two workout programs, Manual and MAX Interval. Using the Manual program, you pedal while the console indicates your calories burned, RPM, and other workout metrics.
For the MAX Interval, you can select a work and rest period. Each interval can have a maximum time length of 10:00 minutes, and the total duration of the workout is a maximum of 99:00 minutes.
The console does not have pre-set workout programs or goal target settings. It also does not adjust the resistance automatically.
There are two user profiles available on the console. Users can input their age, gender, weight, and height for a more accurate calorie burn. Also, users can create and save their interval program to reuse whenever they want.
Bowflex M3 requires an external power source and comes with a power adapter. Therefore, the console doesn't need any batteries. In addition, it has an idle mode to enter if you stop pedaling for 5 seconds and has an auto shut-off mode enabled if there is no machine activity for five minutes.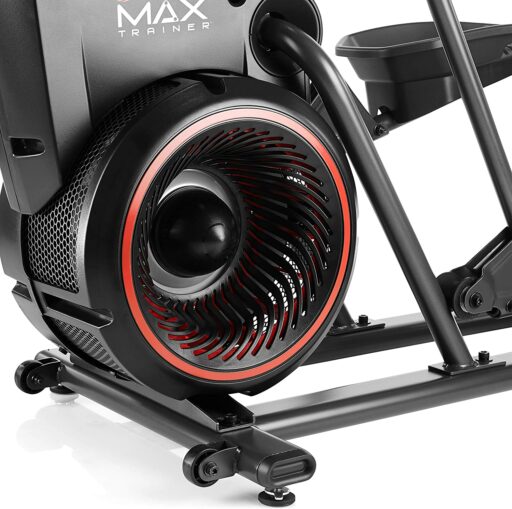 M3 Assembly and Maintenance
Although the Max Trainer's main body comes pre-assembled, the rest require user assembly. Therefore, it may take up to two hours of your time. First, you will need to connect the base frame to the main body, then the rail bar assembly, the handlebars, the pedals, the console unit, and several other small parts.
The manual provides clear assembly instructions and schematics, and all the necessary tools come with the machine.
The internal parts shouldn't require any maintenance, at least for an extended time. Therefore, keep your Max Trainer clean and lubricate the wheels or joints if necessary.
Pros
Heavy-duty construction – can support users up to 300 lbs;
Small footprint;
Aesthetic design;
Transport wheels on the front base;
Adjustable levelers on the base frame;
Durable, oversized pedals with rubber cushions and articulations for maximum shock absorption;
Ergonomic mobile handlebars with a dual-grip design;
Fixed handlebars included;
Air and eddy current resistance;
Eight levels of manual magnetic resistance;
Dual belt and pulley drive system;
Multi-window console with two workout programs (manual and a customizable interval);
Two user profiles;
HR chest strap included;
Device holder included;
The bottle holder included;
Reasonably easy to assemble;
Little maintenance is required.
Cons
No pre-set workout programs;
The console cannot adjust the resistance automatically.
Bowflex Max Trainer M3 Summary
The Bowflex Max Trainer M3 combines an elliptical trainer and a stepper offering an almost entirely vertical motion range. It features an air & magnetic resistance system with eight tension levels and a dual-belt drive system for improved motion stability. Also, it comes equipped with a console featuring a dual display, with two workout programs and two user profiles.
It's an excellent trainer for intense cardio workouts, interval training, muscle toning, stamina development, and weight loss. It's not exactly one of the most affordable vertical trainers of this type, but it offers excellent value.
I hope you found this article helpful and informative. Would you please speak up if you have anything you'd like to share on the topic or any opinions about my website? I look forward to your comments, questions, and the sharing of ideas.
Please remember that you should consult your physician to determine if you have any medical or physical conditions that could risk your health and safety or prevent you from using the equipment properly. In addition, your physician's advice is essential if you are taking medication that affects your heart rate, blood pressure, or cholesterol level.