Weight training can seem daunting, but it doesn't have to be. Start small and work your way up with this LifePro PowerFlow 25 lbs adjustable dumbbell. Gradually increase the weight you're lifting with the built-in, easy adjustment system, eliminating the need for a full rack of weights. In addition, the compact design saves storage space, eliminating the need for a full frame of weights.
Discover the power of your body's potential by actively gaining strength, overcoming obstacles, and achieving your goals. Replace your cluttered dumbbells with adjustable, more compact, and portable dumbbells. Use the dumbbell rack to increase or decrease weights quickly with the fast built-in adjustment system.
For beginners, the LifePro PowerFlow 25 lbs adjustable dumbbells start at just 5 lbs and adjust 5 lb increments up to 25 lbs to create a challenging fitness routine that is not overwhelming—convenient fitness from the comfort of home. Use adjustable weights during your workout routine to strengthen your core, release endorphins, and build lean muscles.
The anti-Slip textured steel handle looks as good as it feels, providing a smooth, stable grip. The built-in adjustment system locks while in use to prevent the weights from shifting. Easy to use right out of the box, plus live support for as long as you own your LifePro PowerFlow dumbbells.
Learn more in my complete review below!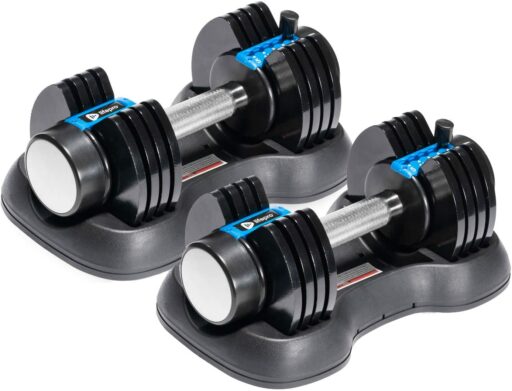 Product: LifePro PowerFlow 25 lbs Adjustable Dumbbells
Price: For a great deal on this dumbbell, merely go here to Amazon.com
Warranty: Lifetime limited
My rating: is 9/10
Affiliate Disclosure: As an Amazon Affiliate Program participant, I earn commissions on purchases made through links in this post. Full disclosure
Details and Specifications
Dimensions: 15.6L x 7.7W x 9.6H inches (40L x 19.5W x 24H cm)
Weight range: 5 – 25 lbs (2.2 to 11.3 kg)
Adjustment increments: 5 lbs (2.2 kg)
Weight settings: 5
Accessories: Storage and adjustment tray
Warranty: Lifetime limited
PowerFlow Dumbbell Construction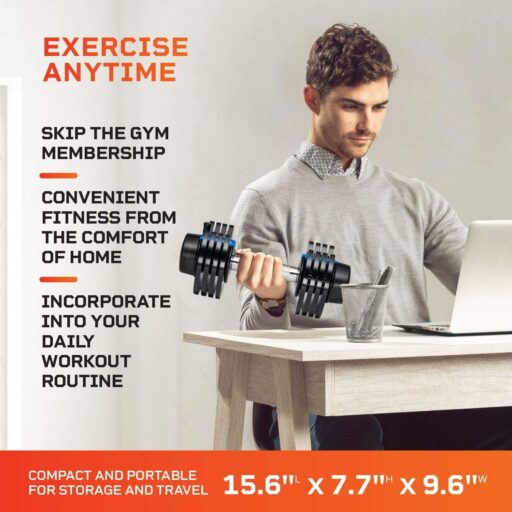 The LifePro PowerFlow 25 lbs Adjustable Dumbbells feature a pretty standard construction. However, unlike many other models, they have more metal and less plastic. The handles are steel-made with a chrome finish. Their grips are cylindrical, not convex, as is the case for the Bowflex dumbells. In addition, they have a knurled design to provide superior contact.
One of the main advantages of the LifePro dumbbells is that they have all-metal weight plates. They're steel alloy, coated with a black paint finish, so they don't catch rust. In addition, they do not have plastic casings, as is the case for other adjustable dumbbells. Therefore, it considerably improves their structural strength.
However, like any other adjustable dumbbells, dropping or throwing them is not advisable, as they can still sustain damage. Also, even though they can withstand push-up exercises with no problem, these are still not advisable for any adjustable dumbbells.
The most notable plastic elements in the dumbbells' construction are the head caps, the heads of the adjustment pins, and the covers of the selectors. These are pretty durable ABS plastic materials. Furthermore, they don't have an essential role in the dumbbells' overall structural sturdiness.
Although the LifePro PowerFlow dumbbells don't offer a very high weight range, they're still pretty significant. They are approx—15.6″ (40 cm) long and 7.7″ (19.5 cm) wide. Also, when placed in their trays, their height is approx—9.6″ (24 cm).
As opposed to that, the average 25 lbs hex dumbbell is approximately 13″L x 6″W (33 x 15 cm). Nonetheless, users shouldn't have a problem with this size during exercise.
Adjustment system and increments
The LifePro PowerFlow 25 lbs adjustable dumbbells come equipped with a pin adjustment system. Each dumbbell has a selection pin on one head that connects to the other so that when you select a certain weight, it locks a similar number of plates on each head, and there are five different selection slots. Therefore, each dumbbell offers five adjustment settings and five different weights.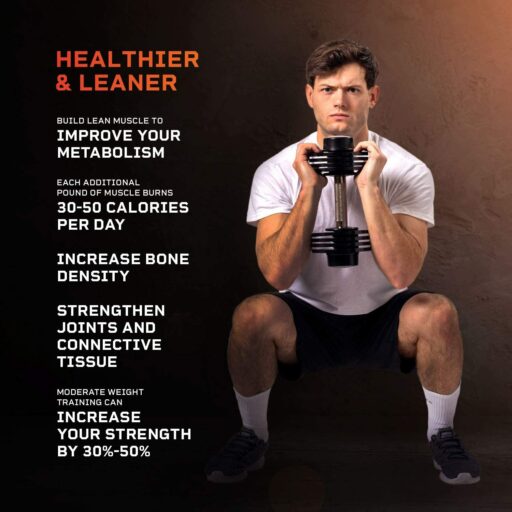 Like most other adjustable dumbbells, the handle won't pick up any plates if you select the first level. So, the empty handle weighs 5 lbs (2.26 kg). The 2nd setting will pick up one plate on each head, and the 3rd setting will pick up two plates on each head, and so on. Each plate weighs 2.5 lbs (1.13 kg), so each dumbbell can be 5, 10, 15, 20, and 25 lbs (2.2, 4.5, 6.8, 9.0, and 11.3 kg).
It's essential to add that they must be in their trays to adjust the dumbbells correctly. These keep the weight plates perfectly aligned so that the connection elements will always grab the desired number of plates.
It's also important to note that you cannot create an offset weight since each dumbbell has only one selector. Once the pin is in one of the holes, the dumbbell will grab an equal number of plates on each side.
PowerFlow Accessories
The LifePro PowerFlow 25 lbs adjustable dumbbells don't have too many accessories. The unique accessories are the adjustment and storage trays. The trays are made of a slightly flexible, heavy-duty thermoplastic material designed to withstand shock, so they shouldn't break easily.
The trays are pretty necessary for quick weight adjustment. As mentioned, they keep the weight plates well-aligned and tight, so the selector pin grabs the correct amount every time. However, it is not advisable to try and adjust them while out of their trays as the selector may not hold the plates properly; they may drop from the handles and lead to damage or injuries.
Pros
Space-saving – 5 dumbbells in one;
Sleek design, which can serve as a motivation factor;
Metallic weight plates without any plastic for improved structural sturdiness;
Selectorized adjustment system great for quickly changing weight;
Decent weight range (from 5 lbs to 25 lbs);
Fairly decent micro-adjustability – 5 lbs (2.26 kg) adjustment increments;
No manual plate loading and unloading hassle;
Knurled handles for a superior grip;
Sturdy handles made of metallic alloy;
Storage trays included.
Cons
The knurling on the handles may be too rough for beginners (gloves can always solve this problem);
They are slightly larger than hex dumbbells of the same weight.
LifePro PowerFlow 25 lbs Adjustable Dumbbells Set Summary
The LifePro PowerFlow 25 lbs adjustable dumbbell set includes two dumbbells with their trays. Each dumbbell offers five adjustment positions, with a 5 – 25 lbs (2.2 – 11.3 kg) adjustment range.
In addition, they are selectorized dumbbells with one selector controlling both heads. Like any other selectorized dumbbells, they help save a lot of time when adjusting weights and save space.
Furthermore, their weight range may not be the best choice for advanced users, but they should suffice for beginners and mid-level users.
I hope you found this article helpful and informative. Would you please speak up if you have anything you'd like to share on the topic or any opinions about my website? I look forward to your comments, questions, and the sharing of ideas.
Please remember to consult your physician to determine if you have any medical or physical conditions that could put your health and safety at risk or prevent you from using the equipment properly. In addition, your physician's advice is essential if you are taking medication that affects your heart rate, blood pressure, or cholesterol level.