The Marcy Olympic SM-3551 Training Cage System is a durable, multi-purpose workout machine that allows you to exercise in the comfort of your home or the office. So get to strengthening and toning the muscles in your body with the pull-up bar, weight trolley, abdominal crunch station, and dips bar. Durability and stability are one of the main features of this cage system, so intense workouts are no problem.
The Marcy Training Cage System includes adjustable bar catches for the front of the unit. Use the catches with an Olympic bar for squats and a bench for presses. Squats are great for targeting your quadriceps and glutes.
The high and low pulleys are for intense upper and lower body exercises. Core training is excellent with cable pulleys, targeting all muscles. The Marcy Olympic SM-3551 training cage has a single pulley trolley that you can use with the upper or lower pulley for various workouts.
The multi-grip pull-up bar allows you to do pull-ups and chin-ups. Pull-ups and chin-ups target several different muscles in your arms, back, and chest. Change up your grip to target a broader range of muscles. Use the Sit-up station to easily do sit-ups without having someone to hold your legs down.
Learn more in my complete review below!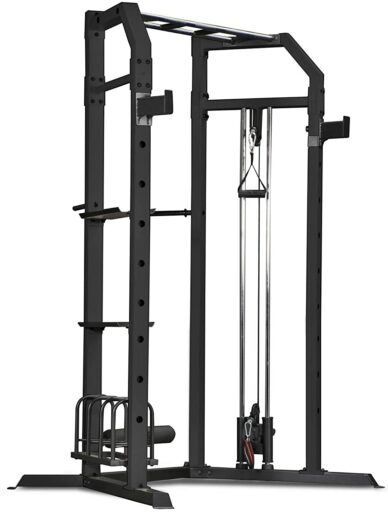 Product: Marcy Olympic SM-3551 Training Cage System
Price: For a great deal on this gym, merely go here to Amazon.com
Warranty: 2 years limited
My rating: 8.25/10
Affiliate Disclosure: As an Amazon Affiliate Program participant, I earn commissions on purchases made through links in this post. Full disclosure
Please note that the weight plates do not come with the cage.
Details and Specifications
Assembled dimensions: 46D x 60W x 87H inches (117L x 153W x 221H cm)
Assembled weight: 174 lbs (79 kg)
Max. weight capacity:

Pulley system: 155 lbs (70.3 kg)
Bar catches: 300 lbs (136 kg)
Pull-up bar: 300 lbs (136 kg)
Plate rack: 410 lbs (186 kg)
Dumbbell / Kettlebell tray: 265 lbs (120 kg)

Possible exercises: 40+
Warranty: 2 years limited
SM-3551 Frame Construction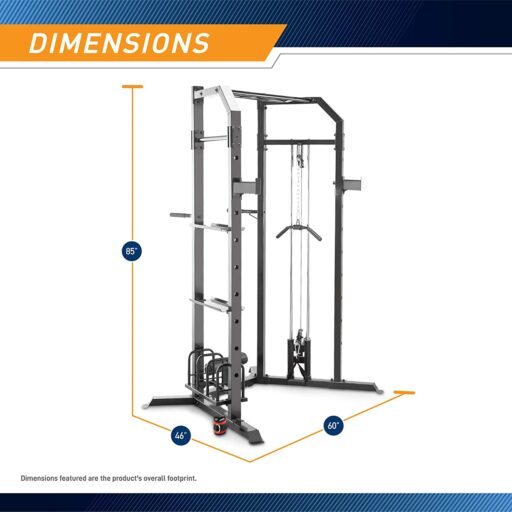 The first aspect that requires clarification is the machine's total assembled weight. Although Marcy does not specify the assembled weight, since it's 16 gauge, 2 x 2.75″ steel tubing, its overall weight, I estimate, is approx. 174 lbs (79 kg), offering stability and sturdiness.
Due to this fact, it's unnecessary to anchor it to the floor; its bases don't even have holes for this purpose. However, drilling holes in the base tubes can easily anchor them to the floor.
The machine is not extremely large. Its base has a trapezoid shape, with the widest point being 60″ (153 cm). Its depth is approx—46″ (117 cm). Therefore, the frame offers enough space for various pulley system exercises, such as kickbacks or lat pull-downs.
Regarding height, this machine won't fit in a room with a 7′ ceiling, as its total assembled size is 87″ (221 cm). Therefore, you'll need to complete it and use it in a room with a ceiling height of a minimum of 8′ to have enough clearance above for the safe execution of pull-up exercises.
The front, upright bars of the frame feature nine adjustment holes for the bar catchers. The barbell height ranges from 14″ (35.5 cm) on the bottom holes and up to 67.5″ (171.4 cm) on the top holes. Therefore, the machine offers just enough height adjustment for its bar catches for users up to 6'5″ (195 cm).
If you're wondering, the catches are 6″ (15.2 cm) long, and the distance between them is 50″ (127 cm), so the machine requires Olympic barbells (as its name suggests). Also, the catches have a maximum of 300 lbs (136 kg) weight limit.
Pulleys
The pulley station of the machine comes equipped with two heavy-duty, nylon-made pulleys, integrating sealed stainless steel ball bearings for smooth and prolonged use. The cables are also steel weaved and covered by a thin sheet of PVC material.
The frame side opposite the pulley station integrates three weight racks. The bottom rack has a higher capacity (410 lbs / 186 kg) for weight plate storage. The top racks are for dumbbells and kettlebells and can support loads up to 265 lbs (120 kg).
SM-3551 Accessories
Lastly, the accessories supplied with this Marcy power cage include one lat bar, one ankle strap, and one pulley handle. Unfortunately, the system does not have weight plates, an Olympic bar, or a weight bench.
Workout stations
Although it's quite an affordable strength cage, the Marcy SM 3551 does include several workout stations. These are:
Pulley station. This workout station includes high and low pulleys, offering the possibility to perform exercises such as lat pull-downs, biceps curls, or stand-up rows. Unfortunately, it comes with only one weight plate peg, 1″ in diameter (for Standard plates). An Olympic plate adapter is also supplied with the set, so the pulley system can also load up with Olympic plates.
The weight capacity of the pulley station is 155 lbs (70.3 kg). Also, even though the specified ratio for the pulley station is 1:1, several users have reported that the pulleys add some resistance, rendering the total resistance of this workout station to around 1.5: 1.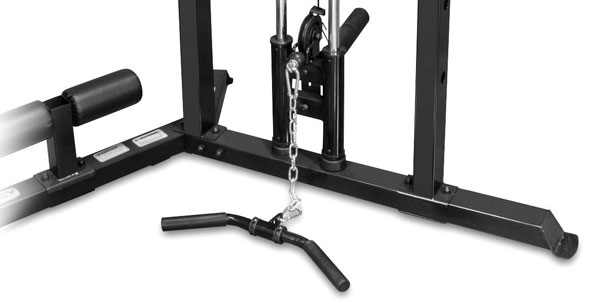 Pull-up station. The top of the frame integrates a multi-grip bar attachment, which allows a wide array of pull-up exercises. Its weight capacity is 300 lbs (136 kg), just as for the bar catches. Therefore, depending on your weight, you should also be able to perform weighted pull-ups.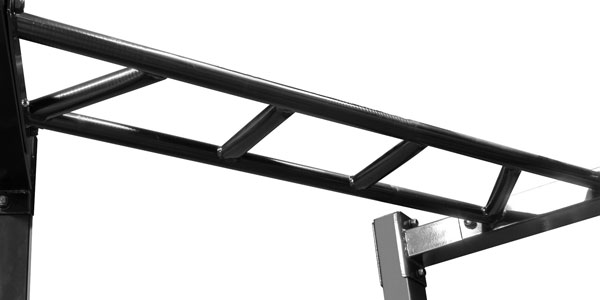 Dip station. The rear upright bars of the frame include two dip handles. They curve inward to supply a more natural and comfortable grip. Their grips feature rubber foam coating to prevent damage to the hands. The height of the dip bars is not adjustable. Also, they cannot be attached to the front part of the frame in the adjustment holes of the bar catches.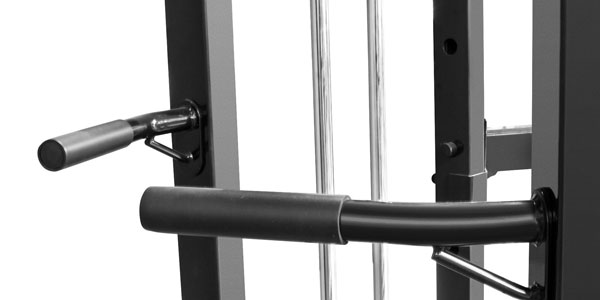 Sit-up station. This workout station is the foot anchor attachment connected to the rear base bar of the machine. This element integrates 4″ foam rollers with vinyl covering, double-stitched for durability, providing superior comfort for sit-up exercises.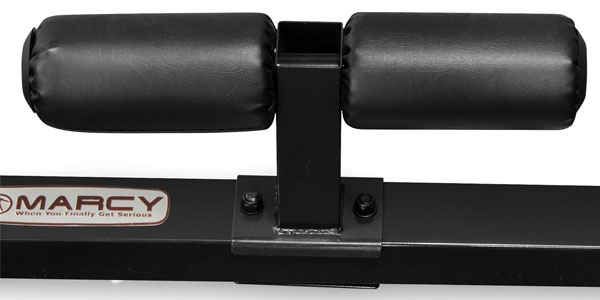 SM-3551 Possible Exercises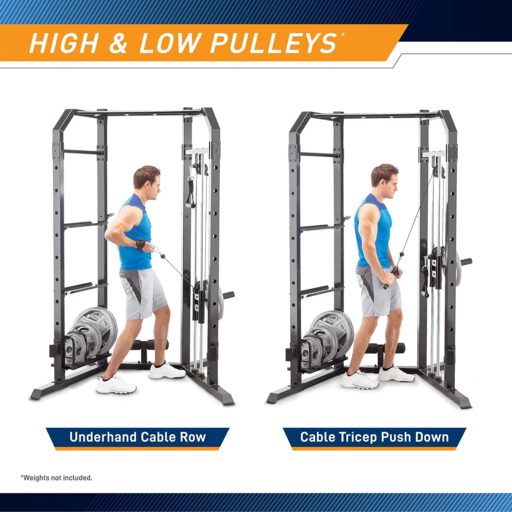 Squats
Single-leg squats
Kneeling single-leg squats
Wide squats
Twisting squats
Jumping squats
Pull-ups
Wide grip pull-ups
Muscle pull-ups
Behind head pull-ups
Around the world, pull-ups
Parallel grip pull-ups
One-arm pull-ups
Cliffhangers
Weighted pull-ups
Chin-ups
Close grip chin-ups
Wide grip chin-ups
One hand chin-ups
Weighted chin-ups
Hanging knee raises
Hanging leg raises
Lat pull-downs
Close grip pull-downs
Behind head pull-downs
Stand-up rows
Kneeling rowing
Biceps curls
Triceps press-downs
Chest presses
Single-arm chest presses
Wide grip chest presses
Close grip chest presses
Kickbacks
Calf raises
Hip extensions
Hip adductions and Hip abductions
Dips
Weighted dips
Dip to leg raise
Side-to-side dips
Gironda dips
Reverse Gironda dips
and more
When it comes to lat pull-downs, you can perform these exercises sitting on a chair inside the cage (if you don't have a weight bench), or if you're taller, you can even sit on the floor.
Kickbacks are tricky to perform since the pulleys don't swivel, and you must extend your legs toward the machine's weight rack. Taller users may restrict their movement during kickbacks or leg abductions.
You will need a weight bench for chest presses; unfortunately, this accessory does not come with the machine.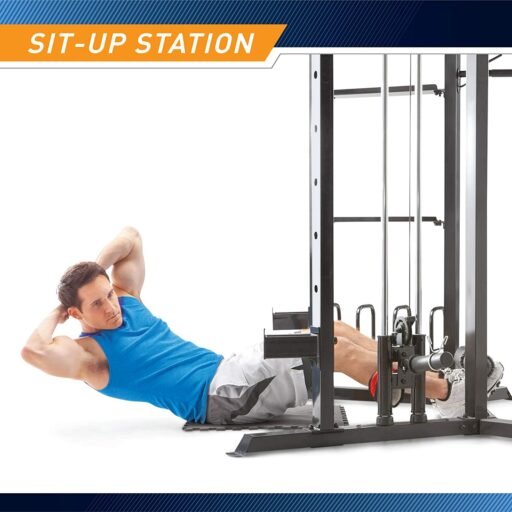 SM-3551 Assembly and Maintenance
The whole frame of the Marcy SM 3551 strength cage requires assembly; however, the process is pretty straightforward. An assembly manual offering step-by-step instructions come with the enclosure.
Unfortunately, tools for assembly do not come with the cage, so you'll need an adjustable wrench and an Allen wrench. Nevertheless, the process shouldn't take more than 2-3 hours if two people do it.
Maintenance requires the periodic lubrication of the machine's moving parts. Also, the routine check of the bolts, nuts, and joints is advisable and to retighten them as needed.
Pros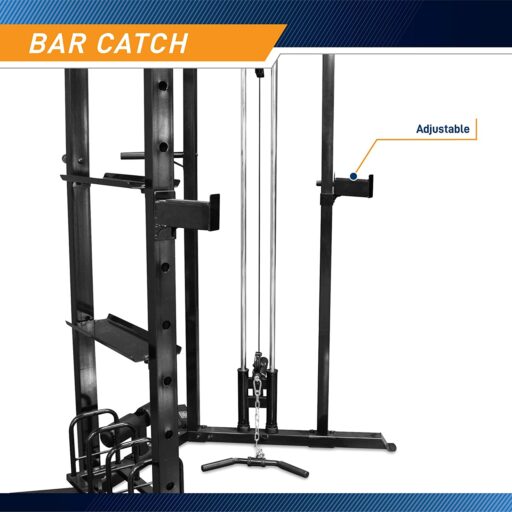 Sturdy, all-steel frame;
Four workout stations, including pulley station, multi-grip pull-up bar assembly, dip station, and sit-up anchor attachment;
Smooth pulley and cable movement;
Nine attachment positions for the bar catchers, ranging between 14″ and 67.5″;
Bar catches, lat bar, the pulling handle, and ankle strap, included;
Olympic plate adapter for the sliding weight post, included;
4″ foam rollers for the sit-up attachment;
Over 40+ possible exercises;
Quiet operation;
Little maintenance is required;
Reasonably easy to assemble.
Cons
Pulleys don't swivel, which may be a bit inconvenient for specific exercises;
Safety bars do not come with the cage.
Marcy Olympic SM-3551 Summary
The Marcy SM 3551 strength cage is a home gym system that can perform more than 40+ exercises. It features a sturdy frame with a decent weight capacity, integrating four distinctive workout stations. In addition, it comes with one set of bar catches, the frame offering nine adjustment positions for them.
Although it may not be the best choice for a powerlifter, this power rack can offer an excellent training setting for beginners and intermediate-level users. Moreover, considering the current discounts, it costs less than $600, so it's safe to say that this particular strength cage comes with an excellent price/value ratio.
I hope you found this article helpful and informative. Would you please speak up if you have anything you'd like to share or any opinions about my website? I look forward to your comments, questions, and the sharing of ideas.
Please remember that you should consult your physician to determine if you have any medical or physical conditions that could risk your health and safety or prevent you from using the equipment properly. In addition, your physician's advice is essential if you are taking medication that affects your heart rate, blood pressure, or cholesterol level.