The Nautilus U616 Upright Bike is an affordable bike for home residential use. The Nautilus U616 provides a low-impact cardiovascular workout with little impact on your joints. Furthermore, it has all the basic and advanced features to enable a user to achieve fitness goals.
How so, might you ask? First, the U616 has Bluetooth smart connectivity that allows users to sync data with Nautilus ConnectTM, MyFitnessPal, and the Nautilus TrainerTM App. In addition, its DualTrack display with two high-resolution, backlit LCD monitors is a beauty to watch as it displays up to 13 different metrics.
The Nautilus U616 upright bike features a balanced flywheel, which creates a secure, quiet, vibration-free workout and 25 ECB magnetic resistance levels. ECB is the best type and silent form of magnetic resistance, and there are ten quick resistance keys to go from smooth to hard.
The U616 provides 29 programs (12 profiles; 9 are heart rate control; 2 are custom user-defined; 2 are fitness tests (1 Beginner, 1 Advanced); 1 quick start), and additional features. The Nautilus U616 Upright Bike is one of the best mid-range models available. It comes with everything you need for a challenging cardio routine and more.
Learn more in my complete review below!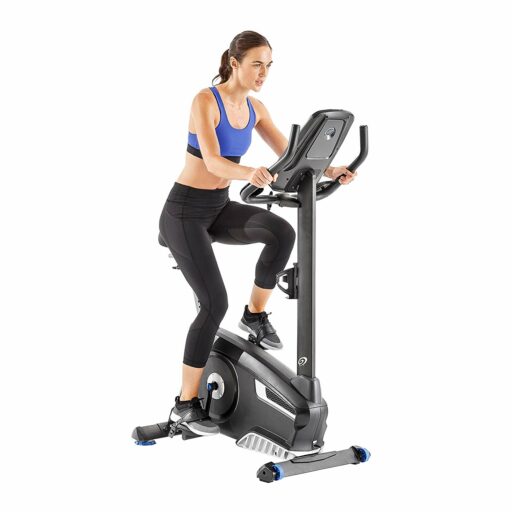 Product: Nautilus U616 Upright Bike
Price: For an excellent deal on this bike, merely go here to Nautilus.com
Warranty: 10-year frame, 2-year parts, 1-year electronics, and 90 days of labor
My rating: is 8/10
Affiliate Disclosure: As a Nautilus and Schwinn Partner Program participant, I earn commissions on purchases made through links in the post. Full disclosure
Details and Specifications
Assembled dimensions: 41.8L x 21.6W x 57.6H inches (104L x 55W x 146H cm)
Assembled weight: 68.6 lbs (31 kg)
Supported weight: 300 lbs (136 kg)
Handlebar: 2-way adjustable, with integrated metallic pulse sensors
Seat: 4-way adjustable
Pedals: Weighted, with straps
Resistance: Eddy current, 25 levels
Console: 29 workout programs, Bluetooth, USB port
Amenities: Speakers, fan, media tray, bottle holder,
Warranty: Frame 10 years / Parts 2 years / Electronics 1 year / Labor 90 days
U616 Frame Construction
The Nautilus U616 upright bike features a steel frame construction. However, the vertical post of the seat with its slider is aluminum material. All the steel parts within the frame come with a corrosion-resistant black paint finish. The side base covers of the pulley, flywheel and other resistance elements are made of ABS material.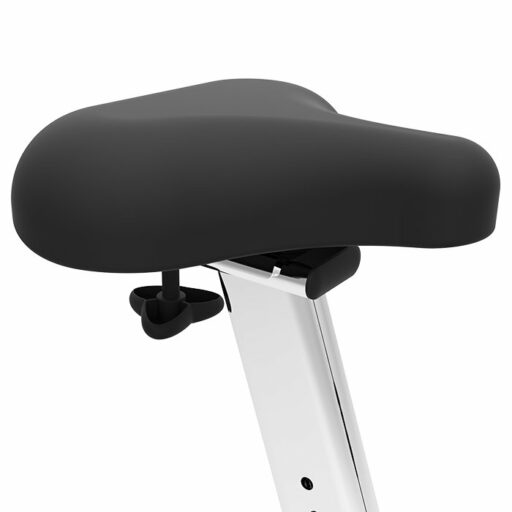 The bike offers excellent overall sturdiness and stability. However, it weighs approximately 68.6 lbs (31.1 kg), twice the average road bike's weight. This weight, plus your weight, adds to the unit's overall stability.
Plus, the rear base comes with large, adjustable stabilizers, while the front base rests on two other rubberized pads, which improve the unit's grip on the floor.
The front bottom also has transport wheels that facilitate the bike's relocation once you have finished your workout. You won't be handling more than 1/3 of the unit's total weight using these wheels.
The fully assembled bike isn't giant. Its footprint is approx. 42″ x 22″ (106 x 55 cm), while its highest point is the top of the console, which is approximately 58″ (146 cm) above floor level. Nautilus advises two feet of clearance around the bike. Thus, allowing safe access and operation.
Seat
The Nautilus U616 comes with a high-comfort seat. The saddle integrates a thick layer of foam cushioning, improving its comfort. It is a saddle made for seated workouts, unlike the leathers included with many spin bikes. You can still enhance its comfort by adding an extra gel seat cover.
The seat has a standard attachment system to its slider. Thus, compatible replacements for it are widely available. Therefore, in the unlikely event that you would want to replace it, you should be able to find one in any bike shop.
The seat offers 4-way adjustability. Furthermore, its vertical post features more than ten adjustment notches with approximately 1″ (2.5 cm) spacing. Therefore, it comfortably accommodates users between 5'0″ and 6'5″ (153 – 196 cm) with no problem, promoting a complete and healthy leg extension during pedaling.
Plus, the seat's horizontal slider offers several inches of front-to-back adjustment. It's also durable enough to support users up to 300 lbs (136 kg).
U616 Handlebars
Unlike other upright bikes, the Nautilus U616 also offers handlebar adjustability. The handlebar assembly connects the front mast to a metallic collar, tightened by a large knob. Therefore, you can untighten the knob, adjust the handlebar to the angle you desire, and then retighten it back in its place.
The handlebar features a multi-grip design. It offers the possibility to adopt at least three grips, including parallel, standard, and race. Its side sections feature a layer of rubberized material to provide a secure grip. Its lower part integrates metallic grip sensors that allow the console to monitor your pulse. Plus, the bottom corners of the handlebar come equipped with elbow pads, a feature that many upright bikes, or exercise bikes in general, do not include.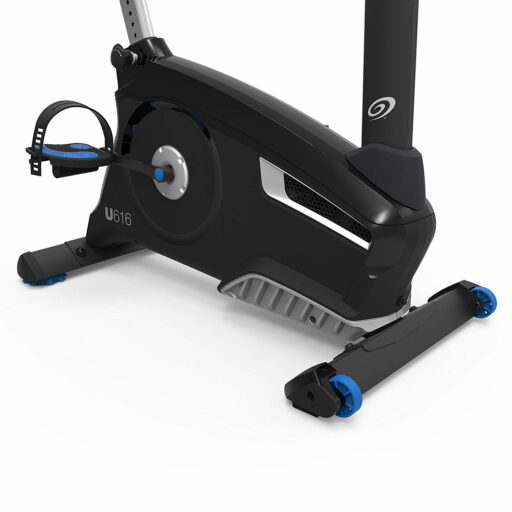 Resistance System
This Nautilus U616 upright bike has an eddy current (motorized-magnetic) resistance system. Thus, it requires a connection to a power source to allow resistance adjustments. Since the bike is motorized, the console makes all the resistance adjustments. Also, most of the onboard programs of the cycle will automatically adjust the resistance if selected.
An AC adapter comes with the bike, and its specs are Input: 120V 60Hz, and Output: 9VDC, 1.5A. Its connector is at the front base of the cycle. Furthermore, batteries can not power the console.
The main resistance elements of the bike are a magnetic brake and a servo motor. As you adjust the console's resistance, the servo motor will move the magnetic brake pad closer or farther from the flywheel, increasing or decreasing the intensity of the created magnetic field. Therefore, it ultimately leads to more demanding or lower pedaling difficulty.
The bike offers 25 distinct resistance levels. The first 5 deliver a very light resistance, which is great for users who need recovery training or elderly users. Conversely, the 20-25 levels of resistance provide a pretty consistent pedal tension, simulating a steep climb and allowing you to achieve a higher fat burn.
U616 Drive System
The Nautilus U616 comes with a 22 lbs (10 kg) internal flywheel, a perimeter-weighted structure that generates superior inertia during pedaling. As a result, it delivers consistent momentum and a steady driving feel. It also allows pedaling in reverse; however, coasting is not possible on the bike.
The crankset features durable steel crank arms. So, even though it may be solid enough to support your weight during a standing-up pedaling routine, this exercise is not advisable. After all, this is an upright bike made only for seated workouts.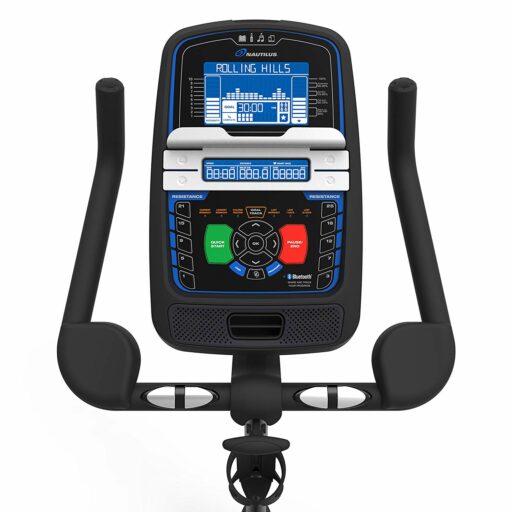 The included pedals are made of a durable nylon material with a metallic core. They're weighted to always self-adjust, turning up when you remove your feet from them. They also have adjustable straps.
Finally, this Nautilus exercise bike features a belt drive system. It uses a heavy-duty rubber belt, resistant to stretching. Therefore, the internal drive system doesn't need lubrication. Also, the belt generates considerably less vibration than a chain.
Console
The Nautilus U616 upright bike features a different console than the previous model. In addition, it has a sleeker interface and offers greater visibility for workout metrics than the previous model.
The bike's console features a dual display. The top larger display shows the selected workout program's profiles, the chosen goal and your progress towards it, the name of the current workout program, the incline and resistance levels, and the heart rate interval.
The lower display shows time, speed, distance, RPM, resistance level, calories burned, and heart rate. The speed and distance are in either metric or imperial units.
It can also track your pulse via integrated sensors, but it is also telemetric. Thus, it can communicate with various HR chest strap transmitters that operate in the 4.5 kHz – 5.5 kHz range.
U616 Workout Programs
The console integrates an impressive array of workout programs to keep you motivated. First, it has a Manual mode, which allows you to select any tension level during pedaling. Second, there are 12 preset programs designed for various workouts. Additionally, a Custom program enables you to create your challenge and break your records with each exercise.
Furthermore, there are 4 Heart Rate program settings for 50-60%, 60-70%, 70-80%, and 80-90%; when one of these HR programs is selected, the machine will monitor your heart rate and auto-adjust the resistance to keep you within the chosen HR range.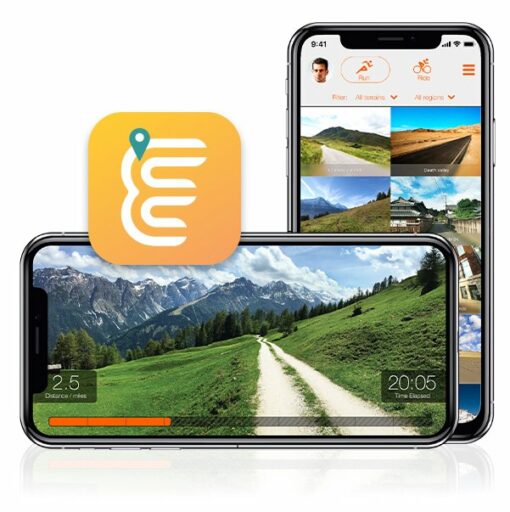 Goal tracking is also available. You can select a goal to track for a specific time, and the console will monitor your progress. For example, you can choose a calorie goal for seven days, and the console will track how many calories you have burned towards that goal.
The console provides four user profiles; you can save a goal tracking for each. In addition, four separate users can save their program settings and quickly select their program and workout parameters when they begin their workout.
Users can also input their weight, height, age, gender, and name, for a more accurate calorie count and progress tracking. Finally, the console also has Recovery and BMI functions compared to other programs.
Amenities
The console features do not end here, though. Like the Nautilus U618, this one features Bluetooth connectivity and a USB port.
Thus, you can sync it with your smartphone or tablet to stream your workout data into your online fitness tracking account. In addition, it is compatible with various fitness apps, such as Nautilus Trainer 2, MyFitnessPal, and several others.
If you don't want to use the Bluetooth feature, you can still transfer your data online via the Nautilus Connect portal and a USB device. Also, the USB port doubles as a charging port for your tablet or smartphone.
Access the Explore the World app and immerse yourself in your fitness journey by exploring dozens of high-definition destinations and course lengths, including the Japanese Countryside, the Scottish Highlands, the streets of Prague, and many more.
Please note three free courses are available; unlock more with an Explore the World app subscription. The app is compatible with Apple or Android smart devices.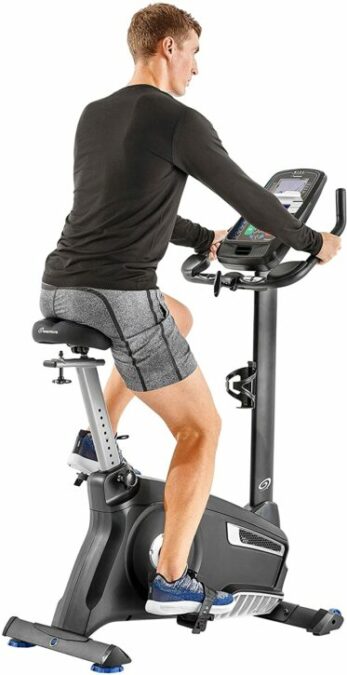 Additionally, the console integrates a sound system, a media shelf, and a cooling fan. The sound system is compatible with most MP3 players, smartphones, and tablets, consisting of two speakers in the lowest corners of the console.
The media shelf is between the two displays of the console; it's large enough to accommodate any tablet. Last but not least, the workout fan does provide some cooling for your workout, although it is not too overpowering, and you can change its angle by tilting the console.
U616 Assemble and Maintenance
The bike base with all the drive and resistance elements comes pre-assembled. Therefore, you only need to add the base bars, the console mast, the handlebar, the console, the seat post, the seat, and the pedals.
Therefore, it may take up to an hour of your time, but the process is far from complicated. The included manual provides clear assembly instructions and schematics. Also, an essential toolkit comes with the bike.
It is advisable to periodically check the bike's integrity, look for loose bolts or broken parts, and retighten or replace them. In addition, it would be best to wipe dry any sweat that may fall onto the frame or console. However, internal maintenance is not required. All the internal components come pre-lubricated from the factory.
Pros
Solid construction – can hold users up to 300 lbs;
Professional-looking design;
Adjustable stabilizers on the rear base;
Transport wheels on the front base;
Cushioned, 4-way adjustable seat;
Angle-adjustable handlebar;
Elbow pads included;
Pulse sensors integrated into the handlebar;
Smooth and quiet drive;
25 levels of resistance;
29 workout programs;
Four user profiles;
Goal tracking;
Explore the World and other online app compatibility;
Telemetric console;
Several amenities, such as a 3-speed fan, sound system, media tray, USB charging port, and bottle holder;
AC adapter included;
Easy to assemble;
Maintenance-Free;
Excellent warranty.
Cons
A tablet placed on the table holder will cover the top LCD;
An HR chest strap does not come with the bike;
The cooling fan is not too overpowering.
Nautilus U616 Upright Bike Summary
The Nautilus U616 is an upright exercise bike offering 25 levels of eddy current resistance, 29 onboard workout programs, Bluetooth connectivity, and compatibility with the Explore the World, Nautilus Trainer 2, MyFitness Pal, and other apps for fitness and goal tracking. It's a heavy-duty bike, pretty close to light commercial quality.
In short, it also offers superior micro-adjustability and many amenities, such as a sound system, cooling fan, and tablet holder. As a result, it's one of the complete upright bikes for home use, offering outstanding value for the price.
I hope you found this article helpful and informative. Would you please speak up if you have anything you'd like to share on the topic or any opinions about my website? I look forward to your comments, questions, and the sharing of ideas.
Please note: Before starting any exercise program, you should consult your physician to determine if you have any medical or physical conditions that could risk your health and safety or prevent you from using the equipment properly. In addition, your physician's advice is essential if you are taking medication that affects your heart rate, blood pressure, or cholesterol level.