The ProForm PRO 2000 Smart Treadmill has many features that offer a smooth training experience. It does not matter whether you are a beginner or an athlete who wants to add more intensity to your practice; the PRO 2000 is a great treadmill.
The PRO 2000 Smart treadmill offers incline and decline settings from -3% to 15%, and it has a speed range from 0.5 to 12 MPH, making it suitable for walkers, joggers, and runners. Its dimensions are 77.3″ long x 35.3″ wide x 59.6″ high, and it has a running surface area of 60″ x 20″. The PRO 2000 weighs around 260 lbs and can handle a 300-pound maximum user weight capacity.
The PRO 2000 has an impressive, high-definition touchscreen. The 10″ smart touchscreen display keeps track of your workout data and shows distance covered, heart rate, speed, calories burned, elevation gain and loss, workout average, time, etc. In addition, you can now stay in the training zone with wireless heart rate monitoring. It automatically communicates your heart rate to your treadmill as you exercise.
The PRO 2000 possesses 50 onboard programs. Some help burn calories, while others focus on incline training, speed goals, and high-intensity training. These programs automatically adjust the speed and incline/decline level to accomplish your goals. Additionally, this treadmill comes with a 30-day iFit family membership included.
Learn more in my complete review below!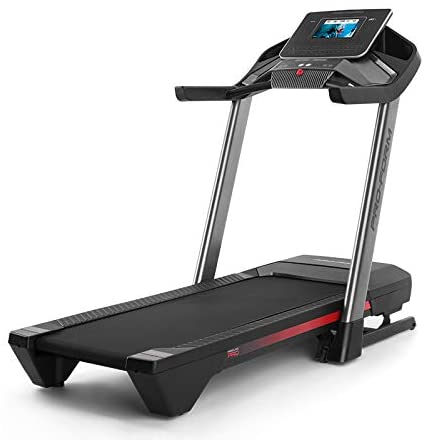 Product: ProForm PRO 2000 Smart Treadmill
Price: For a great deal on this treadmill, merely go here on Amazon
Warranty: Frame lifetime / Motor lifetime / Parts 2 years / Labor 1 year
My rating: is 9/10
Affiliate Disclosure: As an Amazon Affiliate Program participant, I earn commissions on purchases made through links in this post. Full disclosure
Details and Specifications
Assembled dimensions: 77L x 35W x 59H inches (196L x 89W x 150H cm)
Tread belt dimensions: 60L x 20W inches (152L x 51W cm)
In-Box product weight: 262 lbs (119 kg)
Supported weight: 300 lbs (136 kg)
Motor: 3.25 CHP Mach Z
Incline: Automatic, 0-15%
Decline: Automatic, -3% – 0%
Rebound Pro Cushioning
Speed levels: 1-12 MPH.
Training programs: 50
Pulse sensors: Yes
Multifunctional HD touchscreen console: Yes
Amenities: Sound system, cooling fan, accessory holders, WiFi connectivity, iFit ready
Warranty: Frame lifetime / Motor lifetime / Parts 2 years / Labor 1 year
PRO 2000 Frame, Deck, and Tread belt
The frame is mostly steel, with several substantial plastic parts. The rear base has two feet for maximum stability, finished with leveling rubber caps. The front base assembly rests directly on the floor.
It has two transport wheels, considerably easing the treadmill's movement and handling while in a folded position. Also, the metallic lateral parts of the front base have plastic covers for a more aesthetic look.
Every treadmill ProForm release comes with Rebound Pro cushioning throughout the deck area. The patented shock absorbers keep the impact to a minimum, so your legs will thank you as you walk, jog, or run. You'll enjoy a longer workout and faster recovery with less stress on your feet, ankles, knees, and hips.
The PRO 2000 Smart from ProForm features a cushioned deck equipped with the ProShox™ cushioning system designed to distribute impact evenly, absorbing a great deal of the shock on your knees, ankles, and feet.
Running on this treadmill is much more comfortable than running on concrete or asphalt, resulting in longer workouts and less recovery time.
The deck is foldable and equipped with an EasyLift™ assist mechanism, offering the possibility to save space when the machine is not in use. However, the deck doesn't fold entirely vertically, remaining at an angle of 70°.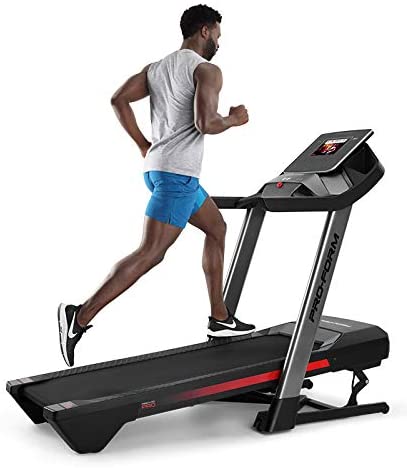 The folded treadmill measures roughly 71″ (180 cm) in height, and about 45″ (114 cm) in length, taking less than 40″ (101.6 cm) floor space depth-wise. However, in a complete folding position, this treadmill still occupies some space, with a 35.3″W x 80″H (89 x 203 cm) footprint.
The deck's overall build is sturdy enough to support 300 lbs (136 kg) users. The foot rails on the sides are hard plastic and offer plenty of footrest space.
The tread belt has the standard dimensions as most gym-rated treadmills, 20″W x 60″L (51 x 152 cm). Thus, it supplies an excellent running surface for users up to 6'6″-6'7″ (198 – 200 cm).
Even though the belt is 1-ply, it is still a commercial-grade belt. Each one is tested for one million cycles at double the maximum user weight before being equipped on a treadmill. The rollers powering the belt are 1.9-inch precision-machined, non-flex, and balanced, minimizing tension and wear and tear.
Incline / Decline
The ProForm PRO 2000 Smart treadmill has an automatic incline system, providing up to 15% incline. Therefore, the maximum slope supplied by this treadmill is about 11°-12°—the incline increases in increments of 0.5%.
Along with the incline, there's also a decline, down to -3%, offering downhill running possibilities. Both the incline and decline considerably increase the training possibilities offered by this machine.
If you've wondered, the step-up is a 10″ (25.4 cm) elevation from the floor at a 0% incline. After that, the front part rises to about 16″ (40 cm) from the floor at the maximum slope. So, this information should give you a pretty good idea of whether this treadmill fits you in a specific room.
PRO 2000 Motor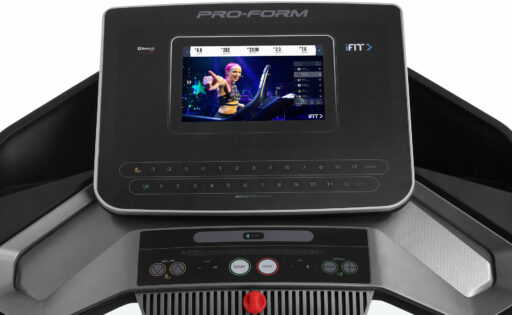 The ProForm PRO 2000 Smart treadmill has a 3.25 CHP Mach Z industrial-grade motor made to withstand prolonged use, even if used at the highest speed.
In addition, it's a continuous-duty power motor. As a result, it won't overheat, skip or lose speed if you're close to the maximum weight limit, and engage in high-intensity workouts.
The motor can generate speeds up to 12 MPH, the required setting for professional athletes. It starts at 1 MPH, but the rate is adjustable in increments by 0.1 MPH. It's a quiet motor; its noise level is negligible up to speeds of 7-8 MPH.
But even above this speed, it still doesn't produce enough noise to interfere with your TV. But, of course, just like any other treadmill, your cadence will intensify if you increase the speed, and each foot stroke will produce more noise.
The motor requires a standard 120V circuit. It also has a standard power cord with a grounding pin for American-type outlets. Using a surge suppressor is advisable; however, this is not (supplied) with the box. The power cord plugs into the machine at the front base. There's also an ON/OFF switch function.
Console
The performance monitor features a 10-inch HD touchscreen LCD with an LED blue backlight to ensure maximum readability, even if it's dark. In addition, it displays the most important values such as time, distance, calories burned, and the current speed and incline.
Pulse is also a value that this console can indicate via the EKG grip sensors incorporated in the console's main bar or a Polar HR chest strap. Unfortunately, the HR chest strap does not come with the machine.
The console offers 50 onboard workout apps, which automatically adjust the speed and incline of the treadmill. Depending on the workout, you can focus on cardio, strength, stamina development, muscle toning, and weight loss.
However, you can always use manual mode and customize your workout by adjusting your incline and speed. In addition, goal-setting functions for calories, speed, and time are available with this console.
A trail function displays distance in laps of 1/4 mile (400 m), an excellent feature if you want to train as a professional runner.
The console offers direct keys for some built-in programs and speed and incline. Furthermore, the speed and incline are gradually adjustable via the arrow keys.
Pause and Start buttons are available when you interrupt your workout, keeping you from resetting any current workout data. Also, a safety key function is available on the dashboard.
PRO 2000 iFit Connectivity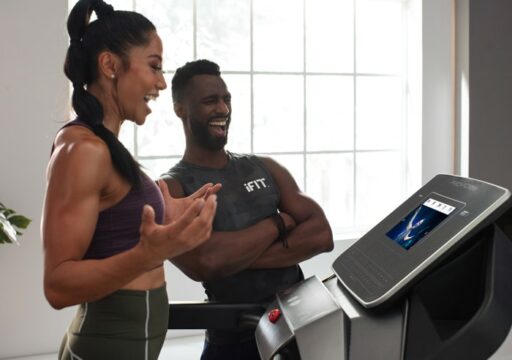 Take your training to the next level with an iFit Family membership on the Pro 2000 treadmill. Engage in a whole new workout experience as streamed personal trainers lead you in-studio classes and take you worldwide, automatically controlling your treadmill's speed, incline, and decline to give you a unique, hands-free workout.
Compatible with the iFit Coach app and Google Maps, you can use the machine to virtually run across various terrains from around the globe, all enhanced by the HD display. There are more than enough options to challenge any fitness level while keeping workout sessions fresh and exciting.
Amenities
The CoolAire fan keeps your workout comfortable, from stepping onto the deck to the moment you step off. Choose from two speed settings for instant control—because one of the joys of indoor workouts is climate control. So even if it's raining, foggy, blazing hot, or bad air quality outside—you'll be comfortable inside.
Tune in to a better sound system. The built-in Bluetooth connectivity allows you to sync up and listen to your entertainment at a higher volume. In addition, the built-in dual 2-inch speakers let you hear your music or videos wirelessly.
Experts have learned that we increase or decrease our pace to match the tempo of our tunes. Plus, music is proven to lower perceived exertion. That's excellent news.
Many treadmills no longer feature this option. Secured behind the console, the tablet holder has an adjustable clip to securely hold any phone or tablet. Since the 10″ screen seems small, having the option to watch something on your tablet or phone is an added benefit.
PRO 2000 Assembly and Maintenance
The assembly process of this treadmill is not complicated. However, transport, unpacking, and at least several assembly steps require two or more people, as the machine is heavy. So, first, the deck is pre-assembled and connected to the front base.
You will have to add its wheels, pass the wires through the handlebar posts, attach the posts to the frame, and add the console's framework, the dashboard with the console, and the folding mechanism. The box contains the user's manual and the tools for the assembly. The whole process shouldn't take more than 45 minutes.
For maintenance, the tread belt will require lubrication at times. After several hundreds of hours of use, the high-performance lubricant will break down and require lubrication. Furthermore, it would be best only to use oil available from ProForm.
Other than that, the belt may require re-tightening or realignment from time to time. You should also periodically clean the treadmill and prevent water or other liquids from spilling on the motor's case or the console.
One last aspect to note here is that you must register your product with ProForm within 30 days after the purchase to benefit from the full warranty specified.
Pros
Solid frame and deck, professional design;
It supports heavy users, up to 300 lbs;
It is a space-savvy machine with a foldable deck;
ProShox deck cushioning system;
Standard dimension running surface of 20″ x 60″, accommodating tall users;
The tread belt is reliable, heavy-duty, and no-stretch;
Industrial grade, 3.25 CHP Mach Z motor, supplying speeds up to 12 MPH;
Quiet machine;
It has an automatic incline, offering a slope of up to 15%, with increments of 0.5%;
Automatic decline, -3%, also with increments of 0.5%;
Advanced 10″ HD touchscreen console with goal tracking, race trail function, and 50 onboard workout programs;
30-day iFit family membership included, with WiFi connectivity;
It has an integrated 2-speed, dual-fan;
Integrated sound system with 2″ speakers;
iPod or MP3 port;
Tablet holder;
Multiple accessory compartment holders;
EKG grip sensors for monitoring pulse and telemetric enabled;
Easy to put together;
Low maintenance;
Super warranty package.
Cons
An HR chest strap does not come with the treadmill;
The tread belt is only a 1-ply belt.
ProForm PRO 2000 Smart Treadmill Summary
If you are looking for an affordable treadmill for walking, the Pro 2000 is a great option. It folds up, has a relatively compact footprint when open, is quiet and has wheels so it can be gently rolled out of the way when needed. The 3.25 CHP motor is well-suited for gentle walking, a brisk pace, power walking, jogging, and short speed intervals. In addition, the Pro 2000 has an incline/decline feature and includes preloaded workouts and subscription content.
Offering you a roomy running surface, solid parts, a built-in LED screen, and excellent app integration and workout programs, the Proform Pro doesn't disappoint. The Proform Pro 2000 makes perfect exercise equipment for everyone ranging from athletes to anyone who wants to work out at home. Lastly, it's a remarkable exercise machine for cardio, muscle toning, stamina building, and weight loss.
I hope you found this article helpful and informative. Would you please speak up if you have anything you'd like to share on the topic or any opinions about my website? I look forward to your comments, questions, and the sharing of ideas.
Please remember that you should consult your physician to determine if you have any medical or physical conditions that could risk your health and safety or prevent you from using the equipment properly. In addition, your physician's advice is essential if you are taking medication that affects your heart rate, blood pressure, or cholesterol level.