The Sole LCB Upright Bike is an excellent bike for riders looking for various workout options on a machine similar to that in an elite gym. It is affordable, comfortable, and easy to navigate. In addition, the Sole LCB Upright Bike is well-built with solid steel tubing and designed to take the abuse that a piece of equipment would see in a gym-like atmosphere.
Sole indoor bike frames are virtually indestructible; all current models have lifetime warranties. The LCB Bike's upright frame has about 100 pounds of steel tubing with an aluminum shroud. The whole machine weighs 132 pounds and has a 350 lb maximum user weight capacity.
The LCB Upright Bike has a 30-pound flywheel, providing a smooth ride and an excellent resistance range for most home cyclists. It also features 40 Electro-Magnetic System (EMS) resistance levels, a fully adjustable seat to fit most body sizes, heart rate monitoring through the Salutron hand sensor system, and a chest strap (sold separately).
The Sole LCB has a 10.1″ TFT LCD with a blue LED backlight and includes an iPod dock and speakers, a cooling fan, and ten different workouts. The display is more modern and offers a sharp image display that is easy to navigate and understand. For example, the screen tells riders their heart rate monitored through the handlebars, calories, levels, distance, bpm, and pace.
Learn more in my complete review below!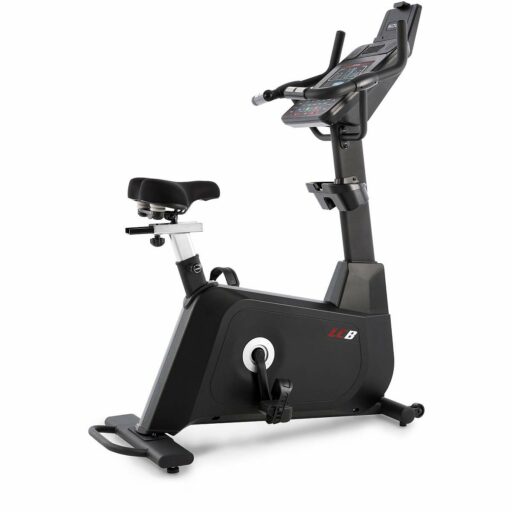 Product: Sole Fitness LCB Light Commercial Upright Bike
Price: For a great deal on this bike, merely go here to Sole Fitness.com
Warranty: Residential: Frame lifetime / Parts 5 years / Electronics 5 years / Labor 2 year
My rating: 9.5/10
Affiliate Disclosure: As a Sole Fitness Affiliate Program participant, I earn commissions on purchases made through links in the post. Full disclosure
Details and Specifications
Assembled dimensions: 44L x 23W x 55H inches (111.7L x 58.4W x 139.7H cm)
Assembled weight: 132 lbs (60 kg)
Flywheel weight: 30 lbs (13.6 kg)
Supported weight: 350 lbs (158.8 kg)
Handlebar: Non-adjustable
Seat: 4-way adjustable
Pedals: 2° angle inward incline, with straps
Brakes: Electro Magnetic System
Resistance: Adjustable, 40 levels
Performance computer: 10 workout apps
Bottle/accessory holder: Yes
Speakers: built-in console
Fan: built-in console
Warranty: Frame lifetime / Parts 3 years / Electronics 3 years / Labor 1 year
LCB Frame
The frame of the Sole LCB is heavy steel tubing. The machine is pretty heavy, weighing 132 lbs (60 kg). Weight adds to its stability and overall sturdiness; this bike can hold users up to 350 lbs (158.8 kg).
The steel tubing is powder coated with anti-corrosive paint, rendering the bike's frame virtually rust-free. Some parts have protective plastic covers, which also improve the overall aspect of the cycle. The shroud covers of the "insides" of the machine are aluminum-made, providing durable shielding for the components and adding a lot of compactness to the frame.
The Sole LCB has a slightly larger footprint compared to other upright bikes. It takes 44″L x 23″W  (112 x 58 cm) of floor space. Thus, it's not precisely a sizeable exercising machine such as an elliptical or treadmill. Nevertheless, it can fit pretty well in a small apartment.
The bike's bases feature adjustable leveling feet with rubber caps to maximize the unit's stability and prevent floor damage. In addition, the front base is equipped with transport wheels, while the rear base features a small handle for tilting the bike onto the wheels for relocation.
Handlebar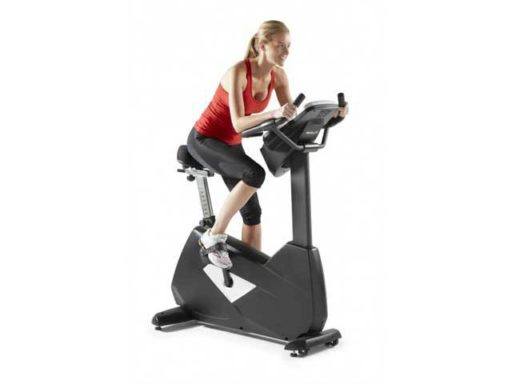 The handlebar assembly on this upright exercise bike does not offer any adjustability. Despite this fact, several websites specify that the handlebar on this bike is adjustable.
The handlebar consists of three main pieces. The transversal bar is attached to the console post by two bolts and is not moveable. The lateral handlebars are connected to the transversal bar and fixed by bolts.
On the good side, though, the handlebar on this bike features a multi-grip design, promoting several workout postures. Rubber foam material completely covers it, supplying a stable and ergonomic grip. In addition, the parallel bars feature pulse sensors on their lower part so that the console can also read the pulse.
LCB Seat
As opposed to the handlebars, the seat on the Sole LCB features 4-way adjustability, up/down and fore to aft. In addition, the seat post offers ten height settings, with increments of 1″ in between. On its minimum setting, it stands above the ground at 44″.
The bike can accommodate users between 5′ and 6'5″ (152.4 – 195.5 cm). Even though the seat post features adjustment holes and a knob that secures it in the desired position, it also has an ovalized shape to prevent sliding off the seat.
The saddle on this upright bike is comfortable, featuring a contoured, thick-looking design with gel cushioning. However, it's considerably more extensive than the average saddle on spin or road bikes.
It comfortably accommodates users riding upright, eliminating stress on the lower back. In addition, the adjustment knobs are pretty sizeable and easy to grip and turn.
Drive system
Like most upright bikes, this Sole model features a belt-drive system powered by a stretch-resistant, heavy-duty belt. As a result, the flywheel is slightly heavier than the one on the Sole B94, weighing 30 lbs. It's a heavy flywheel for an upright bike, but it does supply consistent momentum and a smooth ride.
The crankset is not as robust as the ones equipped on spin bikes, and like most upright bikes, this model isn't made for stand-up climb pedaling.
However, the crankset is a pretty solid piece with steel-made arms. The pedals feature a slight incline of 2° towards the bike's frame. Thus, eliminating as much stress as possible from the ankles and knees.
On top of that, the bike has one of the narrowest Q factors for upright bikes, similar to a road bike. In addition, the weighted pedals feature straps to prevent feet from slipping during workouts.
LCB Resistance system
The Sole Fitness LCB features an Electro Magnetic System (EMS). Therefore, it has a set of magnetic brake pads, which never contact the flywheel, thus free from wear and tear. The resistance is also smooth and quiet since no friction is involved. The bike features 40 levels of resistance, 20 more than the lighter model Sole B94.
Since it's an automatic EMS, the resistance is only adjustable from the console. However, the bike is self-powered, meaning it has a generator that creates the necessary power for the console and resistance control as you pedal.
Console
The console's workout display consists of a 10.1″ TFT LCD with a blue backlight, improving readability. This performance monitor can track all the values an exercise bike requires, such as time, distance, speed, calories, watts, RPM, and pulse. It also indicates the current resistance setting of the cycle.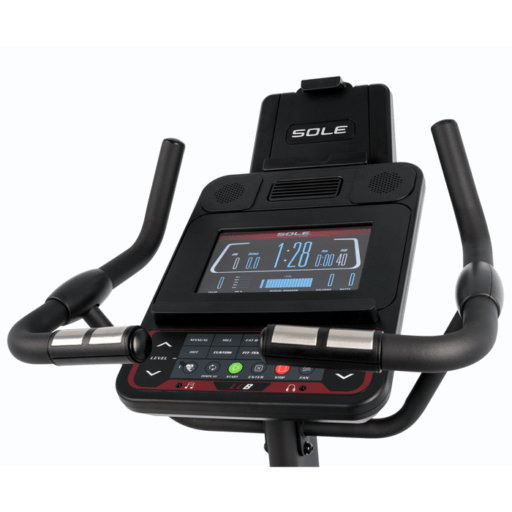 For the console to calculate your calorie burning accurately, data such as age and weight must be input. Ten programs on the console include the six standard ones (HILL, FATBURN, CARDIO, STRENGTH, INTERVAL, and FIT-TEST), two heart rate, and two custom programs.
Each program has a key on the dashboard for quick selection. Then, of course, there's also the Manual mode, which allows you to change resistance as you pedal manually. There are 12 quick keys for levels 1,4,8,12,16,20,21,24,28,32,36,40.
The resistance is increased or decreased in increments of one by using the Up/Down arrow keys.
The console is also telemetrically enabled. In other words, it can read pulse via a Polar HR chest strap. However, the HR chest strap does not come with the bike. So, heart rate monitoring is through the Salutron hand sensor system.
LCB Amenities
The console supplied with this Sole upright exercise bike is quite a multifunctional unit. Apart from the fitness functions, it incorporates several comfort factors.
First, it includes a sound system consisting of two speakers at the console's top. Therefore, you can listen to your music through the console if you find earplugs uncomfortable. In addition, this sound system is compatible with most MP3 devices, smartphones, and tablets.
Although not the highest quality, the sound rendered is still relatively superior to the music provided by your average phone or tablet speakers. The lower part of the console hosts the ports for earplugs and MP3 player devices.
Also, there's a cooling fan between the two speakers at the top part of the console. The console's top section has a tablet holder, which is pretty long to accommodate even bigger tablets. The console also incorporates a small compartment to hold your phone or water bottle.
LCB Assembly and Maintenance
This upright exercise trainer is relatively straightforward to assemble as most of it is pre-assembled. You must add the bases, protective covers, handlebar post, and handlebar, attach the wires, connect the console, and screw in the pedals. Connecting the console cables is pretty simple; each one fits in its specific slot. Tools and manuals for the assembly come with the box.
The Sole Fitness LCB upright bike is maintenance-free. You only need to remove the dust from it occasionally, periodically inspect for loose parts and nuts, and retighten as needed.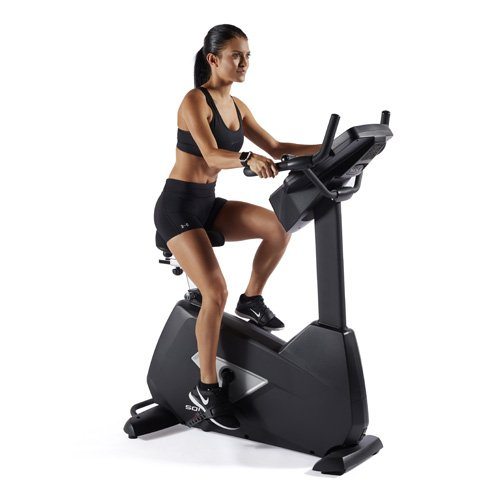 Pros
Rugged construction, durable bike;
Compact, professional-looking design;
Foot levelers for maximum stability and floor protection, and wheels for easy transport;
4-way adjustable seat;
Heavy flywheel, almost similar to the ones in spin bikes;
Quiet belt drive system;
Small Q factor for minimum impact on knees;
The self-powered bike doesn't require a power circuit;
Electro-Magnetic System for smooth resistance and zero wear and tear;
40 resistance levels;
Multi-grip handlebars with the Salutron Hand Sensor System;
Multifunctional console, incorporating speakers, tablet tray, cooling fan, and bottle support;
Ten workout apps;
Maintenance-free;
Consistent warranty.
Cons
It doesn't have an HR chest strap included.
Sole LCB Upright Bike Summary
Although it doesn't offer many workout apps, every other aspect puts it into the commercial for upright bikes. The Sole Fitness LCB Commercial bike is one of the best upright bikes you can get.
In short, it provides a tremendous aerobic training setting; it's excellent for muscle toning and burning calories. It's not exactly an affordable model, but its quality stands up to the final penny in its price.
I hope you found this article helpful and informative. Would you please speak up if you have anything you'd like to share or any opinions about my website? I look forward to your comments, questions, and the sharing of ideas.
Please remember that you should consult your physician to determine if you have any medical or physical conditions that could risk your health and safety or prevent you from using the equipment properly. In addition, your physician's advice is essential if you are taking medication that affects your heart rate, blood pressure, or cholesterol level.