The Bowflex Blaze Home Gym is an upgrade from the popular PR1000 and PR3000, with over 60+ exercises available and two resistance upgrades providing up to 410 lb of resistance. Therefore, the Bowflex Blaze home gym comes equipped to work all major muscle groups, including the upper body, lower body, and heart.
Ultimately, the Bowflex Blaze is best suited to strength training and not nearly adept for cardiovascular activities. Some cardio workout options exist, but the Bowflex Blaze is primarily for muscle building.
Sixty exercises are possible with the Bowflex Blaze home gym, including a 20-minute Bowflex Blaze workout designed to take advantage of the machine. With this in mind, these exercises concentrate on providing exercises that burn calories, sculpt your muscles, and keep you fit.
The Bowflex Blaze also has a lot to offer in terms of both functionality and exercise options. Specifically, two of the best examples are folding design and additional padded foam rollers for performing lying leg curls, helping to isolate your hamstrings.
Learn more in my complete review below!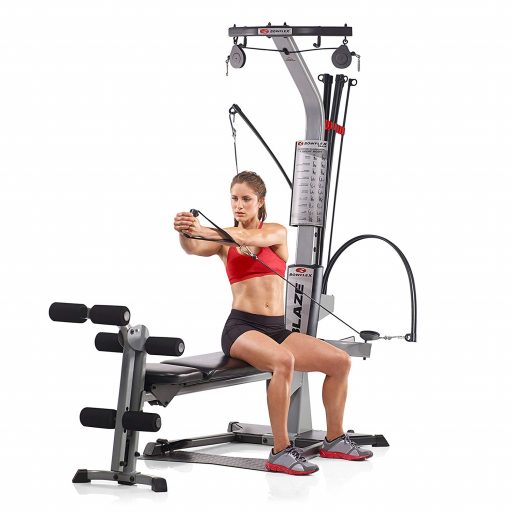 Product: Bowflex Blaze Home Gym
Price: For a great deal on this gym, merely go here on Amazon
Warranty: Frame and parts five years / Power Rods lifetime
My Rating: 8.5/10
Affiliate Disclosure: As an Amazon Affiliate Program participant, I earn commissions on purchases made through links in this post. Full disclosure
Details and Specifications
Number of exercises: 60+
Standard resistance: 210 lbs
Resistance is upgradeable to 310 lbs or 410 lbs.
Built-in cardio rowing station
Leg extension/leg curl attachment
Three cable pulley positions (low, mid, high)
Multi-function handles can be for hands or ankles.
Foldable for easy storage and saving space
Max user weight: 300 lbs (136 kg)
Can accommodate users up to 6'6″-6'7″ (198 – 201 cm)
Dimensions: 90″ x 38″ x 83″ (L x W x H)
Workout area required: 90″ x 80″ x 83″ (L x W x H)
Warranty: Frame and parts five years / Power Rods lifetime
Blaze Frame Construction
The Bowflex Blaze home gym features a highly sturdy construction. The frame is steel tubing and can support up to 300 lbs (136 kg). All steel parts feature an anti-corrosive enamel coating. However, the machine is not to be stored or used outdoors. Instead, it's an indoor fitness machine.
Even though it's not one of the biggest and bulkiest home gym machines, the Bowflex Blaze still takes up quite a bit of space. It features a footprint of 82.5″L x 38W (210 x 97 cm) and reaches 84.5″ (215 cm) high. Therefore, it won't fit in a room with a seven-foot ceiling. Also, it requires a workout area of 100″L x 78″W (254 x 199 cm) for maximum safety.
The frame bases have several main floor contact points, each with a rubber stabilizer foot. This way, the machine becomes very stable without wiggling during workouts. However, if the floor or pavement is uneven, you might consider placing it on a rubberized mat.
The frame features a folding design. In other words, the bench bar with the front base and leg attachment folds up, reducing the machine's length by approx. 30″ (76.2 cm). Its folded footprint is 52″ x 38″ (132 x 97 cm).
The rear base of the machine features two transport wheels. These may help if you want to move it slightly from its place. But due to its size and weight, this home gym system is not precisely meant to be moved when fully assembled. It weighs 195 lbs (88.5 kg); thus, it's best to build it where it will be in use.
Bench
The bench supplied with the Bowflex Blaze machine is adjustable. The backrest offers horizontal, and 45° positions and is removable to facilitate various exercises.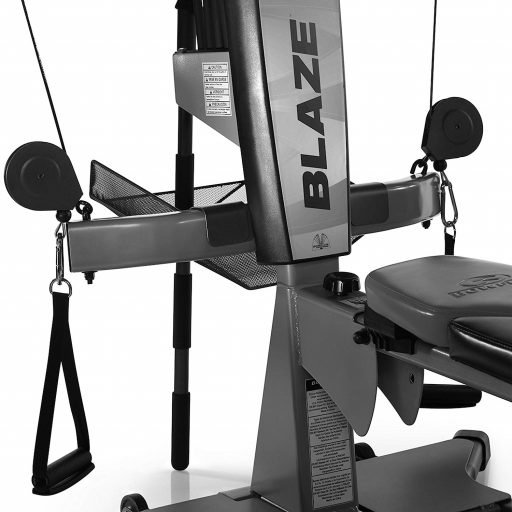 The seat features a gliding system similar to the seats on various rowing machines. It can glide over the whole bench bar, offering the possibility to carry out exercises such as aerobic rowing or leg presses.
The seat's rollers integrate heavy-duty, sealed ball bearings for prolonged life. You can lock it onto the bar in various positions depending on the desired workout.
The seat and the backrest feature 2″ of foam cushioning for optimal comfort. Their finish is a durable type of synthetic leather.
Other Blaze parts
Unlike the Bowflex PR1000, the Blaze model features a curved lat bar attachment, diversifying many possible exercises. The leg attachment is also slightly different, integrating elements for leg curls, not only leg extensions. In addition, the leg attachment features thick roller pads for maximum comfort during exercises.
The handgrips and the rollers on the leg attachment supplied have a rubber covering. They feature multiple grips, including standard cuff and foot grip. Along with the handgrips, a leg press strap (is also supplied).
All pulleys on the machine integrate industrial-quality ball bearings. They're made of heavy-duty urethane material and can rotate 360°. Furthermore, the cables are stainless steel wire ropes coated with a plastic sheet. They're incredibly durable and finished with stainless steel hooks and rings to connect to the Power Rods' grips.
An accessory tray also comes with the machine. It attaches to the chest bar at the rear of the home gym, providing support for various small accessories such as your phone, keys, water bottle, etc. It also includes support for the squat bar.
Finally, an exercise placard is attached to the lat tower, offering workout descriptions and instructions for the most basic exercises for quick reference.
Weight Resistance System
All Bowflex home gym machines feature an innovative weight resistance system, which uses Power Rods instead of weight stacks like the "classic" home gyms. The Bowflex Blaze doesn't make an exception. The maximum standard weight resistance of the machine is 210 lbs (95 kg) or 105 lbs (47.6 kg) for each side (or grip). In addition, the machine comes with the following resistance rods: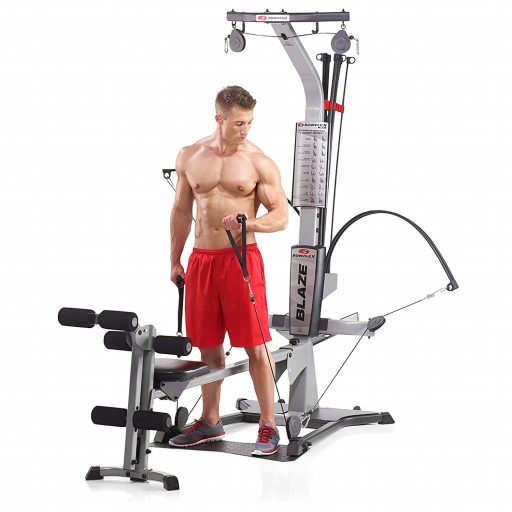 2 x 5 lbs (2.26 kg)
4 x 10 lbs (4.5 kg)
2 x 30 lbs (13.6 kg)
2 x 50 lbs (22.6 kg)
As you can see, there's the possibility to adjust weight resistance in increments of 5 lbs (2.26 kg), up to 105 lbs for each side. Moreover, the weight resistance capacity of the machine is upgradeable. Thus, you can add rods up to 410 lbs (186 kg) of weight resistance.
The Power Rods are made of a highly durable elastomer and coated with a thin rubber sheet. They're also precision-machined, with the rings exceptionally well connected to the rods, almost impossible to remove. In addition, the ring cap of each resistance rod has its weight resistance specified on it.
The resistance system of this Bowflex home gym set is pretty straightforward. The Power Rods are lined up and connected to their specific tray behind the lat tower. Therefore, you must hook the rods with your desired resistance increments onto each cable and start pulling a particular weight resistance.
Blaze Possible Exercises
Arm Exercises
Cross Triceps Extensions
Lying 45° Triceps Extensions
Seated Triceps Extensions
Triceps Pushdowns
Single Arm Pushdowns
French Presses
Lying Triceps Extensions
Standing Biceps Curls
Seated Biceps Curls
Lying Biceps Curls
Seated Wrist Extensions
Seated Wrist Curls
Standing Wrist Extensions
"Rope" Pushdowns
Standing Wrist Curls
Reverse Curls
Abdominal Exercises
Reverse Crunches
Resisted Reverse Crunches
Seated (Resisted) Ab Crunches
Seated (Resisted) Oblique Ab Crunches
Trunk Rotations
Back Exercises
Bent Over Rows
Lying Lat Pulldowns
Low Back Extensions
Lying Lat Flies
Lying Narrow Lat Pulldowns
Narrow Pulldowns with Handgrips
Pulldowns
Seated Lat Rows
Stiff-Arm Pulldowns
Chest Exercises
Bench Presses
Decline Bench Presses
Decline Chest Flies
Incline Bench Presses
Incline Chest Flies
Lying Cable Crossovers
Resisted Punches
Shoulder Horizontal Adductions
Legs Exercises
Leg Extensions
Leg Presses
Lying Leg Extensions
Prone Leg Curls
Seated Hip Adductions
Seated Hip Abductions
Standing Leg Kickbacks
Squats
and more
Shoulder Exercises
Front Shoulder Raises
Lying Front Shoulder Raises
Rear Deltoid Rows
Reverse Flies
Standing Lateral Shoulder Raises
Seated Shoulder Presses
Shoulder Extensions
and more
This gym home machine does not feature bars for chin-ups and dips. However, you can replace these exercises with lat pulldowns and triceps pushdowns. These exercises will engage the same groups of muscles.
Butterfly exercises are also possible to perform on this machine. However, the stability won't be the same since it doesn't have solid bars like most machines with weight stacks. On the other hand, due to this fact, you'll have to focus more on the exercise, which can only improve results.
Blaze Assembly and Maintenance
The assembly of this fitness machine is not complicated, but since there are quite a few parts to be attached, it may take a couple of hours. Since it's a rather heavy and bulky piece of equipment, it's best to put it together in the room and on the spot where it will be used.
Only two Allen wrenches (are supplied) with the box, but you will also need two combination wrenches (1/2″ and 9/16″) and a Phillips screwdriver.
You'll have to keep the machine clean, check and re-tighten the bolts if necessary, and ensure the seat's rail is free of any dirt or objects that may damage the rollers.
Pros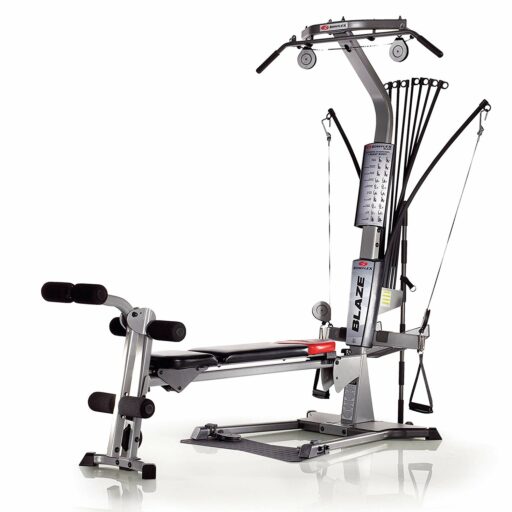 Sturdy steel frame;
Folding frame design;
2″ cushioning on the bench for maximum comfort;
Durable upholstery on the bench, made of faux leather;
4″ upholstered roller cushions for leg extensions and leg curls;
Versatile handles supporting three types of grips;
Included leg press strap;
Lat bar attachment included;
Bench with two positions: 45° and 180°;
Gliding seat for aerobic rowing and leg press exercises;
Innovative Power Rod weight resistance system, no weight stacks required;
Industrial quality ball bearings in all moving parts;
Over 60+ possible exercises;
Workout placard describing various exercises, attached to the lat tower of the machine, for quick reference;
Included accessory tray;
Up to 105 lbs of resistance per arm, 210 lbs in total;
Possibility to upgrade weight resistance up to a capacity of 410 lbs;
Great warranty package.
Cons
Even though it offers the possibility to perform leg curls, it's not overly comfortable for this type of exercise;
Tools for assembly do not come with the machine.
Bowflex Blaze Home Gym Summary
The Bowflex Blaze home gym system covers a wide array of exercises, and it's simply perfect for anyone who doesn't have the time to go to a gym. In addition, it's a highly versatile machine, offering strength and aerobic training possibilities.
It comes with a standard weight resistance of 210 lbs (95 kg), but it also offers upgrades up to 410 lbs (186 kg). Thus it's pretty much a machine for users of all levels. And finally, considering its fitness possibilities and the fact that it costs less than $800, it's safe to say that this machine offers excellent value for the price.
I hope you found this article helpful and informative. Would you please speak up if you'd like to share on the topic or any opinions about my website? I look forward to your comments, questions, and the sharing of ideas.
Please remember that you should consult your physician to determine if you have any medical or physical conditions that could risk your health and safety or prevent you from using the equipment properly. In addition, your physician's advice is essential if you are taking medication that affects your heart rate, blood pressure, or cholesterol level.