The Sole Fitness E55 Elliptical Machine lets you accomplish extensive workouts even on the smallest footprint of any Sole elliptical, yet it has an impressive 375-pound weight capacity. With a 20-pound flywheel plus incline training's added resistance, it's an ideal cardio trainer and muscle toner built for joint-friendly motion.
The E55 also features the most common stride length chosen for commercial ellipticals, 20 inches, to accommodate most users' natural stride length. A vital feature of the Sole E55 is its power incline with 20 settings. With a choice of 20 elliptical paths, users can accomplish impressive muscle toning that's not possible with other elliptical trainers.
Equipped with many of Sole's best performance components for home ellipticals, the E55 comes with digital upgrades, including an improved display screen with an adjustable angle and Bluetooth connectivity for the Studio fitness App. In addition, the integrated tablet holder accepts a tablet or smartphone as its monitor, Bluetooth audio speakers, and a USB charging port.
As for workout programming, the Sole Fitness E55 elliptical options include manual mode, user-designed workouts, and preset workouts focused on cardiovascular health, rapid calorie burn, and muscle strengthening/toning. The fitness monitor is a high-contrast 9-inch LCD and tilts to each user's optimum viewing angle.
Learn more in my complete review below!
Product: Sole Fitness E55 Elliptical Machine
Price: For a great deal on this elliptical, merely go here on Sole Fitness.com
Warranty: Frame lifetime / Parts 5 years / Electronics 5 years / Labor 2 years
My rating: 9.25/10
Affiliate Disclosure: As a participant of the Sole Fitness Affiliate Program, I earn commissions on purchases made through links in the post. Full disclosure
Details and Specifications
Assembled dimensions: 71L x 27W x 64H inches (180L x 68.5W x 162.5H cm)
Assembled weight: 211 lbs (95.7 kg)
Flywheel weight: 25 lbs (11.3 kg)
Supported weight: 375 lbs (170 kg)
Stride: Adjustable, maximum 20 inches (51 cm)
Incline: Automatic, 0°-30°
Footplates: Articulating, angle-adjustable
Handlebars: Mobile (with incline and resistance controls) and fixed (with pulse sensors)
Resistance system: Eddy current, 20 levels
Fitness Monitor: 10 workout programs
Amenities: Bottle/accessory holder, media tray, speakers, cooling fan
Warranty: Frame lifetime / Parts 5 years / Electronics 5 years / Labor 2 years
E55 Frame
The Sole E55 is two main parts, connecting in the middle. The front part has an attached drive and resistance system enclosure, while the rear incorporates the incline motor and rails.
The machine features three bases. Each base comes with adjustable feet with rubber caps, which supply an excellent grip on the floor, making it possible to stabilize the unit even if it is not entirely.
On top of that, the machine is quite heavy. It won't wobble or move around at 211 lbs (96 kg) even if the user is close to the maximum allowed capacity – 375 lbs (170 kg). However, it's still difficult to handle or transport, as the rear base features a handle that facilitates the machine's tilting on its front transport wheels.
Like most gym-grade elliptical trainers, the Sole E55 has a large footprint. It takes 71″L x 27″W (180 x 68.5 cm) of floor space. However, it still is 1 foot shorter than the Sole E35 or Sole E95.
Thus, if space is an issue, but you would still love an extremely well-built machine, the E55 model may be a much better option than the other two models.
Most parts in the frame construction of this elliptical trainer are steel tubing. They also come coated with scratch-resistance and corrosion-resistant paint, black. The gliding rails of the machine, however, have a chrome finish. In addition, most PVC parts within the machine's frame have a protective and cosmetic role.
For example, the frame's bases, the flywheel enclosure, the incline motor case, and the monitor base are all PVC-made, keeping dust and possible sweat drops from falling into these parts and causing damage. But, on the other hand, they give the machine an elegant, professional line.
Pedals and handlebars
There's quite some engineering behind the pedals of this elliptical machine. First, they have a 2° inward tilt, which considerably reduces the stress on the ankles and knees during workouts. Second of all, they're pretty spacious, with a length of 15″, being able to accommodate shoes of all sizes.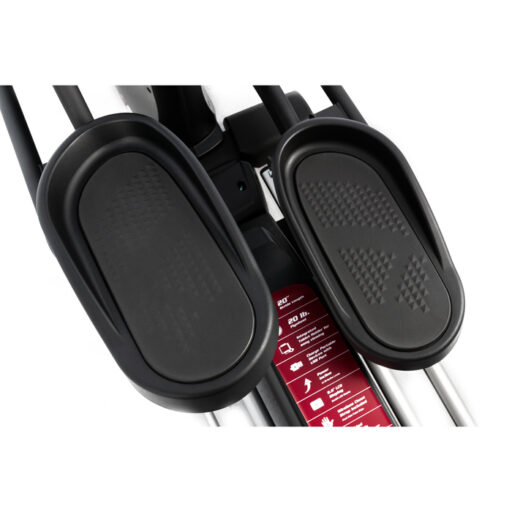 But the best part regarding the pedals of this elliptical is that they are angle-adjustable from heel to toe. This way, you can obtain the pedal angle that feels best. Furthermore, the pedals' perfect angle eliminates unwanted effects such as soreness in the Achilles tendons or toe numbness.
The pedals' adjustment is via turning the dial at the rear of each of them. And finally, one last aspect to note here about the pedals is that the PVC material is industrially tested and designed to last a lifetime.
The E55 elliptical features both fixed and mobile handlebars. The fixed ones integrate pulse sensors, while the mobile ones feature incline and resistance adjustment buttons. The grips on both handlebars are rubber foam to supply optimal comfort when held.
Finally, the machine's lateral legs and the mobile arms are the same steel tubing as the mainframe.
E55 Drive and resistance
Like the other Sole elliptical models, the E55 features an eddy current brake. Its resistance mechanism involves a magnetic element controlled by a small motor. Thus, the machine features an automatic, current-assisted resistance system.
The resistance is only adjustable from the machine's console or the keys on the mobile grips. You can adjust it freely as you exercise, or if you're using one of the preset programs, it will change the resistance automatically and the incline.
This elliptical features 20 levels of resistance. The lowest levels supply a light workout, while the top resistance settings offer quite a challenge. On top of that, the intensity of your workout also increases by adding an incline.
Since it's an eddy current machine, the E55 requires a connection to a power circuit (110-volt, 15-amp) to make the resistance settings, the workout programs, and the fitness monitor's other functions available.
A power cord with a plug (not an adapter) comes with the machine for this purpose. It connects to the machine near the front base on the left side. There's also an ON/OFF switch near the connector.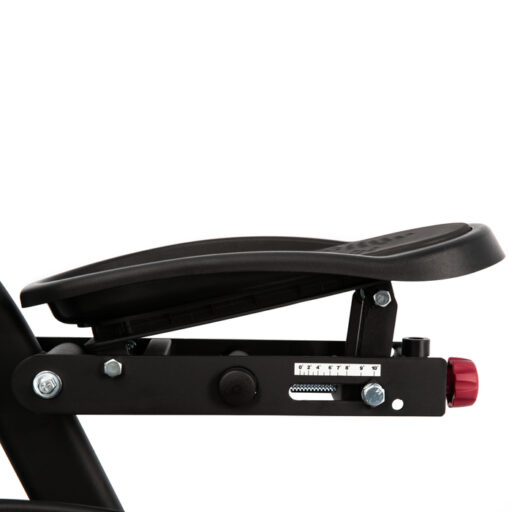 This belt-driven machine supplies a smooth and quiet pedaling motion for its drive system. It also uses a balanced, 25 lbs (11.3 kg) flywheel, a pretty heavy one for an elliptical machine. However, this also adds momentum and stability to the pedaling motion.
If you're wondering, the machine reverses pedaling, diversifying the possible workouts out on this machine. And when pedaling in reverse, you will benefit from the machine's current resistance setting while the monitor will continue to track your progress.
Stride and incline
The Sole Fitness E55 elliptical machine features a motorized incline. The incline motor is at the rear and adjusts the angle of the gliding rails. It offers a maximum incline of 30°, with 20 settings. Since the incline is motorized, it's adjustable from the fitness monitor or the mobile handlebars' control keys.
At maximum incline, the highest pedal will give you an elevation of approximately 26″ (66 cm) from the floor level. Therefore, to determine whether the machine's room is the right ceiling height for you, add this dimension to your size.
The stride of this elliptical trainer is 20″ (51 cm). Thus, it comfortably accommodates users up to 6'4″ (193 cm) (if you are taller, check out the Sole 95S with an adjustable stride of 18 to 24 inches). There isn't a direct stride adjustment mechanism, but the user's stride will vary slightly along with the incline's adjustment.
E55 Fitness monitor
The Sole Fitness E55 elliptical features a 9″, high-contrast fitness monitor, which offers excellent readability even in a darker room or if the sunlight hits the screen at a direct angle. In addition, it indicates the most critical values required by any user to know during their workouts. Such as speed (in MPH), time, distance, RPM, calories burned, pulse, resistance level, and incline. There's also a trail function, which allows you to measure your distance traveled in laps.
The monitor offers ten workout programs, including 5 Preset, 2 Custom User profile programs, 2 Heart Rate programs, and a Manual program. The 5 Preset programs include Hills, Fat Burn, Cardio, Strength, and Interval.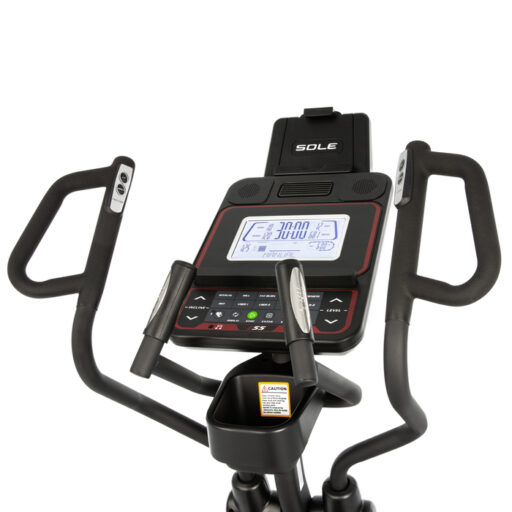 The 2 Custom profiles allow you to create, save and re-use your workouts. These will also call for your age and weight to calculate better your calories burned.
The Heart Rate programs focus on 60% and 80% zones. Moreover, this is because 60% of your MHR is the zone best used for calorie burning, while 80% is the zone that works best for strengthening your cardiovascular system.
The monitor reads pulse via the pulse sensors on the fixed grips of the machine. However, it's also telemetry enabled. Therefore, it can track pulse via an HR chest strap, and this accessory also comes with the machine.
Enhance Your Workout With STUDIO
Sole Fitness workouts are done for all levels and range from 10 minutes to 60 minutes. In addition, Sole utilizes heart rate metrics and data from your equipment across all of your workouts to help you exercise smarter.
Connect your Bluetooth-enabled Sole Treadmill, Elliptical, and Spin Bike to get real-time metrics such as Speed, Incline, RPM, and Power. Also, connect any Bluetooth Heart Rate Monitor to see real-time metrics of how your heart rate responds to workouts.
Train with the world's best instructors from the country's top fitness studios. Our instructors will motivate and push you to your next personal best in running, cycling, boxing, rowing, and more.
Give it your best and go toe-to-toe with other beginners or pros on STUDIO's community-powered leaderboard. Your position is determined by your heart rate, evening the playing field while pushing you to your next record.
Over 3,000+ boutique fitness classes led by leading fitness instructors, with more added daily. Pick up the pace with treadmill or outdoor runs, then switch it up for cycling, rowing, strength, boxing, and more.
You'll earn FITCOIN during every workout. The harder you push, the more you'll make. Redeem prizes, offers, and rewards with your hard-earned FITCOIN. You don't have to do it alone. Sweat with the community, connect, follow, and invite your friends to work out together.
Amenities
Last but not least, the monitor incorporates several other functions. It has a sound system compatible with most MP3 devices, smartphones, or tablets. Thus, if earplugs become a nuisance during your workout, you can listen to your music via the integrated speakers.
The fitness monitor also has a cooling fan and tablet holder. And finally, the lower part is molded into a compartment that you can use as a holder for your phone, remote, keys, or bottle of water.
E55 Assembly and Maintenance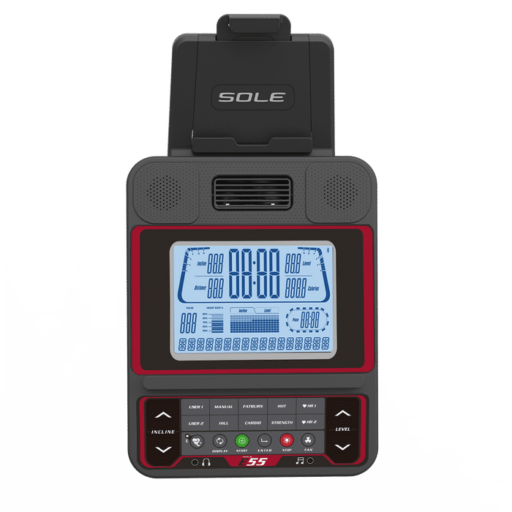 The assembly of this machine, although not complicated, might take a couple of hours. First, because the machine is heavy, it takes at least two people to transport, and two, there are many minor parts to connect.
However, as a general idea, you will have to attach the main parts of the frame, connect the console mast and the machine's wires, add the console, and finally mount the plastic arms and rest covers. The manual supplied is quite comprehensive, giving you step-by-step, detailed instructions, and the tools for assembly come with the machine.
Maintenance requires you to keep the machine clean, especially the rails, as any dirt falling on it may cause nicks. Also, if the joints begin to squeak, lubrication should do the trick. The machine's insides are pre-lubricated with industrial lubricants and shouldn't require additional lubrication for a long time.
To benefit from the full warranty, you must register your product with soleellipticals.com. Furthermore, Sole also makes all repairs in-home.
Pros
Frame built like a tank with a high user capacity;
Heavy machine, an aspect which contributes considerably to its stability;
Elegant, professional design;
Smaller footprint than other ellipticals;
Angle-adjustable footplates;
Automatic resistance, with 20 levels available;
Automatic incline, also with 20 levels available (and up to 30°);
Quick resistance/incline adjustment keys built into the handlebars;
Handlebar integrated HR pulse sensors;
Telemetry enabled console – wireless HR chest strap included;
9″ high-contrast fitness monitor;
Ten workout programs on the fitness monitor;
Various amenities, such as cooling fan, speakers, tablet tray, accessory/bottle holder;
Smooth and quiet operation;
Detailed to assemble;
Great warranty plan.
Cons
The fitness monitor does not have online connectivity.
Sole Fitness E55 Elliptical Machine Summary
The Sole Fitness E55 is a great elliptical. It feels perfect when using it and consistently delivers a hassle-free workout. I like this elliptical because of its sturdiness and longevity. In addition, it can support higher weighted users than most home ellipticals with an excellent warranty to back it up.
It covers the full range of workouts carried out on an elliptical trainer, being an excellent choice for users of all levels. It's a perfect machine for cardio training, muscle toning, building stamina, and losing weight. The top resistance levels, as well as the incline, will most definitely give you a challenge.
Moreover, it's an elliptical machine that offers excellent value for the money, and I'm confident it will stand the test of time. As a result, it remains a solid top pick for home ellipticals between $1500 and $2000.
I hope you found this article helpful and informative. Would you please speak up if you have anything you'd like to share on the topic or any opinions about my website? I look forward to your comments, questions, and the sharing of ideas.
Please remember that you should consult your physician to determine if you have any medical or physical conditions that could risk your health and safety or prevent you from using the equipment properly. In addition, your physician's advice is essential if you are taking medication that affects your heart rate, blood pressure, or cholesterol level.