The Sole Fitness E98 Elliptical is an incredible option for anyone looking for a sturdy machine for their home gym. The E98 is a super high-quality elliptical used in many light commercial facilities across the country. It's the most expensive Sole elliptical, so it's an investment that provides a ton of value and long-term goals.
It doesn't matter if you're starting your fitness journey or a more seasoned athlete; you'll be able to take full advantage of this machine. You won't miss anything with the Sole Fitness E98 elliptical because it provides everything you need.
This elliptical will be there for you throughout your journey if you're a beginner and won't outgrow it quickly. The E98 elliptical is perfect for adults of average to tall heights, and it supports a maximum user weight capacity of 400 pounds, which is excellent.
It features quiet magnetic resistance, 20 automated incline levels, forward and backward pedaling, ten workout programs, a 32-pound flywheel, a 10.1 TFT display, moving and stationary handlebars, cooling fans, a water bottle holder, a tablet holder, a wireless heart monitor, and so much more.
Learn more in my complete review below!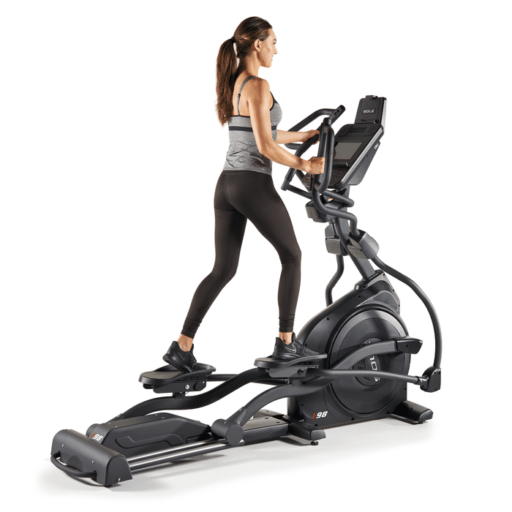 Product: Sole Fitness E98 Elliptical Machine
Price: For a great deal on this elliptical, merely go here on Sole Fitness.com
Warranty: Frame Lifetime /  Electronics and Parts 5 years /  Labor 2 years (see the light-commercial below)
My rating: 9.5/10
Affiliate Disclosure: As a participant of the Sole Fitness Affiliate Program, I earn commissions on purchases made through links in the post. Full disclosure
Details and Specifications
Height: 71″, width: 31″, length: 82″ (66″ X 23″ X 34″ box dimensions)
Weight: 249 pounds
Weight capacity: 400 pounds
Maximum stride length: 20."
32-pound flywheel
Drive system: Front
Adjustable 10.1 TFT fitness monitor included
Maximum stride length: 20 inches
Chest strap available (for heart rate monitoring)
Step Up Height: 14″
Includes cooling fans and an MP3-compatible sound system
Residential warranty: Frame – lifetime; electronics & parts – 5 years; labor – 2 years
Light commercial use: Frame – lifetime; electronics & parts – 3 years; labor – 1 year
E98 Construction
The real difference in this model is the robust steel frame and the fact that it's for light commercial use. The Sole E98 includes a robust structure built from 38-millimeter steel. As a result, the Sole Fitness E98 elliptical looks streamlined even though it has a maximum weight capacity of 400 pounds and will stand up to the test of time.
The dimensions of this elliptical are a height of 71 inches, a width of 31 inches, and a length of 82″. Therefore, you'll need space for it because it's not a compact elliptical. Because of the incline, it's also advisable you place it in a room with a ceiling that's 25 inches higher than the tallest user.
This elliptical doesn't have a foldable frame, so it's not easy to put away. However, it features two transport wheels that make it easy to move around despite its large size. Thus, you'll have no issue finding a spot for it. Furthermore, even though you cannot fold it, you can move it whenever you need to find a new location for your elliptical.
The elliptical weighs 249 pounds, so it's good to come from transport wheels ready to roll whenever you need to. Overall, it's safe to say you will need room for the E98, but the good news is it will accommodate many different users under one roof.
The heavy-duty steel frame and precision-balanced, 32-pound flywheel ensure a ride as smooth as any you'll find in the local gym. The E98 was designed for multiple users' wear and tear, backed up by a smooth workout based on a high gear ratio and unusually heavy for its price-class, 32-pound flywheel.
Like all other Sole elliptical trainers, you can expect craftsmanship and a well-engineered and thoughtfully designed elliptical. For extra stability, the E98 has been upgraded with four wheels at the back of the unit to prevent side-to-side movement, given its 400 lbs bio-mechanical capabilities.
Handlebars and Pedals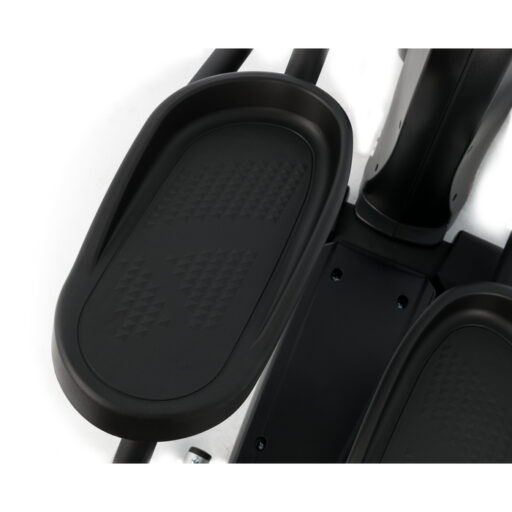 As for the handlebars, the Sole Fitness E98 elliptical features multi-grip position handlebars with built-in controls so you can adjust the power incline for your workouts. Again, Multi-grips padded handlebars are the way to go because they help you enjoy a more natural and comfortable fit by finding the proper position.
The E98 also features stationary padded handlebars, which have integrated heart rate sensors on the handlebars, an alternative to wireless telemetry.
Sole developed the foot articulating pedals on the E98 under the guidance of a physical therapist. The pedals have a two-degree inward slope that reduces stress on your ankles and knees.
The articulating design conforms to your strides, reducing numbness in your toes and supporting your Achilles tendons. In addition, the 15″ pedal size is comfortable for most users.
Suppose you're looking for an elliptical that's easy on your joints or plan on using it for rehabilitation purposes. Then, the Sole E98 elliptical may be the right option for you. These features make it perfect for those purposes and ensure a comfortable overall experience.
The stress is removed from your joints to optimize your workout and focus your effort where it counts. The E98 takes care of your body and allows you to enjoy safe exercises. This way, you'll be able to reach your fitness goals while still taking care of your joints.
E98 Stride and Incline
The Sole Fitness E98 elliptical stride length goes up to a maximum of 20 inches with articulating pedals, and the stride is not adjustable. This stride length is ideal for most heights, and the articulating pedals developed with the guidance of a physical therapist have a two-degree inward slope.
The power incline is an excellent feature to customize your workout. You can adjust the ramp angle within a 30-degree arc at the push of a button. At every angle, you work out different muscle groups. Therefore, it is a great way to target different groups than you would usually get to work out using other light commercial elliptical machines.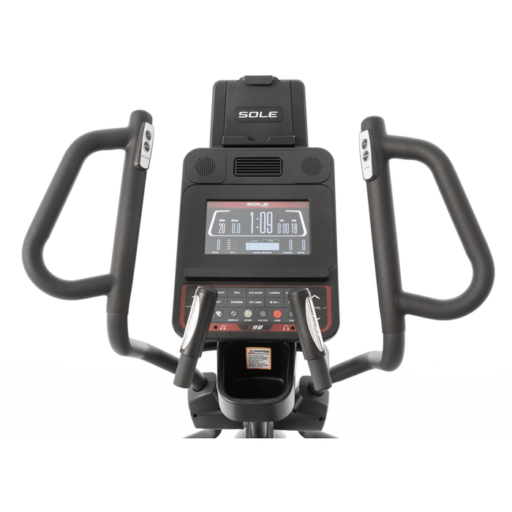 The E98 has the standard 20 incline positions for increasing the intensity of the selected workout program. With the ten onboard pre-programmed workout settings and the 20 incline levels, there are so many variables that the user will never become bored.
The incline controls are right on the handlebars, so you don't even have to move your hands to make adjustments on the spot. So it's not just powerful; it's comfortable and safe for your joints.
Resistance and Flywheel
Most (not all) home ellipticals utilize a weighted flywheel system to produce resistance. This flywheel has a magnetic resistance system. The resistance is increased or decreased by adjusting how close or far away the magnets are from the metal flywheel.
Heavier flywheels can provide more overall resistance as well- it makes sense when you think about it. A 30 lb flywheel will take more energy than a 15 lb flywheel. With this in mind, the Sole E98 comes with a 32 lb flywheel, which is very heavy for a home elliptical.
This heavy flywheel will provide a smooth pedal action and a substantial workout, especially when paired with 20 levels of motorized magnetic resistance and 20 power incline settings at your disposal. With this heavy flywheel, this elliptical is well-equipped to challenge users of all fitness levels.
Magnetic resistance is an incredible tool for endurance and resistance training. Over time you will notice your fitness levels improving and the lactic acid build-up decreasing, allowing the user faster recovery times.
E98 Fitness monitor
The Sole Fitness E98 elliptical comes with a 10.1-inch TFT display that features the ten different workout programs available on this Sole elliptical model. In addition, the workout programs are available in the Sole Fitness app, which you can also access via your smartphone.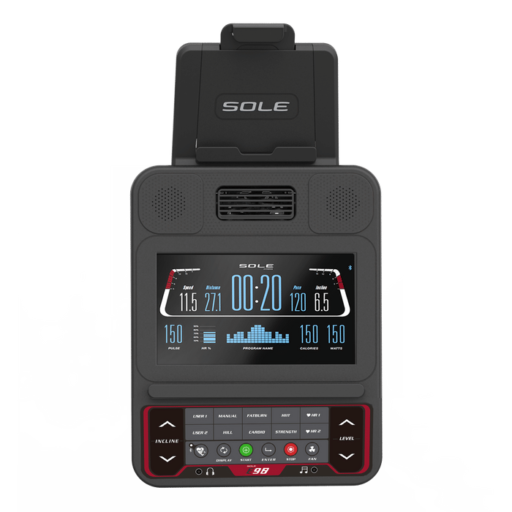 The Sole Fitness App lets a mobile device connect to the E98 setup programs, collect exercise info while other apps are running, and send data to fitness apps such as UA Record, iHealth, MapMyFitness, Fitbit, and MyFitnessPal.
You get ten built-in workouts, including interval, calories, heart rate, fat burn, and distance, and the Fit Test Program that you won't find on other models. In addition, this technology automatically changes the pedal speed in response to your heart rate, a great way to gauge whether your fitness level is improving over time.
You have two user profiles available on this elliptical, but you can create unlimited user profiles in the Sole Fitness app. In addition, the Sole E98 comes with two interactive heart rate programs, a heart rate chest strap, and stationary handlebars with pulse sensors to monitor heart rate effectively.
The display makes it a breeze to choose the program you want. The LCD also keeps you apprised of your heart rate, how many calories you have burned, how far you have traveled, and how long you have been working out. Thus, measuring your workouts' effectiveness is easy and sticking to generating results.
Overall, the E98 monitor has a ton of features to offer. It allows users to keep track of important information and make the most of all the workout programs available.
Its compatibility with many fitness apps will make it easy to track your progress and set goals for you to accomplish throughout your fitness journey at home. It has everything you need and more, so you'll be able to make the most of it.
Enhance Your Workout With STUDIO
Sole Fitness workouts are done for all levels and range from 10 minutes to 60 minutes. In addition, Sole utilizes heart rate metrics and data from your equipment across all of your workouts to help you exercise smarter.
Connect your Bluetooth-enabled Sole Treadmill, Elliptical, and Spin Bike to get real-time metrics such as Speed, Incline, RPM, and Power. Also, connect any Bluetooth Heart Rate Monitor to see real-time metrics of how your heart rate responds to workouts.
Train with the world's best instructors from the country's top fitness studios. Our instructors will motivate and push you to your following personal best in running, cycling, boxing, rowing, and more.
Give it your best and go toe-to-toe with other beginners or pros on STUDIO's community-powered leaderboard. Your position is determined by your heart rate, evening the playing field while pushing you to your next record.
Over 3,000+ boutique fitness classes led by leading fitness instructors, with more added daily. Pick up the pace with treadmill or outdoor runs, then switch it up for cycling, rowing, strength, boxing, and more.
You'll earn FITCOIN during every workout. The harder you push, the more you'll make. Redeem prizes, offers, and rewards with your hard-earned FITCOIN. You don't have to do it alone. Sweat with the community, connect, follow, and invite your friends to work out together.
Amenities
Several Bluetooth audio speakers on the fitness monitor to listen to your favorite MP3s and stay motivated. Of course, you can use headphones if you don't want to blast your music out through the speakers. The E98 also has a USB charging port for your mobile device of choice.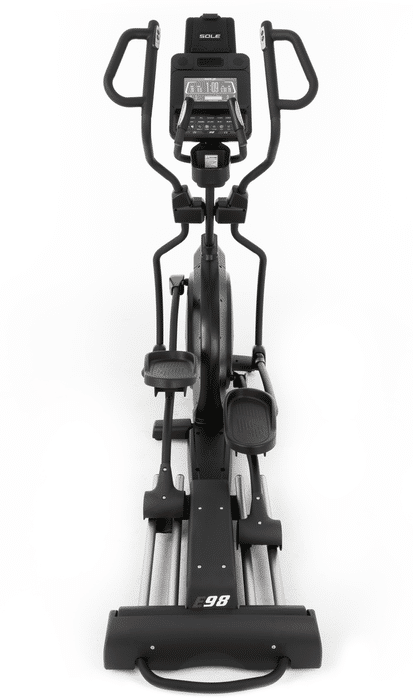 Features for your comfort include a built-in fan to keep you cool and a handy water bottle holder to help you stay hydrated. Unfortunately, the "water bottle holder" is not the best; it's more of a slot than a proper holder.
E98 Assembly and Maintenance
The machine arrives in a single box, which of course, weighs around 250 pounds. As one customer pointed out in this one-liner Sole E98 elliptical review: Your first workout will be opening the box and carrying 250 pounds of the elliptical inside, piece by heavy piece.
There are around 60 pieces, not counting the nuts and bolts. There is a manual to get you started, but assembly will still take hours. The manual is thorough but tends to try to walk you through way too many steps simultaneously. My advice is to take it slow and do it one step at a time.
When it comes to maintenance, the drive system doesn't require any. However, the joints of the machine require periodic re-tightening and lubrication.
The rails need cleaning before and after each workout, avoiding damage to the wheels or nicks into the tracks and ensuring a smooth ride. Therefore dirt, sand, or other hard particles may cause permanent damage, resulting in thumping during use.
Pros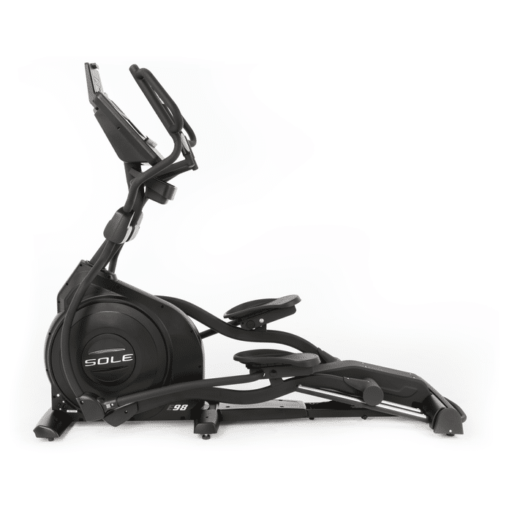 Eddy Current Brake resistance;
20″ Stride Length;
The 32-pound flywheel makes for a smooth, quiet, pleasant operation;
Fluid, natural motion;
10 Workout Programs;
Multi-grip position handlebars;
Anatomically Correct Foot Pedal Spacing;
Contact heart rate sensors;
Polar Chest Strap and Wireless Heart Rate Standard;
MP3 jack + speakers;
Cooling Fan;
Oversized cushioned, slip-resistant pedals;
400 lb. user weight capacity;
Dimensions/Weight: 67″H x31″W x82″L – 249 pounds;
Sole provides top-notch customer service.
Cons
Assembly takes a long time;
The speakers are okay but not all that powerful.
Sole Fitness E98 Elliptical Machine Summary
The Sole Fitness E98 Elliptical is the premier elliptical from Sole Fitness. It's sold with an impressive home-use warranty and is the only Sole elliptical available with light commercial coverage. So if performance and customizability are what you value, the E98 may be the perfect elliptical for you!
Long respected for its excellent ergonomics and efficient body sculpting, the Sole E98 features a 32-pound flywheel for exceptionally smooth rides, a 20″ elliptical path for natural-feeling strides, and 20 incline settings for workout boosts. In addition, advanced stabilizers help users maintain an upright posture even as the slope changes and exercises get intense.
I hope you found this article helpful and informative. Would you please speak up if you have anything you'd like to share on the topic or any opinions about my website? I look forward to your comments, questions, and the sharing of ideas.
Please remember that you should consult your physician to determine if you have any medical or physical conditions that could risk your health and safety or prevent you from using the equipment properly. In addition, your physician's advice is essential if you are taking medication that affects your heart rate, blood pressure, or cholesterol level.