Featuring a hyper-Quiet magnetic resistance system, the YOSUDA L-010 Indoor Cycling Bike won't disturb your working, reading, and sleeping at home, and virtually no maintenance is required. With 100 micro-adjustable levels, it allows you to simulate actual road riding, and the light-commercial equality ensures its excellent bearing capacity for riders up to 350 pounds (159 kg).
The L-010 has a fitness monitor that tracks RPM, time, speed, distance, calories, and an odometer that motivates you at every mile. In addition, an iPad holder allows you to watch exercise videos or listen to music while exercising, making your fitness fun. It can extend to 11″ and pivot up or down for various angles, optimizing viewing capabilities.
The ergonomic seat design is breathable and soft, so you can remain comfortable even cycling for an extended time. The inseam is Min 27″ – Max 35″ so all family members can enjoy home fitness. Aluminum alloy caged pedals have a standard thread (9/16″) and adjustable straps and buckles. They can fit different sizes well and allow pedaling forward and backward.
Learn more in my complete review below!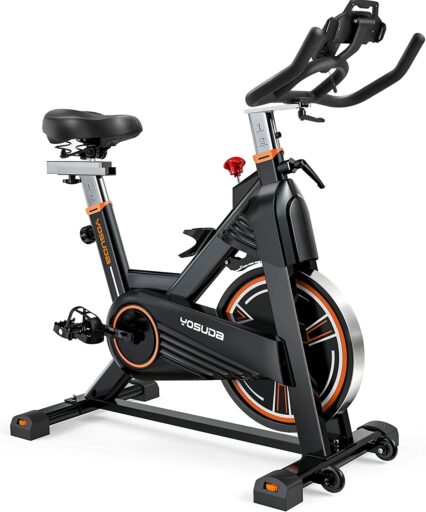 Product: YOSUDA L-010 Indoor Cycling Bike
Price: For a great deal on this bike, merely go here to Yosuda.com
Warranty: 1 year limited
My rating: 8.75/10
Affiliate Disclosure: As a Yosuda Affiliate Program participant, I earn commissions on purchases made through links in this post. Full disclosure
Details and Specifications
Assembled dimensions: 41L x 22W x 50H inches (104L x 56W x 127H cm)
Assembled weight: 86 lbs (39 kg)
Flywheel weight: 40 lbs (18 kg)
Supported weight: 350 lbs (159 kg)
Seat: 4-way adjustable
Drive mechanism: Belt
Resistance: Manual magnetic
Fitness Monitor: Time, Speed, RPM, distance, odometer, calories
Warranty: 1 year limited
L-010 Frame Construction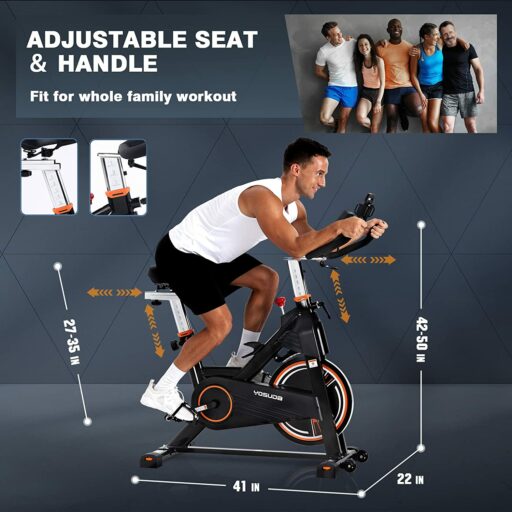 The YOSUDA L-010 indoor cycling bike features a steel tubing frame. It combines oval and rectangular tubes with precision-welded joints for improved sturdiness. The mainframe and the base bars come double-coated with a corrosion-resistant black paint finish. The seat and handlebar posts and flywheel have a chrome finish.
The frame features a step-up bar; not all spin bikes have this feature. The small horizontal bar connects the seat tube with the main oblique tube. This element offers the possibility to perform stretches or step-up/step-down workouts and improves the structural sturdiness of the frame.
The bike also integrates several plastic parts. For example, the drive train cover, the side covers of the flywheel, and the brake cover are made of durable thermoplastic materials. In addition, they combine black, white, and orange colors to fit the rest of the bike.
The YOSUDA L-010 is a medium-sized exercise bike. With all the parts assembled, it is approximately 41″ (104 cm) long and 22″ (56 cm) wide. Therefore, it is advisable to allow at least two feet of clearance all around it for easy access and unhindered usage.
The bike is relatively heavy, weighing approximately 86 lbs (39 kg). However, this weight delivers plenty of stability. Plus, both base bars have adjustable levelers. The front base also has a set of small wheels for easy relocation.
Seat and handlebars
The YOSUDA L-010 comes equipped with a high-comfort saddle. In addition, it features a durable nylon material shell and integrates a thick layer of foam padding with a durable vinyl cover.
In addition, it has a median groove for improved breathability. Plus, it has two suspension springs at the rear, which adapt perfectly to your movement during seated workouts.
The seat is four-way adjustable. Its vertical post offers approx. 8″ (20 cm) of adjustment, while its horizontal slider adds several inches for front-to-back adjustment. Therefore, the bike comfortably accommodates users between 5'1″ (155 cm) and 6'4″ (193 cm) with no problem.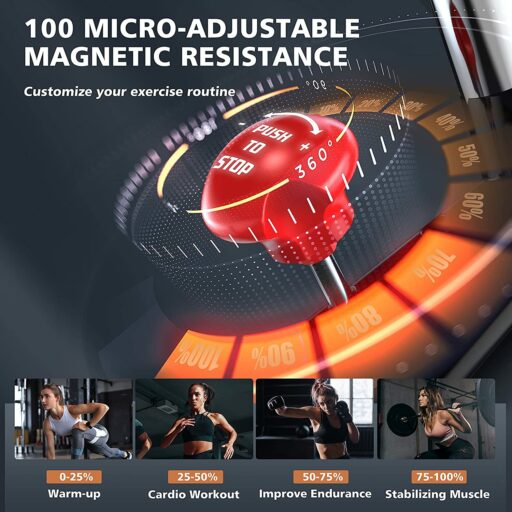 The bike's maximum user weight limit is important to note here. For some time, there was some confusion about the bike's maximum user weight limit. However, I have confirmed this bike's weight limit of 350 lbs (159 kg).
Similar to the seat, the bike's handlebar has four-way adjustability. Its vertical post offers 8″ of adjustment, from 42″ (107 cm) to 50″ (127 cm), while its horizontal slider adds approx—2″ (5 cm) of front-to-back adjustment. In addition, an adjustable tablet holder comes with the bike, and it accommodates just about any tablet.
The bike's handlebar features a multi-grip design. It offers the possibility of adopting a climbing grip, a cruising grip, an off-road grip, and a close one. A layer of PVC foam fully covers it for a secure and comfortable grip. Unfortunately, it does not have integrated HR pulse sensors, and the fitness monitor does not have a pulse reading function.
L-010 Resistance system
The YOSUDA L-010 indoor cycling bike has a manual magnetic resistance system. Therefore, you don't need a power adapter or a power cord.
The resistance system consists of a magnetic brake connected to the frame above the flywheel. It is also attached to the tension knob on top of the mainframe tube. Thus, when you turn the knob left or right, the magnets change their position to the flywheel, increasing or decreasing the pedaling difficulty.
The bike's tension knob does not have pre-determined resistance levels. However, on a micro-level, you can distinguish multiple resistance levels.
As a general idea, the bike provides a relatively light pedaling difficulty when the magnets are at their farthest point from the flywheel. Conversely, the cycle simulates a steep climb with the magnets at their closest point.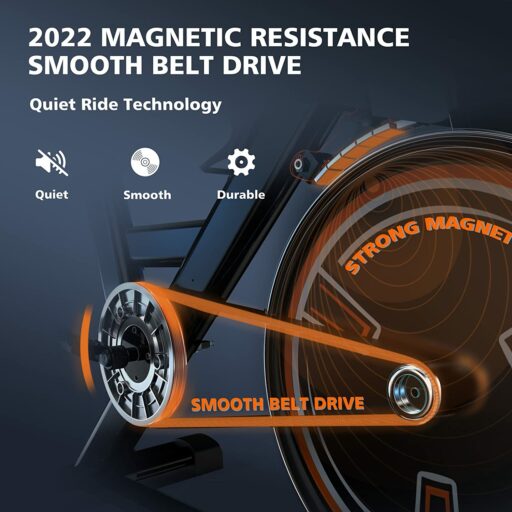 The bike's brake also has a small felt pad at the front, while you can press the knob down to stop the flywheel from spinning. Thus, it's necessary, especially when you've been pedaling at high speed, because the flywheel is heavy, and stopping from the pedals with your feet can lead to injuries.
Drive system
The YOSUDA L-010 indoor cycling bike has a 40 lbs (18.1 kg) flywheel, similar to most commercial-grade spin bikes. In addition, it has a perimeter-weighted construction for improved inertia. As I've mentioned, it is chrome-plated with protective side panels made from thermoplastic material.
The flywheel is bi-directional, which means you can pedal in reverse. Therefore, it offers the possibility to focus on different muscle groups. Also, when pedaling in reverse, the resistance remains constant, given by the selected magnetic pull. Unfortunately, coasting is impossible as the pedals continue spinning while the flywheel is in motion.
Like most other exercise bikes with a magnetic resistance system, this YOSUDA bike has a belt drive system. It integrates a poly-v belt designed for superior traction. As opposed to a chain drive, the belt does not require lubrication. It also generates slightly less vibration than a chain.
The bike comes equipped with a heavy-duty crankset with steel arms. The pedals are also a metallic alloy featuring a non-slip design. They have adjustable toe cages, but they are not SPD-compatible. However, their threads are 9/16 standard, so you can always replace them with SPD pedals.
L-010 Fitness monitor
The fitness monitor included with the YOSUDA L-010 features a display that divides into three sub-sections and can show up to four workout metrics at once. It tracks time, speed, distance, total distance (odometer), RPM, and calories burned.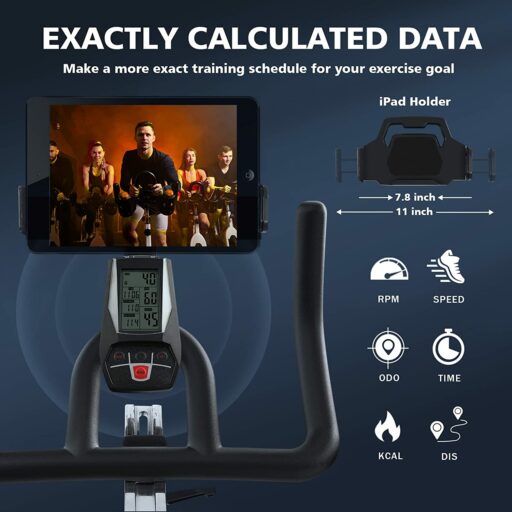 The speed and distance are in MPH and miles; there is no option for setting them to km/h or kilometers. Unfortunately, the monitor does not have a pulse reading function. Therefore, you cannot sync it with a wireless heart rate transmitter. If you want to track the pulse, you'll have to use a separate device.
Furthermore, the fitness monitor does not connect to the bike's resistance system, which does not show the resistance level. It also does not have pre-set workout programs or Bluetooth connectivity, nor is it compatible with any fitness apps.
The fitness monitor is battery-powered, and once turned on, it only turns off if you remove the batteries. However, it has a standby mode that activates if the monitor does not detect flywheel movement for more than four minutes. In addition, in standby mode, it displays a clock.
L-010 Assembly and Maintenance
The bike's main body, including the flywheel, the crankset, the belt, and the resistance system, are pre-assembled. Then, you only need to attach the two base bars, the seat, the handlebars, the pedals, the fitness monitor, and the device holder.
Therefore, it shouldn't take more than 30 minutes of your time. The bike has all the necessary assembly tools, and the manual provides proper assembly instructions.
For maintenance, you only have to keep the bike clean. The drivetrain does not require lubrication. It is also advisable to periodically check for loose bolts and parts and retighten them.
Pros
Durable steel construction – can support users up to 330 lbs;
Aesthetic design;
Transport wheels on the front base;
Adjustable levelers on both base bars;
4-way adjustable seat;
Cushioned saddle with suspension springs and middle cropping for improved breathability;
4-way adjustable handlebar with a multi-grip design;
Silent belt drive, which makes the bike perfect for apartment use;
40 lbs perimeter-weighted flywheel for improved inertia;
Frictionless magnetic resistance;
Integrated felt pad for emergency braking;
Durable pedals with toe cages and standard threads;
Fitness monitor with device holder – it tracks time, distance, total distance, speed, RPM, and calories burned;
Clock feature on the monitor – it shows the clock when in standby mode;
Bottle holder included;
Adjustable device holder included;
Easy to assemble;
Tools for assembly included;
Little maintenance is required.
Cons
The fitness monitor does not have a pulse reading function;
No LED backlight on the fitness monitor LCD.
YOSUDA L-010 Indoor Cycling Bike Summary
The YOSUDA L-010 is an indoor cycling bike made for home use. It features a manual magnetic resistance system, a 40-lb perimeter-weighted flywheel, superior micro-adjustability, and a high-comfort saddle.
In addition, it also comes with a simple fitness monitor and an adjustable device holder that accommodates most tablets. Moreover, it's an exercise bike for spin workouts, high-intensity cardio, stamina and strength development, weight loss, and muscle toning.
I hope you found this article helpful and informative. Would you please speak up if you have anything you'd like to share on the topic or any opinions about my website? I look forward to your comments, questions, and the sharing of ideas.
Please remember to consult your physician to determine if you have any medical or physical conditions that could put your health and safety at risk or prevent you from using the equipment properly. In addition, your physician's advice is essential if you are taking medication that affects your heart rate, blood pressure, or cholesterol level.