The RUNOW 6204B Rowing Machine uses water to create resistance, which is dynamic. Dynamic resistance systems on rowing machines are always the preferred choice because they mimic the feel of outdoor rowing more closely than any other resistance system. The faster you row, the stronger the resistance, just like rowing in a boat on the water.
I like the seat of this rower. It's contoured for comfort, and best, it's contoured to prevent slips in the leg push phase of the rowing stroke. In addition, the padding is high-density foam, the gold standard for padding, as it's not too soft to cause stability issues or too hard to be uncomfortable. Finally, the seat glides smoothly and quietly on its high-grade rollers and bearing.
The Runow 6204B rowing machine is stored upright, which decreases its footprint and makes it a beautifully compact machine. There is no complex process to fold or break down the rower—slide the seat all the way forward, then pick the rower up to stand it on end. In addition, the machine comes with caster wheels that allow you to roll it in and out of where you're storing it.
Learn more in my complete review below!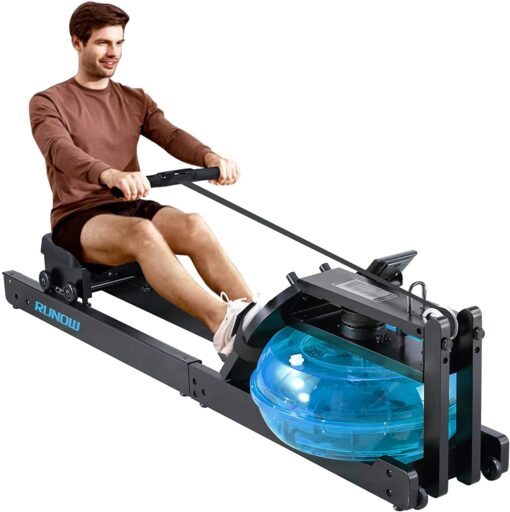 Product: RUNOW 6204B Rowing Machine
Price: For a great deal on this rower, merely go here to Amazon.com
Warranty: 1-year free replacement parts
My rating: 8.25/10
Affiliate Disclosure: As an Amazon Affiliate Program participant, I earn commissions on purchases made through links in this post. Full disclosure
Details and Specifications
Assembled dimensions: 82L x 22W x 21H inches (208L x 56W x 53H cm)
Supported weight: 350 lbs (159 kg)
Shipping weight: 109 lbs (49.5 kg)
Frame: Walnut wood, black finish
Footrests: Adjustable
Resistance type: Water
Fitness Monitor: Time, distance, count, total count, calories, scan
Extras: Device holder, siphon pump
Warranty: 1-year free replacement parts
6204B Frame Construction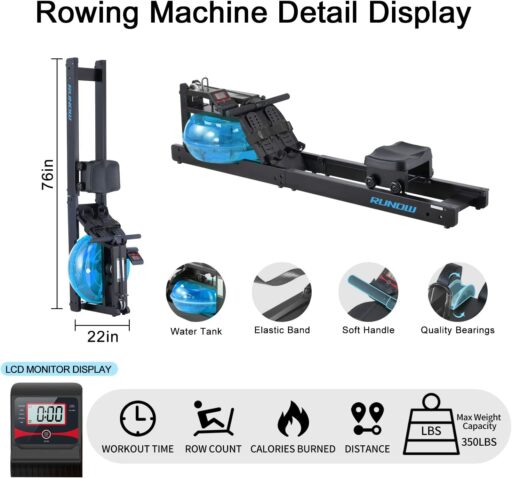 The RUNOW 6204B rowing machine features a frame made of walnut wood with a black paint finish. Like most other wooden frame rowers, it has a dual-rail design which is quite a plus as it provides extra stability for the seat and superior structural sturdiness.
In addition, the machine also integrates several plastic parts. For example, the side covers of the rails, the adjustable sections of the footrests, and several other small parts are made of durable thermoplastic materials.
Similar to the WaterRower Club model, this rowing machine is relatively large. It is approximately 82″ (208 cm) long and 22″ (56 cm) wide. It is also advisable to allow at least two feet of clearance on each side of the rail assembly, and at the rear of the machine, for easy access and to execute the rowing motion correctly.
The unit's rail assembly is pretty long, and the applicable inseam length for this machine is approximately 40″ (101 cm). Thus, it should accommodate users up to 6'5″ (196 cm) with no problem allowing for a complete leg extension. In addition, the rail-seat assembly is also pretty durable. The machine has a maximum user weight limit of 350 lbs (159 kg).
Furthermore, this rowing machine is also pretty heavy. The packaged weight is approx. 108 lbs (49.5 kg), so two people should carry and assemble the machine. However, once completed, it can easily be moved by only one person as its front base has a set of transport wheels.
The rower rests on several rubberized levelers. Unfortunately, its frame is not foldable as the HouseFit Skyline model. However, the unit can store vertically. When in a vertical position, the water can remain in the tank.
Seat and other parts
The RUNOW 6204B rowing machine has a seat designed for optimal comfort. Its top has contours to provide superior stability for the user. In addition, it's a high-density foam material, so it's not completely hard. However, it is a pretty firm seat. Furthermore, its height is approx—12″ (30 cm).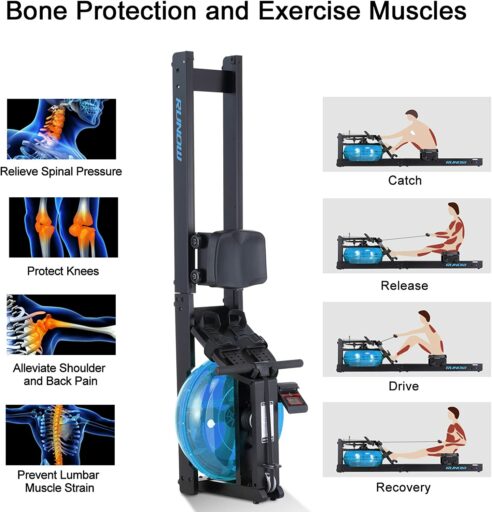 The base of the seat combines wood and steel elements. The side panels are the same wood as the frame with a black finish. The wheel rods and the other hardware are steel-made. There are eight wheels, four sliding on top of the rails and the other four on the inner sides. In addition, the wheels have internal ball bearings and a thick rubber layer on the outside for reduced noise and smooth seat movement.
The rower has a set of adjustable footrests. The adjustable sections are rigid and flexible ABS polymer. Although they're adjustable, they are also oversized to accommodate athletic shoes of any size. In addition, they also have straps and heel guards for superior foot stability.
The wooden board to which the footrests are attached sits at an angle of approx. 45°. Furthermore, it is pretty firm, providing excellent support for each leg push phase. Unfortunately, its angle is non-adjustable.
The machine's pulling handle is a simple, straight bar. It has rubber foam grip covers for improved contact. Furthermore, it's attached to the machine's resistance system via a heavy-duty, braided nylon strap, highly resistant to stretching and abrasion. Unfortunately, it does not have any controls or pulse sensors.
6204B Resistance system
The RUNOW 6204B rowing machine has a slightly larger water tank than similar machines. It has a capacity of 20 liters (while most others only have a 17 l capacity). Thus, a little extra water in the tank provides more resistance. However, it's advisable not to fill the tank up to the top. Furthermore, it has a marking with a maximum fill level.
The water tank is made of durable polycarbonate material. It features blue, transparent walls. In addition, it's a simple, single-chamber tank, without any water level adjustment mechanism like the First Degree Fitness Apollo, for example. It also does not have any magnetic resistance adjustment elements.
Although the tank does not have a resistance adjustment system, you can still adjust the overall resistance provided by the rower. For instance, you can do this by manually adding or removing water. In addition, a siphon pump for this task comes with the rower.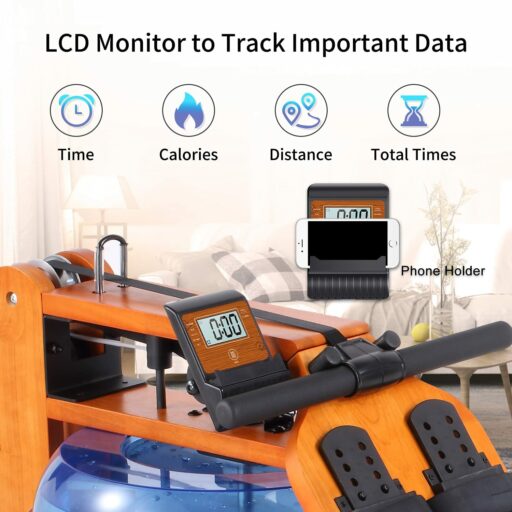 The main resistance-generating element is a multi-blade flywheel integrated into the tank and attached to the machine's pulley system. Thus, when you pull the handle, the flywheel spins in the water, generating resistance. Furthermore, the machine provides a dynamic resistance response.
For instance, the resistance depends on how much strength you put behind each stroke or how fast you stroke. The quicker you stroke, the faster the flywheel will spin and the more resistance you will get. Therefore, this simulates the rowing of a real boat through the water.
Like most other water resistance rowers, the 6204B is not a very loud fitness machine. Of course, you can hear the flywheel spinning inside the tank water, but the noise level is pretty low. In addition, most users have described it as pleasant rather than annoying.
Fitness monitor
The RUNOW 6204B rower comes equipped with a pretty simple fitness monitor. Unfortunately, it does not have pre-set programs, workout target functions, or online connectivity. However, it features an LCD that tracks time, distance, calories, stroke count, and total strokes. In addition, it does not split times and has no pulse reading function. So, if you want to monitor your pulse during workouts, you must use a different device.
The monitor is straightforward to use. It has only one button. You can select the workout metric you want to view by pressing the button repeatedly. In addition, a Scan Mode automatically rotates all the metrics showing each one for a few seconds.
The monitor also has a Reset feature. You can press and hold it for a few seconds to clear all the values on it to zero, except for the total strokes.
The fitness monitor integrates a device holder. In addition, it features a small shelf on its lower base that supports your phone or tablet. Unfortunately, the battery-powered monitor requires two AA batteries that do not come with the machine.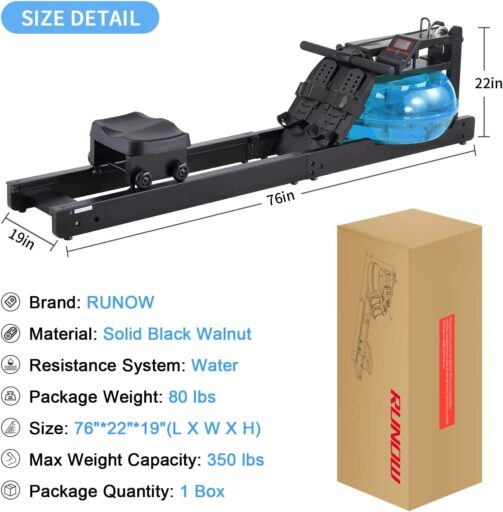 In addition, it starts counting your workout data when you begin rowing. Furthermore, it turns out automatically after four minutes of inactivity on the machine to save battery. It wakes up if you press the button or if you begin rowing.
6204B Assembly and Maintenance
The front section of the machine with the water tank and the other drive and resistance elements come pre-assembled. You only need to connect the two rails, the seat, and the small rear board.
Consequently, this shouldn't take more than 30 minutes of your time. All the necessary tools come with the rower, and the manual provides precise assembly instructions.
For maintenance, it is advisable to keep the machine clean, especially the rails, to prevent any scratches or damage to the rail covers. In addition, the water inside the tank should be changed periodically or purified with rower chlorine tablets. Other than this, it is also advisable to regularly inspect the machine, check for loose bolts and parts, and retighten them as required.
Pros
Durable construction – can support users up to 350 lbs;
Aesthetic frame, made of solid walnut wood with a black paint finish;
Can be stored vertically6'5″save space;
Easy to handle and transport;
Rubberized stabilizers for extra stability and floor protection;
Long rails – the unit can accommodate users up to 6'5″;
Water-resistance system for a dynamic response;
Ergonomic seat with a padded and contoured top;
Adjustable footrests;
Fitness monitor included – it tracks time, distance, count, total count, and calories burned;
Smooth and quiet operation;
All the necessary tools for the assembly come with the rower;
Siphon pump included;
Reasonably easy to assemble;
Little maintenance is required.
Cons
The fitness monitor does not have a backlight;
The fitness monitor does not have a pulse reading function;
The fitness monitor does not have online connectivity;
Batteries for the fitness monitor do not come with the rower.
RUNOW 6204B Rowing Machine Summary
The RUNOW 6204B is a rowing machine made for home use. It comes with a single-chamber 20-liter water tank, a dual rail system that can accommodate users up to 6'5″, and a comfortable seat.
In addition, it also includes a simple fitness monitor with an integrated device holder. Furthermore, it's an excellent machine for interval training, high-intensity cardio, stamina development, strength development, and weight loss. It is also considerably more affordable than your other water-resistance rowers with a wooden frame.
I hope you found this article helpful and informative. Would you please speak up if you have anything you'd like to share on the topic or any opinions about my website? I look forward to your comments, questions, and the sharing of ideas.
Please remember that you should consult your physician to determine if you have any medical or physical conditions that could risk your health and safety or prevent you from using the equipment properly. In addition, your physician's advice is essential if you are taking medication that affects your heart rate, blood pressure, or cholesterol level.